Sunrise of Edina
7128 France Avenue South, Edina, MN, 55435
Talk to a Family Advisor: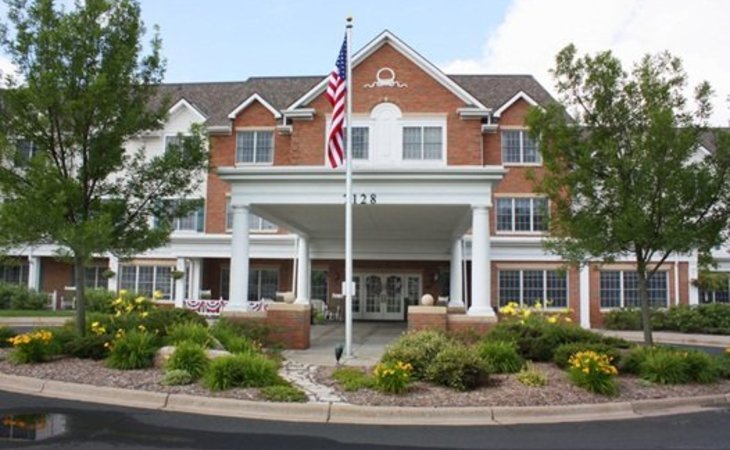 Reviews of Sunrise of Edina
---
Jeff503078
January 03, 2017
I visited this facility
Sunrise of Edina is very nice, very open, and friendly. The staff was very accommodating, I am very happy with them. They have trivia games and trips to the local grocery store. I love the dining area but did not eat. I talked to their chef, and he sounded very accommodating. They made their dining room just like a restaurant. It was very nice.
---
Ralph415884
November 28, 2016
I visited this facility
Sunrise of Edina was nice. You could tell that it was professionally run. We did a brief tour there, and I had some favorable impression of the place when we walked in.
---
Anne334801
July 11, 2016
I visited this facility
We went to Sunrise of Edina probably two or three months ago. We were very impressed. They were very inviting and had a warm atmosphere. The only problem at that place was that they did not have an apartment available that was the right size for my mom and dad. Also, they tended to lean more toward the memory care, which they did not currently have. However, it was a very nice place.
---
Dana188164
July 10, 2016
I visited this facility
I liked Sunrise a lot, but we needed to choose a place with the option of elderly waiver. I liked the rooms and the size, and I just got a good feeling from it. The building itself wasn't too big, but it wasn't really small, either, and I liked it. The residents were very friendly and talked back and forth when I was given my tour.
---
Julie655067
June 28, 2016
I visited this facility
My overall impression of Sunrise of Edina was very good, but it's in a very busy part of town and would probably be the least convenient because of all the traffic.
---
John H.MMFPN
May 11, 2016
I visited this facility
I visited Sunrise of Edina for my mom. It's a much newer building, so it's attractive in a more modern way. It doesn't have the old-school elegance, but it's clean and attractive. In some ways, it's more family-friendly. There's a welcoming area, places where people could sit and wait, and a popcorn wagon with popcorn, cookies, and water. It's an attractive area. The one negative thing about the place is the location. It's on a very busy street in downtown Edina, but I would say France Avenue is pretty much the main street of Edina, so there's heavy traffic, and Sunrise of Edina overlooks the Southdale shopping center. For somebody, that might be a plus, but for my mom that would not be a plus. The rooms are nice.
---
Anonymous115188950
October 29, 2015
I visited this facility
We went to Sunrise of Edina. There were four of us that visited, and all four of us thought it was absolutely a great place. It was clean. There was a lot of activities going on. It had a very nurturing environment. We would have been very interested in having my mother-in-law go there. The rooms themselves, individually, they were private space. It was a fair space. It was adequate. There was a lot of community space that there were individual sitting areas, interaction areas where there could be group stuff going on. If you wanted to be visiting with your family, there were several places throughout where many families could be visiting with their loved ones having enough space, but yet feeling like they weren't in the middle of a community room. So, we felt it was homey. I would absolutely recommend them to others.
---
Caring111170350
July 29, 2015
I visited this facility
At Sunrise of Edina, everything seemed fine. We just did the basic facility tour. The staff was very good. Also, it looked to be a very nice environment.
---
Caring101828150
February 11, 2015
I visited this facility
We absolutely loved the Sunrise of Edina, and it was I thought the best one ever. It's a very nice place. They had a little garden for people to do things. The people were wonderful. The rooms were nicer, and the apartments were much larger, but it felt more like home. They had less people. I liked the fact that they had a cat and a dog on-site because they're very healing for elderly people. They have gardening, exercise class, and outings. What is interesting is they allow the people to be on like a committee, and they ask them what they want. One time, they put some tents up, and they had people from the street fair come and make their food for their residents and family. Also, they had a birthday party for somebody. They have one manager for four people, so they always knew if somebody had like a bladder infection or whatever, and that's really important especially when you've got somebody who has dementia. It would have been the one I would have chosen except my mother doesn't like cold weather.
---
Caring102357950
February 09, 2015
I am a friend or relative of a resident
My father is staying in a place called Sunrise. It is very good for my father. He needs a higher level of service, and it is very accommodating. It is a relatively smaller place, and it is a good fit for him.
---
Caring96472750
October 16, 2014
I visited this facility
Sunrise of Edina was a very warm and inviting environment. The staff seemed wonderful, very attentive, caring, and they all knew each other. It's very much like a home environment, cozy, updated, very clean, and well-taken care of. The rooms were a little outdated, but otherwise they were pretty nice. The dining room is very good -- although we didn't eat there -- but we did eat in their little snack bar, and it was very good. The place was secured -- although very expensive -- but you are paying for health and food, so I guess that's reasonable.
---
Caring91464650
August 15, 2014
I visited this facility
Sunrise of Edina has a nice outdoor area where people can get out, but it seemed small and a little bit cramped. They had residents of all ages and stages of Alzheimer's together. The woman who I talked to was very good and it seemed like the staff were very helpful as well.
---
Gail23
July 31, 2014
I visited this facility
I visited Sunrise of Edina for my parents. It was very nice, gorgeous and I was impressed. The staff was great. The person who gave us the tour was very nice and she made a follow up calls. They had a little parlor place where you could go with your family. The food looked great. The only thing was that my parents wanted a little bit more of an apartment living. It was fancy and my parents came from a small town and it just didn't fit my parent's lifestyle so much.
---
Caring79012250
February 26, 2014
I am a friend or relative of a resident
We have my mom at Sunrise. We selected it because of the location. It was a lot closer to my brother especially to his house. Some of the other places we went to looked great but they weren't convenient for us to get there. We also chose it because it was a little bit smaller and we were impressed with the care that she gets and we have been impressed with the staff. They seem to be very caring and concerned that they're doing all they can for my mom. The rooms are okay. My mom is in memory care and they have a person that helps with that. They brought her to an art activity where she paints. She was really good at art before so bringing out some of those talents is really good.
---
Caring70847150
November 22, 2013
I am a friend or relative of a resident
My dad was at Sunrise for about three months. The staff was very good and the food was good. They had all sorts of activities like exercise which was too low key for him. They just sat and did stretching. He wanted to get on to a treadmill and exercise bike and they didn't have that available. The residents there were not to his liking. His cognitive skills weren't as great so he wanted to move some place where people were more coherent so that's why he chose to move out of there. I'm sure the facility would be fine for some people but it was just not a good fit for him.
---
Don25
October 26, 2013
I visited this facility
We also visited Sunrise of Edina and they only had one bedroom apartment and we need two so we eliminated this place to begin with. We were able to look at couple of apartments that were being remodeled, they were empty but it looked nice.
---
Anne10
September 10, 2012
I am a friend or relative of a resident
My grandmother did not want to stay in an assisted living facility. She fought tooth and nail to stay in her own home. Unfortunately, after her second fall down the stairs, she ended up in hospital with injuries. During her recovery, we convinced her that moving into an assisted living facility was for the best. She visited several facilities in the metro and a few outside the cities. She chose this facility. My grandmother liked the homey atmosphere here. It didn't feel like an institution. It was in a nice part of Edina. They have plenty of parking and it's easy to drive to. Her room was much nicer than my dorm room at the time. She had her own bathroom and a kitchenette. We joked about me moving in with her. The people who worked there were really nice. Anytime I visited her near dinnertime they invited me to stay and eat. I took them up on that offer a few times. The food at sunrise was much better than the slop I was fed at my school dorm. My grandmother lived on the floor and liked to leave her door open so the cat would come visit her. The outdoor sitting area was a nice place to sit and visit.
After my grandmother had stayed there a few months, she told me she regretted not moving in sooner, before her fall. She didn't want to give up her independence. She was afraid no one would come to see her. None of that turned out to be true. My grandmother liked no longer having to do the laundry, grocery shopping, or having to cook dinner. She was no longer afraid of falling down the stairs when she was alone. My grandmother passed away recently. Although I miss her very much, I take comfort in knowing she was happy during her time at Sunrise. She liked everything about living there. We were able to visit her frequently. Choosing to move into an assisted living facility is hard, but I believe my grandmother made the right choice.
---
commercesd
May 27, 2011
Visited this facility
We decided to visit the Sunrise of Edina assisted living facility to consider it for our grandmother, mostly because it is so close to the Bloomington area where my aunt lives. The location is just north of 494 on France Avenue, which is just minutes from my aunt's house. This means she could visit every day if she wanted to! Edina is an upscale suburb of Minneapolis and has had a long standing reputation for excellent shopping, dining and boutiques. The Sunrise facility is no exception. It has well-appointed grounds with lush greenery and beautiful decorations.
From the second we walked in, we were greeted warmly. It felt as though we were visiting friends, because the staff is very cordial. The community areas were all spacious and there were many interesting things going on, from card games to puzzles and movies. The choice of different suites resembled those we've seen in high-end hotels. There were fresh flowers in every room and the resident dog and cat was a welcomed site because our grandmother loves animals.
They have many different outings and activities, exercise areas, a beauty shop and barber, lovely dining room and large patio. The food is prepared by a chef who has trained abroad so we weren't surprised that the food tasted like what you might find at a five star restaurant. This is definitely the most first-class assisted living facility we visited in the vicinity.
---
slclynn
May 18, 2011
Visited this facility
Sunrise of Edina is a beautiful Assisted Living Facility located in Edina just minutes from shopping malls. The facility provides transportation to encourage those residents who are able to go out and about in order to maintain healthy socialization and mobility. The staff is very accommodating to residents and the environment has a very comfortable domestic feeling from the outdoor landscaping and flowers to the on sight resident dog and cat. Services that are available include help with grooming, bathing, dressing and medication reminders. Residents can receive daily meals and the food is served hot and looks appetizing. Social activities and religious services are available onsite and residents are encouraged to take part in daily activities such as sewing. There is an Alzheimer's care unit as well as Hospice services and all residents can select between private rooms or choose to have a companion room-mate. This is one of the nicest Assisted Living Facilities in the Twin Cities and I give it 4 stars.
---
---
Located just six blocks north of 494 on France Avenue, Sunrise of Edina is nearby Southdale Mall, the Galleria and Fairview Southdale Hospital. We pride ourselves in our easily accessible location, our beautiful decor and our ability to provide care for residents with a variety of needs.
Step into a Sunrise Assisted Living community and you can't help but feel at home. We stop at nothing to make your experience warm and inviting, from our homelike exterior architecture, to our comfortable community areas and choice of suites to our exceptional outdoor gardens and landscaping.
Look around and you'll notice fresh flowers throughout the residence, and you may even spot our dog or our cat. And of course, there are always the friendly smiling faces of our staff to ensure that each day spent here is a welcome one.
Features of Sunrise of Edina
---
Location of Sunrise of Edina
---
Get Cost Information
Get full access to reviews, cost information, and amenities