Burcham Hills
2700 Burcham Dr., East Lansing, MI, 48823
Talk to a Family Advisor: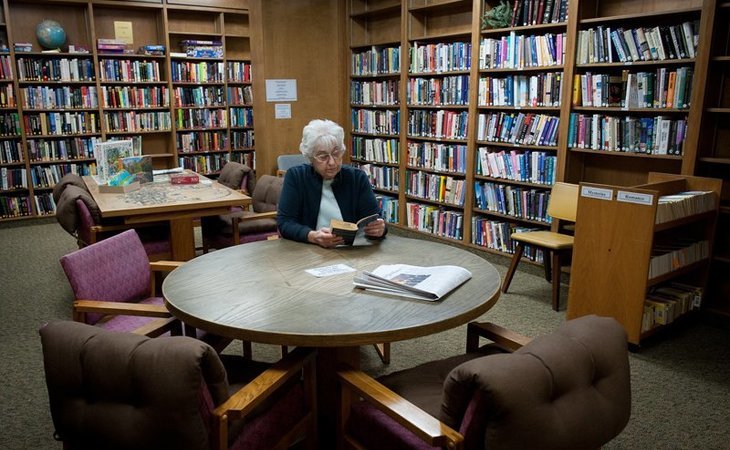 Reviews of Burcham Hills
---
Mary500
April 20, 2017
I am a friend or relative of a current/past resident
My grandmother was there for rehab the staff was excellent when there was enough of them. I agree that this place is way too expensive for the kind of care she received. Some of the staff showed compassion while the others waited for payday! This place is really, very, very, way understaffed!!! Not safe at all! Where's state when u need them!!! Help!!!
---
KMFIELDS
February 08, 2017
I visited this facility
The rehab facility had a good reputation. However, they do not live up to it. The administration does NOT care about the clients only the bottom line. They do not follow through with rehab, they do a few exercises a few times a day, but after three weeks, they will throw the person out whether they are better or not. Do not expect any help in trying to find any other options from their case managers as they do feel that is their job. If the facility fills up to capacity, they do not have the staff to properly take care of the clients and make sure they get their meds. My mother was at this facility, she left with only half of the medications she was supposed to be taking and half of those were dated from previous days she was supposed to have taken them on. Their respite is nothing but a bed in a room, my mother was promised a phone, this was not installed until after I called and complained the next day. When they plan to discharge a person, they do not care if the person is truly better or not. Do yourself and your loved one a favor, find some place else to take them for rehab.
Provider Response
We apologize for your experience. Please contact us at 517-351-8377 and we would be happy to discuss this with you. Thank you for your feedback we look forward to hearing from you soon.
---
Deloris666288
June 29, 2016
I am a friend or relative of a resident
My friend and his wife have moved into Burcham Hills. I think it's very well-suited to their needs, and they seem quite content. The staff is very caring, making sure everyone is comfortable and having their needs met. The rooms are clean and generously sized. It was very impressive and good. They have gone from regular portions to half portions because they don't want to gain weight since there's so much food and it's so good. They have everything from condos to assisted living to memory care. My friend's wife has Alzheimer's, and it's working for them at this point, so that's nice, but if in the future it doesn't, she won't have to move to a different facility. They also have a rehabilitation program there. They have musical programs and animals visiting. A girl came in the memory care unit and played the piano, and people were singing because she was playing these old songs that they all knew, so it's very nice.
---
Leslie208722
June 10, 2016
I visited this facility
My parents are moving into Burcham Hills, a private non-profit. The reason we went with them is that they were the only ones that had a nice apartment-like setting with a bedroom and a living room. The other thing that Burcham Hills offered that the others didn't offer was we felt that the community was better for my father who is in a much better place than where my mother is at who needs memory care.
---
MaureenUPLWC
May 22, 2016
I am a friend or relative of a resident
My aunt is in Burcham Hills right now, which is a rehabilitation because she is undergoing therapy after her a stroke. She is doing so well. I don't have any complaints at all. They are wonderful and have therapy seven days a week. My aunt has an hour of physical therapy, an hour of occupational therapy, and an hour of speech therapy every day. They have a quilting class, bingo, and arts and crafts. I am very impressed with the dining room because they get a menu, so it's not like everybody gets corned beef hash. They accommodate you no matter your situation. They have registered nurses and a doctor on staff all of the time, except when he switches with a nurse practitioner on Saturdays and Sundays. The staff and everybody is totally polite and caring. I don't have anything negative to say at all.
---
Izzy'sfriend
December 13, 2015
I am a friend or relative of resident
Overpriced. Poor communication between residents' families and Burcham. Do not follow up with assessments of residents. Good food. Good maintenance staff.
---
Howard14
March 17, 2015
I visited this facility
I had been to Burcham Hills quite a few times. I would say that was a very nice place, but it was at a higher price. They had a full assisted and partly assisted, so they had different levels of assistance. They had a lot of staff down from the hospital to home care. They also had a big rehab there. They had an indoor swimming pool. They took bus trips. They had full assistance, but it was about $1,500 a month more than what we could afford.
---
Caring71078150
February 11, 2015
I am a friend or relative of a resident
I love Burcham Hills. I have been to several places, but this one stood out, and I am overall pretty pleased with them. Mom said the food is excellent. Burcham is the best of all the facilities I have visited.
---
msufan
July 31, 2014
I visited this facility
Burcham Hills was very nice, elegant and large. They have a beautiful garden walkway which was very peaceful. They accommodate 60 people and there are different units on each floor. The staff appeared to be friendly.
---
icemancometh
December 22, 2012
I am a friend or relative of a resident
I visited Burcham Hills to see my brother who suffers from dementia and Alzheimer's disease. We decided to take him here as long as he is fit to live unassisted until he has to be taken to a more restricted place. He agreed it was the right choice and this facility actually has many different options for different levels of independent to fully assisted living arrangements. The common area is beautiful and a great place for old and new friends to come and meet each other. The facility is quiet but has opportunities for larger more exciting social events for the residents. Burcham Hills employees were also very accommodating and always very interested in the personal lives of the residents. There is privacy also in the apartment spaces. I found most amazing was the cultural crossover Burcham Hills tries to utilize and instill. From the food selections to the activities they try to do things that many people will enjoy and serve many options to select from. Whether it's the food or the activities there seems to be a lot of choices. I would recommend this facility to others.
---
Joan7
October 17, 2012
I visited this facility
I visited this facility many times over the course of several years. The facility is large which is good for its connections with local health facilities/hospitals when needed. The transit is good, too. It's size can sometimes give it an institutional feel. The staff is large which can be useful but difficult for residents who see so many different people. The large size is an asset because there are specialized care for folks with some diseases like Alzheimer's. I like the attempts to bring in things to interest residents like a large bird cage and visiting pets. I appreciated the way they worked with residents who had difficulty eating. Staff members treated residents with dignity even in situations that felt undignified like being spoon fed or having to wear a bib. The facility has more of a formal feel to it than a homey feel--like you are in a formal dining room rather than a cozy family room.
---
kelly3
June 23, 2012
I am a friend or relative of a resident
The staff at Burcham Hills is made up of a wonderful, caring group of people. They helped us with any problems we ever encountered at any time of day. They got to know my grandparents very well and they all were more than just employees of the place to my family. The building is beautiful and kept very well. They continue to construct and update it to be the best and most modern that it can be. Family events were never a problem to hold in their meeting rooms, as they accommodated so well for us. My grandparents got wonderful treatment, and actually ending up living in their condos and moving to their apartments. My grandmother also stayed in their rehabilitation center while recovering from heart surgery. I couldn't have asked for a better atmosphere to have my grandparents' spend their last few remaining years at. Burcham Hills really cares for their residents and residents' families.
---
holt1978
May 03, 2012
I am a friend or relative of a resident
The place appears to be somewhat clean at first glance, but I managed to spot 2 roaches in the room he was staying during our visit. The rooms are cramped, and they rely heavily on the patient to provide for themselves, in terms of entertainment. The staff was nice, so I'll give them that, I imagine working with belligerent old people all day long takes a toll, they appeared emotionless and efficient. There is no privacy in the rooms aside from a pull shade that's not set up at all in a decent fashion. In total, he was there for a month dealing with his infection, and I imagine it took a toll on him physically and emotionally. I didn't see too many people in the halls, it honestly felt like death was everywhere. I expected or hoped there would be at least people walking around promoting some form of exercise. The food looked horrible and I was told that it was tasteless. We brought him fast food, which probably wasn't the wisest idea, but I've honestly never seen anybody scarf down 3 burgers that fast. You could tell he was hungry.
---
Portteu2
April 19, 2012
I am a friend or relative of a resident
The facility is very nice. Its located in a secluded part of northern East Lansing, so it is a very safe area. We did not get a complete idea of the care that would be provided. For instance, they told us there is a nurse on staff 24/7 which is true. They did not tell us that she would not provide such basic services as listening to lungs of an asmatic patient, and would not necessarily respond when the caregiver would summon her for a nosebleed that wouldn't stop for my blind father. They stated a caregiver would respond with in five minutes when summoned...often it is ten and the last time I timed it it took 17 minutes. My father is blind and my mother has dementia...they really need the attention we were promised. My parents have both stated that the food is good and the staff is very friendly though. My only real qualm is the fact that the attention I feel they need is not being met in a timely manner.
---
Reggio
January 09, 2012
I visited this facility
I visited Burcham Hills and was moderately impressed. The facilities are somewhat new and the location in Troy is great. The rooms I saw were all very clean, the staff was veryu friendly and answered all of the questions I had. I did not get a chance to look at all the activities but from what I saw during my visit, they were somewhat limited. Ultimately this was the reason my loved ones and I decided against assisted living in a nursing home. The quality of your loved ones' stay will depend much on the staff and I was confident in their service, the volunteers being another story. The food being served was fresh and the staff was seamless with all the patients' dietary concerns. I would recommend this nursing home based upon the facilities and excellent staff, which I have not seen at all of the nursing homes I have visited.
---
---
Located on 38 beautiful acres, Burcham Hills is the only retirement community in the greater Lansing area to offer a comprehensive continuum of care. Burcham Hills is a not-for-profit community licensed as a Home for the Aged and as a Skilled Nursing Facility that has been serving thousands of Lansing-area elders and their families since 1974.
We strive to create a home that places a premium on relationships and honors the unique life story of each individual. Elders and their families are encouraged to share in our community events, to volunteer and to join in the dialogue that places the decision-making closer to the elders and those closest to them.
What Makes Us Special
---
Lansing's only not-for-profit Life Plan Community (ccrcr) -- East Lansing location and beautiful 38-acre setting -- Own and operate transportation -- Accessibility to local transportation, including CATA -- On-site Wellness Center, Lab and Outpatient Ther
Features of Burcham Hills
---
Costs
Minimum Rate

$4885/month

Minimum Memory Cost

$6449/month
Room and housing options
1-bedroom apartments
Companion Suites

We Offer Companion Suites

Studio Apartments
Condos Townhomes
General
Respite Care
Minimum Age

60

Pets

All Pets Allowed
Licenses
Licenses

HFA

State Licenses

AH330236746
Location of Burcham Hills
---
Get Cost Information
Get full access to reviews, cost information, and amenities