Brookdale Mountain View
8101 East Mississippi Ave., Denver, CO, 80247
Talk to a Family Advisor: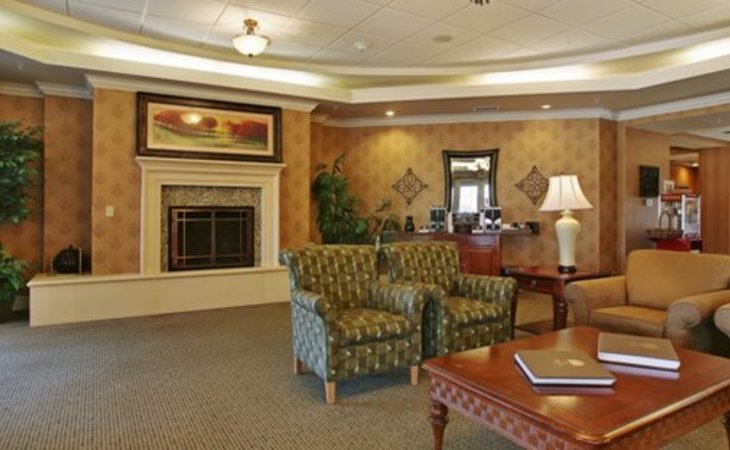 Promotion ends in 5 days!
NOTHING SAYS SUMMER LIKE SAVINGS. Move into a Brookdale community by June 30, and receive a $1,000 rent credit! *Eligible new residents will receive a one-time $1,000 credit to the Basic Service Rate/Monthly Fee following the first 90 days of residency.
Reviews of Brookdale Mountain View
---
educated senior citizen
February 27, 2017
I am/was a resident of this facility
disappointing all around. Staff poorly trained, poorly supervised and expensive. Food service is BAD and the food is fair to poor and the Sunday brunch is a disaster. I am getting out of here!
Provider Response
We're very glad you shared your concerns with us. We are committed to providing the highest-quality service and care for each resident and have shared your feedback with our regional team. We would truly like an opportunity to discuss this with you personally and hope you will call us at 877-400-5296.
---
Joe438430
October 11, 2016
I am a friend or relative of a current/past resident
We found a place for my aunt in Denver. It's Brookdale Mountain View. First impression, it's very nice. It's very clean. There is a very nice entry room. The saleslady we met was very positive and helpful. They have lawn area, shrubbery, and flowers. There is like a sort of a courtyard as part of it, which is nice. They have some benches out there for people to sit. They could use a little more parking space though. The rooms look very nice and clean. The one problem is that my aunt complained that so often it would be a different person that attends to her. Like every time she takes a shower, it seems like it's a different person. The persons taking her to dinner or lunch or breakfast are different people. Many of them are very nice and helpful, and some of them are just rude. Most of them are minorities, and it is hard to understand any of them. I don't know if they're from Somalia or from East Africa, but it is difficult to understand them, and it can be difficult to make oneself understood by them. There are not enough people that they employ to give really proper efficient care to everyone that's there. It's a nice facility, and the people they hire -- some of them are very nice, but very often people are hard to understand and some of them are just downright rude.
---
HarveyYWOFV
May 11, 2016
I visited this facility
Brookdale was nice and big, which we didn't think was so great because you have to walk to your room, so that's a negative, but everything else was great. There were a lot of Jewish people there. I met one guy who was really funny. He said, "If you move here, I'll get a $1,000 because I recommended you, and I'll give you half!" I said that's smart. He's living there and he's trying to make money. They had a nice place that's away from the road, so during nice weather, you could sit on a bench and talk to somebody. It has a dedicated plot of land and you could even have a garden, so that's nice. You get a place where you can put flowers and vegetables.
---
KR2
February 16, 2016
I visited this facility
Brookdale was clean, beautiful, and very friendly. They have regular apartments. The dining room seemed like fine dining without a huge delineation between the independent and assisted living sections.
---
Mary119359150
January 25, 2016
I visited this facility
Brookdale Mountain View is a very nice place. We saw a little bit of their activities, and they also have an activity calendar. The rooms that we saw ranged from studios to two-bedroom apartments, and they were very nice and adequately spacious.
---
Carol118524450
January 18, 2016
I am a friend or relative of a resident
My parents are very happy living at Brookdale Mountain View. The place is clean and neat, the staff has been very supportive, and the food is very good. The service in the dining room could be a little bit better, but you can't have everything. There are many activities for the residents to take part in. Every single day, there are 6 or 10 activities. They have a bus that my mom has already taken to get to the grocery stores. Whatever they want, it's there for them.
---
sad but true
November 16, 2015
I visited this facility
My mother has been at Mountain View for quite some time now. The facility is nice and the price is high. Way too high for the experience we have had with employees. Their employee turnover is very high and they are chronically understaffed. The employees are generally immigrants from north Africa and the middle east with very hard to understand the accents. If I had it to do over, I would pick somewhere else. The value is not there.
---
Shannon11
October 28, 2015
I visited this facility
Brookdale was nice and pretty, but way out of our price range. The woman we met was good and knowledgeable. It was kind of high end. The rooms were nice; spacious and nicely laid out. They had a little library, computer, and they had a range of things for people to do.
---
Caring109504150
June 29, 2015
I visited this facility
I did visit Brookdale Mountain View, and it was very nice, but I felt I wasn't ready for it yet. The staff was very good, and I was impressed with the care that was given to the people. Their apartments were very nice and fairly accommodating. They offer multiple activities like card games and bingo.
---
Anonymous104131750
May 12, 2015
I am a friend or relative of a resident
My in-laws are in Brookdale Mountain View for about 15 months now. It has been very nice. Most of them are very good, and some of them are absolutely incredible. They are very caring and very professional. We have been very pleased. There were a few that were clearly not cut out for the job they were doing, and they did not last there. I do not know whether they left as their choice or if management asked them to leave, but that has been our experience. Overall, the place is kept very clean. They have exercise classes and travel logs where they talk about different countries. They also have various games like bingo and bridge. They have happy hours every week where they serve wine or beer and finger food, and they actually have live entertainment come in. They take bus trips as well. My in-laws have a one-bedroom apartment with one bathroom and living room area. It also has a little microwave and a sink.
---
Scooter3
May 02, 2015
I visited this facility
Brookdale Mountain View is a very nice facility. We looked at their skilled nursing care and their long term facility, and they are very attentive to the residents. They decorate their rooms, and family members are encouraged to come and have meals with them. Nice spacious rooms and shared bathrooms. They have a bus for them to go church and outings -- really nice. But it was very pricey.
---
Caring105069450
April 21, 2015
I am a friend or relative of a resident
We have moved my mother to Brookdale Mountain View. She had been living in a Brookdale place in another state, so things seemed more familiar to her, and it's the closest to where I live. She has only been there for two days. Her room is very spacious. The amenities are very good. She likes to play Bridge, and they have exercise classes. I like the restaurant style of the dining room that you can go in anytime, and not at a certain hour.
---
Caring108389550
March 27, 2015
I am a friend or relative of a resident
My mom was in Heritage for three months last year, and it was pretty good. Sometimes you had to do a little waiting, but the staff handled her very well, the food was very good, the building was really nice, and it was always clean. Maybe if they had a little more staff it would be better.
---
LovelyLady10
May 09, 2014
I am a friend or relative of a resident
I found Heritage Club, and my mom has moved. It became urgent, so the transition has already happened. It's close to me. I was familiar with the facility. Some other friends' parents had been there. The apartment that my mom moved into was quite nice. The people are eloquent, and I think they're sweet and caring. There doesn't seem to be a lot of going beyond the scope of what the patients need. The sanitation is good. They have two dining rooms. They probably have a third one for their nursing care. That's one of the reasons why I chose it, because they had various levels. They had independent living, assisted living, and nursing care, as I wanted to make the move once. I've only eaten in the independent living dining room. It's not gourmet, but for the residents there, I think it's generally quite good. There's more variety that's offered for independent than there is for assisted, but no one's going to go hungry. My mother loves that they have oatmeal every single morning. It's made from scratch, and that is important to her. The dining room is very nice, and they have brunch there on Sundays. That seemed fairly good. It works for my mom.
---
Caring62294850
December 27, 2013
I visited this facility
Heritage Club Mountain View was beautiful, very classy, and over-the-top. It was also spotless clean. The staff who assisted us was helpful, nicely dressed and seemed to be truly interested in what I want. The marketing person took me and my daughter-in-law around and answered our questions. This person was very proud of the place and rightfully so because this facility caters to assisted living as well as independent living. However, that raises the price for everybody. Even though there was a lower price for independent living, it still raises the price for everybody.
---
Steve27
December 13, 2013
I visited this facility
Mom was interested with Heritage Club Mountain View. We like the place as it was very good. It was very warm. The gal that showed us around was very nice. The rooms were not spacious, but I think they were adequate. We like the people. We ate lunch there and the food was very good.
---
snowbird1
July 05, 2012
I visited this facility
The staff was exceedingly friendly and professional. The community itself was beautiful! They seemed to genuinely care about the residents-asking us personalized questions about our loved one. Their dining room was immaculate and the food was outstanding. They said they empasized the fine dining approach to each meal...cloth napkins and a salad bar! So impressive! This community was also a health care center and a independent living community. It seemed that residents flowed between departments and that the staff was keenly aware when a resident needed more care and attention. My husband was concerned about the financial aspect of the care. He was walked through the what my mother in laws LTC insurance would pay for and was reassured that she would get the best care for the money. There were many activities provided to the residents and outings too. The folks were headed out to a baseball game when we arrived....that is something my mother in law would love. We are strongly considering a move to this community, as it is beautiful, centrally located and my mother in law was pleased. We have been to one other place and were not nearly as impressed with the quality of care and community as we were when we visited Heritage Club Mountain View. We would definitely recommend this to anyone who is interested in exploring this option for their loved one.
---
From Brookdale Mountain View
---
Brookdale Mountain View provides assisted living residents with lifestyles, housing, and services in comfortable surroundings combined with exceptional amenities, programs, and care. Through Brookdale's signature Personalized Assisted Living, we customize our care offerings for the individual. This allows each resident at our community the freedom and opportunity to make choices that will ease their lifestyle transitions. Residents enjoy life with the support they need, coupled with the appropriate accommodations as their needs change.
We promise Respect for Individual Preferences by offering personalized care needs and providing an atmosphere that encourages each assisted living resident to live in health and longevity. We also offer special housing and care options for those who require assistance with the activities of daily living such as dressing, bathing and assistance with medication. We offer graduated levels of care based upon the individual need of residents, as determined by our continual assessment process. We are dedicated to enriching the lives of residents every day with signature services for those who value their freedom and independence, but desire or need services providing them with the highest level of quality, care, and value.
Features of Brookdale Mountain View
---
Room and housing options
1-bedroom apartments
2-bedroom apartments
Studio Apartments
Location of Brookdale Mountain View
---
Get Cost Information
Get full access to reviews, cost information, and amenities