Sunrise of Decatur
920 Clairemont Avenue, Decatur, GA, 30030
Talk to a Family Advisor: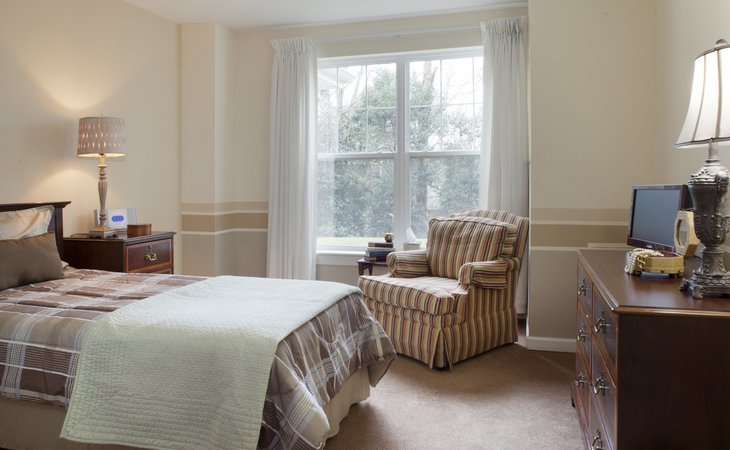 Reviews of Sunrise of Decatur
---
Chris C.
March 06, 2017
I visited this facility
Sunrise of Decatur was very nice, but farther than I would want to go. There was an elevator in the memory area, which raised concerns about my husband getting off on the wrong floor when the elvator doors open. I liked that they had really nice a walk-in bath. It was too far and out of my budget as well. The staff did a really good job.
---
Bennie163225
December 15, 2016
I visited this facility
I will be moving to Sunrise of Decatur. My visit there was wonderful. It seemed like a wonderful place, and I loved it. The rooms were immaculate. The staff was friendly, fantastic, very accommodating, and answered all of my questions. I could not say enough about them.
---
Alan736638
December 03, 2016
I visited this facility
Sunrise of Decatur was very nice. In our particular situation where we needed my father to be a companion to my mother, just the availability of what they had did not meet her needs. The rooms were quite small. They try to keep the people engaged, so they did fine with that.
---
Judith114735
November 21, 2016
I am a friend or relative of a current/past resident
My husband stayed at Sunrise. The facilities and the staff were fine. I thought their memory care unit needed some more work because of the lack of stimulating things going on. However, it was a secured place, and the people seemed to be very caring.
Provider Response
We are sorry to hear about your experience at our community. We take your comments very seriously and would like to speak with you further. Please email information (at) sunriseseniorliving (dot) com with your contact information so that we can reach out to you. Thank you, The Sunrise Team
---
Jeff400052
October 13, 2016
I am/was a resident of this facility
My mom moved into Sunrise a year ago. It was very nice and better than anything we were able to find. Everything was very good. However, they don't have enough parking space.
---
Sally153637
October 13, 2016
I visited this facility
We visited Sunrise of Decatur. I was very impressed with this facility. The rooms were not really big. It was more of an assisted living place than an independent living place, so the rooms were not very big. But I was totally impressed with the facility. For one thing, I like to work on my computer, and they had a lot of little nooks around where I can go to and maybe just sit by myself and read and work on the computer. I like that they had a soaking tub that you could use by appointment. They had a TV room that was wonderful. It had easy chairs in there; that was really nice. It just looked like a very nice place. The only thing I didn't care for was that it was right on the corner of a very busy intersection, so there weren't a whole lot of places to walk and stuff like that.
---
James142730
October 05, 2016
I visited this facility
Sunrise of Decatur looked more accommodating and homey; it didn't look like a hospital setting. It has a little bit personal touch to it; that's the one thing we like. The staff seemed competent, and they do their job more. The food is acceptable; I wouldn't say it was wonderful, but it works. From what I have seen here, I would tell anyone they should definitely have a look.
---
MichelleFXEJC
May 12, 2016
I visited this facility
We visited Sunrise of Decatur. It was excellent. They had happy shopping excursions and movies. I liked the sizes of the rooms, the activities, the staff, and the food.
---
Laurie47
March 09, 2016
I visited this facility
I visited Sunrise of Decatur for my mother. I thought the people were excellent and very prepared for my arrival. They reserved a parking space for me and even had a welcome sign when I walked up. It was very impressive and organized. The staff was very nice even though I didn't talk to that many people. There was one primary person who was very knowledgeable and spent a long time with me. The dining facility seemed nice. They had a bulletin board with different activities. I observed some of the activities that they were doing in the memory care facility, which was some kind of music game. There was a salon and an activity room. The outside was nice.
---
J Brown1
November 10, 2015
I visited this facility
Sunrise of Decatur was a very nice facility, but I didn't care for the location on a very busy intersection. That was a negative for me. The facility itself was very warm and inviting. The rooms were a little small. I didn't try their food, but I saw that they have an adequate dining area.
---
Mary
March 20, 2015
I am a friend or relative of a resident
We just moved him to Sunrise of Decatur. It is affordable, and the staff is very friendly. I would say they are very upbeat and very welcoming. They do have daily activities, and I think it is just enough for my father's level. So far, they have been very welcoming and caring towards my father and towards my family.
---
Caring103028050
March 07, 2015
I visited this facility
Sunrise was very lovely, but it was also very expensive. I lived near it, and it had a wonderful reputation. When I went in, I was very impressed with everything there. All I spoke to really was the person who was selling to me. It was before Christmas, someone was downstairs playing a violin, and the little dog was sleeping by the fireplace. I mean what's not to love. They had two rooms. So, you would have sort of a bedroom and a den, but on the other hand, they had so much around there if you go out of your room. From the programs I saw, they had outside trips, a lot of trips for people to go places, and I was not sure of what they were doing inside, but they did have some inside activities.
---
Caring70035750
November 05, 2014
I visited this facility
Sunrise was very nicely done as far as the physical condition of the building, but I thought the people seemed really elderly. A lot of people were in their wheelchairs, and they didn't seem to be talking to each other at all. I loved the décor. It had one apartment that was available, and I loved it. They have a dog there that belongs to the place; I thought that was really neat. The staff was very friendly and very helpful. It had a library, and it had a bus to take you out to lunch or if you want to sign up to go on an outing.
---
Caring94801550
September 23, 2014
I am a friend or relative of a resident
I like the cleanliness and the staff ratio at Sunrise. It was the ratio that was most apparent that there were people everywhere versus there was no client sitting around asking for help but didn't have help. The sanitation, the dining area, and the food were all exceptional. The studio has a kitchenette and a bathroom.
---
David86527250
May 30, 2014
I visited this facility
Sunrise of Decatur was overall nice and pleasant. The staff was nice and very informative. The lady I spoke with was nice. Their rooms were nice, and they are all pretty clean. They had a couple of different floor plans. They have different activities, and as the summer is coming, they have different outdoor activities, such as gardening and arts and crafts.
---
Caring78320550
February 28, 2014
I am a friend or relative of a resident
I think the service in Sunrise Decatur is very good. But my only complaint is it seems like every time I turn around they're charging me for something and they really seem to take a lot of the opportunity to charge me a lot of money. Every time there is a mistake on the bill, and there's a mistake every month that's been there so far, it's always in their favor by a lot. I had to review the bill with them every time we had a meeting to show them one of the mistakes. I feel like that it was a lot of money that's been pulled out of my family. I realized it was expensive. The care is good and I think the facilities are nice. The staff is pretty good. They have a tough job, and I think they have a good attitude about it. The service is great and the apartments were good. They have all kinds of activities, like bingo, cards, exercises, and sometimes field trips and birthday parties.
---
atlantanative76
January 19, 2014
I am a friend or relative of resident
My grandparents had a terrible experience in this facility. We chose to move them after 2 weeks. The staff is over worked. There isn't good communication between the different care givers. The food is blah. One male staffer told us he was the maintenance man and the chef. The day we moved them in the walls were all scuffed up & there was an existing triangle mural so we requested the apartment to be painted fresh - that was our expectation from the start. They promised to repaint but they never did. They misplaced paperwork for their medical care. Most of the staff has a disrespectful attitude. A few were helpful and polite but you could tell they were unhappy. We were very disappointed. Money and corporate driven environment. Please keep looking and do not consider.
Provider Response
We're sorry to hear that you did not have a positive experience and we take these comments very seriously. Please contact us at information@sunriseseniorliving.com so we can better understand your concerns. –The Sunrise Team
---
Steve15
January 30, 2013
I am a friend or relative of a resident
Sunrise of Decatur has good quality care and a good ratio of caregivers to residents. It is also very close to the house. They seem to care about the patients. It's well-maintained, very clean, and they even did some upgrades. But the food is not good.
Provider Response
Thank you for visiting our Sunrise of Decatur community and we're glad to hear that you had a positive experience. We focus on creating nutritious and delicious menus that cater to the unique needs of seniors. Our chefs use fresh and flavorful ingredients to create menus that offer a variety of choices every day. Allow us to have you as our guest again, so that you can try another dish from our Signature Dining Program. Please contact us at information@sunriseseniorliving.com
---
georgiapeaches1
August 28, 2012
I am a friend or relative of a resident
I thought the facility was very nice and well suited to the elderly. It had sort of a nostalgic feel with the victorian style architechture and the building was very nice. The room he was in was nice as well, and didnt have that depressing 'feel' of many nursing home rooms. The staff was very nice as well. There was also a basset hound named Emily which he really enjoyed as he was an animal lover. I never was able to sample the food but I heard no complaints from him so I'm assuming it was good, because he would have told us if it were not. He got good medical attention there as well and nurses would come and give him his medicine, help him bathe, and things like that.
---
EmM1
April 30, 2012
I visited this facility
I remember Sunrise feeling a lot like home. There were many windows which showed off the many trees and shrubs surrounding the building. The rooms were fairly spacious with enough furniture to entertain guests. The people working at this facility were quite passive, to the point that I almost forgot we were in an assisted living facility, and rather some sort of apartment complex. The overall nature of the place was welcoming and secure. I highly recommend Sunrise Decatur for those loved ones who are looking for utmost quality in assisted living.
---
beth2
November 19, 2011
Other
The staff and accomodations were superb.
---
---
Located just minutes from the Decatur Square, Sunrise of Decatur is situated right in the heart of Decatur. We pride ourselves in our sense of family and excellent quality of care.
Step into a Sunrise Assisted Living community and you can't help but feel at home. We stop at nothing to make your experience warm and inviting, from our homelike exterior architecture, to our comfortable community areas and choice of suites to our exceptional outdoor gardens and landscaping. Look around and you'll notice fresh flowers throughout the residence, and you may even spot our dog or our cat. And of course, there are always the friendly smiling faces of our staff to ensure that each day spent here is a welcome one.
Features of Sunrise of Decatur
---
Features
Resident Parking
Security Gate
Technology and entertainment
Health services
Nurse On Staff

Available During Business Hours
Location of Sunrise of Decatur
---
Get Cost Information
Get full access to reviews, cost information, and amenities