The Forum at Park Lane
7831 Park Lane, Dallas, TX, 75225
Talk to a Family Advisor: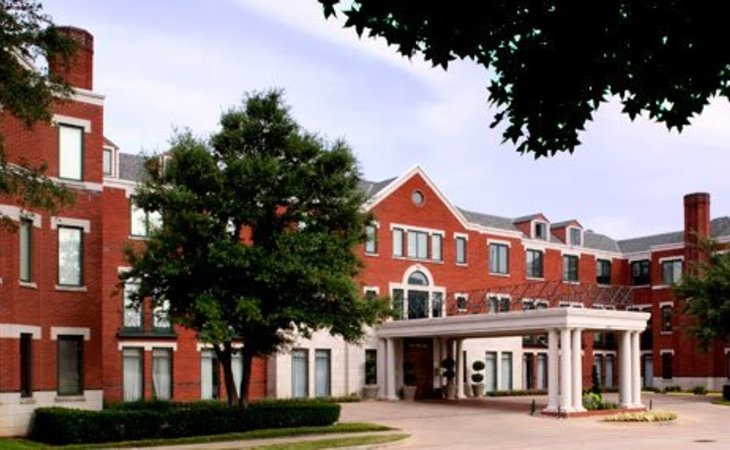 Reviews of The Forum at Park Lane
---
CG566232
June 10, 2016
I visited this facility
The Forum at Park Lane was a very nice place, and I liked it. The dining area looked good. They had a library and a salon. The rooms looked good, but I needed more amenities for my wheelchair that they were willing to fix if I was to move there.
---
Caring Visitor123544650
May 11, 2016
I visited this facility
First of all, the food at the Forum at Park Lane was marvellous. They're going to be doing some construction or renovation in the near future, so we ruled that out. It was also more expensive than the others. When you walk into the assisted living part, there's a desk, and in front of the desk was a stainless steel Madison cart. That didn't make a very pleasing first impression of assisted living. It looked more like skilled nursing. The dining room was pleasant and had table cloths. We were there a little late, so no one was there, but they invited us to lunch. Basically, this one is not going to be on our final list.
---
Laura114810250
November 28, 2015
I visited this facility
I liked the people at The Forum, but the price and the additional add-on prices they charge made it out of reach. Their prices are way too high. The Forum at Park Lane was a little impersonal. The space that was home-like but small. The refrigerators were just an afterthought because they were the little short ones, about 36 inches tall, with a microwave on top. I spoke with the director. She was very cooperative and gave me a lot of information that I did not know which most people should know about the different kinds of communities. She was great. It just wasn't a good fit. They need to make the rooms more personable, and bring in sinks, kitchens, and little cabinets to make it look like an apartment, not just a hotel room. It was clean and well maintained.
Provider Response
Thank you for taking the time to visit the The Forum at Park Lane. We understand that cost is a concern when you're looking at assisted living options. While senior care housing can indeed be costly, many elderly people's needs outweigh the costs. Because many families are facing this dilemma, we are committed to working closely with prospective residents and their families to identify the best possible funding options and finding ways to overcome financial barriers. We would welcome the opportunity to have you come back to our community and review your specific needs with us in detail.
---
Caring113384950
September 30, 2015
I visited this facility
The Forum was very acceptable and very nice. The staff was very good; they answered all of our questions. They showed us all the rooms that they had and told us how much they cost; the rooms were all nice. It's just that my friend decided he wants to stay at home.
---
Judy102101050
February 04, 2015
I visited this facility
The Forum was nice. It was a very high end place, and they had dress codes for dinners. They had a huge shopping mall. It was a big place.
---
Karin Smith
December 22, 2014
I am a friend or relative of resident
My mother in law was in independent living in a 2 bedroom apartment for the last 5 years. The staff is wonderful, kind and accommodating. She had congestive heart failure and had to go into their Medicare nursing unit and now she is in their skilled nursing unit. We have been very pleased with all three and that is the true test of a good retirement community. I think the price was fair and they are constantly working to upgrade the facilities and they just redecorated the independent living side with beautiful furniture and they are looking to upgrade their assisted living in the next year. It is very well located and the residents have all been delightful too.
---
Ballerina
December 21, 2014
I am a friend or relative of resident
I wish we had known that every year effective on February 1st the fees will go up 10-15%. No one's pensions or social security goes up that much each year so you will need a stash of money to deal with these increases. While the common areas of the facility are beautiful, the maintenance inside the apartments is very poor. They have not updated some of these places since the 70's it appears and with the fee increases, I think one should have a right to expect more. Some of the staff is not very helpful, particularly the folks in the skilled nursing area.
Provider Response
My name is Bryan and I am the Executive Director at The Forum at Park Lane. First, I thank you for complimenting the beauty of our common areas. Next, I want to address some of your concerns. As with all senior living communities, we do have yearly rent increases; however, they are in the 2-4% range. As with any household, costs of living increase annually so yearly rent adjustments allow us to continue to deliver a quality product. We are a 25 year old community and we strive to keep our property pristine. We have a Plant Operations Manager who oversees a large Maintenance and Housekeeping staff so that we can maintain our high standards for our common areas and our apartments; plus, all of the behind the scenes needs that affect the quality of life and safety of our residents. We have a protocol for apartment maintenance which includes weekly housekeeping, scheduled deep cleaning and 7 day a week staff for any emergency needs. We paint, replace carpeting, change fixtures and make other updates when we are turning apartments. You will find that many of our apartments have granite, stainless appliances and crown molding. I would very much like to have a conversation with you regarding your comments on the helpfulness of our staff so that I can follow-up. We do train our team members that our residents, families and guests are the reason we exist and they deserve our attention and courtesy. Please call me or come by my office, I am always available and eager to give you a Five Star experience. I appreciate your consideration.
---
Caring102522750
December 03, 2014
I am a friend or relative of a resident
Mother liked The Forum at Park Lane. It was clean. They play Bingo, cards, and dominos. They have game nights.
---
Caring91894650
October 31, 2014
I visited this facility
We were able to visit The Forum at Park Lane. The facility is very nice and clean. The rooms were nice as well, but it was way out of our price range.
---
Mildred8
September 29, 2014
I visited this facility
The Forum was too expensive. It was an older building, including the furnishing. Both my husband and I thought it was a bit depressing. It was old and dark with dark drapes and dark furniture. I just didn't think it was impressive looking. I liked that it is convenient to where we are living.
---
Highland Assisted Living
September 15, 2013
Other
Assisted living is essential for senior. And I think it is must to give assisted living for the mentally ill And this is a good assisted living service. I like this.
---
caring0306113
March 15, 2013
I visited this facility
The Forum was horrible. I went down there on a Sunday to view the facility. The room that they showed me looked like somebody had just died. The room was so small, the bed wasn't made, and it was in disarray. I can't deal with that.
---
Jo 1
February 22, 2013
I visited this facility
I thought The Forum at Park Lane was very attractive and very comfortable. They have a lot of excellent activities. The staff was exceptional, and the place was classy without being overly done.
---
commercesd
January 16, 2012
I visited this facility
I visited The Forum at Park Lane while in Dallas checking out facilities for my aunt. I immediately liked the Bostonian style of the buildings. My aunt would really like this, too - since her family is from there. But she prefers the mild climate of Texas and has lived in the Dallas region for a number of years and would like to stay there. The staff was cordial and very kind. I could see how well they treated and interacted with the residents, which was comforting. The entire facility is built around an elegant decor - and a very thoughtful design process. The gorgeous landscape is dotted with many accessible and pleasant seating areas for the residents to enjoy. I particularly enjoyed the quiet street lined beautiful and ample oak trees. The building's interior corridors resemble nicely appointed neighborhoods which makes a nice community feel for the residents. There are lots of places for everyone to enjoy a quiet book or socializing with other seniors. The facility's close proximity to North Park Mall gives the seniors the ability to regularly visit there to shop, enjoy casual and fine dining - as well as many cultural events that are staged there. The living spaces were all beautifully designed and decorated to the taste of the residents. The food in the dining areas was exceptional -- much like you would find in a five star restaurant. They can make special requests or choose from a variety of healthy and delicious options off the menu that changes frequently. Residents are also encouraged to enjoy regular and healthy snacks throughout the day. There are nearby advanced medical facilities, as well as a great variety of recreational and social venues that the seniors regularly have access to. This assisted living retirement community provides the best of both worlds -- independent, yet assisted living, with access to skilled nursing, and rehab as needed. We like the flexibility in all of the options and believe that this kind of facility is a very sensible environment to entrust someone as beloved as our aunt. We really liked the look of the entire facility, and could see how the residents really enjoy living there. It features everything that seniors need - in a variety of living situations, designed to suit all of their individual needs.
---
From The Forum at Park Lane
---
The Forum at Park Lane offers compassionate senior care in Dallas, TX. We strive to create a home-like atmosphere where you and your loved ones can feel secure. Our warm, well-trained staff works closely with our residents to provide the utmost care and comfort. As part of the Five Star corporation, you can be sure that everyone at The Forum at Park Lane shares the Five Star Values, and is committed to a high level of caring in all that they do. Please schedule a visit to see why we are the first choice in senior care in Dallas, TX.
Features of The Forum at Park Lane
---
Diet
Diabetic
Low Fat
Low Salt
Renal
Vegetarian
Location of The Forum at Park Lane
---
Get Cost Information
Get full access to reviews, cost information, and amenities