Aegis of Corte Madera
5555 Paradise Drive, Corte Madera, CA, 94925
Talk to a Family Advisor: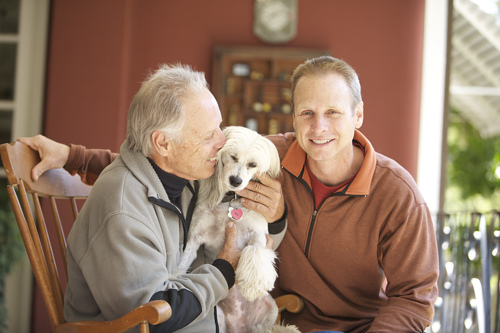 Top nearby Assisted Living Facilities
Reviews of Aegis of Corte Madera
---
Denise124285050
May 11, 2016
I am a friend or relative of a resident
We chose Aegis of Corte Madera for my mother because it was to my mother's liking. It was a beautiful place and close to where we live. They offer lots of activities, like movies, lectures, games, and many more. The place is expensive, but you get what you pay for.
---
Visitor121001950
March 19, 2016
I visited this facility
I would love to be in Aegis of Corte Madera, but it's like wanting a Cadillac you can't afford. I had a delicious lunch there. It's gorgeous. The dining room, the food, and everything I saw was very nice. They have movies daily and a chandelier in one of the dining rooms. Their clientele has money.
---
Todd2
June 30, 2014
I am a friend or relative of a resident
My father-in-law is in Aegis Assisted Living Community, and we are happy with that. We chose it because it is clean and very nice. The staff is fantastic, and it is in a beautiful location. My father-in-law enjoys the food. He is happy with the activities. He likes the atmosphere and the social aspect, and the other guests are nice, social people.
---
Chris Goodman
December 22, 2013
I am a friend or relative of resident
It has been less than a week and my mother-in-law is improving. The staff, food and services are outstanding. Staff is friendly, attentive and responded appropriate to two falls. The activities include exercise, music performances, outings, etc. So far, our loved one has required continual staff supervision/assistance and the staff is always right there. We're quite impressed by the diversity of residents and the facility's ability to attend to each. She, her personal belongings and her room have remained immaculate throughout this process and our family is delighted with her being there. Wish we'd made this decision earlier. Someone from our family visits with her daily and we are always greeted and informed re: her status. When she became disorganized/confused and bizarre, I asked staff to hold her medications until contacted by her physician; thus, her medications were changed and she has had no further such incidents. Thank goodness for staffs commitment to provide quality services with dignity.
---
Liz18
November 22, 2013
I visited this facility
My mother already decided to move to Aegis of Corte Madera and we're waiting for a two-bedroom apartment for her. It seems very nice, cozy, it's 15 minutes from my house and 15 minutes from where my sister works. It is also sunnier than San Francisco. They have a lot of activities and they also have different levels of care. The food is good. The other thing that I liked about Aeges is that you really do not need to drive because next door they have a market, a liquor store, a dry cleaner and a gym. You can just walk out of the door and everything is right there. However, they do have a very high fee to get in.
---
Pat21
May 29, 2013
I visited this facility
It was amazing and fabulous, but there was also $40,000 entry. It had more space and gardens. If not for the expensive entry cost, I think we should probably put my aunt in there.
---
SusaninSanFrancisco
December 08, 2012
I am a friend or relative of resident
My mom had a stroke three years ago, and we were faced with the difficult decision of finding care for her. Overall, Aegis has proven to be an excellent choice -- and truly the best quality care we could ever have asked for. The ratio of staff to residents is almost an astounding 1:1 ratio. They don't cut corners.
The place, near Nordstrom mall, is warm and welcoming with a diverse community for those with memory care issues and certainly, those without. Our deciding factor came down to Gail G., their activity director. We wanted a place where my mother could socialize and be engaged and active if she so chose to.
Gail creates an amazing monthly calendar chock-full of activities which range from discussion groups for men and women, musical and singing entertainment (she herself sings beautifully and has a background in musical theater), art and museum outings, gardening and so much more. There are also different "place" themes each month where residents can "travel" to new places and learn about different cultures.
For the holidays, Gail plans both Christmas and Hanukkah celebrations, and it is a very inclusive place where all feel welcome. It's not super religious in any way, which for us, was good -- but there is a shuttle and drivers to church or synagogue, if desired.
Because it was such a difficult decision for our family, we never felt any sort of hard pressure sales tactics like some of the other places. There was only warmth and compassion from the marketing team and Jennifer -- we truly felt that they realized it needed to be a good fit for both my mother and the family (there are five of us kids and we are all in the area).
The food is healthy and very good -- with a wide selection of daily entrees made to order. The wait staff (Norma and the other gals at breakfast), are extremely professional and friendly. They make my mother feel at home. The location is excellent and right next to 101 -- and there is a beautiful market called Paradise right next door.
My mom has two good pals, and people with whom she can socialize during meals, which she very much looks forward to. The staff is accommodating to families and family structures of all types. What I like most is the richness and diversity of the staff and their level of training. Valentine and Jenzie, both med techs who deliver my mother's daily pills (and watch over to see that she takes all), are excellent and cheerful.
There are about 125 or so residents, and it feels big enough to have a large selection of friends from which to choose (though, of course, there are far more women to men), yet small enough to be intimate without an institutional-like feel.
Highly recommended. I know it can be difficult.
---
esmith1301
September 29, 2012
I visited this facility
Nice facility in wonderful area of Corte Madera in Marin county. Very much like a Hilton/ upper level chain hotel. Dining staff was kind and was able to help with special requests. Grounds are well manicured as well as next to high end grocery and down the street to very nice mall. Very high income area in marin county.
---
jpoonian
August 05, 2011
I am a friend or relative of a resident
When I first decided to put my grandfather into an assisted living facility, I was terrified. I didn't completely trust a stranger taking care of my elder grandfather. But, as soon as I brought him to Aegis of Corte Madera, he and I knew that he was going to be in good hands. The staff is over the top helpful and the environment is absolutely beautiful for an assisted living facility. They were always conducting different activities so my grandfather was kept busy and it was always very fun visiting my grandfather because of their library and private movie theater. My grandfather's favorite part of the Aegis of Corte Madera was the food. He said that food was exceptionally better than my cooking and loved the meals he was served. In conclusion, I am very happy with my as well as my grandfather's experience while at Aegis of Corte Madera.
---
marinparent
May 03, 2011
Relatives live here
The marketing for Aegis is far different from what you end up getting once you move in. The place looks beautiful, but beware. The level of caregiving is minimal at best, and often bordering on incompetent. For example, prospective residents and families are told that each resident can summon a caregiver for help by pressing a button and that someone will be there within 5 minutes. The wait is generally between 20 and 30 minutes, which is unacceptable if it were an emergency. There is simply not enough staff. The "cleaning service" is often not performed at all due to staff shortage. The staff turn-over is quite high also--two of the nurses have recently left, the head care manager left, the director of operations has changed 3 times in 3 years. There is frequently no nurse on the premises on the weekends, or at night, though they will tell you there is always someone on hand. A resident waited over an hour to get a bandage for a bleeding wound last week, another resident fell on a weekend and received minimal care from a "med tech" and was told there was no nurse on duty until Monday. The fire alarm system in the building goes off randomly often in the middle of the night, and wakes residents with a frightening and deafening sound (inside each apartment) sometimes for several minutes until someone figures out how to turn it off. The chef tried hard to prepare meals with what is obviously a limited budget--lots of pre-packaged frozen chicken, cold cuts, minimal amounts of meat in "stews"--everything is delivered by either Cisco or a similar institutional food service. The "bistro" consists of stale packaged donuts and equally stale coffee. And do not be fooled by the initial prices--if your loved one needs any additional care as time goes on (and they will), they will be charged for every small service from help with their shoes to helping them get to meals to showering and medication help. We have spoken with numerous (at least 15) families of residents; the problem is once your relative moves into an AL facility, it is difficult and traumatic to move them, so you are in a sense "stuck" and it appears that this facility in particular is well aware of that, and continues to charge exorbitant rents and fees for very minimal service. Just wanted to warn other prospective residents that the marketing of Aegis truly does not match the day-to-day experience.
---
From Aegis of Corte Madera
---
Aegis of Corte Madera, located in beautiful Marin County, offers exceptional assisted living services. Enjoy an afternoon cup of tea and cookies with family and friends in the bistro; watch a move in the private theater or take a stroll in our lovely garden. Aegis of Corte Madera is situated in a quiet residential neighborhood, yet just a quick ferry ride or 15-minute drive to vibrant San Francisco! In either location, you will find Northern California's best shopping, entertainment and cultural activities. All the amenities and security you expect in an assisted living community, an on-site physician and seven days a week nursing coverage, make Aegis of Corte Madera the premier senior living community in the area.

At Aegis of Corte Madera we offer a nationally recognized program for individuals with Alzheimer's disease or other dementia. Our innovative memory care program is focused on increasing the quality of life for our residents. Social interaction, specially-designed living spaces and creative therapies help to reduce the need for medication giving each resident a sense of independence.

With a trained staff ready to serve you, respect and friendship are shown in a million little ways every day in our community. We invite you to visit Aegis of Corte Madera today to take a tour of our lovely community and join us for a delicious meal in our dining room. At Aegis of Corte Madera you'll get the best care available in a luxurious environment.
Features of Aegis of Corte Madera
---
Costs
All Inclusive Rent
Entry Fee
Dining options
In Room Kitchenette
Room Service For Meals
Features
Beauty Barber Shop
Computer Room
Resident Transportation
Garden And Patio
Resident Parking
Security Gate
Technology and entertainment
Health services
Nurse On Staff

During Business Hours

Pharma
Diet
Diabetic
Low Fat
Low Salt
Renal
Location of Aegis of Corte Madera
---
Request Info
Get full access to reviews, cost information, and amenities