Garden Estates of Corpus Christi
2709 Cimarron Blvd, Corpus Christi, TX, 78414
Talk to a Family Advisor: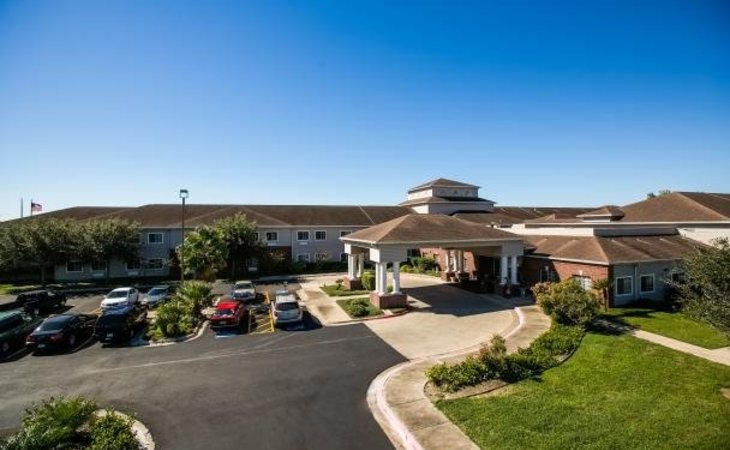 Reviews of Garden Estates of Corpus Christi
---
Polly757100
May 10, 2017
I am a friend or relative of a current/past resident
Garden Estates of Corpus Christi is wonderful. I could not compliment them enough. Mom is living in a very clean apartment with new paint and carpet. She gets attention from the staff and is very happy. They make sure she gets to meals and activities. We love it.
---
Fernando528010
May 03, 2017
I visited this facility
The staff of Garden Estates seemed very helpful and very caring. It was very clean, and the rooms were very nice. I liked the layout and spaciousness of the rooms. We didn't get to see too much of the place, but it appeared to be very nice.
---
Mariana888632
February 01, 2017
I visited this facility
I really liked Garden Estates. The people were friendly. The whole atmosphere was inviting. The layout was easy to navigate, and every room that I visited was nice. When I get older, I would like to use that facility. It was nice. I liked that it was close. There was a place of fellowship, and I liked the idea that my parents would be able to have church there or be taken to their church. They would take them for doctors' visits, too. My brother-in-law's mother was there, and she liked it. That's where I would like my parents to go.
---
Leann767241
January 14, 2017
I visited this facility
Garden Estates of Corpus Christi was beautiful, very clean, and very well organized. The staff was extremely friendly, very knowledgeable, and were a big help in answering questions. I liked their rooms the best. I thought they were bigger than the other rooms that I saw. They had better closets than some of the other places that we looked at, and they were bright and clean. We were able to try some scones before we left, and they were delicious. The dining area was very spacious and was centrally located. Their menu had a lot of choices, and they seemed to be the most accommodating. I told them that my dad liked to eat a lot of sandwiches, and they said they will make him a sandwich anytime.
---
Cleveland312645
November 08, 2016
I visited this facility
I liked Garden Estates of Corpus Christi, and I really liked the representative Tanya because she was very helpful and knowledgeable. It's just that even though they accepted pets, you had to physically walk them out to a pet area, and my sister was still on a wheelchair and she was on a walker, and she has 2 little dogs; we just thought it would be too difficult for her to get up in the middle of the night to go to take them out.
---
George006201
November 05, 2016
I visited this facility
I was not really pleased with Garden Estates. My mother-in-law didn't like the food, so we had to get her out of there. We had to put up a $3,000 move-in fee, and you don't get that back if you move out.
Provider Response
We were disappointed to learn you did not enjoy your experience at our community. We would appreciate the opportunity to learn more about where you feel we could improve, and invite you to reach out to our Executive Director directly at our community phone line should you have any additional input. Thank you for your time.
---
Consuelo207827
September 30, 2016
I visited this facility
The Garden Estates was excellent from what I observed from the staff and the tour. Everything was on point. The food was good, the common room was very cozy and friendly, and the activities room seem to offer a wide variety of stuff. I tried the food, and it was good.
---
Victor10
October 31, 2015
I visited this facility
Garden Estates was close by to my home. They had activities in the dining hall such as games and music. They provide transportation for doctors' appointments. The staff was knowledgeable and very helpful.
---
Caring107257350
May 28, 2015
I visited this facility
Garden Estates was very formal. The staff was very knowledgeable, and the rooms were nice, but they were upstairs, and I was looking for something on the first floor. There are spacious rooms that are about 5 ft., and you can turn around in a wheelchair. They had a calendar full of activities. There was gambling, bingo, and a movie night or something like that. I saw their dining rooms, and they had one for people in the independent living and another one for those in assisted living.
---
Anonymous109738450
April 22, 2015
I am a friend or relative of a resident
The rooms were nice at Garden Estates. They just do not have enough help. We had eaten a few meals with my mother-in-law there, and they had good food. The dining room was nice. They had activities like watching movies, card games, and jigsaw puzzles. They also went to different places.
---
Cathy102655950
March 08, 2015
I am a friend or relative of a resident
My mother lives in Garden Estates, and when they first moved in, she was for rehab but they needed to be in assisted living. They insisted that they have two baths. Dad also used to live there, and they have a studio apartment. They put a door in the wall to make it two bedrooms, and they also have two kitchens. My father was an avid cook, so he continued to cook, and my mother says stay out of my kitchen because I'm not cooking anymore. My father died last May at the facility, and the care that we received is simply indescribable. He was so loved by the staff and management. They have bingo, outings, church services, exercise classes, card games, and weekly entertainment. They celebrate all the holidays and birthdays. My only issue is the medication management needs a lot to be desired. I would recommend it, but I would tell them about medication management.
---
Lucia1
August 30, 2014
I visited this facility
I really like Garden Estates, but my mom is not ready yet to move to a facility. It looks really clean and it didn't smell. The staff as well as the residents were friendly. The residents were recommending the place to us and they were telling us that they are comfortable there. They have little apartments with a living room, bedroom, bathroom, and a little kitchen. The room was so close to the lobby that my mother would not have to walk to the long hall if we have moved her in there.
---
Patty35
August 28, 2014
I visited this facility
Garden Estates was very nice. The food was good. The staff was very nice, very helpful and very friendly. Environment was good. It was a possibility for my father but it was not what we need for my mother because they didn't have a locked unit for her. She has to be in a secured environment.
---
Caring90866850
August 07, 2014
I visited this facility
Garden Estates is not that not expensive but it didn't appeal to us that much. It was like a nursing home. It was smaller. They were nice and friendly. The dining area looked fine. The residents were less active, less energetic and less enthusiastic.
---
GARDEN ESTATES
June 18, 2014
I am a friend or relative of resident
Recently we toured Garden Estates as possible assisted living site for my step-mother who recently had surgery for a broken knee. We were overwhelmed by the excellent facilities and staff. A room was completely refreshed and refurnished and selected in the perfect location for access to the dining area and very attractive activity rooms. My wife and I are very optimistic about the future care and social life for this long time resident of Corpus Christi. My mother-in-law's reaction was very positive and led to an easy transition from her home of 46 years. She hopes to recover from her knee surgery and be able to return home, but we feel very comfortable that she will be able to adjust to and enjoy Garden Estates as her new home for as long as is necessary. We deeply appreciated the attention to details and thorough review of the facilities and care givers provided by Gae, the Director of Sales and Marketing!
---
Donnieta
April 10, 2014
I visited this facility
I also visited Garden Estates, and I liked them as well. The staff was excellent and upbeat. The director was wonderful. What I liked about it was that it had assisted living and nursing in the same building. They were just across from each other. I would highly recommend it.
---
Caring81996150
March 27, 2014
I visited this facility
We went to Garden Estate, and it was fine as well. It was very clean with a nice layout. The staff was very helpful and nice. The tour that we had there wasn't quite as expensive. The apartments also had nice layout, but I had to go back to search for some of the rooms the guide overlooked, probably because the person who toured us was not the normal person who does the tours. We saw some of the activities they were doing. We were there during mealtime, but were not offered a meal. The dining area didn't look very inviting because it was dark. It reminded me more of a school cafeteria than a dining room
Provider Response
Thank you for your post! We value your opinion as we strive daily to improve the care of our residents, staff, and family members as well as the experiences for those guests that visit our community. I also want to thank you for taking time out of your day to come visit our community, and I am glad to hear that you had positive experiences with our staff and that you liked the layouts of the rooms that you toured.

However, I am sorry to hear that your total tour experience wasn't to the standards that we expect here at Garden Estates. Anytime a visitor is toured around the community you should always be given the opportunity to view a variety of floor plans for any of the vacant apartments we might have, and I will take this feedback to my team and ensure that every member understands the proper procedures for these types of situations. Our team is trained with the ultimate expectation that our visitors should get the same personalized tour experience with each of us, so there is no confusion.

In addition to the above, it is another goal of ours to offer a lunch or dinner experience to those visiting, so you are able to get a more complete feel for the atmosphere of what community life is here at Garden Estates. I am a firm believer that the dining experience is of utmost importance when making a decision on a loved one's future home. And for that I would like to extend my personal invitation to join me for a lunch or dinner meal in our dining room. Hopefully, that will allow you to experience the warmth of our dining room, while also enjoying a nice meal. You may reach me at 361.980.8200 to arrange a time that is conducive to your schedule.

Once again, I want to express my appreciation for your feedback, as I am a believer that you can't get better without knowing how you are viewed by others.

Shane Brown, Executive Director, Garden Estates Senior Living – Corpus Christi
---
Caring75416150
January 31, 2014
I am a friend or relative of a resident
My mother already knew some people that live at Garden Estates of Corpus Christi that's why we chose this one. Garden Estates has many wings so when we saw this one wing, that's fairly new, we like it. It's brighter, cheerier, and more decorated, whereas the other wings looked a little drab. A lot of facilities smell like urine but this one doesn't have any kind of odor to it. Mainly I think it's the staff that we were convinced with that would take good care of my mother. The staff seems to be very caring. They're great. When my mother had a lab appointment with her cardiologist and there was a problem with her insurance, they called me asking about her insurance. I don't think many facilities would do that, but they really care. I was very pleased with them. Also my mom is pleased with everything there. Her room is a big one-bedroom with a bathroom and it is just exactly what she needs. In order for her to get to the dining room, she has to go down three long hallways, so that she is getting more exercise now than she did at her apartment, so it's been good for her. Their food is warm and nutritious. She gets more food than she needs there. For activities, they have some things she enjoys. They have a game call money bingo and they have entertainment that would come in. Before Christmas, they had choirs that came in from different churches. The only thing we don't like is that they don't have any pastors come in with the Lutheran religion. What I like best about this facility is just the security and knowing that she's in a safe place and she is being cared for there. She's just in good hands.
---
Caring75196850
December 27, 2013
I am a friend or relative of a resident
I would recommend Garden Estates of Corpus Christi. This is an excellent facility. The facility is clean. They have transportation, activities, shopping trips, etc. They even have a hairdresser on property. Mom is a current resident there and their care is excellent. It is a very nice facility. I would recommend this place to friends and family.
---
Caring68634950
August 27, 2013
I visited this facility
The Garden Estates of Corpus Christi was nice. The staff was very helpful; she called me numerous times to see how things were going even though we weren't using their services. I thought their prices were very fair, they were way less than anywhere else in the country, and the place was clean.
---
ShesTall
December 04, 2012
I am a friend or relative of resident
My grandmother recently moved in here and so far we have been very disappointed with her care. She had a surgery that required pain medication for recovery. When the dosage was incorrect, they took it away from her and left her with NO medication until she could get a new prescription from the doctor. Really?! You're going to leave a post knee surgery senior with NO pain medication?? What kind of place is this?? This is only one of many issues we've had. My grandmother was already sad she wasn't able to live unassisted anymore. This place has NOT made the transition any better. She has fallen into even deeper depression. Thanks for everything Garden Estates.
---
alvarmp075
April 18, 2012
I am a friend or relative of a resident
Garden Estates has been a great place so far. Garden Estates is split literally done the middle. Half of the building is assisted living, and the other half is for retirement living; whose majority of the residents are retired military. The staff is great from what i have seen. There are recreational areas, arts and craft, and also gets frequented by performers for entertainment. The only downside is the food, from what Im told. It could be better.
---
commercesd
January 12, 2012
I visited this facility
We visited the Garden Estates Of Corpus Christi Assisted Living Community while out looking at facilities to consider for our aunt. We could tell as soon as we arrived that this is a well-tended place. The circular drive and carport looked more like a high end hotel than a place where seniors might live. The staff was very caring and professional, explaining the entire process from start to finish. The front area had fragrant fresh flowers and plenty of nice greenery, as did the back yard area. Residents are free to enjoy the area with supervision nearby. There were nice walkways and seating areas as well, where families and friends may gather. The food was cooked to perfection. We got to see the main kitchen, where fresh bread was baking, and homemade soups were being made. They also make their own salad dressings. Lots of fresh vegetables and fruits are available at all times. The food at this facility rivals that of a 5 star hotel. The communal rooms were all lovely and nicely decorated, with plenty of nice natural light -- which made for a cheery atmosphere. The residents all looked they were really content. The list of activities was comprehensive, from library to local outings, they do it all. They have regular socials where people come from the community, as well. This facility had exceptional atmosphere, level of care and food -- everything a senior needs to live a vibrant and content life -- under the best circumstances possible.
---
From Garden Estates of Corpus Christi
---
Senior assisted living at Garden Estates of Corpus Christi offers residents the best of both worlds. All benefits of our senior living community are combined with a full spectrum of senior care services to create a premier senior assisted living community. Residents enjoy beautiful surroundings, on-site amenities and social programs alongside continual on-call medical care.
At Garden Estates of Corpus Christi, we adhere to state-of-the-art standards of senior assisted living while providing a special touch. Our residents receive personal and comprehensive care and are consistently treated with the dignity and respect they deserve. Whether our residents need help with day-to-day activities, getting to appointments, or medication management, our caregivers kindly and competently meet those needs.
Our assisted living community in Corpus Christi has been purposefully designed to provide you or your loved one with a nurturing, comfortable, home-like environment that is attractive and easy to navigate. We foster community and family by hosting many activities and events each month. Residents are encouraged to participate in as many pursuits and outings as they like, appropriate to their ability. No matter what, everyone is treated as an individual person with unique needs.
At Garden Estates of Corpus Christi, our residents live life to its fullest as they age in place.
Assisted Living Amenities
Personalized Care Plans
24-hour Staffing
Emergency Response System
Medication Management
Scheduled transportation to local shopping and medical appointments
Award winning Wellness Everyday™ programs, provided 7 days a week
Dining for Wellness™ - educational and wellness program
Brain Health University™
Beauty and Barber Shop
Housekeeping and maintenance service
All utilities and basic cable included
Individually controlled heat and central air
Fresh, seasonal cuisine prepared by the dining service team
What Makes Us Special
---
Garden Estates is located in a very nice area surrounded by shopping and medical centers.
Features of Garden Estates of Corpus Christi
---
Costs
Minimum Rate

$2781/month

Rent Plus Care Fees
Entry Fee
Fee Structure Extra

We Offer A Month To Month Rental
Room and housing options
1-bedroom apartments
2-bedroom apartments
Companion Suites

We Do Not Offer Companion Suites

Studio Apartments
Dining options
In Room Kitchenette
In Room Kitchens
Dining Room Shared Meals
Room Service For Meals
Features
Beauty Barber Shop
Computer Room
Resident Transportation
Party Space
General Store
Tv Room
Garden And Patio
Resident Parking
Features Extra

Library, Fitness Room/Gym
Cleaning services
Laundry For Linens
Private Cleaning Services
Housekeeping
Laundry For Clothing
Technology and entertainment
Cable In Rooms
Technology Extra

Emergency Call System
Health services
Medication Management
Physical Therapy
Psychiatric Care
Pharma
Activities
Offsite Activities
Music
Games
Stories
Religious Services
Lectures Discussions
Wii Sports
Tai Chi
Fitness Room
Yoga
Gardening
Arts And Crafts
Activities Extra

Computer Class
Guest services
Guest Parking
Guests At Mealtime
Overnight Guests
General
Minimum Age

62

Pets

Small Pets Allowed
Nurses
Nurses Extra

We Have 24 Hour Nurses.
Location of Garden Estates of Corpus Christi
---
Get Cost Information
Get full access to reviews, cost information, and amenities