McGregor
14900 Private Drive, Cleveland, OH, 44112
Talk to a Family Advisor: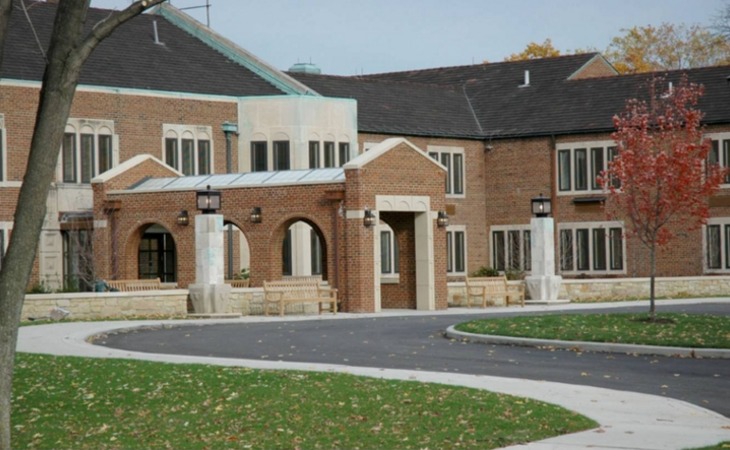 Reviews of McGregor
---
jameswoods
May 11, 2017
I am a friend or relative of a current/past resident
McGregor has a wonderful exterior and the inside is immaculately clean.!!! My uncle lived in the assisted-living facility for two years. But I noticed from my time coming and going from McGregor, there was a disconnect between its management and staff ,the staff seemed unformed about a lot of questions I asked. Although small portion of the management staff was cordial I found others would walk by without even acknowledging you!!! I also had dinner there with my uncle and the food was horrible !!! you would think for the amount of money that my uncle was paying to stay there he could have had an adequate healthy meal !!!! Believe me that was not the case!!!!At the end of day this is nothing more than a business they're soliciting our mothers and fathers & love ones for their money and the care is care subpar!!! So my suggestion to you really investigate really take a tour and look at the inns and outs of the facility before you bring your love one there !!
---
SSMD
March 27, 2016
I am a friend or relative of resident
I very much appreciate the care my relative is receiving at McGregor. I am grateful for the caring attitude I observe, and am comfortable that McGregor staff really work hard to ensure that residents live in a comfortable, safe and stimulating environment. I observe a wide range of needs among residents when I visit, and I admire the genuine effort the staff makes to make each resident feel respected. I also appreciate that I can voice any concerns I may have, and see them addressed. I don't know if there is a facility that is perfect, but I do believe McGregor consistently strives to be among the best.
---
sad always
March 17, 2016
I am a friend or relative of resident
From my experience, there is no such thing as an excellent nursing home. For the positive that you may see, it is conteracted by many more negatives. McGregor was once known as a wonderful nursing home, but now it is managed/staffed by persons who are either incompetent, or by those who just do the bare minimum. You have STNAs neglect residents, and nurses who do not give residents their sceduled meds! McGregor is not the worst nursing home, but it is nowhere near being the best. A nursing home is only good as it's employees, and even more so, as good as management...and that is one thing that i noticed at McGregor--there is no one one in charge over the STNAs or LPNs to see if they are doing the job that they are being paid to do. Also, high turnover of LPNs. Do not let the exterior of the facility deceive you. McGregor could be that great nursing home it once was, if people really cared about the elderly.
---
Posted by MJA on December 24, 2015
December 24, 2015
I am a friend or relative of resident
Based on our experience, the website claim that "McGregor continues the mission of enabling seniors to age successfully in a place they call home and ensuring for seniors the highest standards of personal dignity, respect, quality of life and compassion." is very misleading and we saw no evidence of that claim. Additionally, U.S. News and World Report failed to do a thorough review of McGregor in 2014 "IF" they did in fact name them one of Americas best nursing homes in the country. We saw first hand that this could not be possible.
---
Anonymous114226050
October 30, 2015
I visited this facility
I visited McGregor, and it smelled. The room was a good size, and the grounds looked pretty. The staff was not knowledgeable at all. It was dusty and looked old.
---
Caring100653150
January 06, 2015
I am a friend or relative of a resident
Before my father passed away, he was at McGregor Home. We chose this facility because it was close to home. Also we had a good review from the hospital that he was in. My overall experience with this place was excellent. The staff was very good too. The rooms were excellent. They were very spacious and very nice. I sat with my father to eat. Everyone ate in the same dining room. It was nice too. Activities for my dad, he had to have physical therapy. He also had speech and occupational therapy.
---
purple78925
July 25, 2014
I am a friend or relative of resident
I would have liked to know that my mother would come to know and love her highly experienced and well trained caregivers, only to lose those beloved caregivers to younger, less experienced caregivers who have passed some certification program to receive their STNA, yet not developed the skill of communicating with residents and their families, with love and experience. They lost some amazing people (in ASSISTED living, not skilled).
---
Thelma3
June 07, 2013
I am a friend or relative of a resident
My mother got ill and her doctor got her into the McGregor Home for rehabilitation. They have a rehabilitation center, skilled nursing, and assisted living. So far, the staff is pretty good. I don't have any complaints. They're very attentive to my mother. She's getting three meals, therapy, and all her medication. The rooms are pretty spacious. I haven't eaten there, but the meals looked pretty good to me. It is clean and no matter how far you are into the facility, you don't get any unpleasant odors. It's a very homey facility. They have activities there as well. The grounds are nice and well maintained.
---
Prayeful
April 14, 2013
I am a friend or relative of resident
My family member was a long term resident of McGregor, having been on two floors and experienced the nursing home going from higher quality to low quality when the opened up the assisted living component and expanded to other properties, including McGregor Overlook. The staff ratio is in need of addressing as often there are not enough staff to take care or residents' needs and, often, they are working short. The newest STNAs are not well trained and are often rude, unprofessional, and stand around talking too much about their personal lives, to the neglect of residents. We have personally experienced staff who are problematic and who commit acts for which they should be fired per the agency's own policies, reassigned to another floor. Once known as a stellar facility, this nursing home has seriously declined, not worthy of the five star rating. However, as one look at other nursing homes, this one still is one of the best. Family and friends, regardless of where your loved one is placed, you must stay involved and attempt to partner in the care of your loved one as my family did.
---
simon1
August 21, 2012
I am a friend or relative of a resident
My mother stayed in this facility for one month. All of the nurses and staff were completely professional, and attentive. I did notice there was some segregation in the dining hall, but otherwise the staff was quite gracious. The grounds and the amenities of the facility were outstanding. Including, the gardens, the art spaces, and the community recreational room. I would definitely recommend this facility to others and in fact, a friend of mine's aunt experienced something quite similar. She too, had positive thing s to say.
---
npc
July 23, 2012
I am a friend or relative of a resident
This assisted living provider was great. The facility is on a huge estate, and the buildings offer a wide variety of services. This facility offers short and long term assisted living, senior housing, and various rehabilitation services. The staff were very friendly. The food was pretty terrible, but this is to be expected in a place like this as the food nutrition for the patients must be tightly monitored and controlled. There are many activities, including movie nights, games, and even live music. There are gardens on site where patients can help with planting flowers and vegetables. The rehabilitation room has a lot of equipment and the rehab staff is friendly and helpful. There were some annoying alarms that would go off frequently, and sometimes it seemed that it would take a long while for staff to tend to the patients when the alarms were sounded, but it did not seem to cause many problems in the long run. This would be a very nice place to have to choose for those looking into assisted living facilities.
---
Drpup
August 02, 2011
I visited this facility
McGregor overlooks University Circle and the Case campus. I volunteered there. The staff was mostly friendly. The security is pretty rigid. You have to ring in in order to enter. The nursing home residents were all sitting in front of a lounge area watching TV when I entered. There was a piano at the end of the hallway. Most of them were asleep or watching TV. It didn't seem like the staff provided them with invigorating activities. The residents looked sad and lonely. They were always happy to have visitors. The rooms were nice. They were large and spacious. The bathrooms were nice as well. I think a big downside to the facility would probably have to do with the lack of invigorating activities for the men and women. They were also not allowed outside very often. The food was terrible, but that could just be because old people have poor taste buds. The place was quite small and everyone had private rooms and bathrooms. Overall, it was pretty nice but like all nursing homes kind of sad.
---
---
A non-profit assisted living and retirement facility, McGregor offers its residents a longstanding reputation of excellence. For over a century, McGregor has been servicing the needs seniors in the greater Cleveland area. McGregor's sprawling senior living community is located on a 32-acre historic estate. Walk-out courtyards, beautiful gardens and meandering walking paths surround guests, offering them much in the way of pride of ownership.
Above and beyond all of this physical beauty, McGregor improves the experience of the aging senior population by enabling them to age successfully in a place they are proud to call home. At the same time, McGregor's assisted living facility ensures the seniors who live here enjoy the highest standards of personal dignity, respect, quality of life and compassion.
At McGregor, we are uniquely positioned to handle Cleveland area seniors' unique assisted living requirements. Whether it's is assistance with basic daily tasks or round-the-clock nursing care, our qualified staff is professionally trained to provide the necessary care expertly and compassionately. Following are just some of the aspects of the McGregor community that set us apart from the assisted living competition.
We provide a safe and comfortable assisted living environment every day.
We offer a high value alternative that enables seniors to stay on their own longer.
As a resident, you maintain complete control of your nest egg.
Our comprehensive set of support services make life easier for our senior residents.
Our Assisted Living services are all-inclusive, resulting in stress-free peace of mind for you and your loved ones.
As seniors' assisted living needs change over time, we offer other on-campus housing and care options (from independent retirement living all the way to nursing home services) to ensure continuity of care.
What Makes Us Special
---
Assisted Living at McGregor is a place where you can express your own unique personality and foster connections to your family and friends. We're committed to your personal well-being and making your life easier in a Home-like setting, providing Life Enrichment Activities.
Features of McGregor
---
Costs
Minimum Rate

$5250/month

All Inclusive Rent
Room and housing options
1-bedroom apartments
2-bedroom apartments
Companion Suites

We Do Not Offer Companion Suites
General
Minimum Age

55

Pets

Small Pets Allowed
Get Cost Information
Get full access to reviews, cost information, and amenities