Evergreen Retirement Community
230 West Galbraith Road, Cincinnati, OH, 45215
Talk to a Family Advisor: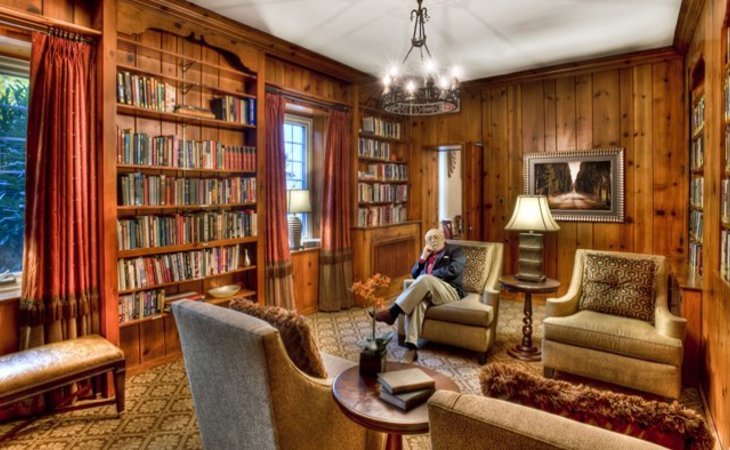 Reviews of Evergreen Retirement Community
---
Diana503407
April 26, 2017
I am a friend or relative of a current/past resident
Evergreen Retirement Community is fantastic and wonderful. The rooms are really good, pretty large, and you get to bring in your own decorations. My friends are living there, so I had dinner them, and the food is really good. They have a great chef. They take them on outings, and people come in and help them paint if they're interested. They had this one person come in and sing to them. They have a fantastic activity director. She gets everybody singing with her, even the people who were kind of lolling over. I didn't think these people would get involved, but she got them involved, so it's wonderful. You'll absolutely love it. The grounds are wonderful and beautiful and have all kinds of plants. They even have the residents help plant if they want and have flower gardens and a pool.
Provider Response
Thank you so much for your review; we appreciate your feedback and are delighted that your enjoyed your visit with us!
---
Lorraine561358
March 28, 2017
I visited this facility
Evergreen Retirement Community's people and campus were very nice and was well maintained. I ate at their bistro, and the food was excellent. They served three meals a day; had activities, like guest speakers and arts & crafts; and took bus trips to various locations to look at things, go out and eat, and go shopping. I would definitely recommend it to others.
Provider Response
We are delighted that you enjoyed your visit and appreciate your feedback! Thank you so much for taking the time to write a review.
---
Diane368861
March 06, 2017
I visited this facility
The director of Evergreen was wonderful, and it was quite a pleasure speaking with him. I liked that he showed me different possibilities, including their cottage facility, which is a two-bedroom with a garage that I liked. I liked the grounds, the older building, and the history of the dairy farm. I felt comfortable.
Provider Response
I am thrilled that you enjoyed your tour of our beautiful community! We are very proud to show it off and so glad you had a great experience and left "feeling comfortable" that means so much to us. Please feel free to reach out to me if you have any further questions or would like to know when your favorite apartment comes available. Sincerely, Russ Conrad, rconrad@seniorlifestyle.com
---
Donna527865
December 03, 2016
I am a friend or relative of a current/past resident
Evergreen Retirement is a lovely place, and the rooms are very spacious. The food is exceptionally good. They have a lot of activities like exercise classes, outings, movies, and Halloween costume dance party. The only problem we're having is the response time when my dad presses the button.
---
Jane813830
October 20, 2016
I visited this facility
Evergreen Retirement Community is very nice, but you have to commit to paying to be able to pay 4 or 5 years. The staff is great, and the rooms are very nice. I have eaten at their little shop, and the food is good. You have to be able to have the funds to pay for it before you can be accepted there -- which is probably over $200,000 by the time you add that up for 4 years -- so it's quite expensive especially for someone who is 90 years old. I think it's cost-prohibitive for my mother-in-law. There is a registered nurse.
---
Kirk425761
August 22, 2016
I am a friend or relative of a resident
We really like Evergreen. It feels established like it has been there a long time. It's an old property, but they take pretty good care of it. They foster a sense of belonging. It isn't like an institutional setting, and the people are really nice, so it seesd to be the best setting. I like the history and the setting. The layout seems pretty easy for most of the residents there. They have a variety of rooms. We only saw two different styles of rooms; we ended up putting my mother-in-law in one of the one-bedroom units. The efficiencies and one-room units are too small. They have villas and separate homes near the facility. They have quite a few facilities there. She's in independent living, so they have signups for activities, shuttle service for various things, and you can walk around outside. It's pretty warm, but it's in a very wooded area. It's okay for someone who has the ability to walk. They have two levels on each wing. She's on a lower level that has a patio, which is ideal for her. They have a beauty shop and a gift shop. The move-in went really smoothly, and access to her apartment is really good. The good thing is she can come and go for the most part. Everybody's apartment has a little window and a little inset where you can put a couple of chairs, a bench, or a plant.
---
Judas4u
August 20, 2016
I visited this facility
I really enjoyed the campus and it was stunning but the price point is ridiculous. And guess what, when you run out of money........you are screwed or have to go to the nursing home. The sales people were great but the place was really dirty and it was clear that it wasn't maintained to the standard of the price point. Sorry but my money is better spent elsewhere considering I would have to move out when my funds exhausted. Beautiful grounds though!
Provider Response
Thank you for your kind words regarding Evergreen Retirement Community's beautiful grounds and sales professionals. Evergreen Retirement Community is a private pay community so unfortunately we can't provide assistance to individuals unable to pay for their apartment or the many amenities that come with membership to our community. We work diligently during the move-in process to ensure our potential families understand the cost of the community and apartments so they have the tools necessary to make the right decisions for themselves or their loved ones. If you have any questions regarding our community philosophy I would be happy to speak with you directly and help you through the process of choosing the right retirement community model for you. Please feel free to call our community line and ask to speak with Russ. Thank you again for your time!
---
Caring106702550
November 12, 2015
I am a friend or relative of a resident
We placed my mother-in-law in Evergreen Retirement Community. We really like the place. My mother-in-law is in a memory care unit, so it is pretty locked up. She is in a nice private room. The staff that works with my her seems to be experienced and very nice to work with. The dining room is set up nicely. They have a lot of activities from the beginning of the day to evening. I guess the only concern we have is the need to set up a proper communication channel with the staff there. Other than that, Evergreen Retirement Community is an excellent place.
Provider Response
Thank you for your feedback. We are so glad that majority of your experience in our memory care has been a positive one for your family and loved one. We know how important communication is and would love the opportunity to work hand in hand with you in setting up the correct channels of communication. Please give me call at 513-948-2308. Thank you, Jeremy Yates, Executive Director
---
Emogene
July 29, 2015
I visited this facility
We visited Evergreen. It was a very impressive place. We saw their dining area, and it was very nice. I like their little cottages. They have a little flower garden that you could walk through on the outside. They also have a beauty parlor.
---
Francis8
June 09, 2015
I visited this facility
We went to Evergreen. I thought the price was reasonable, and it had good care. However, they had no covered parking. They had about the same activities level, and the floor plans were good. Overall, we had a positive experience. They had all levels of care like assisted, independent, skilled, and also memory care. They had a lot of community things and things for people to do every day.
---
Caring106958150
May 28, 2015
I visited this facility
My aunt had a gate pass, so we were able to attend the luncheon at one of their campuses, and they gave us an overview of their places. Evergreen was very nice, clean, and well-kept, and they provided a meal and showed us around the facility. It was very well-maintained, and the food was very good. My mother ate it and enjoyed it. They had various floor plans and models as far as going there. We only visited one. They were full and had a waiting list, but they allowed us to see the assisted living floor plan. The staff was very good, knowledgeable, polite, and friendly. They had a list of activities.
---
Caring102985650
April 03, 2015
I visited this facility
We've looked at Evergreen, and we were treated very nicely. We had a good time. The staff is good. The facility was kind of good-looking because I think it was an old farm or winery or something like that, and they expanded it and made a living system out of it. It was very nice. I was favorably impressed with Evergreen; we're going to go back and look again. It was a quick visit among a bunch of others; that's why I'm going back to get a better impression.
---
Lorraine28
December 07, 2014
I visited this facility
Evergreen was nice, but it just didn't fit my expectation. The facility itself was very attractive, but it was more like an apartment building, so it wasn't attractive to me. The dining facility was like a restaurant though; it was very attractive.
Provider Response
I am sorry to hear that we were unable to meet your expectations. I appreciate your feedback and would like the opportunity to improve upon our clients expectations. Can you please share specifically how we did not meet your expectations? I look forward to hearing from you and appreciate the feedback. You can reach out to me directly at (513) 948-2308 or jyates@seniorlifestyle.com. Thanks! Jeremy Yates, Executive Director
---
Caring96003150
November 26, 2014
I visited this facility
Evergreen is beautiful. The grounds are lovely; you're never looking out on a parking lot or at another building. It's all landscaped gardens and a lovely building. My parents haven't moved in yet, but they had a 2-bedroom apartment coming available, and it was due to be completely remodeled. We felt like it was a little more upscale. They got brand new kitchen cabinets, countertop, appliances, and new carpet. They got to pick the carpet and the paint colors. The rooms and the dining room are very, very nice. The staff was very nice. They have outings and trips to the grocery. They provide transportation anywhere you want to go. They have musicians and guest lecturers coming in. They have art classes.
---
Caring93663350
November 21, 2014
I am a friend or relative of a resident
My mom lives in Evergreen in assisted living, and she went in the hospital and they also have a separate full care facility there which is called Wellspring for rehab. She likes it, and it's a nice place. She is in a room, and it is big. I am satisfied with the staff, and I am satisfied with the care they are providing. I think the food is pretty good because if it wasn't she would have told me. In the assisted living part, there is a lot of stuff that they do, like they go to movies, shopping, and they take them out doing a lot of stuff.
---
Caring88951050
July 19, 2014
I am a friend or relative of a resident
My mother-in-law liked Evergreen the best from all the facilities that we looked at, and that is why chose this place. We liked what they had to offer. They seem to have a caring staff, and they also have a warm and friendly atmosphere. They seem to have respect for the elderly as well. It's a beautiful place and very beautifully kept up. They have a nice big dining room that they treat like a restaurant. They have tons of activities. They go on trips and around town. They also have some musical entertainment in the evenings. They play games together, and they have a swimming pool. They do arts and crafts and exercise. You name it, they got it. They have a very active activities director.
---
Patricia86941150
June 26, 2014
I visited this facility
At Evergreen Retirement Community, they went out of their way to make us feel comfortable. They weren't hurried with us, and they took us on a tour. They also answered every question we had. Anything that they could do to assist us, they did. The rooms were wonderful. Regarding the residents, everybody looked very content.
---
Beth0422
March 31, 2014
I visited this facility
Evergreen Retirement Community is really beautiful. They have trees and gardens. It was just pretty, and it looked really clean. However, I found them to be very expensive. My parents need to have two bedrooms, but the two-bedroom unit they had there was more expensive. We viewed a one-bedroom apartment there, and it was very nice. It had a full kitchen as opposed to a little kitchenette. The dining area looked really nice too. There were a lot of places for their residents to do things. They had a pool table. Also, a movie was going if they wanted to go and watch a movie in the auditorium.
---
billmonroe
February 24, 2014
I visited this facility
Evergreen Retirement Community is a one-floor facility. The staff that I met were just great and I think they have a good amount of staff there. I saw that they have a lot of reading rooms, sitting rooms, and TV rooms. They also provide transportation to shopping or to appointments for the residents. What I really like about this place is the room size.
---
Murphsmom
October 26, 2013
I visited this facility
I would give Evergreen very high marks. The facility is excellent and the people are delightful. I would give them high marks for everything except the cost. They have multiple activities. They take their residents to outside programs with a bus. They've got just about anything that a resident would want.
---
Lovingdaughter8
July 24, 2013
I am a friend or relative of a resident
Evergreen has nice grounds and park like setting accessed straight from his apartment. My dad has a one-bedroom apartment and is adjusting very well with residents. The apartments had a full kitchen so if mom wants to stay there she can cook. The food there is excellent. I wish they get my dad out more and exercise him. They had a calendar of activities for the residents. The parking can be a little hairy at times.
---
From Evergreen Retirement Community
---
Senior assisted living at Evergreen Retirement Community offers residents the best of both worlds. All benefits of our senior living community are combined with a full spectrum of senior care services to create a premier senior assisted living community. Residents enjoy beautiful surroundings, on-site amenities and social programs alongside continual on-call medical care.
At Evergreen Retirement Community, we adhere to state-of-the-art standards of senior assisted living while providing a special touch. Our residents receive personal and comprehensive care and are consistently treated with the dignity and respect they deserve. Whether our residents need help with day-to-day activities, getting to appointments, or medication management, our caregivers kindly and competently meet those needs.
Our assisted living community in Cincinnati has been purposefully designed to provide you or your loved one with a nurturing, comfortable, home-like environment that is attractive and easy to navigate. We foster community and family by hosting many activities and events each month. Residents are encouraged to participate in as many pursuits and outings as they like, appropriate to their ability. No matter what, everyone is treated as an individual person with unique needs.
At Evergreen Retirement Community, our residents live life to its fullest as they age in place.
Assisted Living Amenities
Personalized Care Plans
24-hour Staffing
Emergency Response System
Medication Management
Scheduled transportation to local shopping and medical appointments
Award winning Wellness Everyday™ programs, provided 7 days a week
Dining for Wellness™ - educational and wellness program
Brain Health University™
Beauty and Barber Shop
Housekeeping and maintenance service
All utilities and basic cable included
Individually controlled heat and central air
Fresh, seasonal cuisine prepared by the dining service team
What Makes Us Special
---
Executive Golf Course___ Cottages/Patio Homes___ Historical Mansion and beautifully landscaped property___ Fully equipped assisted living kitchens___ Centrally located within the City of Cincinnati
Features of Evergreen Retirement Community
---
Costs
Minimum Rate

$3650/month

Minimum Memory Cost

$6200/month

Rent Plus Care Fees
Fee Structure Extra

We Offer A Month To Month Rental
Room and housing options
1-bedroom apartments
2-bedroom apartments
Companion Suites

We Offer Companion Suites

Studio Apartments
Housing Extra

Cottages
Dining options
In Room Kitchenette
In Room Kitchens
Dining Room Shared Meals
Room Service For Meals
Features
Beauty Barber Shop
Resident Transportation
Coffee Shop
Party Space
General Store
Tv Room
Garden And Patio
Resident Parking
Security Gate
Pool
Features Extra

Fitness Room/Gym
Cleaning services
Laundry For Linens
Private Cleaning Services
Housekeeping
Technology and entertainment
Technology Extra

Emergency Call System
Health services
Skilled Nursing
Hospice Care
Medication Management
Physical Therapy
Nurse On Staff

Yes
Activities
Offsite Activities
Music
Games
Stories
Religious Services
Lectures Discussions
Book Clubs
Wii Sports
Tai Chi
Fitness Room
Yoga
Gardening
Cooking
Arts And Crafts
Activities Extra

Computer Classes
Guest services
Guest Parking
Guests At Mealtime
Overnight Guests
General
Minimum Age

62

Pets

Small Pets Allowed
Location of Evergreen Retirement Community
---
Get Cost Information
Get full access to reviews, cost information, and amenities