Sunrise of Chesterfield
1880 Clarkson Road, Chesterfield, MO, 63017
Talk to a Family Advisor: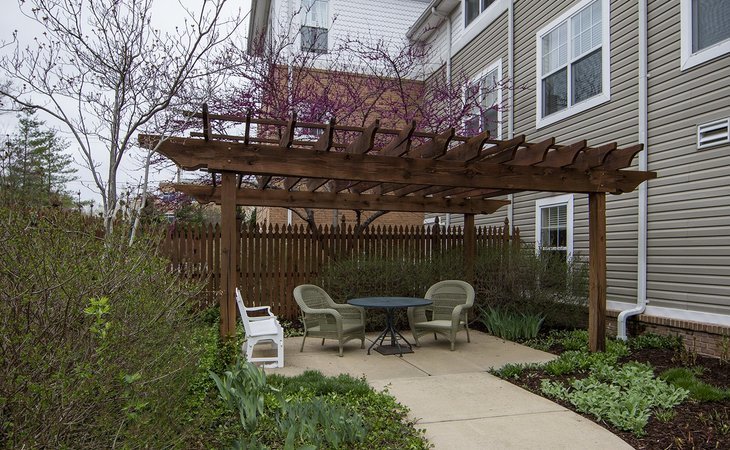 Reviews of Sunrise of Chesterfield
---
andee2017
March 13, 2017
I am a friend or relative of a current/past resident
My parents lived there for a short time on the memory floor - one parent with memory issues and one without, so we were able to know what was going on with their care. Lots of problems - medicine repeatedly not given at the proper time or at all, inconsistent help, several falls when the caregivers didn't come, poor communication and lack of a schedule. They failed miserably to deliver what Sunrise had promised - in my parents' own words.
Provider Response
Please know that we take all concerns seriously and would like to learn more about your experience at Sunrise. Please email Information (at) SunriseSeniorLiving(dot) com with further details so we may follow up. Thank you, Sunrise team
---
ST668063
January 31, 2017
I visited this facility
Sunrise of Chesterfield was a three-story building, and I did not like that as much. All their fees were separated and seemed to be pricier. My overall impression was not that good. It didn't have a homey feeling to me. They had lots of activities and a hairdresser. They had varying sizes of rooms; some were larger and very nice, and some were much smaller. It could get expensive depending on the room that you pick.
---
hurleuy
December 15, 2016
I am a friend or relative of a current/past resident
Everything seemed perfect that is as far as amenities. They are poorly staffed at night. If you are able bodied this may be fine, otherwise you are ignored. Very pricey and staff not paid as well. A ripoff for sure. A lot of hidden fees.
Provider Response
We're sorry to hear that you did not have a positive experience. We care deeply about the safety and well-being of our residents and staff. Please contact us at information (at) sunriseseniorliving.com so that we can learn more. –The Sunrise Team
---
Terry178288
November 26, 2016
I visited this facility
Sunrise was too much like a nursing home for my dad. I didn't want that kind of surroundings, so we didn't chose that one. The staff and the amenities were fine, but the rooms were small for me. There were a couple of women playing cards, but I think it was more towards lunch time.
Provider Response
We are sorry to hear about your experience at our community. We take your comments very seriously and would like to speak with you further. Please email information (at) sunriseseniorliving (dot) com with your contact information so that we can reach out to you. Thank you, The Sunrise Team
---
Kelly576061
August 02, 2016
I visited this facility
Sunrise of Chesterfield was nice and adequate. They seemed like they had a variety of activities, transportation, and a library. The dining area seemed nice. They gave us really nice, hot, fresh scones on our way out the door. They were good.
---
Sue265104
May 25, 2016
I visited this facility
Sunrise only had assisted living, but my sister needed more skilled nursing care. Sunrise looks like a very nice facility, but it wouldn't fulfill her particular needs. We looked at the dining area, but we didn't go into the individual rooms once we found that they didn't have what my sister needed. The dining area was very spacious and looked very nice. I would give it four stars because it was not able to fulfill our complete needs, and we probably should have been told that before we got there.
---
Sal2
December 29, 2015
I visited this facility
Everything at Sunrise of Chesterfield was good. We put a $1,000 deposit down, but it's further away than where my father is now so we changed our minds. This place was cheaper and appeared to be a lot better. The problem is, they still haven't returned my $1,000, and it's been about three weeks now. The staff was very accommodating and very nice. I liked the birds, saltwater aquarium, and the friendliness of the staff. The rooms were nice, too.
Provider Response
Thank you for your review. Please know that we take all concerns seriously and would like to learn more about your experience at Sunrise. Please email us at Information(at)SunriseSeniorLiving(dot)com. Thank you, Sunrise Team
---
sissisydow
December 07, 2015
I am a friend or relative of resident
Don't send your loved one here. The staff do not care. They want you as a family member to assist them when you visit. Medication was not given as directed by her doctor. No one uses gloves between patients. Wrong information was given to us at our visit yesterday. Aides lied about medication then after 3 inquiries finally they said no your are correct she didn't get her morning medication. This took 3 hours for someone to give us the correct information. Dirty sheets and pillow cases which my daughter changed before we left. This is nothing more than a babysitting facility and a very poor babysitter at that....find another facility for your loved one. We are taking my mother out of here asap!
Provider Response
Hello, we are sorry to hear that your family has not had a positive experience, based on your review. We would like to learn more about your experience as we take all concerns seriously. Please email us at Information (at) SunriseSeniorLiving (dot) com. Thank you, Sunrise Team
---
Caring103214450
March 17, 2015
I visited this facility
We went to Sunrise, and I really liked it. I thought there were some neat things about it, but their memory care seemed really crowded. It might not have been. It might have been me. For me, I was looking for people that were more like my mom in the stage that she was in, and I saw more people at Sunrise that were in the more advanced stages of dementia.
What turned me off was one of the hallways had a nursery theme. I don't really understand dementia that well. I do know that they would revert back, but I just felt that it was kind of too baby-ish. I just felt like at my mom's stage, that would make her really angry that we were putting her into something that seemed like a day care. I just didn't like the look of it as much. I felt it was too crowded. I didn't like the themes of the hallways. They had like dress-up clothes and things like that, and I just felt like my mom wasn't ready for that kind of thing. I don't know if that was normal. I wanted more of a hotel feel, and I believed that where she was, it was more of a hotel feel. Although, they were very nice and I didn't have any real problem with anything, it was just wasn't the right feel for my mom.
In their memory care unit, their outside area was on the second floor, so when people went outside, it was just a deck area. It was enclosed and had some sitting areas, but it was small. They had plants and stuff, but it didn't feel like an outdoor area.
---
Caring93518650
September 08, 2014
I am a friend or relative of a resident
My mother moved in at Sunrise of Chesterfield four years ago and initially, they had a very caring staff and everything was very positive. However, just within the last couple of years, they had such a turnover in staff and nobody seemed to be concerned enough about whether or not she got her medicines on time. It just didn't seem like they could hire quality people who really care about what they are doing, as supposed to just showing up to get a paycheck. So it was very frustrating. Initially, we did like the initial staff that was there and the way the facility was designed. It was very much like a large home setting. I did like that. However, over the long haul, when they continued to have constant change-over, the people weren't the caring kind of staff that they had. The staff had really taken the turn for the worse. Also, the facility locked their doors at around 8 p.m., but because my mom still drives, she would go out and she would get back shortly after that period. She would even call ahead to let them know that she would be getting there in the next few minutes, but there were a number of occasions when she had to wait sometimes 20 to 30 minutes to have someone come let her into the facility.
---
adapting
August 30, 2014
I visited this facility
I visited Sunrise of Chesterfield and I loved it. I liked the people there. I also loved what I saw. The place was very pretty and attractive. The only reason why I didn't choose this community was its distance from my home. We were ready to check him in there. Then, we got a phone call that a room became available in the facility that was closer to my home.
---
JKT
April 17, 2014
I am a friend or relative of a resident
Very pretty, clean, comfortable apartments for assisted living. Staff friendly. Only complaint is the dining facilities. Very poor working staff and organization with dining. Unprofessional. This place is geared more toward Alzheimer and advanced dementia care, rather than just assisted living. So this is not so good when your loved one really needs to be around other residents that are not as mentally impaired.
Provider Response
We are sorry to hear that you felt the dining experience was subpar and we'd like to learn more. Please email us at information@sunriseseniorliving.com to share more details. We will be notifying the community of these complaints. Thank you, Sunrise Team.
---
Kathy32
November 27, 2013
I visited this facility
Sunrise was very clean and organized. They had a lot of activities for the adults. The rooms were very clean and nice. I liked them.
---
Thomas3
October 12, 2012
I am a friend or relative of a resident
My grandpa thoroughly enjoyed the daily meals and activities the facility provided. One of his favorite days was when they provided steak, because he always loved his salted steak. I was glad to see one moment in his life was fulfilled.Of course, needless to say, there was not a lack of religious fulfillment. They offered in-resident church services for the people attending. This also, like above, was a very imperative part of his life, so I was glad to see that fulfilled.The staff, despite some of their flaws that were not immediately apparent, tried their best to provide the most comfortable living conditions possible. I would more or less recommend.
---
From Sunrise of Chesterfield
---
Step into a Sunrise Assisted Living community and you can't help but feel at home. We stop at nothing to make your experience warm and inviting, from our homelike exterior architecture, to our comfortable community areas and choice of suites, to our exceptional outdoor gardens and landscaping. Look around and you'll notice fresh flowers throughout the residence, and you may even spot our dog or our cat. And of course, there are always the friendly smiling faces of our staff to ensure that each day spent here is a welcome one.
Sunrise of Chesterfield is built on a commitment to our residents and their families. We believe no two people are alike, so the services and attention we provide should never be exactly the same. That's also why we offer a variety of lifestyle, service and care options. By providing these choices, we not only offer solutions for today, but we provide the security of knowing that there are options for tomorrow.
Features of Sunrise of Chesterfield
---
Location of Sunrise of Chesterfield
---
Get Cost Information
Get full access to reviews, cost information, and amenities