Dominion Village at Chesapeake
2856 Forehand Drive, Chesapeake, VA, 23323
Talk to a Family Advisor: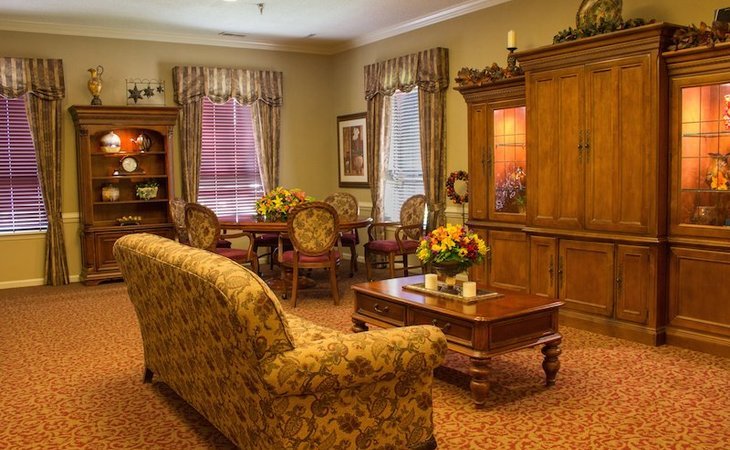 Reviews of Dominion Village at Chesapeake
---
Karen S.723476
January 03, 2017
I visited this facility
Dominion Village was the smallest of the three places I visited. I liked a smaller setting with one level especially for somebody with the dementia and physical limitations that my mother has. Everything is within quick, easy access because it is smaller, so somebody who is in a wheelchair or walker can get to the common areas easily and never be too far away from somebody if they need help. I liked that a lot. I loved their director. She was very warm, welcoming, very informative, and also talked a bit about my mother's dementia and what to expect. She is a very experienced woman in the field. Of all three of them, she was the most experienced. They split up the assisted living and the ones who needed more advanced care, so they showed me both sides. The room that they had available to show me was the largest of any that I've seen and very nice. It had a bathroom, but to take a shower or bath, there was a common facility. It was a very nice, large room and very close to the staff. They had one large common area where the residents gathered to do a lot of their work and then a small dining room area. They also had very nice outside areas to go to. All in all I would have absolutely no hesitation going there. This was the place I was going to recommend to my sisters and would be the one we would probably try. It was in a nice quiet neighborhood and close to me. It was the most easily accessible for my mother because of its size.
---
Renee114701
October 20, 2016
I visited this facility
Our visit with Dominion Village was a very nice experience. It was clean. It did not smell like urine. It was small. It was well maintained with exceptional staff. I was just quite pleased with them. They weren't expecting me, so it wasn't like they were prepared or anything like that.
---
Fran21
October 28, 2015
I visited this facility
We saw Dominion Village, and we liked it. But to be honest, we did not get a full tour of it. They didn't have a room that we could go in to see, and they didn't have any openings. The only opening they had -- and we didn't like this -- was a bedroom with a bathroom shared with the man in the next room. The room was quite small, and you don't bring your own furniture. I think if you bring your own furniture, you'd be a little more comfortable and a little more familiar with what you have. It's not like they're living in a hotel. And sadly, it was the same over in the memory care area. My father doesn't require that, but, for instance, the gentleman whom he would have shared a bathroom with had a monitor. If he went toward the front area, it was similar to a monitor I have so my cat won't go outside; he wears a collar with a little battery-operated sensor on it, and if he gets close to the door, it sounds an alarm, and he turns and runs back into the house. It was a similar situation there, and we just did not like that. Even though my father would not have had the monitor, he would have been in that area, and we do not care for that.
---
cstanton
August 20, 2015
Other
I would HIGHLY recommend Dominion Village Assisted Living to anyone that is looking for a comfortable, clean, loving atmosphere for themselves or a family member. My Aunt has special needs and came to Dominion in March. She has been treated exceptionally well and loves Dominion. The staff is friendly and highly qualified to handle the day to day situations that encompass the needs of the elderly. The food is delicious. Yes, the décor may be a little older and it may not have all of the newest state of the art furnishings, but the love and kindness that the staff and other residents show to each other far out weigh new curtains and wallpaper. The feeling of satisfaction our family feels in knowing that our Aunt is well taken care of each day is a true blessing. Thank you Dominion Staff!!!!!
Provider Response
Thank you very much for your kind words. The satisfaction of our residents and families is a top priority for us. As a team, we strive everyday to enrich the lives of those we care for. It is comforting to know that family members, such as yourself can see how much we value our residents.
---
Phil17
July 31, 2015
I visited this facility
Dominion Village at Chesapeake didn't look like they have a whole lot of activities. It seemed like most of the patients were drugged up. Of all the places I visited, I think they had the fewest activities. It didn't seem like a happy place. I wouldn't feel comfortable having somebody's parents in there.
---
Concernedfamily2
June 08, 2015
I visited this facility
While searching for assisted living for my loved one I not only visited facilities I checked recent state inspections as well. Dominion Village on my visit smelled terrible and seem no planned activities were taking place. On one side there doesn't seem to be enough staff to take care of those in need. I just checked the last state inspection completed as well and see they seem to have some staffing issues when it comes to administering medications and policies put forth by board. This is a bother to me given the price of the community I would expect adequate knowledgeable staff when other places look and smell better and have staff have educated staff are cheaper. I also do not like that LPN's are not always available. It is my understanding the head LPN is on call but not within close proximity of the building given an emergency per staff.
Provider Response
Thank you for your recent visit to our community. We appreciate the feedback and can certainly understand some of your concerns. While we are a small community, we exceed the standard for staffing to meet our residents' needs and adjust our staffing ratios depending on the ever changing needs of our residents. Our Executive Director and Resident Services Director are on call 24/7 for assistance and we staff an LPN during our residents' busiest times of the day. Our activities department plans multiple programs throughout the day based on our current residents' interests, needs and abilities and we adapt our programming based on the residents we currently have. Thank you again for your feedback and we invite you to visit our community in the future.
---
Bruce27
May 22, 2015
I am a friend or relative of a resident
I had my parent in assisted living in Dominion Village. I wouldn't take her anywhere else. If they got five stars, they need ten stars. They have been so cooperative with me with anything I needed. I know it is a lot of money where I'm at now, but they were so nice. They say it is like a five star place, but they need ten stars. It is perfect. I don't know if you go past a ten, but they are a ten and above. The community is like family. The rooms are just as clean with antique furniture in it. It is not an updated thing, but it looks like an old room which makes people feel like they are home. They got community walk, bingo, cards, and movies at night if people want to watch. It is nice, and I can't say anything bad about it.
---
Anonymous105879250
April 28, 2015
I visited this facility
Dominion Village was very clean, but it was old and depressing. People shared bathrooms. The staff was very nice and excellent.
Provider Response
Thank you for your feedback. We value your input and share your concern. To better serve you, we would appreciate the opportunity to discuss your experience. Our dedicated staff is committed to providing the utmost care and services to all residents. Your feedback helps us identify areas of opportunity for us to focus on as we strive to uphold and improve the quality of standards that each resident deserves. We thank you for allowing us the opportunity to continue to serve you and your loved one.
---
Paula40
December 30, 2014
I visited this facility
I love Dominion Village, but I don't have $4000 a month to pay for my mother to go. That was my favorite, and I would put her in that one before anything else. The people were very nice in there. It was small, clean, homey, and more like a family. The food was good. Everything was great, and the residents seemed happy.
---
Caring96837650
November 03, 2014
I visited this facility
My visit at Dominion was very good. The staff was excellent; they covered everything very well, I was very impressed. It's a little older facility -- it had aged -- but they were clean, and the residents looked happy. I was impressed, and they looked very busy. My wife and I visited once, we took my father once, and there was a lot of interaction when my dad came; it was very nice.
---
Caring95072150
September 23, 2014
I am a friend or relative of a resident
My wife is already in Dominion Village. It has been there 20 some years. They take good care of their residents and they have good food there. The rooms are first class. The main problem with it is the air conditioning unit. It's either too cold or too hot. It's never just right. It doesn't seem like they can do anything about it because of the way the thing was designed. Everybody complains about it. When you go to eat, you have to wear a coat or you'll freeze to death. In my time, I had to wrap up with a blanket because but then when morning comes, it was hot and the only way I could get cool is get under one of the restaurants but other than that, the place is great. They finally put a fan in my room and that made it better. Over on the side where my wife is where they keep the people with dementia and Alzheimer's. It's not as bad but the assisted living facility and where you eat is where the air conditioner is.
---
Caring86822050
June 30, 2014
I visited this facility
The main section of Dominion Village looked really nice, including the lobby, but when you went into the sections where the bedrooms were, they were dated-looking. Once you step out of the lobby section it's like you step back 30 years in time. The lady who runs the place is probably one of the nicest people I've talked to. She was really personable, and she told me everything from A to Z. The place, though, could do with an update, like some paint in the hallways or new wallpaper. It's there, it's livable, but it's not really inviting, and it looks more like a nursing room than an assisted living place.
Provider Response
Thank you for taking the time to write a review about our community. While we pride ourselves on resident care and a home-like setting we recognize from time to time that our physical plant becomes dated. Some of the measures we have taken in the individual suites is to update flooring, light fixtures, bathroom cabinetry and hardware, window treatments and complimentary wall and trim paint colors. Many of our residents have also personalized their suites with painted accent walls, custom window treatments, custom cabinetry and custom flooring prior to moving in. We feel it is very important for our residents' suites to have the personal touches that make them feel right at home and we will do everything we can to make that happen. If you are willing to do so, please reach out to me. We would love to have you back for a tour of our individual suites.

Sincerely,

Jennifer Stell, Executive Director, Dominion Village at Chesapeake
---
Caring76525650
April 10, 2014
I visited this facility
Dominion Village was very nice. The people were very nice and the staff was very helpful. The rooms were decent. The deluxe room was spacious. But I think they take advantage of old people. Personally, I think it's very pricey. I like that there were a lot of people in there, just like my mother, who were with walkers. Everybody is very friendly. It's a great facility.
---
Caring74858750
January 24, 2014
I visited this facility
It is very nice. It's too far from where we live. The people there were very, very nice. It's an older facility but it didn't bother me that much.
---
W Hummel
October 11, 2013
I am a friend or relative of a resident
My Mother lived at Dominion Village for several years until her passing. I cannot say enough good things about the care she received there. I found Dominion Village to be a very clean facility (odor free!!!), nicely furnished and with a nice dining room. The food was very good as well. What really made this facility outstanding was it's loving and caring staff. I dropped in frequently and personally witnessed the way the staff treated the residents as if they were family. The nursing staff went out of their way to contact Doctors, arrange for medication to be administered and to make sure my Mom was comfortable. I first visited this facility at the recommendation of an EMR friend who said that if she had to choose an Assisted Living facility she would choose Dominion Village because of how organized they were whenever they were called their on an emergency. She was right... it is well run and the residents are very well taken care of there!
---
Kimberly6
October 09, 2013
I visited this facility
Dominion Village was nice but it's dreary inside and the buzzer kept going off. I was there for 5 minutes and had a headache because it kept going off. I just don't think they had that much planned activities. The rooms were like ridiculously small for two people and the bathroom was ridiculously large for them. They could use half that bathroom space to make the room better for the people. I do not think I would recommend it because the rooms and the closet were just not sufficient for someone to live in. However, the staff seemed real nice. They interacted with the people from what I saw which was nice.
---
nikki8112
July 30, 2012
I am a friend or relative of a resident
When visiting this facility for the first time I was so socked as to how nice they treated my Great Grandfather. There was this one lady there who gave my grandfather extra attention. Which I really liked that because at first I was so scared to have him in a place like that with all the bad things that I have seen on the news. Well, my Grandfather has been here for almost two years now and I still have not ever had any problems. Matter of fact I visit my Grandfather every week and everyone there knows my name staff and other residents as well. It was funny just the other day, I asked my grandfather What would have been better for him to staying with my mom or at Dominion Village? He said Dominion Village because your mother complains to much and here I do not have to listen to that. One of the staff members there even laughed at my Grandfather. She told me that he was such a joy and was glad that he came to Dominion Village. I am just happy that all the people there are so friendly, loving and take care of my Grandfather The way that I would take care of him. If not even better taken care of than what I would have done.
---
ajax
July 23, 2012
I am a friend or relative of a resident
My grandmother had been moved into Dominion Village several years ago and I was not sure about the whole process. The staff there was very good at handling the details and were very reassuring! With a week my grandma felt at home and was loving the sense of independence there. Upon further visits I was glad to see that the rooms were maintained well, the food was decent and the activities for the elderly there were wonderful! I would highly recommend Dominion Village for anyone looking for or having trouble deciding if a assisted living facility if right for their loved one. My grandma is happy, so I am happy!
---
twilliams7
April 10, 2012
I am a friend or relative of a resident
I had an aunt in the assisted living facility. I thought the facility was very nice and clean compared to ones I been to in the past. My aunt said she loved her time their. She currently is staying with other aunt's home now in boston. The staff was very nice and helpful during her stay. The patients all seemed to enjoy their time at the facility. I would highly recommend this place to others.
---
IsonU
February 17, 2012
I am a friend or relative of a resident
Overall the facility was clean looking. So first impressions are good. The building are well kept and they still look like new eventhough they are about twenty years old. They have helped my friend so much. They offer exercises and different functions to keep the seniors active and involved. They also have an open door policy. That way the family and just pop in to see what is going on. The person that I know is fairly happy there but there is no place like your own house. The staff are very compassionate and they try to make the resident feel good. They promote independence and give the resident a freedom of choice. My friend is not in a bad state yet but if her health continues to deterioate, this place is well equip to handle her. They have several levels of care ranging from the independant elderly to the ones that need 24 hour care. I really like how this place is being ran.
---
From Dominion Village at Chesapeake
---
Dominion Village at Chesapeake offers compassionate senior care in Chesapeake, VA. We strive to create a home-like atmosphere where you and your loved ones can feel secure. Our warm, well-trained staff works closely with our residents to provide the utmost care and comfort. As part of the Five Star corporation, you can be sure that everyone at Dominion Village at Chesapeake shares the Five Star Values, and is committed to a high level of caring in all that they do. Please schedule a visit to see why we are the first choice in senior care in Chesapeake, VA.
Features of Dominion Village at Chesapeake
---
Costs
Minimum Rate:

$2496/month

Minimum Memory Cost:

$3766/month
Diet
Diabetic:
Low Fat:
Low Salt:
Renal:
Location of Dominion Village at Chesapeake
---
Get Cost Information
Get full access to reviews, cost information, and amenities