Ashley River Plantation
2333 Ashley River Road, Charleston, SC, 29414
Talk to a Family Advisor: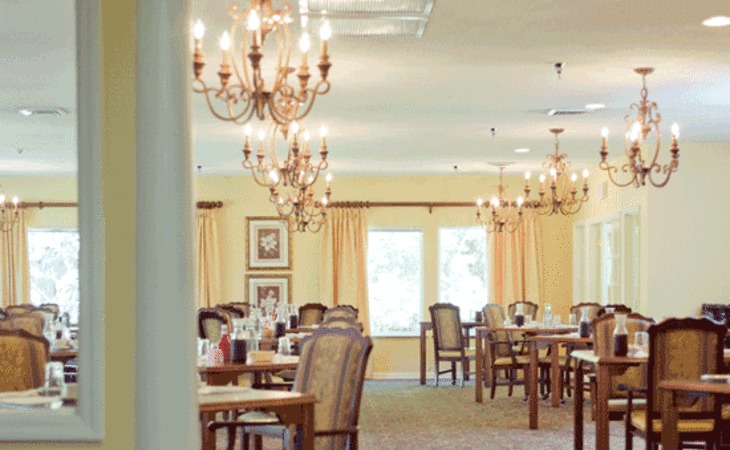 Top nearby Assisted Living Facilities
Reviews of Ashley River Plantation
---
Ann238018
March 07, 2017
I visited this facility
Ashley River Plantation would be a place that I would consider for my mom if she needed that level of care. The rooms were nice. I was invited into a room a resident was occupying and it was fixed very nicely. The dining area appeared fine and adequate. They had a full activity schedule and somebody on-site doing hair that day. The community was a little spread out, so there was a lot of walking. It's on a single level, but they have different buildings because they have a memory care unit and assisted living.
---
Bobby816862
December 05, 2016
I visited this facility
We've been over to Ashley River Plantation. It was nice. It just seemed to have an awful lot of people to treat, and I wasn't sure that they had enough people to handle all of them. I think they had a really nice restaurant, but it was really crowded. They showed me a room, but there was nothing in it. From what I understand, you had to bring your own bed, dresser, and stuff like that.
---
Patricia337717
November 08, 2016
I visited this facility
I was very pleased with Ashley River Plantation. The people that took me around couldn't have been nicer. They showed me what apartments or rooms would be available for my folks. They showed me the dining hall and all the rooms where they did activities. They gave me menus. They gave me lists of activities that happened daily. They couldn't have been more thorough, and I came away very pleased. The studio was in the price range that my parents could afford, and the 1-bedroom might not have been doable because it would strap them a little much. All the residents looked very happy. They were doing a multitude of things. I was very impressed.
---
bosch290
November 02, 2016
I visited this facility
Ashley River Plantation was very nice, clean, and has good friendly people, but it was very large, a big community. It had a lot more people. They have a lot of activities, but they have small twin beds. The staff was great, accommodating, informative, gave a nice tour, and very friendly. The people looked like they were taken care of.
---
Glenn510538
August 22, 2016
I visited this facility
Ashley River Plantation was a dump. It was very old, run-down, kind of dirty, and very outdated. The location was fine. I just didn't get a warm, fuzzy feeling. The staff members I dealt with were not very personable. There was too much business and not enough personal care. It actually was more expensive, too.
Provider Response
Glenn, Thank you so much for your feedback, we appreciate it. Ashley River Plantation strives to deliver quality care and finest hospitality experience to our residents, we offer a variety of rooms and floor plans to accommodate various needs and budgets. All of Five Star Senior Living communities undergo regular maintenance, cleaning and periodical renovations. We would like to invite you over for another tour to showcase how beautiful and thriving our community really is, we have a dedicated staff that would love to take you around and join you for lunch, given proper notice of course. Please visit our web site to schedule a tour and we hope to see you back: https://www.fivestarseniorliving.com/communities
---
Teresa538504
August 18, 2016
I visited this facility
We toured Ashley River Plantation when we were looking for a place for Mom. They had a full activities program and sit-down dining. The facility itself was a little dated, but they were actually doing some renovations. The staff was friendly and very professional.
---
JerryFOLGY
May 12, 2016
I visited this facility
Ashley River Plantation was very nice and very clean. They told me about their activities, the area, and their services. They were very thorough. The staff seemed to be knowledgeable and very understanding. I was very impressed. I was able to see both areas of assisted living and the more critical area and I could not remember what they called it. It was put together very nicely, and I asked the questions to some of the nurses there who took time to answer them. The rooms seemed very nice and very clean.
---
Faye10
April 07, 2016
I visited this facility
I didn't like Ashley River Plantation because I'm from Charleston. I know the area, and I didn't like where it was built. They were remodeling to make it better, and the outside maintenance looked fine, but I didn't like the smell; I think that was due to the fact that they were cooking lunch, and you could smell it when you walked in. I just didn't care for something about the facility, which is just my personal opinion.
---
Carol118914750
January 24, 2016
I visited this facility
I wasn't as impressed with Ashley River as I was with the other facilities. It's a nice place but it's not what I was looking for. The staff was very helpful. It didn't feel like a home.
Provider Response
Thank you for touring Ashley River Plantation and for sharing your thoughts with us. We find that for some people it may take a few visits to fully develop a feel for a community. As such we encourage you to visit with us again, have lunch in our beautiful dining room and talk to some of our wonderful residents about life at Ashley River.
---
Bob114164850
October 28, 2015
I visited this facility
Ashley River Plantation was very nice. It didn't look like a hospital but more like some place to live. It didn't seem like a place where people went to die; it seemed like they were there to live.
---
Helpusfindmom
May 23, 2015
I visited this facility
I visited Ashley Riverb Plantation this week. I felt like I was at home. I was introduced to some of the staff and feel like they would welcome my mom as their family. When we need to do this we will call Karen and ask her to put mom on the waiting list
---
Caring0465
February 11, 2015
I visited this facility
Ashley River Plantation was a little bit too grand. The visit was fine, and we did visit a room. The room was lovely and everything, but it has been brought to my attention by other people that you can be given a rate and that certain things are a la carte, and then as you move in, everything that you needed will be added on, so let's just say you go in and you think that your rate is going to be $5000 a month; it might end up being $7000. He could either have a private room, or he could share it, and they would use the same bathroom, but they would have their privacy. It had a splendid cafeteria, and they gave us a menu. You can be served anytime of the day with snacks that seemed really good. If I had the money, my husband would be there.
---
Jeannie5
October 18, 2014
I visited this facility
What I did not like about the Ashley River Plantation was that all their rooms had a bathroom, but these rooms did not have a shower and I consider that a safety issue. My mom is living with me now and the bathroom is right across the hall from her bedroom and I know that when she wakes up, she is incontinent and even though she has got the pads on, the bed pads and all that stuff, she can wake up totally soaked and if she had to walk like that soaked down the hall to the community bathroom, it wouldn't be a very good experience at all. Because I know that when she wakes up that way, I'd get her in the bathroom right away. I'd turn the heat on, take her clothes off immediately and get her under warm shower as soon as possible. I don't have to walk yards and yards to get to a community bathroom, which may be full and not available. It just seemed that the setup for Alzheimer's patients was confusing. They probably need more windows or something. It just seemed kind of dark. I didn't like the fact that the rooms did not have their own shower.
---
Caring88408150
July 10, 2014
I visited this facility
Ashley River Plantation was nice. My mother had an amnesia situation and she did not have her sight, and because of that, she was going to need the memory care. I didn't like the setup for memory care. Her room would have been too far away. The staff was wonderful. The rooms were nice. The food and the dining room were very nice. I'm sure there were a lot of activities in independent living. In the memory care, it didn't excite me at all. It seemed that the people were just sitting around. I didn't see anything that showed me that they had good, organized activities. The independent living looked nice. The memory care wasn't warm; it looked old.
Provider Response
Thank you for your feedback. We value your input and share your concern. To better serve you, we would appreciate the opportunity to discuss your experience. Our dedicated staff is committed to providing the utmost care and services to all residents. Your feedback helps us identify areas of opportunity for us to focus on as we strive to uphold and improve the quality of standards that each resident deserves. We thank you for allowing us the opportunity to continue to serve you and your loved one.
---
Pamela18
June 23, 2014
I am a friend or relative of a resident
Ashley River Plantation had a room available at the time I had to move my husband. It was a very nice facility. The staff seemed very committed to take care of him, and they were really interested in learning as much as they could about him. They have done a really good job of taking care of him. The rooms and apartments are very nice. They are very clean, well kept, well done, and the carpet is good. The bathroom is very nice. Almost daily they have Bingo, they go out to eat, they have some spiritual activities, and they have exercise.
---
Caring76846550
January 31, 2014
I visited this facility
Ashley River Plantation was a very nice facility, but it was just too expensive for me. I was able to look at their dining room, but I haven't eaten there, it looked nice. They have different things for the residents. I know they have happy hour for them.
---
Rick17
January 24, 2014
I visited this facility
We came across Ashley River Plantation when we drove by it. We were very impressed with the staff and the facility. All the people were friendly. The rooms were very attractive. There's one person in particular who stayed in touch with me over the years. I think her name is Tasha. She was very professional, patient and keeps me up to date about everything. We like that it has a homey feeling not like institutional feel. The price is reasonable too.
---
Richard14
March 22, 2013
I am a friend or relative of a resident
Ashley River Plantation made my parents' move easier. They were caring and involved with the care. The place was not big but it was clean and fresh. So far, they were happy with the move for over a month now.
---
Chris11
September 29, 2011
I visited this facility
Ashley River Plantation Assisted Living Center is a beautiful and cozy place that Seniors can call home. I visited the center with my Grandpa. We looked at several types of rooms that were available, based on size and price. Each room came with its own bathroom, as well as a mini fridge. The cafeteria was large and quaint with delicious meals posted on a large board for the week. They also had planned activities for the month posted on a board next to the cafeteria, which included bingo, shopping, and game night. What we liked most was that there were several sitting rooms for the residents to watch TV, play cards, or just talk. Any extra's, such as help with medications, laundry, trips to the store or doctors, and meals were all included in the price. The staff was very friendly and extremely helpful. We were able to talk to several of the residents, and all of them were very happy in their new home. All of them complimented the staff. The center was very clean, and quite beautiful. It looked very "Charleston" inside, with wood floors and beautiful pictures of the Charleston area. If you are looking for an Assisted Living center for a loved one, check out Ashley River Plantation. A place you and your loved one will truly enjoy.
---
From Ashley River Plantation
---
Ashley River Plantation offers compassionate senior care in Charleston, SC. We strive to create a home-like atmosphere where you and your loved ones can feel secure. Our warm, well-trained staff works closely with our residents to provide the utmost care and comfort. As part of the Five Star corporation, you can be sure that everyone at Ashley River Plantation shares the Five Star Values, and is committed to a high level of caring in all that they do. Please schedule a visit to see why we are the first choice in senior care in Charleston, SC.
Features of Ashley River Plantation
---
Diet
Diabetic
Low Fat
Low Salt
Location of Ashley River Plantation
---
Request Info
Get full access to reviews, cost information, and amenities