Brookdale Chandler Regional
750 South Pennington Drive, Chandler, AZ, 85224
Talk to a Family Advisor: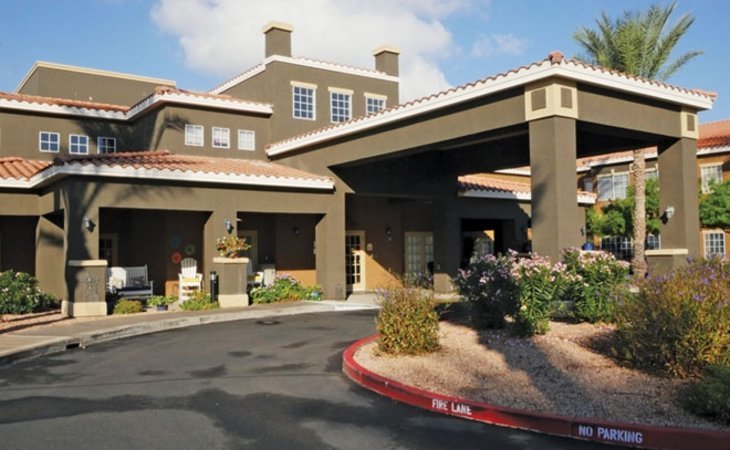 Reviews of Brookdale Chandler Regional
---
Linda118861750
January 19, 2016
I visited this facility
Brookdale Chandler Regional would be my first choice. I liked the facility; it was bigger than the other facilities that I visited. They all offered basically the same thing, but this one was a little bigger, and that's why it would be my first choice.
---
LJ2
October 31, 2015
I am a friend or relative of a resident
I was very displeased with Brookdale Chandler Regional (formerly Horizon Bay at Chandler). The workers did not clean the place properly during the four years that my father was there. He had a two-bedroom with a companion duty, and I would have to go in on a number of occasions and clean the place up. It wasn't vacuumed properly and wasn't dusted. The laundry was not taken away, and my father had an incontinence problem. It became a real issue, because nobody could come and get the laundry and get it out of the room, so there would be a urine smell. They would just let his clothes, sheets, and towels lay there wet, and I was not pleased with that at all. I was not pleased with the director, because he did not address the issues; nor was I pleased with the nurse, because she kept telling me they'll take care of it, and they never did. The experience there was one of frustration. The food was good, though, and the property itself was well maintained. They had it all refurbished during the period of time that my father was there. They re-carpeted, and they painted inside and outside of the facility. They should just make sure the staff is doing their job. They were giving my father his medicines, and it wasn't by a nurse; it was by a caregiver. I was a little upset about that because my father could've been taking somebody else's meds and causing another problem.
---
Kathy107746250
July 29, 2015
I visited this facility
Brookdale Chandler Regional was very clean. It was nice and quiet. The staff was very good and very kind. They gave lots of information. The apartments had bedroom in pretty big size, a living room, a kitchen, and laundry. The dining area was clean and really nice. They had lots of activities for people and had lots of things to do. They had like scrabble, puzzles, and a pool table, and they had all kind of nice stuffs.
---
Caring91872250
July 13, 2015
I am a friend or relative of a resident
My brother is in a Brookdale facility (Horizon Bay at Chandler) in Chandler, AZ. I have visited this place prior to it becoming a Brookdale a couple of years ago, and I wasn't impressed with it then. So when it came up again that I needed a place for him to move to -- and after Brookdale had acquired the facility -- it is totally different. It looks very nice, it is nice and clean, and the staff is great and very helpful. My brother is very happy with the food and with the chef, which is very important for him, and the dining environment. When you walk in, it has more of a hotel environment where you go into the lobby, which a lot of them do now too, but it just has a warm, welcoming environment. I am a little more impressed with the activities too because it is not just your typical crossword puzzle or some of the stuff that they normally do. They have trivia, they have a social hour on Fridays, they have somebody that comes in and does kind of like the karaoke thing, and they have activities for physical fitness, but for me, it is not just your typical stuff.
---
Clara4
March 31, 2014
I am/was a resident of this facility
They are all very friendly and helpful in anyway they can.
---
Doris20
March 28, 2014
I am/was a resident of this facility
The services I receive are excellent. The meals are nutritious and very good. The staff have been very kind and considerate. The programs have been very rewarding. I am most happy and pleased with everything.
---
Jobo
March 15, 2014
I am a friend or relative of resident
When my aunt and I started looking for a place for her to live Horizon Bay was the second place we checked out. When I went to see if Horizon Bay would be a place we would consider. I met Heather who is in sales. I instantly felt at ease and knew this was the right place for my aunt. Cynthia, the nurse became my aunt's friend immediately! She told me that she felt that Cynthia really cared and would take the time with her whenever she needed her. My aunt gave her a nickname "The Ridge Runner" because they were both from the same place. The caregivers (not sure if this is the correct title) but my aunt became attached to one specifically, her name was Tracy. In fact she told me that Tracy was her personal caregiver. I explained to my aunt that they take care of all the residents. She smiled and said "well she sure makes me feel like I'm special". To me that was just how most of the staff were. Marylou, the med tech was also one of the staff that she was very close to. Horizon Bay certainly has wonderful employees!
---
Vern1
February 28, 2014
I am a friend or relative of a resident
I like Horizon Bay – Chandler because they had a beauty parlor and they have a restaurant wherein you can order a restaurant-style food so my aunt can have a variety on their menu. They had a unit on the ground floor which has an access to a private patio and that is very nice. The location of the facility is also close to the hospital or to other doctor's offices. Another important thing is that it had a kitchenette as well so she could do a little bit of her own cooking if she wanted to.
---
Caring74814450
December 30, 2013
I visited this facility
Horizon Bay Chandler's location is fine because it is near the hospital and it is also fairly close to my house. It looked quiet when we visited. They didn't seem to be doing much that day and people were just watching TV, maybe because it was the holiday when we visited. It didn't seem as active of a facility. The facility is a two-story building and it looks okay but I think it would be confusing for my husband to have to take an elevator up or down. It is nice-looking but I just don't think it would be a good facility for him. We did look at their apartments and they were fine. I think they were of comfortable spaces too. We didn't have anything negative on that. Overall, the facility was nice-looking and its environment was homey; I would like to go back and see if they have more stuff going on during the normal week.
---
Barbara74632550
December 24, 2013
I visited this facility
I like Horizon Bay. It was in my top 2 choices. The thing that I didn't like about it was that everything seemed to be in one building so you would never go outside. Their rooms also weren't big enough for me. They did have activities like going out of town or going to places. Food was fine and the cleanliness of the place seemed okay. I can't see very well but my daughter who was with me at that time didn't complain about its cleanliness. I would suggest though that they have larger rooms.
---
Caring74960350
December 17, 2013
I visited this facility
Horizon Bay Chandler was a very large assisted living facility. It was a lovely place like a big hotel. However, I didn't think it would suit my husband's particular needs. He just needs too much assistance for that type of place. It just doesn't have the care that I know he needed. They have like one caretaker for ten people. However, the apartment they showed me was very nice and their staff was very nice as well. They also have activities for their residents.
---
John72459150
October 18, 2013
I visited this facility
The staff was satisfying at Horizon Bay. However, it wasn't as clean as it should be and their rooms were tiny.
---
Miller1
August 29, 2013
I visited this facility
I would give Horizon Bay a low rating because they are so overrated in that they are charging far more than what their grounds, their rooms, and their amenities are truly worth. Their staff are nice and pleasant, but they have an almost sorority girl kind of attitude. Their studios are the smallest rooms I had ever seen in my life and it is coming under $2100. After going into one of their studios, all I want to do is get off the property. I'm not claustrophobic but I got so claustrophobic in there. It was ridiculous. You can't even turn around in that room if there's furniture in it. It has a small refrigerator, a miniature top loading washer/dryer and one short rod for all your clothing. I just said to myself, "No way, Jose!" They do have a centrally located laundry room, which I did not like, because I still want to do my laundry.
---
michl
February 15, 2013
I visited this facility
Horizon Bay was older. The carpets in the hallways are stained. But they seemed fairly well staffed. I saw more residents out and about there. The rooms were nice and kind of everything you would need. The grounds were nice, too. However, they didn't have memory care unit which I was looking for. But they had a lot of other services that seemed really convenient like full-time physical therapy.
---
kirstiemcgillycuddy
September 27, 2012
I visited this facility
The facility seemed clean and personable and the residents ranged from very active to completely bedridden. The residents were friendly and kind for the most part, more excited to talk about their life and families rather than the amenities within the facility. When serving dinner, the fare seemed to be adequately edible and nutritious. I did not hear the residents complaining at all about the food whilst in earshot. The common room for our Christmas program was large enough to accompany most of our choir and a great deal of the residents and the staff seemed cheered to have us there. I can say that this experience was a fine one and nothing about the facility stood out as improperly cared for, unsuitable for senior living or otherwise in any way. Being a facility in the middle of the desert, the grounds were well suited for the environment and adjusted so that most could enjoy the outside views when called upon.
---
Christina2
September 27, 2012
I visited this facility
I thought the staff was very nice and helpful. They were well informed about the amenities offered there and answered all of our questions fully. The facility was clean and organized. The people that I talked to who lived there stated that they were happy there and that the staff was considerate and kind to them. I thought the rooms and accommodations looked clean and comfortable. The food provided looked appetizing and the people living there seemed to like it. There were quite a few activities offered that my grandparents were interested in. The grounds of the facility were well kept and inviting. This was a big plus for us because my grandparents enjoy being outside when the weather is not too hot. The rooms were smaller than we would have liked them to be since my grandparents have a lot of personal items that they value and would want to keep with them there. Our overall impression of the facility was that it was a nice place to live and would be a good fit for my grandparents.
---
k. ashraf1
June 23, 2012
I am a friend or relative of a resident
Mary loves the place. I liked how the receptionist was so nice, and helpful as well. Mary told me that she is taken care of, and she loves who takes care of her. I am glad to hear it.
---
Diamond991
May 09, 2012
I am a friend or relative of a resident
I have only been to one other assisted living facility when I went to visit my friend at Horizon Bay Assisted Living last month in Chandler, Arizona. Before I arrived at Horizon Bay I couldn't help but recall the details of my experience a number of years ago at a assisted living facility I visited in Gilbert, Arizona. I was not pleased with the manner in which it was operated as well as the way the resident rooms looked. So when I went to visit my friend at Horizon Bay I was pleasantly surprised and relieved to see such a beautiful facility. When I pulled into the parking area, the bright and well manicured landscaping was beautiful. There were plenty of places to park with many very close to the main entrance. When I entered the main area I was immediately greeted by the receptionist who asked if I needed any help with getting to the residents room that I was there to visit. She also offered to bring me something to drink after she walked me to my friends room. I thought this was a very nice touch, much like you expect when visiting a friend at their home.As the receptionist walked me down the hallway to go to my friends room, I was pleased with how nice they are decorated. The choices of paint colors, wall hangings and accessory decor was done with a decorators eye. All of the rooms I passed were quite impressive with how large they are as well as the way each of them are professionally decorated. The residents who I saw in their rooms and passing me in the halls seemed to be quite happy, with a number of them on their way to different activities.I was most impressed with how all of the staff members I saw and met were so welcoming, approachable and helpful. I could tell they were genuine and that it was not just a front.I had a wonderful visit with my friend who expressed she was very happy with the decision she made to choose Horizon Bay.
---
missmotorhead
February 17, 2012
I visited this facility
This facility was very clean and had such a classy look. You walked in to a beautiful and serene foyer with a greeting desk where you sign in. The receptionist always had a smile on her face and it was very easy to sign in and out, once you had been there. As I walked to my father's room, I could see how well maintained the facilities were and how clean. Each room had nice decor and amenities. The beds looked large and comfortable. The TV's were not up to date as far as HD technology but they worked. There was cable TV offering numerous channels and each bed had it's own direct phone line. The staff was efficient and competent, again walsyw ith a smile. It can be very difficult to maintain a sunny disposition in this environment but the nurses did very well. They were very responsive when called or if questions were asked. If they did not know the answer, they would find it for you. And they had unlmited patience with their patients. They made every effort to make me comfortable while visiting, allowing me to use their fridge to store ice cream or goodies for my dad. When I checked him out, the nurses gathered and presented him with a certificate for funniest resident. It was an easy stay for him.
---
From Brookdale Chandler Regional
---
Brookdale Chandler Regional provides assisted living residents with lifestyles, housing, and services in comfortable surroundings combined with exceptional amenities, programs, and care. Through Brookdale's signature Personalized Assisted Living, we customize our care offerings for the individual. This allows each resident at our community the freedom and opportunity to make choices that will ease their lifestyle transitions. Residents enjoy life with the support they need, coupled with the appropriate accommodations as their needs change.
We promise Respect for Individual Preferences by offering personalized care needs and providing an atmosphere that encourages each assisted living resident to live in health and longevity. We also offer special housing and care options for those who require assistance with the activities of daily living such as dressing, bathing and assistance with medication. We offer graduated levels of care based upon the individual need of residents, as determined by our continual assessment process. We are dedicated to enriching the lives of residents every day with signature services for those who value their freedom and independence, but desire or need services providing them with the highest level of quality, care, and value.
What Makes Us Special
---
Conveniently located across from Chandler Regional Hospital, but in residential area. Near doctors, shopping and restaurants off of freeway 202 and 101. Most apartments overlook beautiful courtyards. Emergency pendant program.
Features of Brookdale Chandler Regional
---
Costs
Rent Plus Care Fees
Entry Fee
Room and housing options
1-bedroom apartments
2-bedroom apartments
Companion Suites:

We Do Not Offer Companion Suites

Studio Apartments
General
Respite Care
Minimum Age:

55

Pets:

Small Pets Allowed
Location of Brookdale Chandler Regional
---
Get Cost Information
Get full access to reviews, cost information, and amenities