Atria Chandler Villas
101 South Yucca Street, Chandler, AZ, 85224
Talk to a Family Advisor: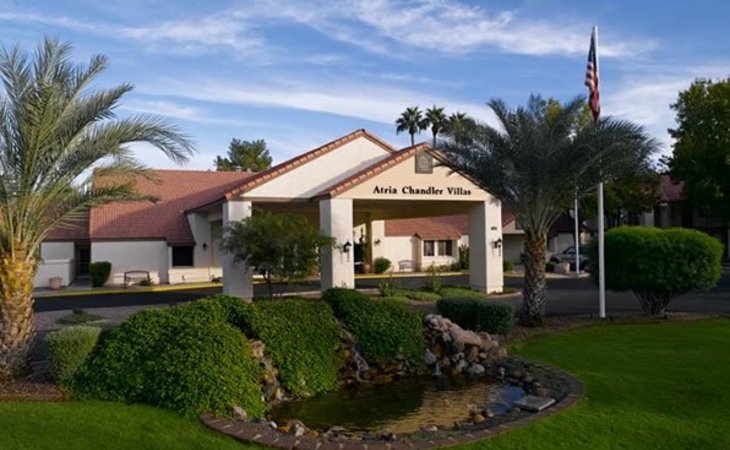 Reviews of Atria Chandler Villas
---
kathleen763371
May 30, 2017
I visited this facility
The rooms at Atria were very nice. My mom likes them. They have different things and games for the people there. The set up was very nice. The staff was very nice and very cordial, too. They spoke slowly so my mother could understand. They were very understanding.
---
Judith342554
April 14, 2017
I visited this facility
I found Atria Chandler to be friendly and very clean, and the people seemed happy. There was good interaction between the people. We visited twice and had a delicious meal there.
---
Leonard401550
October 10, 2016
I am a friend or relative of a current/past resident
My uncle moved into The Atria (Atria Chandler Villas). It's really nice; of course, it's the bigger room that he has. It's a nice area. He has been there a month, and he seems to like it. He has a 650-square feet. There is a very small kitchen, which he doesn't use. It has a dining-living room area and a fairly large bedroom. I went to about five other places, and The Atria was considered the cheaper. They also had bigger rooms.
---
Betty827807
September 01, 2016
I visited this facility
I visited Atria Chandler Villas. It was well done, but it didn't seem to be the right place for me. I couldn't imagine myself there. The rooms were good and adequate. They were small, though. The staff was fine. She did a good job. What I didn't like about it was the whole neighborhood. My companion and I like to walk every morning, but it would have been a very boring walk around there with its lack of greenery.
Provider Response
Thanks for visiting, Betty. I'm sorry we weren't the right fit, but you and your partner are welcome back at any time. If you have any questions or would like to tell me more about your experience, you can send me an email at customerservice@atriaseniorliving.com.
---
Daughter437530130
July 10, 2016
I am a friend or relative of a resident
My mother was at Atria a year ago, and we and my mother loved the community. They have lots of activities and a caring environment. The caregivers were very good, very conscientious, and addressed if there were problems or issues. It was very well run and maintenance was very good.
---
Anonymous106357
June 23, 2016
I am a friend or relative of a resident
My parents are in Atria Chandler Villas. The people and staff are very nice and friendly. There are a lot of activities. The rooms are small but good. You can't expect a lot. The only problem that we have with that place is they don't do a lot of extra caregiving. They do medications and stuff like that, but you have to pay extra. It's more for really independent seniors. They like the food. They have a two-bedroom with a tiny kitchen, a little dining area, a living room, and a little back porch where they can sit outside.
---
Gloria025077
June 10, 2016
I visited this facility
Atria's overall appearance was great. The apartments were very small, but I loved the place and the residents. They were all nice.
---
Stella11
November 22, 2015
I visited this facility
Atria Chandler Villas was centrally located near a main hospital. The staff was very friendly. The dining area was very warm and inviting, and the apartments were very nice. I really did not see anything negative. It was a little expensive, but they all are. They were very helpful; I was in communication with the director who was very helpful. We were not ready to make a decision yet, but it was very good. I was there on a Saturday, so it was very crowded, very busy, and very lively. There were a lot of people eating and families visiting. It was very nice. I would consider putting my father there when the time comes. I have not shown my father, but I would once he gets to that point. It was strictly independent living, though they did some assistance but light assistance. The director was very honest with me and said that if he needs heavy assistance, we would have to move him to another place. That would be a negative because I would not want to move my father twice. However, there were a lot more people in the same demographic as him. He's Hispanic, and there were some Hispanic residents that would be his friends that spoke his language.
---
Caring110986150
July 28, 2015
I am a friend or relative of a resident
My mom was at Atria Chandler Villas, but I had to move her out after a week because she is back in the hospital now, and she is not going to be able to go back. However, the staff at Atria Chandler Villas was awesome. The director was extremely helpful. She even came and visited my mom in the hospital. There is really no set lease there; it was month-to-month, but technically, I would have had to give 30-day notice and pay for an additional month. However, since my mother had only been there for three days, they just let me pay that one month, and that was it. Well, the rooms were very nice and very spacious. There were lots of rooms. I would totally recommend Atria Chandler Villas -- They were great. The dining room was very nice. They have a ton of activities. They have swimming classes and bingo. They have a calendar where they list everyday all of the activities going on. They have church services on site, and they also take you to the church that you want to go to. They go to the bank and post office too.
---
Timothy5
April 30, 2015
I am a friend or relative of a resident
Atria Chandler was by far the one that would meet all of mom's needs. We were also impressed with the staff. The lady who interviewed us and showed us around didn't pass anybody she didn't know personally. For the money, you get the most care for the dollar amount. It's a full apartment. Mom is a petite lady, so everything is in reach. She can still have her independence, but she will also be able to get the assistance that she needs.
---
Brenda103821850
March 31, 2015
I am a friend or relative of a resident
Atria Chandler Villas is a little bit older facility. At first I thought maybe it was a little bit too old, but as soon as we walked in, the inside is very well maintained, and the people were very friendly. It is just a very comfortable, friendly atmosphere. Everything is very well kept. There is a nice dining room and seating area for people to sit in the front lobby area to have coffee. The apartment is very nice. The one my mom got they replaced the sink and repainted it. They just fixed it up really nice. They didn't have model units, but a couple of the residents let us go in and take a look at the two of different sizes. We ate there with my mom when we moved her in. My mom has been eating there several times a day. Not everything is great, but we expected it. They have a very large menu; we had a nice sandwich and salads, and they were good. My mom tells me that the food has been good. They have different things like they have bingo, and they take them out to go to outings. They do have some church services, and they have a library. They have a little exercise type activities. My mom is not one to really be out that much, so it wasn't critical for her, but they leave something on their door at the beginning of every week to let them know what activities are happening.
---
Robert101595350
February 11, 2015
I visited this facility
I was very impressed with Chandler Villas. They had a library and games that various residents could participate in should they choose to do so.
---
John97301250
November 24, 2014
I visited this facility
I chose Atria Chandler because of the cleanliness, size of the rooms, and the cafeteria. It is a large community, but it doesn't feel that way. The food was great, and the staff friendly and helpful. I saw their activity list like games, and it's like a condo kind of area were apartments attached together.
---
Caring101715550
November 14, 2014
I visited this facility
The Atria was decent. It just turned out it wasn't quite what what we were looking for. The staff was excellent; maintenance was fine. They had meals; I think the food was fine. They had separate units and they were all nice.
---
Caring61225350
November 11, 2014
I am/was a resident of this facility
We lived in Atria for two years. My husband located it on the internet. Atria was fine. It was good to begin with, but the last couple of months weren't so good. Otherwise, it was good. They have three meals a day, so it was quite reasonable. The rooms/apartments were very clean. Once a week, they would do your linens, change your beds, and clean your apartment. Security was good. There were also a lot of good activities. Atria was an older building, and it needed a lot of repair because of the age of the building and so on, but they're keeping up with it very well.
Provider Response
We are happy to hear that you were generally happy with the services we provide at our community and would like to connect with you personally to gain a better understanding of your unhappiness with the last few months. Please feel free to reach out via customerservice@atriaseniorliving and if you would kindly include "Atria Chandler Villas, we can quickly copy the right people who can help. We'd love to hear from you!
---
disappointeddaughter
July 15, 2014
I am a friend or relative of resident
Terrible food and nothing ever gets fixed in a timely manner. If resident pays own rent, he/she really shouldn't live here!
Provider Response
I am sorry you are disappointed with the food and maintenance. Your comments will be shared with the appropriate directors to ensure we are constantly improving . I also encourage you to reach out to us directly with any suggestions you may have to improve upon your dining experience and to tell us more about the maintenance concerns you have. Please email us directly at customerservice@atriaseniorliving.com; including "Atria Chandler Villas" in your subject line so we may quickly include the right people on the correspondence. We are here to help!
---
Ruth23
January 30, 2014
I visited this facility
Atria is really nice, organized and very clean. They have three meals a day and an open dining room. It has a storage closet which some of them don't have
---
Caring74323450
December 01, 2013
I visited this facility
We are very impressed with Atria Chandler Villas. Everything is absolutely excellent first class. It is very clean, well operated and well managed. It's like little apartments with warning systems if you needed help in the middle of the night. All bases covered. They are doing a very good job but it isn't cheap.
---
Sid1
November 27, 2013
I am a friend or relative of a resident
I visited a friend at Atria and the facility is very nice. I would say that the place is completely satisfactory. The food is good and the staff are very helpful.
---
Mylan
September 25, 2013
I visited this facility
The facility is very well kept. The staff looked very friendly. It looked like they took good care of the residents. We ate lunch there and the food was excellent. They got a lot of different options in the menu. My parents really like the place, but they are just not ready to move yet. I would definitely recommend this facility to others and in fact I have already recommended it to several others.
---
b g mudd
July 27, 2013
Other
I went on line for information, which I got, then was called by facilities spokesperson...we exchanged much information..did not tour, as to my financial situation will not allow me to live there. I am very grateful for all help and understanding, warm conversations and email updates on this facility..it is very very nice and in perfect location...
---
medbum
August 21, 2012
I am a friend or relative of a resident
The staff was very kind and attentive. They understood that we were looking for a safe and comfortable place and made sure to make my grandma (their future resident) and the rest of my family feel right at home. We were given a tour of the grounds, and were able to see all of the different activities that occurred on a daily basis and were able to meet other residents and talk to a few nurses. I felt very comfortable at this facility, and appreciated the fact that there were fitness and activity rooms as well as a beauty salon. This place definitely has it all.
---
Emmyrose
August 31, 2011
I visited this facility
This is a beautiful 2 storu facility on 8 acres of land. The landscape is lusch and green with walking trails, benches, flowers fountains, water scenery, and great views. Theere are 15 assisted living apartments that are one and two bedroom and one and two bedroom deluxe. All have full kitchens.They are handicapped equipped and have an emergency call system. Housekeeping and laundry is provided. The decor inside is nice with paintings, furnishings, and statues. They have a formal dining room and offer 3 meals and snacks. The variety is for two entrees at lunch with alternate menu and 4 at dinner with alternate menu. They offer anytime dining so residents can order a sandwich, soups, and other choices anytime. The food is delicious. They have a fitness room, activity room, a beauty salon, and a card room. There is an RN 5 days a week and on call. There are certified caregivers. The staff is very nice and caring. They have doctors who make house calls. They offer hospice and in home heakth as needed, As they only di two levels of care as residents health deteriorates beyond qualifications they assist in placing residents elsewhere. They have an activity director and attempt for keeping residents active with many programs for activity, They have aerobics programs, current events, parties, bbqs,socials,dances, and other entertainment. They do outings as shopping, restaurants, and other events weekly. They have a pool and movie theater room/ This an excellent facility/
---
Erika Shield
July 30, 2011
I am a friend or relative of a resident
My dad lived in this community for about 1 year. We were very impressed with the cleanliness & friendliness of the place. My dad raved about the food a lot when he first moved in, but later apparently the main chef changed & Dad felt that the food became more average than great, but we all still enjoyed it. There were numerous activities to participate in & plus a pool & an outdoor putting green & that gave Dad something fun to do almost daily. More important than food & games was the conscientiousness of the staff. On more than one occasion, my father could not get up out of bed. The staff quickly alerted my sister (the closest relative). We were so pleased to know someone cared. Later, when my dad again couldn't get up out of bed, and my sister wasn't able lift him, the staff immediately called 911 & saw to it that my dad was expediently taken to a hospital. I would definitely recommend this facility.
---
leezee
June 29, 2011
I visited this facility
A very nice looking facility in Chandler. My sister and I toured this together in pursuit of placement for our ailing father. We'd been caring for him ourselves and the burden was becoming too much. He had a pulmonary disease that was progressive and we wanted him to have care available to him 24 hours a day and not intermittently when her and I could switch off. We both have families, children, jobs and responsibilities we can't ignore and my father understood this. Because this facility was located somewhat in between mine and her homes, we toured it along with several other places. A very pretty place! The staff was gracious, kind and willing to show us anything and everything we wanted to see. I loved the library! My sister thought the dining area looked like a fancy cruise ship dining room. What we both really liked was that they actually introduced us, personally, to the food service manager and the full time activities director. Yes, I said full time! So, it isn't like some facilities where events are planned a month in advance. This person actually works full time, 40 hours per week, planning events, activities and whatever else she can come up with. They offered tons of services, had tons of amenities, staff was visible and working all over the place. It felt safe and active. Unfortunately, my fathers requirements were greater than what they provided, but I never forgot the place. I think I even went back a year later with my in laws. Worth a visit! If you're active and looking for a really calm and peaceful place to live, this is definitely worth a look.
---
From Atria Chandler Villas
---
At Atria Chandler Villas, you'll enjoy the convenience and comfort of senior living in a peaceful neighborhood just outside Phoenix. Among the community's many amenities are a heated pool, spa, library, putting green, bocce ball courts and scenic walking paths. Just 12 miles from the city center, Atria Chandler Villas offers easy access to shopping, places of worship, cultural and recreational attractions and health care providers
Atria Chandler Villas offers the following services:
Staff available 24 hours a day
Choice of apartments
Anytime Café
Full-time director of events and activities
Emergency call system in every apartment
Daily restaurant-style meals
Housekeeping services
Maintenance of apartment, community and grounds
Medication assistance
Scheduled transportation
Atria Senior Living is a leading operator of independent living, assisted living, supportive living and memory care communities in more than 180 locations in 28 states and seven Canadian provinces. We are the residence of choice for more than 21,000 seniors, and the workplace of choice for more than 13,500 employees. We create vibrant communities where older adults can thrive and participate, know that their contributions are valued, and enjoy access to opportunities and support that help them keep making a positive difference in our world.
Features of Atria Chandler Villas
---
Costs
Rent Plus Care Fees
Entry Fee
Room and housing options
1-bedroom apartments
2-bedroom apartments
Companion Suites

We Do Not Offer Companion Suites
General
Minimum Age

None

Pets

Small Pets Allowed
Location of Atria Chandler Villas
---
Get Cost Information
Get full access to reviews, cost information, and amenities