HeartFields at Cary
1050 Crescent Green Drive, Cary, NC, 27511
Talk to a Family Advisor: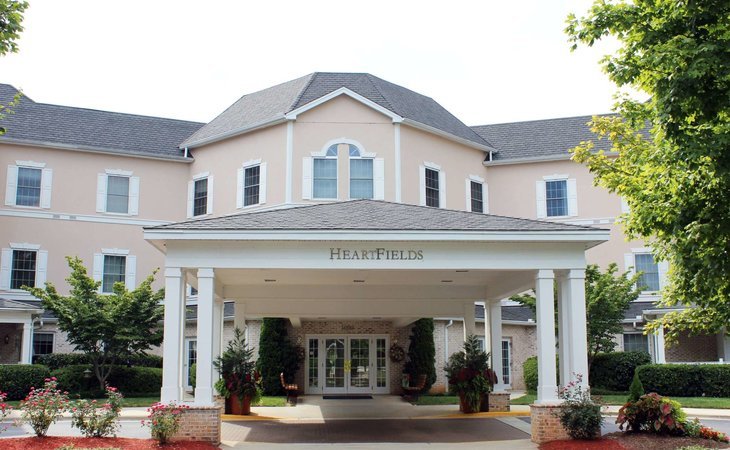 Top nearby Assisted Living Facilities
Reviews of HeartFields at Cary
---
RB000011
January 05, 2017
I visited this facility
I like HeartFields at Cary a lot. I thought it was very inviting when you walk in. It had some pretty neat programs going on for the dementia people on that floor of memory care, and it was nice and clean. It was also probably one of the more affordable for me.
---
Nedrick
November 01, 2016
I visited this facility
I went to Heartfields, but it's not within my price range. They had very nice rooms, and the memory care area was very nice. It had a homey feel, even though it had a modern exterior. Everyone was friendly; I could tell the marketing representative actually knew the patients and the employees. It's a very close knit place.
Provider Response
Thank you so much for your feedback. Here at Five Star Senior Living we strive to deliver quality care to all of our residents, we operate in accordance with all industry laws, federal and state, we also take great pride in our dedicated staff. For years, Five Star Senior Living has been striving to redefine the dining experience. From the start, our goal has been to provide an exceptional dining experience that gives our residents options Ð from decadent comfort food to healthy choices. With this being said we seek room to improve, so if you are willing, we kindly ask you to call our Gold Star Service line (877) 349-5349 and provide us more details.
---
Michelle778024
October 10, 2016
I visited this facility
HeartFields at Cary is small, which is good. They have really flexible dining situation. The staff really seems involved and really cares about their residents. They have been really good.
---
Cary Resident
September 17, 2016
I am a friend or relative of a resident
My parents spent some time residing at Heartfields and moved out in 2016. The staff was generally good and friendly from what I saw. Sometimes they could have shown some additional patience while assisting with movement and in the bathroom, but they don't have a lot of time due to staffing levels. Wait times for assistance were generally in the 5 minute range, but sometimes stretched to 20 minutes or more. The woman who worked at the front and ran the activities seemed kind and engaging. We did have numerous medication problems. Sometimes medications were not given at all. We verified this in the log book. The head of nursing was replaced as we were preparing to move out. Not sure if that was related. The dining room is small and cannot accommodate all the residents at once. The floor of the dining room was often very sticky. Pretty gross at times, and if you came in the second wave for meals the tables were not fully cleaned. The meals seemed ok, but Heartfields was touted as having top notch dining and it did not. My parents did not like the facility, but we did speak with other residents who were positive. I believe the director was also replaced around the time my parents left.
---
Caring visitor33
February 23, 2016
I visited this facility
The staff at Heartfields was very accommodating. The rooms were of an average size and clean. The residents looked pretty contented.
---
Robert120445450
February 23, 2016
I visited this facility
The apartments were very nice at HartFields and done in different styles. The food was pretty good, and the servers were efficient.
---
Teri10
January 31, 2016
I visited this facility
HeartFields was a very nice facility, and it's very small. The quality of the rooms, and the whole facility was good. I did like the memory care unit. It's locked, but they have an outside enclosed garden area. It was very nice. I had one person showing me, and she introduced me to a couple of technicians that worked there. They were very professional in appearance, courteous, warm, and seemed to be caring. They had interaction with the residents. It was a family atmosphere. The day that I was there a lot of the residents had gone to maybe the ballet on a Saturday afternoon. They do provide stuff like that. It is more expensive than some of the other places I visited.
---
Caring Daughter118988150
January 26, 2016
I visited this facility
I visited Heartfields at Cary. I am rating them highly because their back deck was closed, so my dad would not be able to wander off from it. They had lots of activities and great food as well.
---
Kim H
November 30, 2015
I visited this facility
Heartfields of Cary seemed nice. The people there are also nice. The apartments were not particularly warm and inviting, but they were adequate. They had nice amenities. The facility was well maintained. The lady who assisted me during the tour was also nice.
---
Anonymous116920550
November 25, 2015
I visited this facility
HeartFields at Cary is a very clean and nice place. We went there to inquire about services, and the people were very nice.
---
Caring114118150
October 23, 2015
I visited this facility
HeartFields has a nice, clean setting and friendly people. I liked the dining area.
---
Caring111601250
August 21, 2015
I visited this facility
Everybody at Heart Fields was very nice. Summer was the lady's name that gave me the tour, and she was very knowledgeable, so it was the place actually that he decided to go to. The rooms were very clean, there were several available, and they weren't as large as some of the other two places that I toured, but they had a lot of activities and other perks, so I liked it better. Like each week, they had different activities for the residents. They would take them out to places or to the parks for picnics or whatever. They had games that they could play, they were playing a game of Bingo when I was walking around, and they had reading clubs. They had all kinds of things for them.
---
Caring89708450
July 31, 2014
I visited this facility
We visited HeartFields and the residents were just sitting around in their wheelchairs. The rooms were very claustrophobic. It didn't have enough closet space. However, it seemed clean and I liked that they had a room for visually impaired residents. It had a different kind of light switch on the wall and they had something that they could put on their cup if they wanted to pour water. They had two-tone sheets. The top sheet and the fitted sheets were in different colors and we incorporated that with my mother so it was easy for her to distinguish the top and the fitted sheets. This was one of the places where the people paid for the level of care. So, you would pay for your room and as your care increases, you would pay them more and more.
Provider Response
Thank you for your recent visit to our community. We are delighted that you found our community to be clean and our low vision program to be innovative and relevant to meeting the needs of your mother. We are always striving to find ways to support our residents' desire to stay as independent as possible. We do recognize for some, our smallest apartment may not meet their space needs. We do have several floor plans and apartment styles, including those that are on the cozier side all the way to our spacious two bedrooms. Our front lobby is a favorite gathering place for a lot of our residents with lower mobility as it affords them a high level of interaction in one central location. We do understand that although this might not present to a guest the most favorable first impression, our resident's individual preferences and choices remain our top priority. We find that having our residents gathered together promotes a special kind of wellness as we focus not just on meeting physical needs, but social and spiritual as well. Thank you again for your feedback, your visit, and an opportunity to gain additional guest perspectives.

Jennifer Earp, Executive Director, Heartfields at Cary
---
Nbrown1
May 27, 2014
I visited this facility
I liked Heartfields, and I thought the amenities were very good. I felt comfortable with the staff giving the tour. She was very interested and helped me. The room looked nice and comfortable. It's homey. The room where they had the exercise equipment was nice. They had a computer in one of the open rooms, and I thought the library and reading room was nice too. They had a large meeting room for movies.
---
Andrea12
August 01, 2013
I am a friend or relative of a resident
We have search for internet and medicare rating for the facilities and we decided to get a room for my father in law at Heartfields at Cary. It has a very bright and clean environment with a small refrigerator. I haven't actually tasted the food, but we have been there when meals were being delivered to the dining room and I asked other residents, the food quality is excellent. The residents actually get a choice between two entrees, then a choice of their sides and desserts and they always have a homemade soup every day. The dining room is a bright and cheerful area with linen tablecloths and they have comfortable chairs. It is almost like a restaurant kind of atmosphere. What I like most about the community is that every day they have a variety of activity scheduled. I talk to the residents before we move him there and they seem to be happy there and we're pleased. Ultimately, my father-in-law wants to be home, but when we found another assisted living close to our home and we ask him if he wants to look at that for proximity, he said no. He said if he had to stay somewhere, he wants to stay where he is. The communication with the family once addressed, the staff will be professional and prompt to respond to our needs.
---
Caring57080350
February 28, 2013
I visited this facility
Heartfields was definitely more high-end. The rooms were really nice and had more space than where my dad is. I looked at the menu options and they seem very nice and attractive. The gentleman at the reception I worked with was exceptionally friendly. And he tried to do anything he could to help make it possible for my father to be able to go there. Unfortunately, it didn't work.
---
Windemere
May 10, 2012
I am a friend or relative of a resident
Overall, I recommend Heartfields with reservations, so 3.5 stars is more accurate. The assisted living facility has many residents with Alzheimer's and dementia who do not reside on the Alzheimer's unit (which is reserved for in the latest stage and those who tend to wander). So there are many residents who are "out of it" and sit in their wheelchairs at the front entrance and/or lounges speaking incoherently, or yelling out. This can be very disconcerting to residents and visitors alike. Most of the staff is very caring, and know the residents well. They do seem consistently understaffed, as simple requests (like medications ready for a trip) seem to cause a last minute flurry, even when they were requested a week in advance. Or weighing a patient with concerning weight loss more than once seemed to be a difficult request to fill. It has taken several requests to see that the resident wears clean clothes regularly. The strength of the staff is in the OT/PT and Activities for residents, which are carefully performed, varied, and stimulating. Food is pretty good. The facility needs to join the electronic age for its medical records and having voice mail for the main line.
---
MikeJ1
May 08, 2012
I am a friend or relative of a resident
When we arrived we were greeted by a friendly face of the front desk. We did not know what room he was in, so she quickly looked him up in the directory and told us how to get to his room. We arrived at his room and we were surprised to see that it was just like a small apartment. We asked him how are you feeling and how he liked it. He is a fiercely independent man and I expected him to complain. But he did not. He said the staff is the treatment friendly and the doctors were looking after him. we went to visit him there a few times and will always greeted with smiling, friendly faces and a very clean atmosphere. One time we caught him the dinning room while eating dinner, and the food looked and smelled like it was from a, five-star restaurant. We don't know if he will be able to return home but we can rest assured that he is being well taken care of here.
---
Laila B
April 05, 2012
I visited this facility
I visited Heartfields of Cary with my grandmother. We are looking to place her in a facility that will allow her to be monitored but yet have her independence. The facility appears to be one of the best in the area. We walked in the front door and were immediately greeted by a professional acting woman at the front desk. She listened to why we were there and offered to give us a tour. I thought that was nice considering we did not make an appointment. I actually wanted to just walk in to catch them off guard. All of the residents appeared to be happy and spoke as we walked by. The facility is a two story building and has elevators and stairs for the residents. Most of the residents in wheelchairs seemed to live on the first floor, the lady did say there where some on the second floor as well. It just depended on their cognitive state of mind. They also have an Alzheimer's Unit for residents suffering from the condition. That facility is always locked and monitored. The dining hall was nice and well decorated and the kitchen staff were busy help serve the residents, making sure they received the correct meal. I was actually fascinated at how well everyone appeared to be working together. The only downfall that I would say about the location was that it looked as if the residents sitting out front when we walked in were a little bored. It could have just been their down time, we were told that there are activities for all residents and even a happy hour for them to enjoy. That was when my grandmother's eyes sort of perked up a bit. We have one more facility to look at, but I think we have actually found a great location with Heartfields of Cary.
---
sunside3174
December 07, 2011
I am a friend or relative of resident
In the past, my parents have stayed at Heartfields Assisted Living in Cary. Mom and dad lived here until dad died. Heartfields specializes in caring for residents with around-the-clock needs, with a special unit dedicated to Alzheimer's residents. Their Alzheimer's care is excellent and highly recommended. One of the benefits of Heartfields is that the community is small, which means that residents get personalized care and attention. They are not simply a number. Living areas are comfortable, clean and secure with plenty of activities for residents. One area that needs improvement is their food. The food menu and chef services could use some changes. Some items on the menu never seemed to be available, while others were just bland-tasting. After dad's death, we moved mom to another community (closer to my house), one where she could live independently, since dad was the one with Alzheimer's and needed hands-on care. Overall, this is a good community for those with Alzheimer's needs.
---
---
HeartFields at Cary offers compassionate senior care in Cary, NC. We strive to create a home-like atmosphere where you and your loved ones can feel secure. Our warm, well-trained staff works closely with our residents to provide the utmost care and comfort. As part of the Five Star corporation, you can be sure that everyone at HeartFields at Cary shares the Five Star Values, and is committed to a high level of caring in all that they do. Please schedule a visit to see why we are the first choice in senior care in Cary, NC.
Features of HeartFields at Cary
---
Diet
Diabetic
Low Fat
Low Salt
Renal
Vegetarian
Licenses
State Licenses:

HAL-092-156
Location of HeartFields at Cary
---
Request Info
Get full access to reviews, cost information, and amenities