Atria Carmichael Oaks
8350 Fair Oaks Blvd., Carmichael, CA, 95608
Talk to a Family Advisor: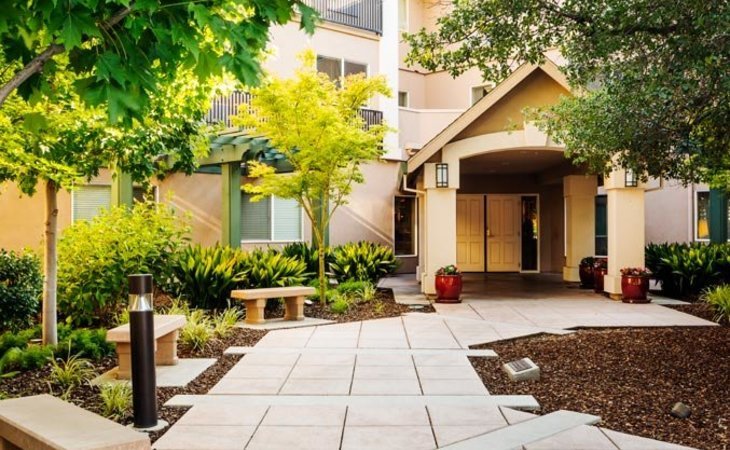 Reviews of Atria Carmichael Oaks
---
Cindy538536
November 25, 2016
I am a friend or relative of a current/past resident
The rooms at Atria Carmichael Oaks are clean and well appointed. Mom has a studio in the assisted living side, and I would say it's acceptable but not very spacious. The food is amazing. They have so many activities, and this was one of the big things that made us choose this place. They have activities that cover every part of the mind, body, and soul. They have meetings and discussions about gratitude. It seems like when everybody moves in, one gets a book on gratitude. They have classes that engage the mind, stretching, and walking classes. They have guest speakers that come in. There was one about birds, and then there was a beekeeper. The staff has been attentive.
---
JE337573
October 21, 2016
I visited this facility
Atria Carmichael Oaks was not our favorite because I did not get a good impression when I walked in. Everybody was very nice, but I was keeping in mind my sister-in-law's needs as I was looking around, and I just did not feel that she would be comfortable there. The first thing that turned me off was that I could not find parking. All the parking spaces in front were for the residents of independent living, so there were very few left for the assisted living guests. The place was very nice, but I did not like the bedroom. I also felt it was closed in, and I wanted a more open place.
Provider Response
Thanks for visiting. Atria Carmichael Oaks is one of our smaller, more intimate communities. We do have another community nearby, Atria El Camino Gardens, which may be a better fit for your sister-in-law – we welcome you to stop by any time.
---
Cheri201151
September 30, 2016
I visited this facility
Atria Carmichael Oaks was good. It felt a little more homey because it was a smaller community. The staff showed me everything. I thought the accommodations were better, more decorated, and with more light. They had shopping trips, book clubs, movie days, and card games.
---
Pnaygrow
September 02, 2016
I am a friend or relative of resident
My daughter and I absolutely loved this facility when we picked it for my sister/her aunt. It seemed very well attended to, with lots of activities and caring staff (at first). Our biggest concern was that no matter what condition my sister ended up in, she could stay here and they could take care of her (with upgraded care cost, of course) . Within five months of her moving in, they started saying that she needed significantly more intensive care, and that they would have to raise her care level (In that period of time Atria had actually been sued for poor care and pricing). We were fine with that, but my sister said she was getting less and less care and that she felt like they were trying to get rid of her. We asked the managing director, at the time, Michelle, to find out what exactly was going on, and she reassured us that they were not trying to get her out and that no matter what happened, this would be her forever home. On June 2nd they demanded that she go to the hospital for evaluation, and once she was there, Atria told the hospital that she was no longer able to return to Atria based on the severity of her condition. To make matters worse, we were out of town on business when it happened, and we only had two days to find a new facility and move all her things. As if that weren't stressful enough, Atria then charged us for the full month of June under the guise that we had moved her to a new facility on our own accord that was ranked at the same level of care as theirs, when in fact, they had denied her the ability to go back. What's worse is the effect it had on my sister. It was such a hard time for her, and the force-out made matters so much worse. Once my sister was settled in to her new place, we then spent the next three months trying to get our money back for the overcharge on the account. During that time, another additional unexplained and erroneous $2000 charge showed up that we also had to dispute. We were continually lied to about the whereabouts of the manager and any financial people who could assist us (example: she just stepped out, she's not in today and I don't know when she'll be back in, her voicemail is full, etc.) in hopes we would just go away. We had to show up in person three times, call corporate, and we went through person after person over the phone, sometimes daily, as more Artria staff were no longer there (another huge concern for this facility-high turnover). We finally resolved the issue, but the time, energy, and stress to ourselves and my sister is damage that cannot be fixed. Based on our experience, we don't see how it would be any different now- high turnover, inadequate staff at any given time, poor care providing, and questionable corporate policies and actions. We would not recommend any loved one be placed there.
Provider Response
I'm sorry to hear about your concerns and hope your family was able to find a community to meet your needs. If there is anything else you'd like to share with me, you can send me an email at customerservice@atriaseniorliving.com.
---
RD506807
July 29, 2016
I visited this facility
Atria's staff seemed very pleasant, and the dining area seemed very large, very clean, and very nice. The living quarters were very nice, too. They had a lot to offer as far as activities went, and they had an exercise room, a beauty salon, and physical therapist.
---
Dani310235
July 27, 2016
I visited this facility
We liked Atria Carmichael Oaks the best. The staff was good. For the price, I liked it a lot. It was very clean, well kept, and engaging. There were a lot of senior activities, both physical and mental.
---
Jim107726
July 25, 2016
I visited this facility
Atria Carmichael Oaks was smaller, had fewer people, and was a lot darker. The dining area looked nice. I didn't like the entrance because it was hard to find the front door. The staff was very nice. Things were pretty positive.
Provider Response
Hi, Jim. Thanks for visiting our community and sharing your feedback – glad you had great interactions with our team members! If you'd like to tell me more about your tour experience, you can email me at customerservice@atriaseniorliving.com.
---
Jay081383
July 11, 2016
I am a friend or relative of a resident
Atria Carmichael is very good, very pleasant, and clean. The people are nice, and my mom is happy, so we're happy. My mother is in a shared room, but it's big enough. It has large closets, the heating and air conditioning works well, and windows to look outside. It works for us and is very spacious. They post a menu ever yday, which looks appetizing but I have not tried the food; my mother likes it. They have a little exercise program, sing alongs, and music. They take them outside to the outdoor area and do different games and activities like that.
---
William300037
June 23, 2016
I visited this facility
Atria Carmichael is clean, bright, and had large ceilings. It's a nice place with lots of care for the residents. The staff is great and have been very good to us. We observed the residents eating, and it was very nice.
---
Gea260520
June 10, 2016
I am a friend or relative of a resident
Atria Carmichael Oaks was great and had very good service. The people were friendly. The food is good, and the rooms were attractive. It also happens to be two minutes away from our house, which adds a huge amount of happiness. They have exercise classes, bus trips to grocery stores and shopping, and book clubs. The staff is very helpful and have been very kind to her. They all know her by her name. She'd say everybody treats her well and that she's very happy. We ate there as part of the first introduction, and it was very nice with a nice menu. It's attractive.
---
Sharon124616950
May 11, 2016
I am a friend or relative of a resident
My stepdad is in memory care of Atria Carmichael Oaks. They're very nice too. I like the way they get the people to interact with them. They have them play bingo and they play little games with them like naming all different kinds of dogs. They bring them out into the living area. They get them up, get them dressed and get them to interact, so they're not just sleeping all day. Last week, he got diagnosed with congestive heart failure, so now they're bringing in hospice and so he is getting extra care, but they're right on top of it. They're keeping him very clean and they change his bed when he has accidents. They're very good staff there. They're very friendly.
---
Pat V.
March 28, 2016
I visited this facility
Atria Carmichael Oaks had very nice surroundings. The person that showed us around was very polite and very knowledgeable. The only reason why I did not pick that one was because my sister would have a second- or third-floor apartment, and I wanted her on the ground floor. They had a very nice library, outdoor lounge, and areas where the residents could walk around and sit outside. The food was very good.
---
Anita K.
March 15, 2016
I visited this facility
We liked that the size of the rooms was a little bigger at Atria Carmichael Oaks. They offered a meal, but we didn't eat there. However, we did observe that the food looked and smelled good.
---
Caring Daughter120146450
February 26, 2016
I visited this facility
I toured Atria Carmichael Oaks. I wasn't really impressed by the grounds. I had my grandson with me when we looked at it, and he goes, "No I didn't want to go to the hospital." I didn't really like this place. The rooms were smaller and weren't very accessible.
Provider Response
Thank you for visiting Atria Carmichael Oaks. I'm sorry that our community was not a good fit for you. I hope you find a community that meets your needs. If we can be of service to you in any way please don't hesitate to reach out to me directly at customerservice@atriaseniorliving.com.
---
Pauline12
January 31, 2016
I visited this facility
Atria is a lovely place. My friend has been there for quite awhile now. Their dining facility is wonderful. It is just like going out to a restaurant. My friend's room is lovely too. She has a sliding glassdoor that goes to the garden area there. It is very nice. The staff is very nice. They have a theater once a week, and then they have the church services, which I think is very nice for the residents. You can also have your little doggie or little cats there if you want.
---
Vic2
January 24, 2016
I visited this facility
Atria was an older facility but nice and I liked it. I didn't eat with them but I looked at the dining area. It's close to my house, convenient and on a great location.
---
Toni The Red Tiger
November 16, 2015
I am/was a resident of this facility
Carmichael Oaks was really good, but I didn't have any room in my apartment, so I had to find something bigger. Before Atria took over, the people that worked there were really wonderful. It's kind of cold now.
Provider Response
I'm sorry to learn that our community wasn't a perfect fit. I'll be sure to pass on your valuable feedback with our team members, and invite you to reach me directly at customerservice@atriaseniorliving.com if you'd like to share more.
---
Pam112585050
September 13, 2015
I visited this facility
Although they were very nice during the visit, it's just that the apartment wasn't what my mother-in-law wanted. She wanted a first floor studio apartment, and they didn't have that at that time. So they may have been a very nice facility, but that was the drawback. Atria Carmichael Oaks just wasn't a lively looking place to us. Maybe we went at a very quiet time, but the apartment wasn't what she was looking for. The person that took us on a tour was quite nice, but it just was more sedated. It seemed too sedated, and she likes activities. She likes to do things, and they may have had it all, but on first appearance, it wasn't quite what we wanted. It didn't have a studio on the first floor, so she would have had to go up an elevator, and it was more expensive, so that was the drawback. Not only did they not have what she wanted on the right floor, but the studio that they had costs more.
---
Denise37
July 31, 2015
I am a friend or relative of a resident
My mother has been in Atria Carmichael Oaks before, and we took her back here. The staff is very good. We had a few ups and downs, but she has Alzheimer's, so she is not an easy patient. So far, it's working out OK, but it has only been a week. Her room is private; it is not spacious, but it is doable. It's as big as any of the rooms we saw at other facilities. She likes the food. The dining area is very small. Everything in the memory care is very contained, which makes it easy for them to move around so they don't get lost. They do take them out for a drive once a week into the mountains.
---
John109666850
July 21, 2015
I visited this facility
The one closest to me is Atria, and I even negotiated with them. They sent me the monthly activities -- all the things that are available for you. They got everything. They even have trips to take you to the stores and to wherever you need to go, and they take me to church. On one night, you could play poker, and they have Bingo night and movies. They invited me to a meal, and the food was very good. They've got a chef there by the name of Adam. He sat at my table and talked to me. I thought it was very nice, and so were the people. The staff was great; they got a good staff.
---
Caring109139550
June 25, 2015
I visited this facility
Atria Carmichael Oaks was OK, but I didn't like the floor plans of their apartments. This place really needs renovating. It was old and dark. They were just not well-done; they were kind of cheap. Safety-wise, everything seemed OK. They have a lot of improving to do.
Provider Response
Thank you for visiting Atria Carmichael Oaks and for sharing your feedback with us. We continually strive to enhance our community and the service we provide, so input from our guests is always welcome. If you have more suggestions, please reach out to us at customerservice@atriaseniorliving.com.
---
brderby1
April 30, 2015
I visited this facility
It was very difficult to find parking at Atria Carmichael Oaks. It took me 15 minutes to find a parking space. I looked at the menu for the dining hall, and it was not very impressive.
Provider Response
Thank you for visiting Atria Carmichael Oaks. We're always looking for ways to enhance our community so if you'd like to share more suggestions with us, please reach out to us at customerservice@atriaseniorliving.com.
---
Caring104587350
April 22, 2015
I am a friend or relative of a resident
Atria Carmichael Oaks was awful. My mother-in-law was there for almost five years. They had a lot of activities, which was good for the residents. After dinner, there was really nothing for the residents to do other than to go back to their rooms. Their apartments were nice. You had to bring your own furniture. The food was OK -- not the best. The communication between the staff and the family was awful. After hours, there was nobody to answer the phone. If you leave a message, they do not call you back. It was just very hard to reach them. They do not bother to notify you if there were any problems. When they sent my mother-in-law to the hospital by herself because she fell in her room, they didn't notify me. I didn't find out until the next night that she was taken to the hospital. When I asked them why they didn't call me, they had nothing to say. They wouldn't even look at me.
Provider Response
Your comments are concerning to us and we'd like to learn more about your experience. If you're comfortable sharing more information with us, please contact us at customerservice@atriaseniorliving.com.
---
Brenda104755350
April 19, 2015
I visited this facility
Atria Carmichael Oaks had more accommodations and activities for the people. The help was very conscientious. They were doing a superb job in keeping that place pleasant as well. The rooms were wonderful and very lovely. I would definitely recommend this facility to others.
---
Tricia10
April 10, 2015
I visited this facility
Atria Carmichael Oaks absolutely was gorgeous. A little high-priced, but for the care we are getting, I am sure it was very reasonable for what is out there. It seemed like all their assisted living was kind of in a general area, and they had a lot of things to do, places to go, right there in that area not having to do a lot of walking. To me, it was rather pricey. And, again, it is not that you are not getting what you pay for so I don't want to put mom here, but for us to look at that, it was a vast increase from what we are paying now.
---
John103411950
February 17, 2015
I visited this facility
The Atria Carmichael Oaks was very nice. The facility was nice, and their grounds were very nice; they had woods in the back and everything -- very beautiful grounds. It was very clean and very nice, and everything was upgraded. I believe it is a fairly new facility.
---
Steve48
January 24, 2015
I visited this facility
The Atrium of Carmichael was referred to us by the agency. The staff was very helpful and very forthcoming about what is going on there. We decided to have mom in this facility, but she didn't want to do that. I did have lunch there, and everything was very nice.
---
Caring87930450
June 26, 2014
I visited this facility
Atria Carmichael Oaks was absolutely beautiful. I have a friend who is also living there. I visited, and it had a lovely atmosphere. It was very quiet and pleasant. The décor was very home-like. The dining room was pretty much like a restaurant, but service was not that great. They had a new waitress, and she wasn't very happy with her job, and the food was so-so. It was not bad, but it was not excessively good, either. The apartments were very comfortable. They were very open with lots of light, small but very well set up for the person to feel like she is living in an apartment while she is in assisted living. It was just a very, very nice environment as far as living conditions are concerned. I found the people very much concerned about my friend's unhappiness about some of the services she received.
---
Jeff21
May 30, 2014
I am a friend or relative of a resident
I chose Atria Carmichael Oaks for my dad because it is the best value for the cost. It has the largest room for the best price, and actually, it is the closest to us, too. The employees' attitudes are fine. The room is pretty much comfortable, nicer, and bigger. The food is all right; sometimes it is really good and sometimes it is fine. They have activities, but my dad does not participate in a whole lot of them.
---
Mary82236450
April 26, 2014
I am a friend or relative of a resident
My mother is at Atria in an independent care apartment. That is an awesome place. She eats so well. She could eat anytime she wants. They have a full breakfast, full lunch, and full dinner and you get two or three choices of entrees at each meal. If you don't like that, you can look on the other side of the menu and pick what you want. They have up to 10 activities a day, including exercise. She is so happy there. I call it the Taj Mahal of senior living. Her girlfriend moved there, and another friend is moving over there now. So she's got a lot of people who have come, following her over there.
---
Caring83189550
April 22, 2014
I visited this facility
Atria was nice and very clean. It was a little more monitored, and the apartments were bigger. They had ducks in the pond, but I just didn't see a fun life for my mom. I didn't see many people, and they did not seem as happy.
Provider Response
Thank you for visiting our community. I am sorry that you did not meet some of our more active residents on your tour. If you would like information about some of our other communities in the surrounding area or you feel we can be of further help to you and your mom, please contact us via customerservice@atriaseniorliving.com and be sure to include "Atria Carmichael Oaks" in your subject line.
---
Caring81789550
March 27, 2014
I am a friend or relative of a resident
Atria Carmichael Oaks doesn't stink when you walk in the door. The facility is beautiful. It is decorated in a fashion that makes it feel like home. The staff are wonderful. They are very helpful and friendly. They address any issue with your room or your apartment that you have. They accommodate and change with the community, so they have a community meeting. They have a really good person who is very personable who transports the residents to shopping areas. They also plan outings. They have all activities in-house, especially for the assisted living side, for those people who are not quite mobile. Their food is just excellent, and they provide food anytime. Their rooms are large enough for quite a bit of furniture. The bedroom has a queen size bed, two dressers, and a walk-in closet. The bathroom is nice and big and very accessible. They also have balconies, and the grounds are beautiful. The price was excellent.
---
Eva8
January 31, 2014
I visited this facility
Atria Carmichael Oaks was beautiful, very nice and pretty. The staff were very welcoming and were really good about seeing to it that the medications were delivered timely. They just seemed to connect. However, the price kept us from moving my mother-in-law there. The fund we had cannot sustain her.
---
Ellen6
June 19, 2013
I visited this facility
The lady that showed us around Carmichael Oaks was very nice. They had backyards and patios, nice dining room, and overall a clean facility. I liked that my mom could have a two bedroom apartment with a little patio, that way she could have her dog, and also a backyard with a sitting area. They had a lot of activities and everything you would want. We were impressed and would probably have mom there if she was ready.
---
Earl2
April 18, 2013
I am/was a resident of this facility
I'm doing okay here at Carmichael Oaks. My apartment is adequate for me. It's nice and very clean. The facility has a good staff. The food is okay too.
---
hatejoe1
October 11, 2011
I visited this facility
Carmichael Oaks Senior Living, This RCFE is one of the highet of reccomendations I can give. There communiyt Marketing Director Virginia and Denise have been employees there for quite some time. There home facility is always clean, they are both very educated in geriatric care as well as the care for those senior afflicted with Dementia and Alzheimer's. Always when arriving to there location you are greeted with a smile, a helping hand, from there front desk administrator to there residential caregivers they are professional, helpful, and always hands on with there seniors. There dining experience on a daily basis is one of the utmost service oriented I have witnessed. Just from the smiles of there residents to the fact that they even go above and beyond to provide there own residents with name tags as some represent what they call ambassadors and they greet you and tell you stories of why they love the community they live in. I would place my own parents here any day of the week, the compassion the understanding and the assistance at any given time you enter this community is a five star community!
---
From Atria Carmichael Oaks
---
Atria Carmichael Oaks is a thoughtfully designed community offering lovely surroundings, personal service and just the right amount of support to live independently. Tree-lined outdoor areas are alive with color and beauty. Huge picture windows cast natural light indoors, and spacious common areas beckon you to gather with friends and neighbors. Choose from several distinctive apartment floor plans and three living options tailored to resident needs - independent living, assisted living or Life Guidance&reg memory care. Comfortable amenities, a 24-hour staff and a full events calendar complete an exceptional senior living experience. Whether sharing a gourmet dinner with friends, tracing their family history in a genealogy workshop or enjoying an outing to Thunder Valley, residents are free to be as active as they please.
Atria Senior Living is a leading operator of independent living, assisted living, supportive living and memory care communities in more than 180 locations in 28 states and seven Canadian provinces. We are the residence of choice for more than 21,000 seniors, and the workplace of choice for more than 13,500 employees. We create vibrant communities where older adults can thrive and participate, know that their contributions are valued, and enjoy access to opportunities and support that help them keep making a positive difference in our world.
What Makes Us Special
---
Our vibrant, beautiful community is part of the American River Trail System-with mature oaks and nature areas; we offer exceptional culinary experiences from 7-7 and have a 24/7 Bistro, a sharp, active and independent group of residents, and a highly skilled, caring staff.
Features of Atria Carmichael Oaks
---
Costs
Rent Plus Care Fees
Entry Fee
Fee Structure Extra

We Offer A Month To Month Rental
Room and housing options
1-bedroom apartments
2-bedroom apartments
Companion Suites

We Offer Companion Suites

Studio Apartments
Dining options
In Room Kitchenette
In Room Kitchens
Dining Room Shared Meals
Room Service For Meals
Features
Beauty Barber Shop
Computer Room
Resident Transportation
Party Space
Garden And Patio
Resident Parking
Spa
Features Extra

Library, Fitness Room/Gym
Cleaning services
Laundry For Linens
Private Cleaning Services
Housekeeping
Laundry For Clothing
Technology and entertainment
Cable In Rooms
Internet Enabled Rooms
Wifi
Technology Extra

Directv, Emergency Call System
Health services
Skilled Nursing
Hospice Care
Medication Management
Physical Therapy
Nurse On Staff

Yes
Activities
Offsite Activities
Music
Games
Stories
Religious Services
Lectures Discussions
Book Clubs
Fitness Room
Yoga
Cooking
Arts And Crafts
Activities Extra

Computer Classes, Bridge Games, And Casino Trips
Financial guidance
Home Sale Assistance
Va Benefits Consultation
Financing Advice
Guest services
Guest Parking
Guests At Mealtime
Overnight Guests
General
Staff Patient Ratio

5 To 1

Respite Care
Minimum Age

62

Pets

Small Pets Allowed
Licenses
Licenses

License #347005251

State Licenses

347005251
Location of Atria Carmichael Oaks
---
Get Cost Information
Get full access to reviews, cost information, and amenities