Elmcroft of Downriver
19697 Allen Rd, Brownstown Township, MI, 48183
Talk to a Family Advisor: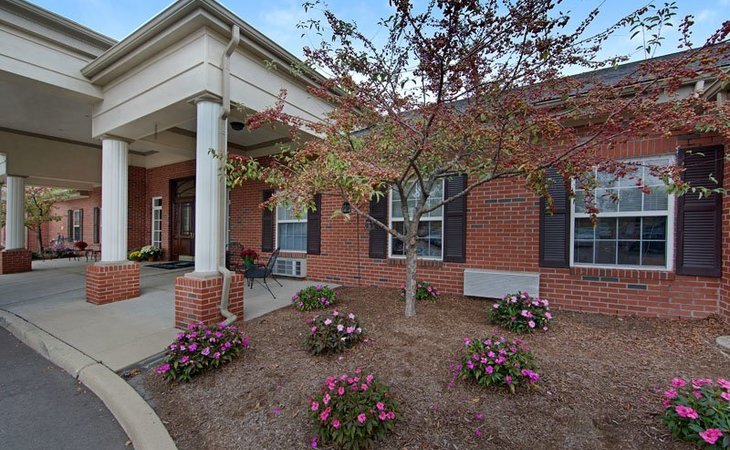 Reviews of Elmcroft of Downriver
---
SZ
February 07, 2017
I visited this facility
Elmcroft of Downriver was absolutely beautiful, but it was too big and extremely expensive. I just liked the people and the setup. I liked the way that they had it set up for the lock-down -- which they did have -- and is called the memory center. There are very good things about Elmcroft, and it is not too far to go, but it is extremely expensive. It looked like they would offer everything. They had it all on their brochures, and I am sure they have the activities well-programmed. They have a very good reputation in Downriver. The rooms were very nice. I don't think there is anything I wouldn't have liked there.
---
Barbara025201
January 16, 2017
I visited this facility
I liked Elmcroft of Downriver's layout. The people and the staff were very friendly. The cost was reasonable, and the menu looked very good and flexible. There was a chapel and nice outdoor areas. They took the residents on field trips during the day and had a manicurist every day in a beauty shop. They had bingo and activities for the residents to do every day. My mother finally liked a place!
---
Poppy's Family
November 01, 2016
I am a friend or relative of a current/past resident
Staff is very friendly. They are very helpful and there to answer all questions. It was very hard to put my Dad in and assisted living home and wasn't sure is he would like being there. Hes is adjusting pretty well as he lived in his home for 73 years. The Staff is helping him to adjust. I just can't say enough about the wonderful people there. I and my family are pleased with our choice of Elmcroft.. I would recommend visiting Elmcroft. I'm sure you would like it too.
Provider Response
Thank you so much for the kind review. Each and every employee strives to do their best by our residents and we are glad to hear your Dad is adjusting nicely.
---
Deb731755
October 21, 2016
I visited this facility
Elmcroft of Downriver was a lockdown place, but they were a little higher-class. They charge for everything, and if you don't come to meals, they'll charge you $3 every meal to take your meals so that seemed steep, and I didn't appreciate that at all there. When you got to memory care unit, they said "Oh, don't listen to her," and they got training. Every employee has training there, and it's like, that's what you get out of all your training? Don't listen to her? That kind of turned me off from there. Besides, the memory care unit doesn't have the same opportunities where you feel they'll have so much to do. There are not enough caretakers per person. It was a nice facility, and it looked beautiful -- like a posh hotel. If a person pushes on a door a lot, it's going to open. So for fire hazard type things and safety standards, they said that even though the door is locked, if they continue to tamper and keep pushing on it, they would be able to get out. They have 2 aides for 20 patients in the memory care unit. The entrance area was so fine, but none of the patients are allowed in that area. It was not for the patients, but it was beautiful. They have a nice grassy area. Furnishing is not provided here. You have to bring your own. They want stuff that people will be comfortable using. They do not accept Medicaid. They had church, and that was a nice thing for my mom.
---
April056744
September 30, 2016
I visited this facility
My aunt was in Elmcroft of Downriver. I thought it was OK. I don't think my aunt liked it too much, but she was kind of an unhappy person. I think they need to improve on the food. I liked her room; I liked the layout of it and everything, itthe layout was nice. They've got to clean the bathroom better though. Sometimes, you went in there, and the bathroom wasn't so clean. I played cards with her all the time. We'd go down and go to the sitting area and play cards. It was a moderate sized facility, and it was clean.
---
jensprk04
February 29, 2016
I am a friend or relative of resident
After touring several communities in the downriver area, Elmcroft was the only one with a true understanding of the needs of my mother. She has dementia but is still pleasantly confused. They asked excellent questions and calmed every fear I had. Even if you are just looking the staff there is so friendly they will help you understand what your loved one needs. For us it was a great fit. Mom is doing very well. She loves all the activities, meals with new friends and even enjoying time out in the community on the bus. The relief that we feel since she is in a safe environment is worth every dollar we pay. We know she is being well cared for in the assisted living and if she progresses there is memory care available. We are happy with the choice since we now know Elmcroft truly understands what "memory care" really is.
---
Odette1
February 01, 2016
I am a friend or relative of a resident
My husband is in Elmcroft and will be there until February. It's a nice place but it's expensive. Everything is really nice, but my husband needs more activities. Everything is very clean and very nice, and the food is very nice.
---
Brenda84760250
January 28, 2016
I am a friend or relative of a resident
My mother is at Elmcroft. I really enjoy the staff and the people that run it. They make me feel comfortable. She has only been there for a few weeks, and so far, so good. The food seems very nice. It seems to be nutritional. They have a kitchen and a dining room. I've been there a couple of times when my mother was eating, and the food seemed well-balanced. She likes it. In fact, she has even put on a little weight. My brother is a mile away, which is major plus for my mother, so he gets to see her every day. That's one major benefit for me. My mother has grandchildren that are all in that area. The nice thing about Elmcroft, too, is that I get to purchase her furniture. She likes what I bought her, and it is like her own little area. That is another thing that I like. She has a roommate, but they have a little living room area. My mother has her privacy, and she needs that.
---
Happy Resident9
December 30, 2015
I am a friend or relative of a resident
My parents are at Elmcroft of Downriver. We chose them because not a lot of facilities in the area have memory care and we needed that for my mom. The biggest complain my dad has is the food is not always the greatest, but as far as the staff they are all very friendly and accommodating. He has no issues with his room.
---
Chris114982050
November 30, 2015
I visited this facility
Elmcroft of Downriver was a little pricey. They have a very nice facility, but my mom does not need that much care, so this facility is not a good fit for her. They have a very effective program. When I visited, there were several people with an event coordinator planning a dance. I was also pleased with this facility. In fact, we almost placed my mom there. The dining area looked like first-class dining with fantastic facilities.
---
Bobbi11
July 31, 2015
I visited this facility
At Elmcroft Of Downriver, the rooms were nice. They did look pretty except for the fact that there were mostly Alzheimer's patients. My dad is not that advanced yet. For us, it was not going to be as inviting for my dad because he is still very cognitive of his surroundings, but it would be a wonderful place if you have a patient with Alzheimer's. They did say they offer community time and shopping, but at the same time, we saw the residents in the cafeteria, and they looked like they were sitting at their tables within their own little world. They were not conversing with one another because of the Alzheimer's. It was very sad to know people get to that point in life. Based on my experience, they needed to let us know that they were truly an Alzheimer's facility. We were really excited because they would take my father's long-term care insurance with no hassle, but at the same time, it was because they were an Alzheimer's facility, and his long-term care insurance is geared towards Alzheimer's. If you have that need, this would be a good place. It was beautiful inside, the building was nice, and the apartments were OK, but the atmosphere was so different because of the patients not being interactive with one another. You really could tell that they were Alzheimer's patients. However, they were very nice, the staff was wonderful, and the home itself was beautiful. They had beautiful woodwork on their doors, and they had French doors on a lot of the different offices, but it was just the level of patients' awareness that turned us off. The patients were to the point where they really needed to have the Alzheimer's type care, whereas my dad would not have fit in. My dad is still very alert, talkative, and very busy, and those people were not, just because of their disease.
---
caring14231
December 31, 2013
I visited this facility
Elmcroft of DownRiver really looks pretty and nice. There's only one lady who showed us around. She seemed very pleasant. They have a little bus that I'm sure would take the people here and there.
---
felic1
January 05, 2013
I visited this facility
My mom hasn't moved in to Elmcroft yet. But I chose this facility because of its reasonable price for a 2-bedroom and it's not far from the house. They help in medication, laundry, three meals a day, housekeeping, and she can have cable TV. They have recreational activities. They have a beauty shop where you can get your hair and nails done. The staff was very gracious and nice.
---
kshamrock20
July 12, 2012
I visited this facility
My great aunt stayed at Elmcroft of Down River last year. It's located in Browstown, MI, which is not too far west of Detroit. I found the facility to be somewhat average, maybe slightly above. I don't have much to compare it to, but it didn't seem like a luxury facility by any stretch, but it also didn't seem to be repulsive. It seemed comfortable and the workers who waited on my aunt the few times I was there seemed affable enough. My only concern was my aunt's lack of activity. She didn't do a whole lot while she was staying there. I'm not sure if that was a reflection on the home not encouraging activities or simply my aunt's own petulant nature. Anyhow, I think this home is adequate. It didn't seem like a poor choice of residence at all.
---
From Elmcroft of Downriver
---
Residents of Elmcroft of Downriver are proud of the independence they maintain and enjoy the security of 24-hour personalized assistance. While we offer a helping hand with day-to-day tasks such as dressing, bathing and medication monitoring, they are treated as the accomplished individuals they are. They enjoy the freedom of choosing their own agenda and activities, while feeling secure in knowing that we are always there to provide support should they need it.
Our residents also enjoy a unique dining experience where original culinary creations, along with traditional dishes, provide a variety of meal options, and the social setting makes dining an event. Good friends, good food and excellent service create a truly enjoyable dining experience.
Features of Elmcroft of Downriver
---
Costs
Minimum Rate

$3690/month

Minimum Memory Cost

$5190/month
Licenses
State Licenses

AH820314913
Location of Elmcroft of Downriver
---
Get Cost Information
Get full access to reviews, cost information, and amenities