Sunrise at FlatIrons
400 Summit Blvd, Broomfield, CO, 80021
Talk to a Family Advisor: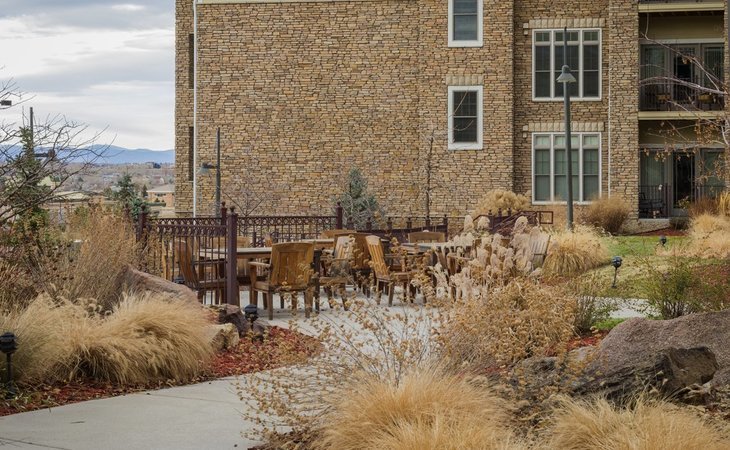 Reviews of Sunrise at FlatIrons
---
jd813623
May 31, 2017
I am a friend or relative of a current/past resident
My father passed away, but he was at Sunrise at FlatIrons for 3 weeks. His needs were a little intensive though. At first, I thought they could handle his behavior, but I would say that it's not really the place for if they have behavioral needs. I like them for my mom though. She is a cheerful with Alzheimer's elderly lady, who is nice enough and who doesn't have that aggressivity that 23% have. So I think they're more geared for that. We love the place. It's well maintained. If you notice anything, they'll fix it right away. Food is good. My mom's only complaint is there's too much, and there's too many choices. She is thriving. This place is right for her. They have tons of activities. She exercises everyday. They have the beauty parlor. She loves the music that they have. They're perfect for her. They're not particularly set up for more intensive behavior, but they're wonderfully set up for elderly women who are rather sweet.
---
Jackie846324
April 12, 2017
I visited this facility
I thought Sunrise was wonderful. The person who gave the tour was excellent and familiar with the residents and the people working there. It was clean and very attractive, and I was impressed by the number of events that were planned for the residents who had dementia. Everything impressed me very much, and I was interested in it.
---
KP836375
February 07, 2017
I visited this facility
I liked Sunrise at FlatIrons. It seemed like a nice, big, bustling place. I liked all of their programs. It was a little more expensive. The main problem was that there was no Medicaid option, so if my mother lives long enough to outlast her money, she would have to move.
---
thinkshift
November 21, 2016
I am a friend or relative of a current/past resident
My mother has been there about 3 years. Its a nice place. The staff that actually deals with the residents is very nice and caring. However, in the past year or so things have been changing. There seems to be a big corporate cost cutting strategy in place. This has resulted in high turnover, especially in the restaurant wait staff. The food has also gone significantly down hill. One of the biggest complaints from many residences is the meal plan. You pay a fixed amount per month. This covers a set breakfast, and also lunch, & dinner which varies in price based on what you order. The fee can also cover meals for visitors. After every meal you get a receipt showing how much money is left in your monthly budget so you can plan accordingly for the rest of the month. BUT, if you have unused money at the end of the month, you dont get it back. The corporation keeps it. While at the same time underpaid waiters & kitchen staff keep leaving. Residents have been complaining to manegement about this policy since my mother has been there. Now, as of Jan 1, 2016 they are implementing new dining cost policies which are even less resident friendly. While the cost is not going up, it effectively cuts out one daily meal, and the corporation still keeps the extra at the end of the month. My mom has made some good friends there. And she likes the activities. But, shes unhappy about some of the corporate policies and has mentioned possibly wanting to move to somewhere else.
Provider Response
We are sorry to hear about your experience at our community. We take your comments very seriously and would like to speak with you further. Please email information (at) sunriseseniorliving (dot) com with your contact information so that we can reach out to you. Thank you, The Sunrise Team
---
Daniel463086
August 17, 2016
I visited this facility
Our impression of Sunrise was that it was like a 5-star hotel, and my dad wouldn't be comfortable there. It was for more independent people. They had very nice, well-appointed rooms. Our stay was very brief once we learned that their waiting list was around six months long. It seemed like a resort, and I saw people wearing tennis outfits.
---
Linda T.1
December 30, 2015
I visited this facility
We liked Sunrise, but it was a lot further away from the whole family than other places. What I really like about it was that the memory care ward was much larger than anywhere else I've seen. Their own staff was very well educated in caring for memory care patients and residents. The facility was very new. The impression we got there was that it was a very clean and nice facility that's well taken care of. The staff was very nice. There's a lot of interaction between them and the residents.
---
Caring112733150
September 08, 2015
I am a friend or relative of a resident
I like Sunrise at FlatIrons very much, but they weren't equipped to handle Alzheimer's patients when they were a little further along in their disease, so we were asked to leave. The rooms were excellent, the food was wonderful, and the activities were very good too. They encourage the residents to participate. The staff was very good and very friendly. There were nametags that were easy to read, so it was easy to get acquainted. It just felt very homey there. My husband has been there for six months.
---
Caring104301850
July 13, 2015
I am a friend or relative of a resident
Sunrise at Flatirons experienced really serious building problems. The ground they built the building on was unstable, and the sewage lines broke. They had tons of activities. They were absolutely fantastic about going and getting people out of their rooms to join. They had lots of exercise programs and Wii bowling. My mother was very active there. They had bingo and card games. They always had something going on, and she loved the art classes. But she absolutely hated the food. The salads didn't have fresh lettuce; it was all wilted and black. The vegetables were half-rotten and overcooked, the meat was tough, and she just felt it was inedible. Also, they use the same women who are the caretakers as the waitresses in the restaurants. They should have different waiters and waitresses and let the care staff just take care of care duties. That's too much for them, but these caretakers were very caring women. They were great. With this broken sewage pipe, there were all kinds of bugs that were coming into the building; it was horrible and absolutely disgusting. From what I understand, they're still under construction.
Provider Response
Please know that we take all concerns seriously and would like to learn more about your experience at Sunrise. Please email Information (at) SunriseSeniorLiving (dot) com with further details so we may follow up. Thank you, Sunrise Team
---
Caring98219050
December 10, 2014
I visited this facility
Sunrise was a lot more fancy, but not as inviting. It was more of a business thing, and they were very corporate. There were a lot of activities. There were a lot of stuff, but it was just not as inviting, I would say. The rooms were very nice. Everybody had their own washer and dryer. Inside they had a full kitchen as opposed to a kitchenette where he is now. They were a little expensive, but they were very nice. The staff was very pleasant and nice.
---
Caring101556850
November 11, 2014
I visited this facility
Sunrise was excellent but we could not afford it; it was too pricey. The rooms, the people, everything was outstanding. If I had the money, I would have put my parents there instead. They would take them places, to events, to movies, to the mall, to theater, just a lot of different good amenities. The dining area was outstanding. It had a really pleasant atmosphere, and the rooms were more spacious.
---
Caring20915050
June 10, 2014
I visited this facility
I was very interested in Sunrise. I think they were fabulous. My concern was the cost. It was like, depending on the level of care, the cost of it would go up, whereas the current facility my father is in is more of a fixed rate. Because of his financial status, I'm a little concerned that it was kind of open-ended as to how much the cost of it would be. I loved the people there. I loved the staff. The facility was beautiful. Everything was clean. It was just fabulous. In their assisted living, they had daily activities for memory care patients. They did something with them for 5 to 6 hours a day, Monday through Friday, and then they did something with them for 3 to 4 hours on Saturday and Sunday. It kept them busy, occupied, and stimulated. I was so impressed with their program. Because their assisted living is not secure and he had some issues of leaving his previous facility, they were concerned about putting him in the assisted living, which is the only place they have that program, so they wanted to put him in Reminiscent Care. They still had a lot of activities up there, but it was just more of by individual basis, how they stimulated the residents there. It depended on what stage each resident was at as far as their dementia or whatever issue they were dealing with. They were just truly sincere and caring people, very understanding. They were very welcoming with my father. My father seemed very engaged when we visited, and their followup calls weren't pushy at all. They were just very sincere, just checking up on us and seeing what we had decided.
---
Caring64665150
May 31, 2014
I visited this facility
I thought Sunrise was a little more expensive than what you got for your money. It's a little bit out of the mainstream of Denver and public transportation if you need it. I thought that the location was very nice, but I think that it took a lot of traveling to get to go any place from there. I didn't feel as though it measured up as much as some of the others that I saw. They offered 3 meals a day. The staff was very cordial and very nice. For one person or even two, I would say that the room was a good size. I just wasn't that impressed with the layout of the whole thing. Some of them have sun rooms and activity rooms, and I thought that Sunrise was perhaps lacking in that a little bit.
---
TheatreGal
March 21, 2014
I am a friend or relative of a resident
My 92-year-old father lived with me, and when we were displaced by the Colorado flood, I needed a safe place for Dad to stay. My daughter and I looked at several options and selected Sunrise at Flatirons. We couldn't have picked a better place. My dad is so happy there. He enjoys all the activities, the residents and staff, he loves his room, and he likes the food. He tells me how much he likes it, and I can tell he's happy just by looking at him!
---
Richard78068750
March 21, 2014
I am a friend or relative of a resident
Mom has been in Sunrise for a couple of months now. She's got a 1-bedroom den. It's got some room for her computer and it's a little bit more spacious. It's just a little bit more upscale. The stuff in the kitchen was nicer and had a lot of amenities that we weren't expecting. It has a refrigerator with an icemaker, a refrigerator, a stove, just like a regular kitchen. It's more like a home. The staff is very helpful. There's been a few glitches here and there and mom has had a few disconnects. Recently, she use their transportation services the first time to take her to and from a doctor's appointment. That worked out great for her. There's a big health club right across the street. Apparently, there is some sort of reciprocal relationship with health clubs, so the residents there have some access to the health club. They do all kinds of activities. I go over to visit mom at least a couple of times a week and there's always something going on. There are two or three programs going on. They've got room that they call the "bistro" downstairs where they do happy hour a couple of times a week. Somebody would come in and play the piano. They always got some sort of organized offsite thing, going to some local restaurants for breakfast. They got a really nice crafts room, so there's lots of arts and crafts program. They have an exercise room, library, an onsite beauty salon. It's really very much self-contained. It's got a really nice indoor climate-controlled garage, so she's got a place to park her car where it's safe.
---
Caring74002550
December 30, 2013
I visited this facility
Sunrise at FlatIrons was very professional looking. The tour was very well presented. I like the assisted living area. It seemed very clean and the residents there looked well cared for. The environment seemed fine and there was nothing that struck me as negative about this facility. I guess the only thing that bothered me was their outdoor courtyard for the memory care people. I was there in the summer and their courtyard had very little shade, so it seemed very hot down there.
---
Jean33
December 30, 2013
I am a friend or relative of a resident
We chose Sunrise of Flatirons for my father. The place is very nice and meets his needs. It's a great place. He has a studio apartment and it's very nice too. The staff are great, very friendly, and competent. The marketing director was very nice. The nurses were very, very nice to my dad. The dining room is beautiful and the food seemed great. I was able to watch dad during meal time and he said the food is very good and they have a variety of foods to choose from. They can order a la carte and they can be there any time. They have typical activities like exercise classes every day. They have lectures and they also have parties for people. They have trips to Wal-Mart and they go to the mountains.
---
Caring 5347
August 10, 2013
I visited this facility
I looked at Sunrise at FlatIrons and it was a nice facility. Their apartment is huge, very spacious. They got a washer and dryer unit in each apartment. They got full service restaurant in the building that you could go down and have dinner. They also have a little bar and a grand piano. They were trying to make the place look homey. They offer a lot of exercise and they also got art classes. That would be the kind of place I'd like to move into. They have everything a person could want, but they are just expensive.
---
Caring6452
July 25, 2013
I visited this facility
We are still looking for an assisted living facility right now but we have visited Sunrise at Flatirons. I chose to check this place because of its location. The rooms were spacious. They did not have anything to improve on at the time I visited because, for me, they were all very good.
---
spunkygal
July 11, 2013
I am a friend or relative of resident
This facility was amazing until the new company took over this spring. They have an all new stuff (they probably let go all the old staff) and the corporation is more interested in making money than providing a quality environment. It has REALLY gone downhill but is always happily full.
Provider Response
We're very sorry to hear that you had this experience with our community. We care deeply about the well-being of our residents and we are committed to providing all residents with quality care. Please contact us at information@sunriseseniorliving.com so that we can learn more. –The Sunrise Team
---
Gloria8
June 21, 2013
I am a friend or relative of a resident
Physically, Sunrise At FlatIrons is a very lovely facility. It's beautiful. The rooms are small, but they are very well laid out. The food was excellent, but I just couldn't live my mom there because of the staff. They did not want to provide all the care that she needed and they came a little short with her. Their management certainly needs to be tightened up and more supervision for their caregivers.
Provider Response
We're very sorry to hear that you had this experience with our team members. We care deeply about the well-being and quality of life of our residents. If you'd like to share specific feedback, please contact us at Information@sunriseseniorliving.com so that we can learn more. – The Sunrise Team
---
A Geriatric Physical Therapist
June 21, 2011
I visited this facility
This is a luxurious assisted living place that also offers fabulous memory care. The memory care floor is very up to date and the staff is really attentive to individual needs. It also has a very homey feel, with good smells, such as cookies baking, and a good variety of engaging activities. Importantly, the care here caters to residents' senses""music, textures, crafts, and dolls for clients who want to be nurturing are all freely available. There is a big attempt to keep residents out of their rooms and active. In the regular assisted living portion of The Stratford at Flatirons, there is a ton of activities""which is actually overwhelming to some residents, especially the new arrivals. There is a concierge available to help, but too much stimulation is difficult for those who might prefer a quiet place. There are private rooms, but some with a shared bathroom. One drawback: It can be difficult to get a hold nurses here, since they not obviously present or watchful""and from a caregiver point of view, this is sometimes frustrating. The food is really good. There is even a homey cookie bar with wonderful aromas that offers tea and coffee that residents seem to find very inviting. The assisted living portion also offers exercise classes, but there is no equipment except for one small recumbent bike. But in the independent living part, there are several high-end machines. However, residents must be with a trained family member or staff trainer to get access""and that's true even for people who are ambulatory and capable. Residents are allowed to have small pets. The cost of care and housing is at the high end for the area.
---
pat123
April 26, 2011
Friend or relative of resident
Our parents moved to Independant Living one year ago. Stratford living is like living in a five star hotel. Everyone treats each other like family and so many activities. Exercise programs are amazing, Food is fantastic and many family gatherings have been held at the building. Top Notch all the way.
---
From Sunrise at FlatIrons
---
Introducing Sunrise at FlatIrons, a distinctive community that may redefine your idea of senior living. We offer a lifestyle free from the worries of home maintenance, an impressive collection of services and amenities, and a solid plan for the future, all in a convenient, desirable location where choices abound. Welcome home to Sunrise at FlatIrons.
Designed exclusively for senior living, Sunrise at FlatIrons is located on 400 Summit Boulevard in Broomfield and is a one-of-a-kind senior living community. Our community's superior amenities provide an unparalleled lifestyle with outstanding services to enhance everyday living. Experience all that Sunrise at FlatIrons has to offer.
Immerse yourself in all that Sunrise at FlatIrons has to offer within its beautifully designed surroundings - from entertaining friends and family at your choice of dining venues, taking a stroll in the manicured gardens or pampering yourself at the spa. Explore the rich bounty of daily benefits that await you as a Sunrise at FlatIrons resident.
Features of Sunrise at FlatIrons
---
Location of Sunrise at FlatIrons
---
Get Cost Information
Get full access to reviews, cost information, and amenities