Brookdale North Boynton Beach
4733 N.W. Seventh Court, Boynton Beach, FL, 33426
Talk to a Family Advisor: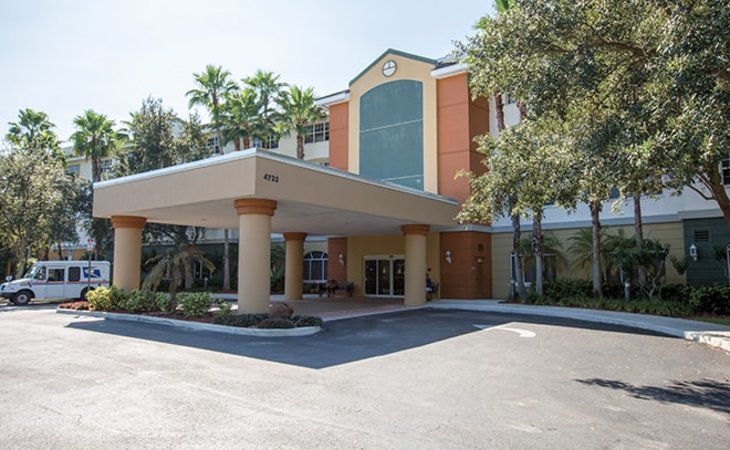 Reviews of Brookdale North Boynton Beach
---
Supergirl467228
May 09, 2017
I visited this facility
Brookdale North Boynton Beach and its rooms were clean and nice. The staff members were very friendly. The dining area was very nice and very fancy.
---
Kate821651
April 18, 2017
I visited this facility
Brookdale North Boynton Beach is much better and cheaper than other places. It's more inclusive and has more staff and activities. They have physical and occupational therapy inclusive for all residents in the unit. The staff is trying to have everything included, not in a pushy way but in a positive way. The food looks appropriate.
---
Delary2002
November 25, 2016
I am a friend or relative of a current/past resident
Despite numerous complaints, management doing nothing to improve the abysmal quality of food and dining room service. The argument that menus and recipes are dictated by corporate is a cop-out if the meals aren't properly executed. Meals are one of the few things the elderly residents have to look forward to. LISTEN to the residents. The menu is limited and monotonous, but much more importantly, your kitchen staff is inept. Over-cooked proteins, awful sauces, indifference to specific resident complaints. Get your act together! Require at least one member of management to eat lunch and dinner daily with the residents until things improve. Maintenance is very responsive. Friendly front desk and helpful office staff.
Provider Response
Thank you for taking the time to share your concerns. We are committed to providing the highest-quality service and care for each resident and we hope you will call us at 877-400-5296 to discuss in further detail.
---
J.B.346364
September 09, 2016
I am/was a resident of this facility
Brookdale North Boynton Beach isn't great, and the price is too high. They promised me that if I enrolled before July 31, I would get four months at half price. I was supposed to get August, September, October, and November at half price, but now, they're saying they didn't promise that, so I don't know what to do. The memory care is not as good as at other places, and the dining room is not great. I have to wait until they decide to come over and take my order. The food is adequate and passable. I wouldn't say it's extraordinary because there isn't anything special. They only serve basic things like beef stew, boiled chicken, egg salad, cottage cheese, and things like that. There is no entertainment, and they have no activities.
---
JC312354
August 24, 2016
I visited this facility
Brookdale North Boynton Beach was sad. I won't put my mother there. It was really depressing. There were old people everywhere, and they looked sad. There was nothing happy about the place, and it kind of smelled. The lady who showed me around was very nice, but the place was just sad and old. It was like getting ready to get rid of your parent. It was just terrible. I left there crying. It was horrible. I wouldn't even put my enemies there.
---
Stan N.
February 10, 2016
I visited this facility
Brookdale North Boynton Beach is a three-hundred-person residence. We attended a men's club there. They had TED conferences, and it was very interesting. The meal was good. The housing was delightful. There were one- and two-bedroom homes that seemed very nice. They had amenities, e.g., the library, and the pool. The dining rooms, and the lobbies were all well-maintained, and equipped. We enjoyed ourselves very much. They had independent-living, a full nursing-home, and special programs for Alzheimer's. They showed us several rooms. The single-bedrooms, and the double-bedrooms were all very nice. The services provided were very suitable. We enjoyed that very much, too.
---
Anonymous98901250
November 30, 2015
I visited this facility
There were a lot of activities going on at the Brookdale North Boynton Beach like bingo, card games. They had music. Somebody was playing the piano and they were dancing. It was more hands-on with more people around, more friendly, and more accommodating to the residents than other places I visited. I talked to the people there, and they were very happy. The rooms were pretty nice. I was comfortable there, and they were enjoying themselves.
---
Eva14
August 22, 2015
I visited this facility
Brookdale North was very well-kept, and it was a beautiful facility. The apartments were very spacious, they had very large patios, everything was screened in and beautifully maintained, and it was a lovely place. The staff was very nice, and the residents seemed happy. What made this one stand out was how spacious the apartments were and how well-maintained everything was. There was nothing that looked shoddy or looked like it needed work or repair; it was all kept in tip top shape. They just did a beautiful job there.
---
Caring110237350
July 21, 2015
I visited this facility
We are committed to Brookdale North Boynton Beach (Newport Place Boynton Beach). The floor plan was better; we have a nice scenic view because we're on the fourth floor. We were lucky enough to get one of the corner units, which was a 2-bedroom with a den. They gave us a flooring allowance for the carpet replacement we wanted, so we could bring our oriental rug. There was generous closet space because there were 3 different closets in the den and the 2-bedrooms. The biggest thing that got me was the light because they have 2 screened balconies on both sides and it makes the apartment lighter, not so dark. They have a lot of things. There's an outdoor pool and a walking club; there are pets available. The food was nice; we ate with a nice couple that lived there for 2 months. It's 7.3 miles from my old house, and that was good for me because my friends will come and visit. I had a better feeling here; I felt that they were bending over backwards.
---
Allen9
June 30, 2015
I visited this facility
Brookdale North Boynton Beach was very nice. The people were very warm.
---
Caring104805250
April 20, 2015
I visited this facility
The lady that I spoke to wasn't very accommodating and not very friendly. She didn't want to spend time with me. She wanted to cut my appointment short. If you go to the restaurant, you have to walk up a flight of stairs, down this narrow hallway, and then walk up concrete steps. The restaurant layout wasn't very accommodating, and the food wasn't good. The foyer was nice, and the people that live there were friendly enough.
Provider Response
We apologize that your tour of Brookdale North Boynton Beach did not meet your expectations. We want to thank you for taking the time to visit and providing feedback. Please be assured your feedback will be reviewed and used to better serve our residents and their families in the future.
---
Marsha24
April 10, 2015
I am a friend or relative of a resident
When I visit Brookdale, the people there are the most receptive. Actually, my sister is at that place, and my brother-in-law is there now. They are very responsive, and they offer everything we are looking for. We like it very much. My sister and brother-in-law are very happy and doing well there.
---
Michael93522250
November 30, 2014
I am a friend or relative of a resident
So far our experience at the Pointe at Newport Place for my mom was very nice. Everything was perfect. I have nothing bad to say as everything has been very good. Mom said she is very happy with the place.
---
Toni9
September 23, 2014
I visited this facility
The Pointe was beautiful. It was very well taken care of. It looked like a hotel. I would live there; that's how immaculate the place was. The restaurant was immaculate as well. The grounds were beautiful. The apartments are gorgeous. The staff and the people were unbelievable. I met the people who lived there. They people were traveling. They were getting on buses and going out. They would dress well. It was amazing. Everything was gorgeous. I think it's the nicest place.
---
Caring84568550
June 30, 2014
I am a friend or relative of a resident
My mom has been at The Pointe of Newport Place for about two months now. I chose this because I was able to make an extensive background check with regards to the facility. She has a nice, spacious apartment. My mom is fine with the food there. She is a little bit limited in her activities because she has early stages of Parkinson's disease.
---
Sonia4
June 26, 2014
I visited this facility
The grounds at The Pointe were nice. The whole place was very nice. It looked like an upscale hotel. The price was doable and comparable. Jackie, who gave us the tour, was very nice and helpful. The staff was very friendly; they answered our questions. I also spoke with the people there, and they said they were very happy that, if they have to live somewhere, that place is nice. So I did get positive feedback from some of the people I questioned that were there.
---
Caring1084
May 29, 2014
I visited this facility
The Pointe at Newport Place was a beautiful facility. They had very nice people there. They had music brought in by guests that day when we went there. Also, their rooms were nice. However, the memory care facility was just one short hallway, and there was not much variety for the people who were there.
---
Jan-Sue
May 21, 2014
I visited this facility
I did visit The Pointe at Newport Place, and I was very impressed with the facility. Nothing smelled, and the people were nice, and the food looks good.
---
John84410950
May 11, 2014
I am a friend or relative of a resident
I had Mom at The Pointe at Newport Place, and it didn't work out well. Mom was there for about a month. She wasn't happy there, and she didn't like being there, so she didn't participate in any activities. The staff were very nice and helpful. The rooms were very nice. I put on the menu that she doesn't like fish, but they gave her fish. So obviously they don't read what is on their questionnaires.
---
Marvin8
May 10, 2014
I am/was a resident of this facility
December of last year, me and my wife moved to The Pointe at Newport Place. We chose it because the price was right, the rooms were new, they also have an on-site physical therapist and occupational therapist, and above all, the food is excellent. Our room faces a courtyard looking out the activity building. We have two bedrooms, a full-sized living room, and a full kitchen. The food is excellent. The menu varies, and it is published a week in advance so you know what food is coming up. I would say the service is the best I have experienced in this type of facility. Within the first few days of our first week, everyone who came in contact with us already knew our names, and it made us feel like home. I personally have not yet participated in any activities, but my wife does participate in their exercises, and she is also active in the bridge club here.
---
Randi1
April 30, 2014
I visited this facility
The independent living at The Pointe was wonderful. They were accommodating. It was a beautiful facility, very country club style. My mother and I went there for dinner, and we sat with some residents. It was lovely, active, and the food was delicious there, and the service was great. They have a ton of activities within the center itself, and they had a lot of things going on outside the community, like theater days and restaurants. They provided shuttles. It was just very, very, very nice. The lady there was terrific in helping. The director of nursing came and sat with us to try to evaluate my mom's needs, and she was terrific also.
---
Caring79283550
February 28, 2014
I visited this facility
The Pointe at Newport Place is a very nice facility, but I felt it was very corporate. The facility is very clean and I can see that it is very well run. The lady who took me on a tour was extremely nice. I was really impressed, but I know that they are very expensive. They are pushing my mom to be in the independent living and not in the assisted living and that cannot be and so I don't think they are conscious enough regarding the care.
---
Caring79977150
February 28, 2014
I visited this facility
Pointe at Newport Place was a bigger place and seem more elegant. I just felt like I was in a 5-star hotel. They seem very caring. I spoke to the woman who gave the tour and I spoke to the director of activities. They got lots of different activities that seem like very good for the residents. I thought the rooms were okay. They were standard size. The dining area looked very nice. Everything about the facility looked really nice. The view and the ambience was very elegant. So that was nice, but too much. They wouldn't give me a breakdown of prices so I didn't know if it's going to be pricey. So I chose a different facility because they were upfront with the prices. I didn't like the elegance. It seemed like a hotel.
---
Fred13
October 30, 2013
I visited this facility
The Pointe is very nice and that's probably the one mom would have picked. We looked at various size rooms and they're very helpful to her. They had a computer room, card room, movie theatre and they had entertainment there.
---
bigalbie
October 09, 2013
I visited this facility
The Pointe was fine. The people working there was very nice. However, I was not impressed. It was not as good as the one I moved in to and it was more expensive.
---
JPM0817
April 06, 2013
I visited this facility
I never got to see the facility, despite the fact that I had an appointment set up for me. They had no clue I was coming, and no interest in finding someone to fulfill their end of the appointment. The lobby is bright with many windows....that's all I see. The staff needs some customer service training.
---
Sheryl2
March 21, 2013
I visited this facility
The Pointe at NewPort Place is very close to my home. The person that showed us around and explained everything to us was great. Her name was Gretchen and she did a good job. This facility was beautiful and it had all kinds of amenities. We were looking at independent living for my parents and if we had made a decision about it already, that would have been the place. The dining area was beautiful and we were very impressed with the whole place.
---
Sheryl1
March 19, 2013
I visited this facility
We really, really liked The Pointe in Newport Place. It's very clean. It has facilities inside like a barbershop and a restaurant. That would have been the place we picked. It is really a nice place.
---
Pam 1
March 04, 2013
I visited this facility
My brother had a traumatic brain injury, so I was looking for a place. Gretchen gave me a tour of The Pointe at Newport Place. She was very helpful. I was there a couple of hours. The place was lovely. They have both retirement and memory care facility. It was very impressive. It felt like walking into a luxury hotel when I walked in. It was very nice and they seem to offer a lot for the residents. Not as luxurious, but that's okay. I like the remoteness of the location. However, I didn't want to put him in a memory care unit because he does not have Alzheimer's. He's only 56, and most of the residents are 70 or 80. So that was the biggest problem.
---
joedanger
November 07, 2012
I am a friend or relative of a resident
I went to visit this facility because my great grandmother had been living at the Pointe for quite some time. We learned from my grandfather that she had apparently stopped eating or drinking anything for a couple of days and wasn't looking like that was going to change, so she was likely going to die. Fortunately, we managed to make our visit despite living over four hours away before she passed the next day at the age of 107. It was a nice place, clean and with friendly staff. I felt like if she had to pass away anywhere, the Pointe probably would have been one of the best places to be since she had plenty of friendly staff members tending to her needs. We actually had one nurse speak with us and tell us a story about a conversation the two had had the previous year, so it was definitely nice to see that the staff actually wanted to get involved with the residents. It shows that they care.
---
sandrarian
November 07, 2012
I visited this facility
I thought very highly of this place. The amenities were quite nice, featuring a library and lounges where people could lounge and read. When I visited, I got to see pretty much all of the places in this facility. My best memory of this place involved a time when my relative was actually in the dining area eating. It really made me feel good that she was in good hands. The food was something you'd expect to have been made with a lot of care, and not just some pre-made food. The exterior of this place was just beautiful. It really felt like it was a home that I was entering. The lawn was kept very nice and the bushes were very tidy as well. Every time I went, it felt the exterior was serviced just the day before. One thing I would say is that there's no pool/water area in this facility though. I think that would be something that would have been nice to have.Overall, I was very impressed by this facility, it actually made me change my overall outlook on assisted living facilities. I think very highly of this place. Would definitely recommend if anyone is looking for assisted living in Boynton Beach.
---
commercesd
April 03, 2012
I visited this facility
While in the Boynton Beach area, we happened upon The Pointe at Newport Place. We had been visiting some other facilities around the region to find a suitable place for my friend's mother. We were glad that we didn't need an appointment to take a tour of the facility. The outside grounds were nicely kept, with plenty of seating areas. Residents are encouraged to walk around regularly as they desire and supervision is always available. The indoors were also impressive, with a nice library area and a large room for other activities, like board games and computers. There are other areas where residents may read, sit with friends or just relax and visit with friends and family. The staff was welcoming and seemed to really like their jobs. That's really important to my friend, since his mother's family is scattered around the U.S. - which means they won't be able to visit as much as they'd like to. His mother really enjoys getting out - and their list of activities included everything from local shopping, beauty salon and entertainment trips - to special events held at their facility and other places. We liked the exercise room where they had yoga mats and machines. They also have scheduled classes for those who are interested. The snacks offered all looked great. The dining areas included options from intimate to communal dining. Residents can choose whatever they like, as in a restaurant. The menu choices looked nutritious and delicious. The food looked and smelled like what you would find in upscale eateries. The activity calendar features many healthy and stimulating activities. We liked that the staff encourages participation and tries to make everything interesting for its residents. They have outings to local libraries, events, culture, restaurants, shopping, sporting events, festivals, fairs, nature walks and many other recreational acitivities. We had a very nice visit at this facility and it seemed like a great place for a senior to live.
---
From Brookdale North Boynton Beach
---
Brookdale North Boynton Beach provides our residents with lifestyles, housing, and services in comfortable surroundings combined with exceptional amenities, programs, and care. Through Brookdale's signature Personalized Assisted Living we customize our care offerings for the individual. This allows each assisted living and Alzheimer's care resident the freedom and opportunity to make choices that will ease their lifestyle transitions. Residents enjoy life with the support they need, coupled with the proper lifestyle and care accommodations as their needs change.
We promise Respect for Individual Preferences and offer personalized care needs in an atmosphere that encourages each resident to live in health and longevity. Our residents enjoy life with the support they need, coupled with the appropriate assisted living and Alzheimer's care accommodations as those needs change.
Our community is dedicated to enriching the lives of our residents every day with signature services for those who value their freedom and independence, but desire or need services providing them with the highest level of quality, care, and value.
Our Clare Bridge Place program serves those with Alzheimer's disease and other forms of dementia. Each day, we promise to work to deliver Daily Moments of Success for each resident. The Clare Bridge Daily Path provides structure and activities each day designed to meet specific needs of those with dementia, while the Clare Bridge Dining Program, designed by a gerontologist and registered dietitian, helps residents in need of Alzheimer's care retain the ability to enjoy and master the daily dining experience.
What Makes Us Special
---
We are located on 17 acres, close to 1-95, recent renovation,upgrading apartments,also have a seperate building on the campus for Assisted Living and memory support.
Features of Brookdale North Boynton Beach
---
Room and housing options
1-bedroom apartments
2-bedroom apartments
Companion Suites:

We Do Not Offer Companion Suites

Studio Apartments
Housing Extra:

2 Br W/Den
Dining options
In Room Kitchens
Dining Room Shared Meals
Room Service For Meals
Features
Beauty Barber Shop
Computer Room
Resident Transportation
Coffee Shop
Party Space
Golf
Tv Room
Garden And Patio
Resident Parking
Spa
Features Extra:

Library, Fitness Room/Gym, W/D In Apt
Cleaning services
Laundry For Linens
Private Cleaning Services
Housekeeping
Technology and entertainment
Cable In Rooms
Technology Extra:

Emergency Call System
Health services
Medication Management
Physical Therapy
Activities
Offsite Activities
Music
Games
Religious Services
Lectures Discussions
Book Clubs
Wii Sports
Tai Chi
Fitness Room
Yoga
Gardening
Cooking
Arts And Crafts
Activities Extra:

Computer Class
Financial guidance
Home Sale Assistance
Va Benefits Consultation
Financing Advice
Guest services
Guest Parking
Guests At Mealtime
Overnight Guests
General
Minimum Age:

62

Pets:

Small Pets Allowed
Location of Brookdale North Boynton Beach
---
Top Cities for Assisted Living
---
Get Cost Information
Get full access to reviews, cost information, and amenities