Chestnut Knoll Personal Care and Memory Care
120 West 5th Street, Boyertown, PA, 19512
Talk to a Family Advisor: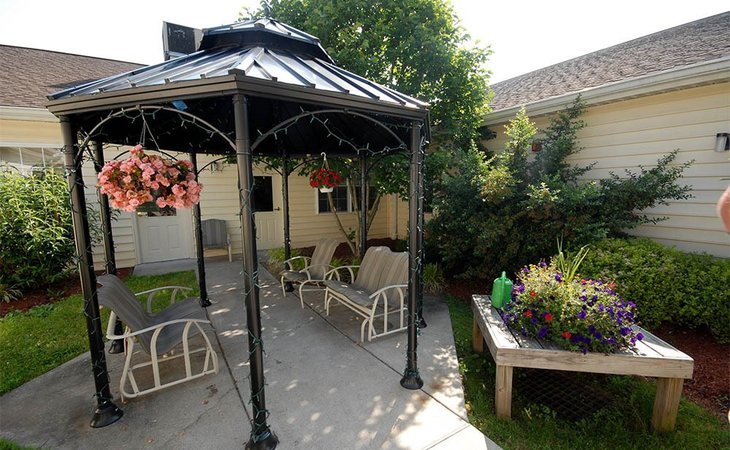 Reviews of Chestnut Knoll Personal Care and Memory Care
---
Nancy and family
March 17, 2017
I am a friend or relative of a current/past resident
The decision to place a family member in memory care is painful, difficult and comes with many emotions - anxiety, sadness, guilt. My family and I cared for my mother in her home for many years but the time came when we could not provide the proper personal care. The responsibility to continue a good quality of life for our mother caused much stress to all of us. After visiting numerous memory care facilities, I decided on Chestnut Knoll for my mother who suffered from Alzheimer's. She lived at Chestnut Knoll for a little less than a year. Considering my mother's disease and how it progressed, The Chestnut Knoll team provided excellent care and a good quality of life for her. She had opportunities at Chestnut Knoll that she did not have being at home. My mother participated in Fox Rehab services, many activities and had opportunity to socialize with other residents. She also enjoyed the live entertainment provided monthly.
Chestnut Knoll facility is modern, well laid-out, in a quiet corner of Boyertown. The facility offers a nice, warm and comfortable living environment. The memory care unit is secure but does provide opportunities for residents to enjoy the outdoors in the patio or garden areas. The staff is well-trained. The caretakers are friendly and full of compassion and support for the residents.
The staff encouraged my mother to be as independent as possible when that was an option, especially in regards to participating in activities. I visited often and was kept informed with all aspects of my mother's care. I enjoyed interacting with the residents and staff as they all became part of my family. Also, I was impressed that the administration and nursing staff was so active in providing direct services to residents. They know the residents well and treat them like family. The entire staff was very loving and supportive with my mother up to her final days when we brought hospice care in for her. This allowed us to care for her in a comfortable setting instead of moving her to a different facility. I would recommend Chestnut Knoll Memory Care to anyone who has a family member with dementia, Alzheimer's or any memory care needs. Thank you Chestnut Knoll for loving my mother. Fondly, Nancy
---
Jacks Daughter
March 11, 2017
I am a friend or relative of a current/past resident
My Dad, Jack was only a resident of Chestnut Knoll Memory Care for 6 months before his passing but when my brother and I had visited endless other facilities we were relieved to come to Stacy and find Chestnut Knoll. It's the "Home" feeling Chestnut Knoll exudes that we knew we found Dad's next home. The staff was always wonderful to Dad and myself as a visitor and I was always kept informed of Dad's daily changes. The facility is clean and friendly and I'm glad and relieved Dad (Jack) spent his last 6 months loved and cared by Chestnut Knoll. Thank you Chestnut Knoll for taking caring of my Dad during a time I couldn't.
---
Robert218671
March 07, 2017
I visited this facility
I went to Chestnut Knoll and was very impressed with it. I thought it was very nice, but I also realized that it was not what I wanted for my wife and myself at this time. The rooms were very nice, private, clean, and well kept. I was impressed with the facilities, and the services that they provide. There was a group that was crafting and some other groups that were watching TV. They had a happy hour while we were there in the afternoon, which I was surprised to see, but it was very nice.
---
A7V
August 19, 2016
I am a friend or relative of resident
Years ago, when my wife and I applied for long-term care insurance, we were told that the average stay in assisted-living was two to three years. My father was a guest at Chestnut Knoll, Boyertown, PA, for eight (8) years.
I would submit that his longevity at Chestnut Knoll was due to the care he received there.
The facility is modern, well laid-out, in a quiet corner of Boyertown. There is a TV area, a library, a dining / activity room and plenty of visitor parking. Breakfast, lunch and dinner are served in a professional manner, with guests having choices from a daily menu.
The staff is first-rate. Not only well-trained, the caretakers are friendly and full of empathy for the guests. The admin staff makes check-in / check-out easy. Billing is efficient, using the opportunity to mail monthly activity calendars along with the invoices.
There are numerous outdoor activities to choose from. They range from traveling to baseball games to listening to concerts on the lawn to judging in the annual car show. Indoor activities include exercise classes, mind-expanding games, birthday parties and musical events.
Chestnut Knoll truly deserves its Caring Star for 2016.
---
Janet322834
August 13, 2016
I visited this facility
The staff at Chestnut Knoll Assisted Living was very helpful, honest, and friendly, and offered me free lunch. I liked the layout and the decor. The calendar on the bulletin board had a lot of activities. The grounds were very nice and very well kept. The dining area was very nice and clean.
---
mykidsmom
July 26, 2016
I am a friend or relative of resident
Chestnut Knoll became my Mother's home in 2008 after I and my husband could no longer care for her in our home. Her memory was failing and she needed assistance with everyday personal care. The management staff eased our apprehension about placing Mom in assisted living. The facility itself is beautifully designed and well maintained. Any given day that I walked into the building it was clean, sanitary and welcoming. The daily agenda for the staff working with the residents in the Memory Care unit is upbeat, joyful and engaging. My Mom "Bubba", after some adjusting to her new home, was happy and spirited with all the caregivers and we knew we had made the right decision to place her in this, her temporary home before she moved into her permanent home in eternity. Her caregivers were truly caring, helpful, pleasant and loving to my Mom. I know what a difficult job it is to care for people with dementia and I can never thank those enough who touched my Mother daily with nothing but love in their hearts. When it came time to engage the services of hospice the nursing staff was most helpful in making the arrangements and the caregivers worked well with coordinating Mom's around the clock care. Throughout Mom's entire journey through her terrible progression of dementia Chestnut Knoll personnel kept me informed as to what Mom was experiencing and what to expect. I am forever grateful for these professionals and how they loved my Mom through her sunset days until January of this year when she left to go home with her Lord Jesus. Thank you Chestnut Knoll family!
---
Anonymous121523850
March 09, 2016
I am a friend or relative of a resident
I like Chestnut Knoll Personal Care and Memory Care because they have a rehab program, which will benefit my mom greatly. I have not heard any complaints from Mom about the food. For the most part, most of the staff is very good. The younger members are not quite as good, but they try. The facility is very clean and doesn't have a smell.
---
Dawn40
February 27, 2016
I visited this facility
Chestnut Knoll was also very nice. The staff was great. The woman, who took us around, was very knowledgeable, helpful, and pleasant. The rooms seemed clean, and the staff seemed to be doing their job.
---
JA2
February 23, 2016
I visited this facility
Everything is wonderful. I would highly recommend Chestnut Knoll.
---
Redware
February 10, 2016
I visited this facility
Chestnut Knoll was very warm, and welcoming. It had a very home-like feel to it. The dining-activity area was very nice. They had it beautifully decorated for the holiday. The people seemed very happy, and very pleasant. There were bright rooms. They were small, but comfortable. The staff was very pleasant. I think it would be a very pleasant place for my father.
---
Susan119387550
January 29, 2016
I visited this facility
Chestnut Knoll was good. I had a tour of the secured Alzheimer's wing; which was where my mom would have been placed. The staff seemed very friendly. The staff I met gave me a tour. She was very informative. She checked back with me once or twice to see how thing were going.
---
Karen119084550
January 24, 2016
I am a friend or relative of a resident
I liked the very homey feeling of Chestnut Knoll. I thought the staff was superb. It was clean, and it has no odor. My husband lived there for two months.
---
Kathleen S.
January 13, 2016
I am a friend or relative of resident
The decision to place a family member in memory care is painful and difficult and we were filled with anxiety. Chestnut Knoll made the transition less so. We visited our mother every day and never had a moment of doubt that she was in the most loving and caring environment. The staff was so supportive and helpful to us as well as mom, even after she passed away. I still visit the staff and patients because they became part of our family. I cannot say enough about our experience and how wonderful they were to mom.
---
rwmcs
November 11, 2015
I am a friend or relative of resident
Our Mother was at Chestnut Knoll in Memory Care for the last three years. During her stay the staff was caring and got to know her likes as well as her idiosyncrasies. As her health declined, her care team was vigilant for signs of physical problems. When Hospice care was called for, the coordination of the Chestnut Knoll and the Caring Hospice teams was seamless and reassuring.
---
gww3
September 03, 2015
I am a friend or relative of resident
When my brother and I first came to Chestnut Knoll Memory Care to speak with the staff there about our parents, we were planning ahead for the time when we knew, inevitably, they would not be safe in their own home without 24/7 supervision. Both suffered from differing stages of progressing dementia. We tried various levels of in-home care, up to and including round-the-clock. The care-givers all did their best and were very compassionate, but due to my parents' worsening conditions, they did not understand why all these "strangers" needed to be there in their home when, in their opinions, they didn't need any help whatsoever. Watching them both trying to just get up and down stairs safely, and (somewhat stubbornly) dealing with the confusion of daily living, paying bills, etc., my brother and I both knew it would be just a matter of time. Since both of our locations and working schedules at the time precluded either of us from "moving in", it became clearer to us what we needed to do, while still trying to honor our parents' desires to remain in their home "for as long as possible". Fast forward – following a number of falls suffered by both inside and outside of their home, including a hospitalization for hip surgery for our mother, we knew (even if they did not understand) that we had arrived at a decision point. We prayed we had not waited too long. Thank goodness for Stacy and Jennelle and all the staff at Chestnut Knoll, who through their professional expertise, background, and compassion knew exactly how to help us in our time of urgent need. From day one, my parents were made to feel like they were entering a new family, including a 66th wedding anniversary celebration at Chestnut Knoll less than a month after they had arrived. They are both gone now, and we are extremely grateful to Chestnut Knoll Memory Care and Fox Rehab Services for helping them, and our family, through their final months by providing the best possible quality of life.
---
Caring107146250
August 31, 2015
I am a friend or relative of a resident
Everything is excellent at Chestnut Knoll, and it's so much better than the place she was before, like 10x better. They have three dining rooms, they are smaller than the usual one, but they are all really nice. The rooms are perfect, and the bathrooms are of the right size, plus they provide the furniture. They have planned activities all day long.
---
Caring111966550
August 22, 2015
I visited this facility
I visited Chestnut Knoll, and it was very nice. In fact, it has one of the best reputations in the Knoll area. The staff was very nice. The rooms were really nice, and they had three or four different kinds.
---
Susan114618750
July 29, 2015
I visited this facility
Chestnut Knoll Assisted Living was my first choice. It was really nice. They had a separate area for Alzheimer's and dementia residents. The rooms were really nice. It was clean, and they had birds in cages. Everybody was friendly, and the residents seemed very happy. It was a beautiful place. The lady who gave us the tour was very pleasant, very nice, and very informative. They had a really big dining room, and it looked like a restaurant. It was really nice. I saw their calendar of events, and they had things going on all day long like bingo, movie nights, dancing, and exercises. They had a courtyard that was really nicely landscaped.
---
Caring107463350
June 18, 2015
I am a friend or relative of a resident
My relative is in Chestnut Knoll, and it's close to where she was. The staff was friendly and helpful. She is in a shared room. The food is good, and the dining room is nice. It's fairly clean. I would like a better communication with them regarding her health. They have music, social, crafts, and exercise. She has been there for almost a year.
Provider Response
Thank you for taking the time to review Chestnut Knoll and giving us a 5-Star review! However, we are always looking for ways to improve and your comments about cleanliness and communication open that opportunity. Our goal is to be "eat off the floor" clean and to have our communication be "just right" for each family. Please feel free to speak to Shawn or Jodie if we can improve our service to you or your loved one at any time.
---
JanTysn
May 13, 2015
I am a friend or relative of resident
My parents lived together at Chestnut Knoll. Even though my mother had dementia, my parents were able to stay together until the end which was very important because they would not tolerate being separated from each other after 70 years of marriage. The staff is the best of have seen anywhere, and as a nurse I have been in many other facilities. They are always patient, caring and truly concerned for the residents well being. There have a great therapy program. After my mother died, we expected my Dad to "give up". Through the love and concern of his Chestnut Knoll family he adjusted much better then the family ever expected. my parents did not get too involved with the activities (by choice) but staff always informed them of what was going on. They were allowed to have their cat there which meant a lot to them. my father recently passed, but family was with him and he was under the care of hospice. I would recommend Chestnut Knoll to any family who needs to have their loved one in a safe protected environment.
---
Paul Sidney
March 27, 2015
I am a friend or relative of resident
In late December, 2014 my sister, who has advanced dementia as well as other serious health issues, had to be relocated at the request of the facility where she had lived for over two years. Fortunately, I was able to connect with Jodie at Chestnut Knoll. Within a matter of a day or two, Jodie arranged for Joan to be evaluated, transferred, and admitted. She brought calm and direction to all facets of the process including the transfer of medical and prescription records. I met with the new primary care physician who examined Joan on the day she was admitted. Most importantly, Joan was given exceptional attention and consideration from a most caring staff to make her feel comfortable and welcome. After Joan had settled in for a few weeks, I wrote the following note: " I stopped in to see Joan yesterday; she seemed to be doing very well. My take is she is more aware, involved, and overall in better surroundings. Chestnut Knoll has created an environment much more open and positive than any other facility I have seen. I am very thankful to you for easing and coordinating the process of getting Joan to Chestnut Knoll. I believe Joan is happy and in the care of exceptional professionals. My sincere thanks to the entire staff." As Joans condition continued to decline, the staff recommended she be evaluated for Hospice. She was accepted and now benefits from the care given by both Chestnut Knoll and Hospice. While being responsible for a loved one in these circumstances is stressful, I have found that having the support from people who are dedicated and competent helps so very much. I highly recommend Chestnut Knoll for your loved one.
---
SLJ
January 07, 2015
I am a friend or relative of resident
I would recommend Chestnut Knoll to anyone. Our Dad, Pop-Pop, and Pop-Pop-Pop, was a resident at Chestnut Knoll for almost 5 years. It was his choice to move there, but the family agreed. What we saw was a clean, odor-free facility.
What we felt was a sense of family. The staff treated Dad and the others as family. Any question or concern we had was addressed. The administrators doors were always open.
A new physical therapy program was started and Dad loved it because Medicare would only allow PT for a short time and after he was forced to stop, he would decline. He thrived with the new program with Fox.
Chestnut Knoll welcomes the whole family, from children, grandchildren, great-grandchildren, and grand-dogs, too, to visit and take part in their celebrations.
As Dad neared death, we saw the love the staff had for him. We saw it in their eyes, we heard it in their words, and felt it in their actions toward Dad and us.
We were never sorry our Dad spent the last years at Chestnut Knoll. It was home for Dad and we were comfortable in visiting him at his home.
---
StephanieR_PA
June 20, 2014
Other
Chestnut Knoll provided care for my grandmother for over seven years and I could not have entrusted anyone more. They were consistently attentive and because Chestnut Knoll is not too big, they were able to learn her habits very quickly. Most importantly, she was extremely happy. In addition, she loved the staff, participated in many activities and fostered great relationships with the other residents. I am confident the last seven years of her life would not have been as fulfilled if she would have been home alone and did not have the great residents and staff of Chestnut Knoll.
---
Janet28
September 12, 2013
I visited this facility
I found Chestnut Knoll through Caring.com. It seems a very nice facility for my husband. It is actually only about 10 minutes from my home. All the amenities that we need are all there and they are very good. It would have been really convenient for me to put my husband there, unfortunately the cost of the facility was a little bit more than I could manage.
---
furlerfan
August 13, 2012
I am a friend or relative of a resident
This place has taken care of my mother who is now in end stage Alzheimer's. When I go visit, I wonder how these women do the jobs they do day in and day out. My mother has been quite combative lately which is really difficult for me because she was always such a compliant peaceful person. The staff's patience and kindness exceeds all my expectations. I highly recommend Chestnut Knoll!
---
bonniexJade
November 02, 2011
I am a friend or relative of a resident
Chestnut Knoll is the Memory Care center of this assisted living facility, meaning it primarily deals with Alzheimer's patients and those with increased dementia. I would recommend this facility to anyone with a loved one in need. The staff, while at sometimes frustrated, handles the patients with the utmost care and they seem to truly interact with the patients (as much that they can.) The meals are modified for each patient, and they keep track of each one's special needs dutifully. Each month a calendar is distributed displaying each day's activities and times, and the calendar is always full. What these people have left is not much, but the nurses at Chestnut Knoll give them a sense that they are truly cared for.
---
From Chestnut Knoll Personal Care and Memory Care
---
Chestnut Knoll Personal Care Community was officially opened at 120 West 5th Street, Boyertown, PA 19512, on September 18, 2000. This facility is licensed by the Department of Public Welfare as a personal care home. Chestnut Knoll has 82 suites, 34 of which are located within our secured dementia care unit, area devoted to memory-impairing illnesses such as Alzheimer's Disease.
We provide services such as assistance with bathing, dressing, housekeeping, laundry, medication management, activities, transportation services and three balanced meals a day all in a home-like environment.
Every resident will find a unique mix of security and independence, privacy and companionship, and physical and social well being.
What Makes Us Special
---
Small homelike setting in rural Boyertown. Unlimited Individualized Therapy Services throughout entire residency which is provided by full-time Exercise Physiologist and Licensed Therapists.
Features of Chestnut Knoll Personal Care and Memory Care
---
Costs
Minimum rate:

$3510/month

Minimum Memory Cost

$4935/month

All Inclusive Rent
Fee Structure Extra

We Offer A Month To Month Rental
Room and housing options
1-bedroom apartments
Companion Suites

We Offer Companion Suites

Studio Apartments
Dining options
In Room Kitchenette
Dining Room Shared Meals
Features
Beauty Barber Shop
Resident Transportation
Party Space
Tv Room
Garden And Patio
Resident Parking
Features Extra

Library
Cleaning services
Laundry For Linens
Private Cleaning Services
Housekeeping
Laundry For Clothing
Technology and entertainment
Cable In Rooms
Internet Enabled Rooms
Wifi
Technology Extra

Emergency Call System
Health services
Skilled Nursing
Hospice Care
Medication Management
Physical Therapy
Activities
Offsite Activities
Music
Games
Stories
Religious Services
Lectures Discussions
Wii Sports
Fitness Room
Gardening
Arts And Crafts
Activities Extra

Computer Class, Unlimited Therapy Regardless Of Insurance Coverage
Financial guidance
Va Benefits Consultation
Financing Advice
Guest services
Guest Parking
Guests At Mealtime
Overnight Guests
General
Respite Care
Minimum Age

None

Pets

Small Pets Allowed
Licenses
Licenses

Department of Public Welfare licensed

State Licenses

205880
Location of Chestnut Knoll Personal Care and Memory Care
---
Get Cost Information
Get full access to reviews, cost information, and amenities