Grace Assisted Living at Englefield Green
250 S. Allumbaugh Way, Boise, ID, 83709
Talk to a Family Advisor: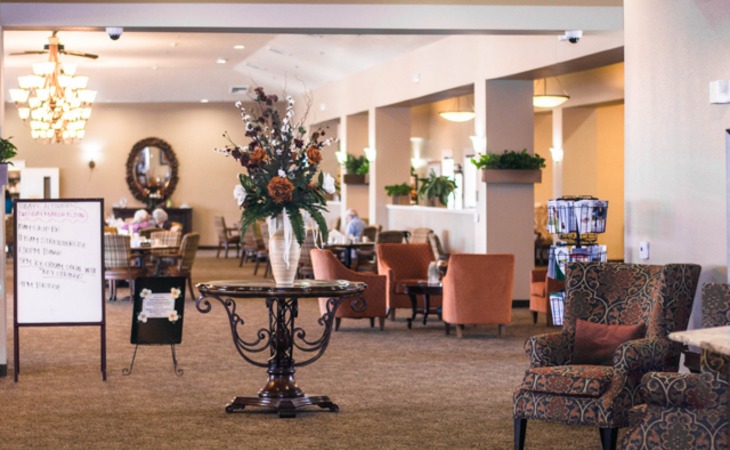 Reviews of Grace Assisted Living at Englefield Green
---
teresa353757
May 26, 2017
I visited this facility
I really enjoyed and liked Grace. It was very open and airy. They had a private dining area available for family when they visit. They have little garden areas for the residents, and everyone had an outdoor door, whether it's to the outside or the little garden area. The staff was wonderful and very friendly.
---
Jean604545
February 10, 2017
I visited this facility
Grace Assisted Living at Englefield Green was a very lovely facility. I was very impressed with the friendliness of it. They were full, so I didn't get a full tour of the place. I was looking for the future. It was beyond my budget. It seemed to have quite a few things on the schedule of activities. It had a more Christian aspect that I wasn't interested in having around all the time; I am very religious but not necessarily traditional. I could see their dining room, which was there in the lobby, and it was very beautiful. People were walking around. The residents and the staff were friendly. I didn't see anything more than the first room you see when you walk in.
---
Ann681080
October 14, 2016
I am a friend or relative of a current/past resident
We moved my brother-in-law into Grace Assisted Living, and it has been up and down. When he needs a lot of assistance, it is not always available. The amenities are great. It is a lovely place. They even have a movie theater and bingo nights. However, I think he needs a little more care than they were able to give him at times. The rooms are nice. They're reasonable size. He has a back patio, and he can move patio furniture over and bring out a table and a chair. Grace Assisted Living is a lovely facility, but the weekends' service was not as good.
---
Debbie116519650
November 30, 2015
I visited this facility
We visited Grace, but Mom didn't want assisted living, and it would cost more. We weren't impressed at all. She didn't like the cottages. The staff was very rushed, not attentive, and it took us a long time to even get them to acknowledge that we had arrived. They just kept on passing us without saying hello or anything. They were not friendly. The place was not clean. We went to the newest room, but it was not clean. We were disappointed.
---
three
November 22, 2015
I visited this facility
I found Grace Assisted Living for myself, but I have not moved in yet. The staff was extremely helpful. I had a one bedroom with windows and a little backyard patio. I am quite pleased that I can take my pet. We are not going to do any cooking inside, but I would like to have a little stove. I have seen the dining room, which is lovely and very well put-together. Everyone there seemed happy, so I look forward to moving in and joining in with the other residents.
---
Vicky22
October 31, 2015
I visited this facility
Grace is a brand-new facility. They were nearly done building and pre-renting the rooms, and so mom wanted to do it, but dad kind of dragged her seat. So when everything came around, and dad having the stroke and stuff, mom said, "OK, we'll just get into Grace, so I'll go and see if they have a room available." Well, a lot of the same stuff they told her or the things they said that they could do before, they actually didn't do once they opened up their doors, which if somebody needed skilled care for a while, they could make that happen and that didn't. There were just a few things. The rooms were really pretty. They could have gone up to having three bedrooms in the assisted care. If you had money, you get to have super-nice stuff. The people that we ran into seemed really nice. It's a brand-new, nice facility and kind of over by the Boise River, so there are a lot of birds and things to look out and some quiet areas, and when the weather is warm, they can go out and read a book. Those types of things are nice and kind of help a lot of patients pass the time and find their group.
---
Cynda
August 28, 2015
I am a friend or relative of a resident
We chose Grace because it was more within my mother's budget and very much closer to my home, and we're extremely happy. They have all of the things that we wanted, and the care so far has been excellent. She only lives 2 minutes from me now. The food is very good, and the staff really does care about the residents. I haven't seen one person there that I felt that it was just a job to them. It really was something that I've looked for because I did work at one of the facilities some years ago. They can also take her to her doctor's appointments if it's needed anytime; I just have to let them know.
---
Lyndalynda
May 16, 2015
I visited this facility
My mother recently moved into Grace and I am so pleased our family chose this facility. (We looked at so many assisted living facilities before settling on this one) The apartments although a tab small are well layed out. The bedroom is completely separated not just an alcove. My mother's unit has an outdoor patio that she was able to decorate completely as she saw fit. I cannot say enough about this place and I never hesitate to recommend it to my friends who are seeking a similar situation for their parents. The most important feature I have found at Grace is my mother's happiness. Yes she misses her own home but everyday she comments about how nice the people are here. The staff and other residents.
---
Anonymous96461350
April 22, 2015
I am a friend or relative of a resident
Grace Assisted Living is a very nice community, and it has a nice size. They have very caring people. The rooms are nice and clean. It looked like a typical assisted living place. They have plenty of activities, and they also have transportation. The food is really good. The dining room is nice.
---
There for you mom
April 03, 2014
I am a friend or relative of resident
Disgraced by Grace Assisted Living - Please read below. My mom was inappropriately discharged by Grace Assisted Living this past February. The actions displayed by the owner and administrator of the "Christian based facility" towards by mother during her immediate discharge from the facility was inappropriate and appalling and should never happen to an elderly person, or anyone for that matter. My mother was a resident of Grace Assisted Living for ten months. Her care level, as assessed by the facility, was at the lowest level. In February of this year, by mother was admitted to the hospital for chest pains. She spent 11 days in the hospital, received a pacemaker, and returned to Grace Assisted Living as expected. A follow-up nurse assessment by Grace's nurse revealed no change in her level of care. A few days later, in the late evening hours, my mom was coughing which was causing her oxygen level to drop. Grace Assisted called the paramedics, they came, assessed her and then left. My mom was assessed again by Grace's staff and was told that she had to go to the emergency room, because it was their policy. My mom said she would go the next day. It was not a life threatening situation. The local owner of the facility called my mom's room that evening and said if she did not go to the emergency room, right now, she had thirty days to find another place to live. Of course, my mom does not want to leave "her home", so she complied and left with the paramedics. Turns out my mom should have waited to go to the hospital for then she would have had 30 days to find another place, not zero days, as she was refused to be received by Grace Assisted Living two days later. On the day my mother was to be discharged from the hospital, it was the hospital nurse that informed me that my mother could not return to Grace Assisted. The reason stated to the hospital nurse was that "her level of care exceeds what our facility can provide." The doctor who discharged her was "shocked" by that response. I am thankful that I live in the same city as my mother, I could not imagine if I lived far away and this happened. I was left scrambling to find another assisted living for my mom. The stress on my mom and me was terrible. With no help offered by Grace Assisted Living, to assist in locating other suitable places, I was lucky to receive assistance through the hospital's case manager and other local resources. After a week of calling and visiting other facilities to see if there were any available openings, I found another assisted living that was more than happy to receive her and welcome her into "their family". My recommendation to all families is to read your Resident Agreement, specifically the area for discharge and how the facility handles it. Ask for examples of "discharge situations". The Resident Rights that are posted in Grace Assisted's facility for all to see, says, "Appropriate transfer and discharge". THIS DID NOT HAPPEN.
---
JB1
January 30, 2014
I visited this facility
Grace Assisted Living was beautiful and newly remodeled. The apartments were very nice. I think they have regular senior activities like card games. They didn't talk much about it, they talked more about their staffing. That it was geared more towards assisted living. They have a good point which was if you needed an increase in care you don't need to change room or go to another wing, you will stay in your room and they will just increase your level of care by increasing the staff to your room.
---
Caring70968850
December 30, 2013
I am/was a resident of this facility
I am living in Grace Assisted Living right now. It is very nice and very clean. The people are very friendly and they let me keep my dog. Just like in other place like this, sometimes the food is really good and there some individuals that don't like it and they order something else. They have activities like bingo and they take us shopping. They keep us busy. My experience here has been very pleasant.
---
DeandraJ
July 16, 2013
I am a friend or relative of resident
Recently this facility underwent a management change. The turnover rate of employees is very high now and the staff seems inexperienced and under-qualified for. I fear that the staff does not have the knowledge or passion to care for the residents. I hope that this resolves itself quickly or something will have to be done. As we all know the staff can really effect the mood for a facility and this one has gone down dramatically. I will say that it is a clean facility and set far enough from the road where there isn't too much road noise.
---
Judy31
May 22, 2013
I am a friend or relative of a resident
I liked Grace Assisted Living's location. It was more convenient for myself. It had a nice atmosphere to it. The staff I met were very helpful and very caring. The administrator was a very nice lady. My daughter had a studio when she was there. It was a very nice atmosphere.
---
Family_Is_Everything
September 22, 2012
I am a friend or relative of a resident
I would have to say that this particular facility has been very good. The staff is knowledgable and they understand both of my grandparents in their own unique way. My grandmother is the one that has gone downhill far faster than my grandfather, and the staff understands the differences between the two and how to approach them as individuals. I will have to throw in one bad experience that our family dealt with at this facility. There was an incident where my grandmother had an enormous bruise on her arm (and then later we discovered that there was more bruising on her thigh and hip) and when we tried to question her about what had happened, she of course, did not remember. After speaking with one of the nurses, we were told that she had fallen out of bed. One of my aunts didn't feel like that was the truth or what had happened, so she called the facility once she had gotten home and spoke with a different nurse. That nurse claimed that my grandmother had slipped and fallen in the shower. Of course that concerned us, because my grandmother has very thin blood, bleeds heavily, bruises deeply, and takes medication for these types of things. If there was a situation that happened, we would like to have the staff on the same page and get the truthful story so that we could know how to deal with the situation. I am not saying that the staff was intentionally trying to deceive us, but it was a concern that we received different stories from different staff. I do have to say that our family is well taken care of there, and we don't need to worry about that aspect. I just hope that everyone else in that is as well taken care of. Family is everything in this world, and the fact that both my grandparents can still live together and are cared about by the people that run this facility is a great comfort. God bless anyone else going through something like this, and make sure you keep a smile on your face. Its good for the soul!
---
jupitermoon
March 28, 2012
I visited this facility
This facility was very good. Each resident has their own apartment with toilet facilities. They can set up their living space how they wish with furniture and decorations. Many of the apartments there have accesses to and outside patio area with trees and flowers. The people there are friendly and organize many activities such Wii Bowling and other games. The whole place was very modern and clean and the staff seemed to take pride in their work. Grace Assisted Living also provided residents with field trips to local stores as well as sight seeing around the Boise area such as nature areas and the zoo. Of course these are all optional and no one is forced to go. Workers there provided as much support as needed and are flexible how they help people. For the most part they seem to let the residents do their own thing, only assisting if needed. Overall, it is a good place.
---
jblackburn
February 17, 2012
I visited this facility
In my visit I found the conditions to be very satisfactory. The staff and residents were friendly. My family member which resided here found it very easy to get together with people who she identified with and grew close to many of the members. She did not like the food, but she is a picky person , but i'd say the food was fine. The housing conditions were nice and cozy, they were equipped with numerous safety features which was an important factor in her decision to live there. All the residents I met were friendly and nice, very social. One of the nicest things was how sunny and bright the rooms got. I found this was very important for a family member who has depression. I really think she thrived there due to friendly nature of the staff and residents, the active social life provided, and the numerous amenities and safety features they make available to the residents.
---
Junior53
May 25, 2011
Visited this facility
Grace Living for Seniors is a great facility with a professional staff and clean environment. As a CNA student, i've personally toured the facility and the employees of the facility are well mannered and actually care about the health of the senior occupants. However, the overall atmosphere of the facility is quite intimidating at first and this may deny some potential occupants for this facility, however, the attitudes of the employees as well as the implementation of some CNA students working at the facility helps ease the modd. Overall, the cleanliness and overall attitude helps makes this facility great. What i personally like about this facility is the acitvity direction. I've volunteered at this facility and the staff friendliness helped with my first experience within the facility. Volunteering as an activity director helped give me a feel for this Assisted Living Home which overall is great.
---
From Grace Assisted Living at Englefield Green
---
Grace Assisted Living provides a welcome and nurturing environment for seniors,, from independent retirement to assisted living, as well as Assist Plus(™) memory care, respite day care and hospice.
We cater to residents needing assistance with ADL's including; medication management, shower assistance, dressing assistance, escorting and toileting services. All facilities have transportation available two days a week for resident Doctor appointments. The facilities have care staff available 24 hours a day under the supervision of a facility RN.
Three delicious and nutritious meals are served per day and weekly housekeeping and laundry service are also included. Activities include; daily bingo, crafts, card games, puzzles, weekly shopping trips, musical entertainers, fitness groups and more.
What Makes Us Special
---
Grace at Englefield Green is conveniently located near Franklin Avenue and the Boise Connector. Close to the Boise Town Square Mall, St. Alphonsus Hospital, family homes, restaurants and schools. Resident at this facility enjoy the beautiful decorum and quiet neighborhood atmosphere.
Features of Grace Assisted Living at Englefield Green
---
Costs
Minimum Rate

$2695/month

Rent Plus Care Fees
Room and housing options
1-bedroom apartments
2-bedroom apartments
Companion Suites

We Offer Companion Suites

Studio Apartments
General
Minimum Age

60

Pets

Small Pets Allowed
Location of Grace Assisted Living at Englefield Green
---
Get Cost Information
Get full access to reviews, cost information, and amenities