Sunrise of Bloomingdale
129 East Lake Street, Bloomingdale, IL, 60108
Talk to a Family Advisor: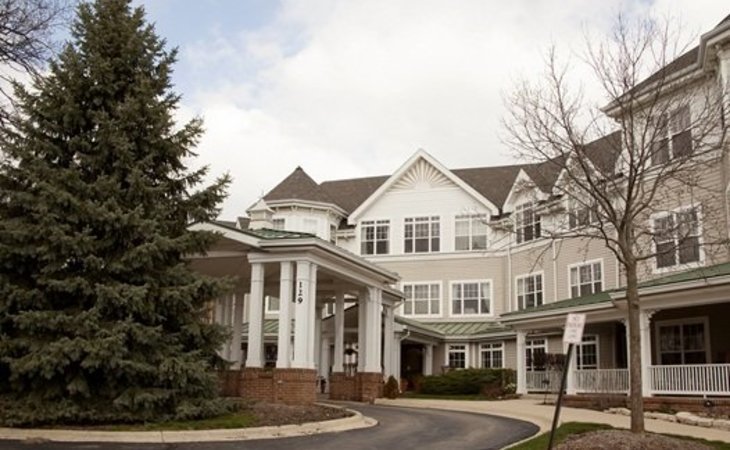 Reviews of Sunrise of Bloomingdale
---
Brigitte364776
December 16, 2016
I visited this facility
I loved Sunrise of Bloomingdale. It was my first choice. The rooms were clean and tidy and looked new and homey. We were there for snack time, and the food was fine. The staff was very friendly, sympathetic, and knowledgeable. They knew their industry very well. The price was good and comparable. The location was very convenient.
---
Charles211170
July 01, 2016
I am a friend or relative of a resident
My dad is at Sunrise Senior Living in Bloomingdale. It's nice, sunny, bright, and has big windows and a lot of room. It has a lot of activities, too. It has a nice location and outdoor space which is nice, green and pretty. The people are very friendly. They have a nursing station and doctors who visit once a week. We don't have to take my dad anywhere because the doctor comes to you. It's pretty good. They do a very good job.
---
Anonymous Lady13
December 10, 2015
I visited this facility
My mother has been living in Sunrise of Bloomingdale for two weeks. The experience has been going very well. She is in a clean, one-bedroom apartment. It is not as big as where she was before, but it is fine. The staff is very caring.
---
Caring109578650
June 16, 2015
I am a friend or relative of a resident
My father is in Sunrise of Bloomingdale, and I'm very pleased with them. The staff is outstanding and very caring. There is a nurse on-staff 24/7. They are very friendly. The food is very good. We've been totally thrilled. Even my father knows it's the right place for him. He was very willing to go, and he knew he needed the help. We chose it because it's literally across the street from where he lived before, so he is familiar with the area, and it's close to the family. It is very home like. I would highly recommend them. He's got a studio apartment, and it's perfect for him. He doesn't need a lot of space, and the bathroom is nice sized. He is in a wheelchair, and it's easy for him to get in. There is a kitchenette, but he doesn't use it because he just eats the food there; he loves the food, and they feed him a lot. They clean everyday, and they do the laundry for him. They have a craft area, activity area, and Wii bowling, and at 3:00 there's a social in their little bistro area with some refreshment and wine and cheese. They do have trips outside like shopping and to restaurants. They could use more parking because they get a lot of visitors. It was a little more intimate, which is perfect for him.
---
Caring108410750
June 15, 2015
I visited this facility
Sunrise of Bloomingdale was very nice except that it would not fit his needs because you had to have a certain amount of income, then he would have to leave after he ran out of money. That would not have worked for him, but the facility was beautiful, and the people were wonderful and pleasant. We were very impressed with the place.
---
Cheryl108956450
April 07, 2015
I visited this facility
He'll move in next week, so I don't have a lot of information yet, but we felt comfortable with our decision. Of course, we picked the Sunrise of Bloomingdale because we are happy with the facility and the people there. We just want to get him moved in, and then we will see what kind of activities they offer and what he is able to take part in. First of all, I liked the room and the location -- five blocks from my house -- and I thought the staff was wonderful.
---
Kaymary
April 02, 2015
I visited this facility
I was looking a place for my aunt close to west suburbs. When I toured Sunrise of Bloomingdale, it was like coming to a mansion of one big family. I was amazed with their hospitality and warmth. The aromas of their food was so tempting. The staff was dressed professionally but still had the feel of family during conversation. So finally moved my aunt and I am very content with all their services.
---
Caring08721
November 29, 2014
I visited this facility
I went to see Sunrise. It was nice. My mother thought she liked that one, and then she changed her mind overnight. The people were very cordial there, but my mother just changed her mind. The staff was very nice. They were cordial and straightforward. It was a nice place. It wasn't as big as the other place, but it was nice. The only thing was, it was a little bit more money. The dining room was nice. Again, it wasn't as nice as the other facility. We had a luncheon, and the food was good.
---
Donald23
July 31, 2014
I visited this facility
Sunrise of Bloomingdale was very clean and the staff were very polite. When we went there it was night, so they did not have anything going and I did not see anything, but they had a calendar showing the activities they did have. The lady told us that there was someone who was in charge of those activities. Their dining room was the typical dining room -- nothing fancy, just very plain.
---
Caring76801650
January 31, 2014
I visited this facility
Sunrise is such a great place! Unfortunately, they didn't have availability. When we visited they only have one large shared room available. It has a bathroom and a kitchenette. It can help residents save money which is good but it wasn't what we were looking for. I find their cleanliness and staff outstanding.
---
MaryBell
November 12, 2013
I visited this facility
This place is very nice! I have visited many times in the post year. My best friends mother lives here, and I will stop in to bring her snacks and visit. I can honestly say it is very clean and also a very fun place for seniors. The people who live here are very kind and welcoming to new comers. The chef is also very good, and he prepares yummy snacks in between meals too. If I still had my mother, I would feel very comfortable with her living here.
---
kmer
November 21, 2012
I am a friend or relative of a resident
My grandfather has lived in this facility for about 6 years. He received very good care in the beginning but the last few years his level of care has gone down significantly. If it was possible to move him, it would have been done. However since he has Dementia, it is best to keep them where they are familiar. Some of the nurses are very caring and good bedside mannors. However, the woman running the place there is very unprofessional and untruthful. I have asked about things that have happened and I can never get a straight answer out of her. I have asked for things to be done and they are never done and there are always excuses as to why it didn't get done and the finger is pointed to me. If they could improve the management at this place, my rating of it would increase significantly.
---
MLiss
August 26, 2012
I am a friend or relative of a resident
My grandmother is a resident at Sunrise Assisted Living in Bloomingdale, IL. We enjoy having her in a facility that is close to us where we can visit on a weekly basis. The staff is always welcoming and friendly, and my grandmother has become more socially integrated than she ever was while living on her own - she has made many friends at the facility. The cost of the facility seemed very high initially when we were seeking out her new home, but we have come to accept that we are paying for a good quality of life for her to spend her remaining time with us. The only complaint she has is that she would like more communication when community events are being hosted - such as a bulletin board in the meeting rooms perhaps. Overall, we are very happy with our choice in homes for my grandmother, as is she.
---
Leslie1945
June 06, 2012
I am a friend or relative of resident
My mother has lived at the Sunrise in Bloomingdale for 6 years. She is now 86 years old, and we could not be more pleased with the care she receives from the wonderful staff. It was a difficult family choice for her to move out of her home, but we realized quickly it was the best choice for her. My mother is healthy, active and has many friends there. I am eternally grateful to find this community. I highly recommend them!
---
bob3
March 31, 2012
I visited this facility
The facility is very clean. One thing I like was the personal ID on each room. I did not care for the Victoria style floral design or price. One thing I did notice there was not activity board.
---
From Sunrise of Bloomingdale
---
Located just minutes from 355 and Old Town Bloomingdale, Sunrise of Bloomingdale sits high atop a picturesque hill with a beautiful forest in our backyard. We pride ourselves in offering activities and outings with meaning and purpose - as well as out Reminiscence program for residents with memory loss.
Step into a Sunrise Assisted Living community and you can?t help but feel at home. We stop at nothing to make your experience warm and inviting, from our homelike exterior architecture, to our comfortable community areas and choice of suites to our exceptional outdoor gardens and landscaping.
Look around and you?ll notice fresh flowers throughout the residence, and you may even spot our dog or our cat. And of course, there are always the friendly smiling faces of our staff to ensure that each day spent here is a welcome one.
Features of Sunrise of Bloomingdale
---
Location of Sunrise of Bloomingdale
---
Get Cost Information
Get full access to reviews, cost information, and amenities