Franciscan Manor
71 Darlington Road, Beaver Falls, PA, 15010
Talk to a Family Advisor: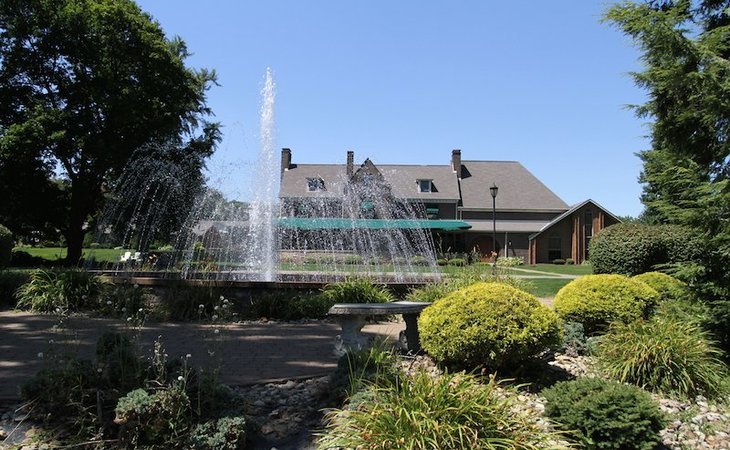 Reviews of Franciscan Manor
---
Deborah Stewart
February 11, 2017
I visited this facility
The decision to move my Dad to assisted living was most difficult. He had been fiercely independent his entire life and I felt we were taking all of his dignity from him. Once my Mother died in December of 2015 he became more diminished and overwhelmed while living in his own home and I knew that he was at risk. After numerous falls and trips to the ED and hospital I placed him in a facility near his home and he continued to deteriorate and finally became so ill that he had to be hospitalized with sepsis. My Dad had been neglected. It was then that I visited Franciscan Manor and met with Rex and Melissa and they introduced me to their beautiful, gracious facility. Dad was discharged from the hospital before we had all arrangements finalized yet they arranged temporary quarters for him until his permanent room was ready. He is now settled into his lovely room with furnishings and pictures from home and he is doing very well. The staff is friendly and knowledgeable and quickly responds to any questions or concerns I may have. My six siblings live all across the country and when they visit I am proud to take them to the Manor and they agree that Dad is thriving there. He will be 90 years old this month and I am so grateful that he is living in a place where he has peace and dignity and his needs are met with compassion and caring. And so I give 5 stars to lovely Franciscan Manor and all who work there and thank God for the peace of mind that their expertise and caring give to me and my family.
---
Susan724077
November 02, 2016
I visited this facility
Franciscan Manor was nice. They had activities like playing cards and crafting. They had a trail that they could go on and walk. They had a place to sit outside -- a good porch -- and it looked almost like a park. Their grounds were nice. I only talked to one person, and she answered whatever question I asked. She was informative on most parts. I saw their room. What I did not like was that they would charge her $25 to take her to her doctors. They had their own doctor there.
---
RB128870
July 28, 2016
I visited this facility
Franciscan Manor was a beautiful place and top of the line. The food was wonderful and above average. The rooms were small. It's an old monastery wherein they added on rooms. They had more activities than any of the other places and a greenhouse. They're a little expensive, but you get what you pay for.
---
TheGeneral@1970
July 29, 2015
I am a friend or relative of resident
My father recently moved in to Franciscan Manor and my family and I couldn't be more happy!! Over the past few months my father has been in and out of the hospital and I had to make that dreaded decision to move him to assisted care. When I first toured the Manor I felt welcomed and important. The residents that I meant seemed happy, cared for and involved in the community. The staff that I meant were friendly and professional. At the end of my visit, I knew that eventually my dad would be happy there also. Now when I visit my dad, the staff are always friendly and give me updates on my dad's day. I appreciate that so much! He is getting stronger and has not had a visit to the hospital since moving in. I can't be there everyday, but I have the peace of mind knowing that there are professionals that care about my dad and are taking care of him. He was recently introduced to a gentleman that was also in the war and I often find them sitting on that beautiful front porch in the evening swapping war stories! Thank you Franciscan Manor for giving my dad the quality of life that he truly deserves!!
---
Caring109540650
July 14, 2015
I visited this facility
We did go to Franciscan Manor. This facility didn't seem very conducive for senior living. The reason I say that is because the building is a very old mansion converted into an assisted living facility, and it has a lot of character and beautiful attributes to it; however, I don't see how someone with a wheelchair or a walker would be able to get around where all the extracurricular activity area are in this old mansion that has narrow entry and columns in the middle of the aisles. I don't see how my grandmother would have been able to get around there using her cane or walker. However, the staff was very friendly. Everyone was very friendly and very helpful. The staff seemed to have a great relationship with the residents.
Provider Response
Thank you for your post. Yes, our campus is made up of The Manor, which was a family estate built for a steel baron. It then was converted into a Franciscan Monastery in the 1950's. In 1997 local investors purchased the property and added a two story Assisted Living onto the back which is purposely built for AL, including private rooms, large/wide hallways, activity room, common areas including beauty shop, seating areas and many more options. We invite you back to get a complete tour of our beautiful campus so you can see the entire campus, including the area of Assisted Living, which easily accommodate wheelchairs and walkers. We are very proud of our gorgeous campus, including the heritage it brings, our Assisted Living portion and would love the opportunity to show you the entire picture. Thank you again for your post. Rex Pagani, Executive Director.
---
Caring106608650
May 17, 2015
I am a friend or relative of a resident
My sister is currently in Franciscan Manor. We chose it because my father-in-law was there in 2009, and we are pleased with their care for him. When it was suggested, we jumped at the chance to have my sister there. Franciscan Manor is a very excellent assisted living facility. They also keep people a little bit longer than most assisted living communities will. They actually kept my father-in-law through hospice up to the very end. That we consider good because we potentially will not have to move my sister to another facility when she gets very ill. They have a variety of rooms. My sister is in a private room. They also have semi-private rooms either with a wall between them or not. They have a lot of activities, and they have a van that will take people to different shopping and activities outside the community also.
---
Frank26
August 29, 2014
I am/was a resident of this facility
My sister was in the Franciscan Manor for about two weeks and it was just like a respite stay that doctors recommended for her. She liked it there very much. Everyone we dealt with was very good and she had no problems with anyone. The security and maintenance were excellent. I didn't eat there, but my sister said that the food was very good, and she is pretty picky. I didn't see too much of the activities, but I know they have a lot of grounds for people to walk around and they have very nice porch and everything for outdoor activities. I saw a lot of people just walking on the grounds. I think they had physical therapy and things like that, my sister was telling me. The room was very nice and it was very expensive. It was one of the more expensive ones, but for what you are paying, you will get what you pay for. As far as anything that they could do, I think it was very excellent all around. When you first pull into the driveway and you look at it, it is really nice. I think it was a monastery that they turned into a nursing home, but the grounds are just beautiful. There are trees and a beautiful porch for people to sit and relax, so I guess it was just really the looks of the facility itself that impressed me the most. If I had to go somewhere, I would go there myself.
---
gigismom
August 14, 2014
I am a friend or relative of resident
Just placed my loved one there and am rethinking my decision. Staff is not trained to deal with dementia patients. I often find my loved one in soiled clothes that were worn the day before. Because of the lack of changing, the bed is usually soiled as well. It is my feeling that he is looked at as a burden, and I get calls at all hours of the day because they cannot relate to him or his needs. It is sad enough to have to put a loved in in a care facility, but I am distraught that his quality of care is so low. Because of the dementia, I am reluctant to look for another facility. But this may have to happen to increase his quality of life. On the upside, the place is beautiful and the administrative staff are very helpful. My loved one likes the food that is provided. I feel that more training is necessary on dealing with dementia patients and most importantly the families that come with them.
Provider Response
Thank you for your feedback. I am the Executive Director and I would appreciate the opportunity to meet with you regarding your concerns. Our goal is to deliver clinical excellence in a setting with the warmth and hospitality of home. The care, comfort and happiness of our residents and the peace of mind of our families is very important to me and the team. Please contact me so we can arrange a time that works for your schedule. I think our collaboration will result in a communication plan that meets the needs of you and your loved one.

Rex Pagani, Executive Director, Franciscan Manor
---
Caring80657150
April 02, 2014
I visited this facility
Franciscan Manor is an old mansion. It was built by a head honcho of the steel mill, a tycoon who settled in the area when the steel mill was big, around WWII. So this mansion was originally built for the family of a wealthy dude. They wheeled it to the Franciscan monk, which they built on a church. You walk into the place, and it's very grand, very elegant, like you're walking into a grand theater. It has an expensive feel. They've kept all the antique furniture and the grand piano from the old place. The place feels like you're living large. They have anything from a private room to bigger bedrooms, and then they have suites. Everything is bright. They have beautiful outdoor space. They have a front porch for activities such as cookouts and picnics, and they have entertainment out there. They have a big huge fountain in the summertime. The grounds are beautiful, and the parking is pretty abundant. The food there is awesome. It's different. There's more stuff that I've never heard of. The person who cooks is a chef. The staff knows all of the residents' names, and they're very friendly. I haven't seen anybody in a bad mood yet. They have activities, like bingo, exercises, and they have entertainment that comes in, like guitar players, and singers. Their calendar is pretty full up for the week, which is something. They have a small but organized library, a beauty shop, and a little gift store. The cafeteria is where the monks used to have their church. And you can tell by the décor and the stained glass windows that this is an old church. They have tablecloths and real flowers in the middle of tables. The residents have assigned seats, but they keep it organized. There's no locked doors or anything. If there's a resident who has Alzheimer's, or has a habit of going outside and getting lost or walking away, if they go past the door that's open an alarm goes off. So they have a way of keeping track without making the residents feel like they're in a cage. The rooms are bright, cheerful, and have windows.
---
Carrie1
September 22, 2012
I visited this facility
The facility is a Catholic based home. It is large, spacious and very well taken care of. The grounds are lovely. The residents can have a car. The rooms can be couples or singles. There are varying sizes of rooms which are pretty typical with a bathroom, sleeping area and sitting area. There is a large and lovely common eating room which looks like a restaurant with alot of variety in the menu. There were many activities planned both on the property like exercise classes, art classes, knitting, bingo, gardening, cards and games and those activities planned off the property like field trips out of town or trips to the stores in the area. There is a lovely chapel on the property and Mass is always offered. All in all it was a nice facility. My parents do not need the level of care offered there at this time and they are still in their own home but it was good to see a lovely facility such as this.
---
robert s
August 08, 2012
I am a friend or relative of a resident
this facility is a 2 story faclility with an adequate staff for taking care of its occupants. The staff is exceptionally friendy, knowledgable and committed, to the care and assistance of its elderly inhabitants. The meals are well proportioned and actually edible. The structure is well maintaned and very clean. I highly recomend this faclility.
---
Mary4u2
January 26, 2012
I visited this facility
My family was recently forced to make the decision to place mom in an assisted living facility. Mom was not in favor of this decision, but at 86 years old we and even she could see that she was just not able to live alone any longer. My brothers and I visited and researched several facilities. We toured Franciscan Manor and was very impressed with what we saw. Not only was the physical appearance breathtaking, the residents themselves looked happy and cared for. After more research and another tour we moved mom into Franciscan Manor. Although it took mom some time to adjust, I feel like the staff went above what we expecting to make mom comfortable and get her involved. She has been at the manor for over 7 months. My family and I could not be more happy and pleased. The care staff as well as the administration are always available to answer questions or lend a shoulder to cry on. When I visit my mom and see her playing bingo or singing in the choir it brings tears to my eyes. She is happy and safe. Thank you.
---
sar4ah
December 15, 2011
I am a friend or relative of resident
We had family for quite a few years at FM. Although there were some effcient caring workers, we found the nursing director and overall director to not be helpful or in touch with what needed to happen., The care was poor for the resident. Often I would look for 10 minutes before I found an aide on the floor. They often took breaks together. This is NOT a place to put someone with dementia or with any even minor health needs. We wish we would not have gone there.A nurse does not hand out meds...anyone with a bit of training can do so, which is not a good idea.
---
perfectxdiscord
September 30, 2011
I am a friend or relative of a resident
When we made the decision to put my grandfather into a nursing home, we hoped that Fransiscan Manor would put the time and effort into assisting him and making his life easier. Since most patients in this facility are mostly or fully ambulatory, we thought that they would have more time to devote to his specific needs (he is unable to walk) We have found the exact opposite to be true. Staff finds his condition more of a burden than anything, and he rarely even leaves his room to go to meals.We visit him often and are always saddened by how unhappy he seems. Additionally, he almost always smells like urine. We have voiced our complaints to staff several times, but generally with no results and false promises. The appearance of Fransiscan Manor is the only thing that is pleasant. Staff is generally friendly and fairly consistent, but they are so short-staffed it is impossible for patients to get the care they need.We are currently looking for a new facility for my grandfather. Hopefully somewhere that can improve his quality of life.
---
---
Franciscan Manor offers compassionate senior care in Beaver Falls, PA. We strive to create a home-like atmosphere where you and your loved ones can feel secure. Our warm, well-trained staff works closely with our residents to provide the utmost care and comfort. As part of the Five Star corporation, you can be sure that everyone at Franciscan Manor shares the Five Star Values, and is committed to a high level of caring in all that they do. Please schedule a visit to see why we are the first choice in senior care in Beaver Falls, PA.
What Makes Us Special
---
Former mansion for families & residents to visit or hold private parties. Conservatory for residents to bring plants from home. Bed & breakfast available for out of town familiy members to use. Seven days a week activities. Beautiful grounds to walk. Large front veranda with a perfect view of the fountain.
Features of Franciscan Manor
---
Costs
Minimum Rate:

$3844/month

Rent Plus Care Fees
Entry Fee
Room and housing options
Companion Suites:

We Do Offer Companion Suites.

Studio Apartments
Features
Beauty Barber Shop
Computer Room
Resident Transportation
Party Space
General Store
Garden And Patio
Resident Parking
Spa
Features Extra:

Library
Cleaning services
Laundry For Linens
Private Cleaning Services
Housekeeping
Laundry For Clothing
Technology and entertainment
Cable In Rooms
Technology Extra:

Emergency Call System
Health services
Hospice Care
Medication Management
Physical Therapy
Nurse On Staff:

Yes
Activities
Offsite Activities
Music
Games
Stories
Religious Services
Lectures Discussions
Book Clubs
Fitness Room
Gardening
Activities Extra:

Computer Class
Financial guidance
Va Benefits Consultation
Financing Advice
Guest services
Guest Parking
Guests At Mealtime
Overnight Guests
General
Pets:

Small Pets Allowed.
Licenses
Licenses:

Personal Care Home
Location of Franciscan Manor
---
Get Cost Information
Get full access to reviews, cost information, and amenities