Brookdale Gaines Ranch
4409 Gaines Ranch Loop, Austin, TX, 78735
Talk to a Family Advisor: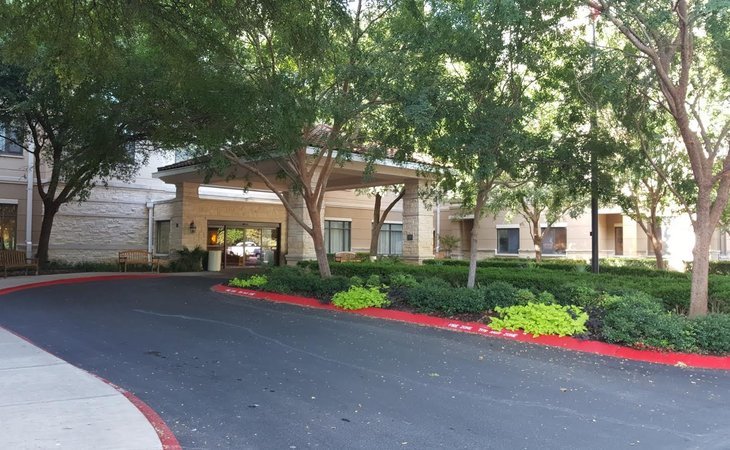 Reviews of Brookdale Gaines Ranch
---
Susan R1
October 29, 2015
I visited this facility
Brookdale Gaines Ranch was the one that we felt was most affordable and the easiest to access for me when I go on visits. It was not brand new, but it was very well-kept up and grounds were beautiful. The inside was very nice. They had a lunch menu on a whiteboard, and they showed me some other menus. It looks like the people eat very well there. Everything was very clean, and it almost felt like you were walking into an upscale hotel. The staff was very nice. I would put my father there in a minute. They had different room sizes, and one of the things that I really like is that they're willing to work with you to get the bathroom exactly like how you need it to be. My father's balance is such a big deal, which makes his bathroom and especially big deal. When I walked in, it was definitely very positive. What struck me the most were the residents. They seemed very at ease and content, alert, and happy to be there.
---
Rhonda24
July 20, 2015
I visited this facility
The staff at Brookdale Gaines Ranch is wonderful. We work with John and Aaron, and they are both just really amazing. Everyone is just so nice. My parents just love it, and my dad says that everything there is positive. The food is good, and everything is great. They have not moved in yet, but they are actually redoing the whole thing for them. That is a pretty big apartment, and it is going to be all brand new. They a have pool, therapy, a pool table, arts & crafts, and a craft room. They have all kinds of parties, happy hour, and things like that all the time. The place is pretty safe. The people that work there are wonderful and even the people where you eat. They worked there for a long time, so they know the residents.
---
Caring103357750
April 03, 2015
I visited this facility
I think it is very nice. It is about four or five stories, so it has elevators. The Heritage doesn't have cottages, and it is set up like a hotel. They are remodeling right now, and I think it is going to be nice. It has good food, and they have a beautiful swimming pool.
---
Caring103960650
March 27, 2015
I visited this facility
I visited Brookdale at Gaines Ranch. The food was good. The dining room is all right. The staff is very helpful and very friendly. They had as many or more activities than the other places. There were a lot of things going on. They could improve on having washers & dryers in the units. They were very nice, but expensive.
---
Caring84304550
July 10, 2014
I am a friend or relative of a resident
We've moved my mom to the Heritage. There were 3 assisted living places that were highly rated in Austin, and this is the one I chose. The staff seemed extremely friendly. The infrastructure seemed quite good: nice, big lobby, nice dining areas, and the assisted living floor had nurses there 16 hours a day. What I like are the staff. Their work ethics seem quite good. They only have private rooms. There are no shared rooms. It's probably 300 or 400 sq. ft. I've eaten there; the food is good. There's always an activity inside, and they take them outside also. There are 3 activities a day. There are activities in the morning. There's an afternoon something. There's an evening something.
---
Deborah29
March 26, 2014
I visited this facility
Heritage doesn't have a memory care unit, but it was good. The staff was very knowledgeable. They didn't seemed very involved with their residents.
---
Caring75314850
December 30, 2013
I visited this facility
Heritage was fine. It had a nice and very friendly environment. The lady who helped us was very nice. Everybody looked happy. It wasn't a huge facility. So when you came in, it had family kind of feeling.
---
June10
December 30, 2013
I visited this facility
I have been to Heritage to visit two of my friend who currently lives there. The facility is impeccable. It is very clean. The working staff is phenomenal and so nice. They have a lot to offer their clientele. They have a lot of activities. They have an exercise room and indoor pool for older people, which is accessible. The food is wonderful.
---
William19
November 22, 2013
I am a friend or relative of a resident
My mom was in the assisted living facility at Heritage at Gaines Ranch and it was very nice. She was comfortable when she was there. I had lunch a couple times there with her and the food was good.
---
Bernard5
August 28, 2013
I visited this facility
We visited Heritage at Gaines Ranch because we looked for a facility for mom. The place was very nice and upscale. It was very clean and there were a lot of amenities. The living environment was spacious, clean and there were a lot of activities.They had an activity room, library, dining room and rehabilitation facilities. However, we did not see any of the rooms. The staff were very accommodating, friendly and knowledgeable. I would recommend this place to others.
---
Resident's daughter1
August 15, 2013
I am a friend or relative of a resident
For eight years I have been providing aide and support to my 96 year-old parent, whom I moved from another city to be closer to a family member. I have visited and witnessed 8-10 other comparable assisted living facilities in the sourrounding area. With the eight years of longevity in this facility, it has proven to be one of the finest, attractive and well-appointed retirement/independent living/assisted living centers in the Austin area. The staff is almost always very helpful, friendly, responsive to all nature of needs, and professionally far above average. The Heritage, for the most part, does their utmost to keep their residents happy, well fed/nourished, and entertained with a wide variety of activities. As with any facility, there are a few observations that I would make and hope for improvement for others who are in the same physical predicament as my parent: (1) devote more energy and attention towards keeping the "shut-in" residents entertained by matching them with other residents who might visit and play puzzles, listen to music, offer pet visits, etc.; (2) not every staffing shortage needs to be observed by residents/family members, but dealt with as best possible and not as an excuse for that day's substandard care; and (3) assisted living staff could be more cooperative and work together in problem-solving with outside hospice agencies for the sake of optimal patient care - again, the problems along the way don't need to be the resident's or family member's problems. While these shortcomings may seem significant to a reader, on the whole they could be easily overcome if others also critiqued in similar fashion. But, without a doubt, I hope to never have to move this parent to a different facility; and if I did, it would be because of funding shortage and in no way due to a lack of loving support and quality care at the Heritage at Gaines Ranch.
---
commercesd
May 30, 2012
I visited this facility
While visiting my brother in Austin, part of our agenda was to help his friend find an assisted living facility. The staff was immediately accommodating and asked all of our questions patiently. They really seem to understand how challenging this process can be. The grounds were designed like a hotel or resort and the lobby was fresh and bright. We noticed immediately that their library was impressive, with many good books and games. They also offer Internet access. The fitness center had well maintained equipment and ample rooms, including a pool, which my brother's friend really liked, as he has always been an active swimmer. They also had daily classes and the residents could safely navigate the lovely grounds for exercise. The meal menus all had healthy food options for all kinds of diets. The dining room was quite nice, with plenty of space. The food we saw looked and smelled delicious. Healthy snacks are offered all day and into the evening, as well as whenever residents request them. The living spaces were generous, beautifully designed and comfortable. The residents are regularly taken to many interesting events in the region -- so they get to take advantage of Austin's vast cultural diversity. The many planned activities feature everything from book readings and discussions to the arts, museums, galleries, film, theater and the extensive music scene. It has been a challenge to find a place that suits all of my brother's friend's eeds. The Heritage is a place that he is strongly considering to live in. This says a lot, given that he is so precise about what he is looking for.
---
margitjld
May 18, 2012
I visited this facility
My mother had a sudden and drastic turn in health that necessitated her moving from her condo to a more structured environment. She was a little concerned about moving to a "nursing home" but when we walked in the door her jaw dropped. It's a beautiful place with wonderful amenities but the best part is the staff. Everyone knew my mom's name by the second day she was there. They take great care of the residents and their families
---
bbjames
March 26, 2012
I am a friend or relative of a resident
My family had took look over my grandmother for a long time. She had a lot of pride about her independence, and didn't want to live in any conditions she found condescending or unsanitary. We spent years trying to find a place for her, and this is the only place she would consent to live in. I never visited the place myself, but my grandmother had nothing negative to say about it - which is incredible considering how adverse she was to living in an assisted living facility. She would go on and on about its cleanliness and the staff's professionalism. Her only complaint was that some of the other seniors were not active or interesting enough, but that is a complaint she had and has about most people her age. Knowing her reaction to this place, and knowing how picky she is in general, I would be happy to know that any of my relatives were staying there. Even the more obstinate ones.
---
Michael F.
September 09, 2011
I visited this facility
I was amazed by the staff friendliness and the overall tidiness of this facility. Not only did they have a full-size lap pool for the guests, but they also have staff to help keep the clients in shape. That alone is much different from most that I have visited - where it is strictly meals, bathtime, and off to bed in your confined (but shared) room. I would definitely recommend this to anyone that is looking for a place for their loved one to stay.
---
From Brookdale Gaines Ranch
---
Brookdale Gaines Ranch provides assisted living residents with lifestyles, housing, and services in comfortable surroundings combined with exceptional amenities, programs, and care. Through Brookdale's signature Personalized Assisted Living, we customize our care offerings for the individual. This allows each resident at our community the freedom and opportunity to make choices that will ease their lifestyle transitions. Residents enjoy life with the support they need, coupled with the appropriate accommodations as their needs change.
We promise Respect for Individual Preferences by offering personalized care needs and providing an atmosphere that encourages each assisted living resident to live in health and longevity. We also offer special housing and care options for those who require assistance with the activities of daily living such as dressing, bathing and assistance with medication. We offer graduated levels of care based upon the individual need of residents, as determined by our continual assessment process. We are dedicated to enriching the lives of residents every day with signature services for those who value their freedom and independence, but desire or need services providing them with the highest level of quality, care, and value.
Features of Brookdale Gaines Ranch
---
Room and housing options
1-bedroom apartments
2-bedroom apartments
Studio Apartments
Location of Brookdale Gaines Ranch
---
Get Cost Information
Get full access to reviews, cost information, and amenities