Tamarack Assisted Living Center
1224 E. Tamarack Road, Altus, OK, 73521
Talk to a Family Advisor: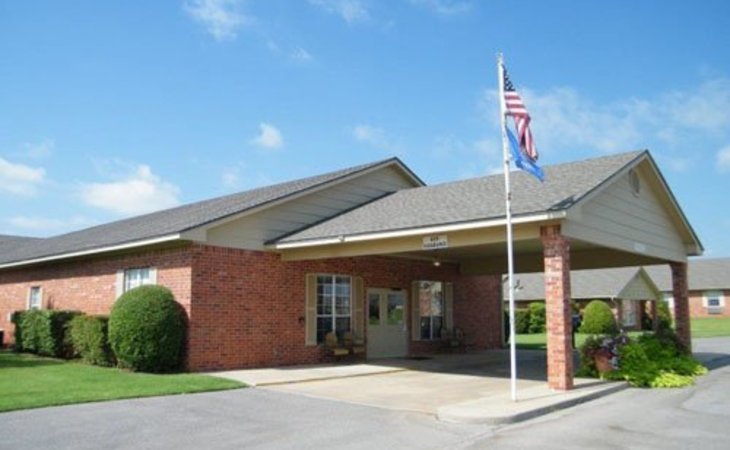 Reviews of Tamarack Assisted Living Center
---
Tim and Kathy Gray
September 12, 2016
I am a friend or relative of a resident
I have visited Tamarack many times over the years - to visit residents and also with our church choir, to present Christmas music for the residents there. It is a wonderful place, always beautifully decorated and furnished. When the choir is there, we always feel welcomed by the staff - they graciously accommodate all the needs that our group has. That presentation of our Christmas music at Tamarack is always a highlight of the season for me! When my mother and father-in-law decided that it was time for them to move into an assisted living center, we were happy that they chose Tamarack.. Even though they have only been there a short time, we are very impressed with the care and service that they receive. Mom and Dad are happy, and always mention the attention and care they receive, The staff are pleasant, considerate and seem to want to make things the best for all the residents., I agree with another reviewer - the people make the difference! The staff and administrators are welcoming every time and the residents we encounter are friendly and seem happy. That is an sign of a great facility! We just held Mom and Dad's 70th Anniversary party at the center last weekend.; the activity room was a perfect place to host a party! We highly recommend Tamarack!
Provider Response
Thank you so much, Tim and Kathy! We have appreciated your Christmas Cantata presentations over the years! They have become tradition at Tamarack now, and they always are a highlight for us, too!!!!! We LOVE your Mom and Dad! They are an awesome couple, and it was such a privilege to get to share in their 70th anniversary party. What a special and precious couple..............still so in love after all these years! Thank you for putting your confidence in Tamarack, and they you for the wonderful recommendation! We agree with you that "the people make the difference"!!! All your family are a part of those people that make such a difference here!
---
jking8246
August 29, 2016
I visited this facility
The staff is the best, the facility is second to none and all my friends who live there seem very pleased. I hear many excellent comments throughout the community about Tamarack.
Provider Response
Thank you! Please come again and visit your friends!
---
dtdena
August 23, 2016
I am a friend or relative of resident
My parents moved to Tamarack in August 2015. My mother has Alzheimer's and my father was in poor health. The staff at Tamarack are excellent. I don't worry anymore like I used to when they were living at home as I know the staff at Tamarack are there to assist them with any additional help they need. They engaged my mother in all kinds of activities, which has kept her mind alert. I couldn't ask for a better place and staff to assist me with caring for my parents.
---
D4now
August 18, 2016
I am a friend or relative of resident
My Mom has been at Tamarack for better than 6 mo. now and is healthier physically, socially, and emotionally than she has been in several years!! The Staff,, friends she has made, getting well balanced as well as nutritional meals,and getting her meds in a timely manner has been a super big help in her health. Her disposition is so great that we love visiting and also visiting other residents. Such a positive environment, we couldn't ask for a better place for her to spend this time of her life. I truly hope that I can find a place like Tamarack if I ever need a place to live!
Provider Response
Thankfully, we have seen such improvement with many people who have moved into Tamarack. People usually really prefer to stay at home, but home isn't what it used to be when the person was active and getting out in the community. The person isn't getting much social stimulation, and the disposition that you mentioned often tends to go down. Nutritional meals do make a big difference in health and as people age, cooking is not a priority. Eating is a social activity, and eating alone is not fun. Getting meds on time is very important, too. It's true that people who come to Tamarack end up visiting with a lot of the residents. Thank you so much for your review. We are very happy that we are here for your mom.
---
Karen Womack
August 17, 2016
I am a friend or relative of resident
Change is always difficult at first. For all of us, but even more so as we get older. Our Mom was at two other facilities where we found the care to be substandard. But when she settled into Tamarack it was like coming home! She LOVED it. She considered the caregivers her family. Everyone there seems to have one goal...to assist! Mom was treated like a celebrity! She had her meals prepared, apartment cleaned, laundry done, meds correctly given, and transportation provided as needed. She loved getting manicures, pedicures. There's a full service salon there too. They have fun activities planned and special events and entertainment. Even a church service on Tuesdays, and bus transportation on Sunday.
But the best thing about Tamarack Assisted Living? The people. The tender loving care, the genuine concern for each one there. The residents watch out for each other too..
My mother resided at Tamarack for 6 years. She got her Promotion to Jesus just 2 weeks ago on August 1. The workers would go in to check on her frequently...and then go out in the hall to weep, knowing her departure would be soon. When she was in the hospital earlier, many of the workers came to see her...even the cook who was especially loved by Mom and all of our family. Several came to her Celebrstion of life ceremony and wept with us. Tamarack is not just another facility...its home. For most, it is loved MORE than home. Health improves, joy returns....the family is able to experience relief from stress over the care of their loved one. What a luxury to be free of constant worry!!
Provider Response
Thank you so much for your review. We loved your mom, and she added so much to our Tamarack family. You mentioned the things that we did for her, but she did many things for us. One was LOVE US! She always had a smile and something sweet to say. She shared her love of God with us on a daily basis. She shared her love with other residents, too. We enjoyed her painting and musical talents, too! You are so right when you say "the best thing about Tamarack Assisted Living.....the people." The residents truly love each other and do watch out for each other. Please continue to come to visit us when you are in town! Not only do we miss residents terribly when they are no longer with us, but we miss families!!!!!!!! Luckily, a lot of them do continue to keep in touch and visit.
---
pkson
July 15, 2016
I am a friend or relative of resident
My mother moved into Tamarack about 3 months ago and it's even better than I hoped for. These are some of the reasons why. At home many days she was not even getting dressed. At Tamarack she gets up and gets dressed before breakfast and puts on her makeup and jewelry, too. She goes to the Tamarack beauty shop every week and Morgan does a great job on her hair. At home she was not eating a balanced diet, and at Tamarack she has three balanced meals and LOVES the food. At home she had no social and mental stimulation, and at Tamarack she has both from other residents and staff. She loves her new friends and the Tamarack staff that pampers her. These are some of the reasons I give Tamarack a 5 star rating. I would certainly recommend it to others.
Provider Response
It is awesome to read what you said about your mother getting dressed every day and putting on her makeup and jewelry since she moved to Tamarack. Your review talks about social stimulation and good nutrition that we can provide, and people who live alone often don't get these things at home. You didn't mention medication, but if we give your mother her medication, often times regular medication is another thing that helps a resident do better when they get to Tamarack than they were doing at home. We appreciate your taking the time to review us and give us a 5 star rating.
---
Home Health RN
April 18, 2016
I visited this facility
I work in healthcare and have had family members as residents at Tamarack Assisted Living. I can honestly say that there is no other place that I would want my loved ones to reside based on my personal and professional experience with Tamarack. Every staff member at Tamarack is caring and compassionate and they really do anything they can to provide a wonderful environment for both the patients and the staff. Happy staff equals excellent environment. Everyone from the top administration to the dietary staff, to the maintenance folks do an excellent job and are always friendly, helpful, and attentive to both residents and visitors. The nursing staff is absolutely top notch with tremendous leadership. I've had family that have lived there and know many of the residents by name. Each and every one of them has always been thrilled to be at the clean, fun, and relaxing environment that Tamarack provides. I always think the highest compliment a long term living facility can receive is that you would want your parents to live there and there is nowhere else that I would want my parents to live when the time comes. Thanks to Tamarack for everything they do, every day! They are the best!
Provider Response
Thank you so much! We CERTAINLY APPRECIATE your confidence in us from your being both an RN and a family member. We love our residents, and it is a privilege to get to know them and their family members. Family is always welcome at Tamarack, and it's pretty special that families come in and get to know and visit with many of our residents. Many people don't realize that if a person needs home health care, home health is available to people who live in assisted living just like it is available to people who live in their own homes. This adds another level of care for that person. We appreciate our home health nurses so much because we know what they can add to the care of our residents. Thank you for your review!!!!!!!
---
LuckyNiece
February 17, 2016
I visited this facility
My Aunt has been "home" at Tamarack for 3 years. Everyone here is so nice. All of the staff go above and beyond and I haven't met any of the residents that I didn't think we're top notch! Tamarack Assisted Living......you are the best!
Provider Response
Thank you very much! We appreciate your sweet words, and we hope you know that you are welcome to visit your aunt any time. Having residents and family call us "home" is one of the best compliments that we receive!!!!!!
---
Leah Andrews
October 16, 2015
I am a friend or relative of resident
My parents stayed at Tamarack Assisted Living for a short while. This facility breaks the stereotype of long term care living. The facility and staff were the best at making residents feel at home. They give the gifts that keeps on giving like dignity, respect and compassion. Thank you to all the staff for the wonderful care you provide each day to you residents.
Provider Response
Thank you so much! We love what we do at Tamarack, and it was delightful to have your parents here.
---
Caring112809850
September 07, 2015
I visited this facility
We had a really good visit at Tamarack Assisted Living Center. It's a fantastic place. The staff was really very nice. I was very impressed with the facility.
Provider Response
Thank you very much. Come back and visit any time!
---
Carman L
August 31, 2015
I am a friend or relative of resident
My mom got such great care while at Tamarack! I've visited in many assisted living centers in the Oklahoma City and Wichita areas and not one was up to the standards of care that Tamarack exhibits. Residents are treated in a dignified manner at all times and with much encouragement. Mom thrived in that environment of friendliness and helpfulness, loving all the residents and caregivers. Kay and Mary are top notch and keep things relaxed and make it fun for everyone, both the residents and their family members.
Provider Response
Thank you so much! Your mom was an ABSOLUTE DELIGHT when she lived at Tamarack, and we LOVED all her wonderful family that frequently came to visit!!!!! The toughest thing is when a resident has to leave assisted living when they exceed assisted living care. We miss the resident and the family terribly! Come back to visit us any time!!!!
---
JoLev
February 24, 2015
I am a friend or relative of resident
My step mother has been a resident at Tamarack for several months and my dad is a new resident there following a fall and hospital stay early this month. I really appreciate the "heart" you see in the staff at the facility. They all try very hard to make the lives of our loved ones enjoyable and fun in their golden years. They were very helpful in helping my dad make the transition from the rehabilitation hospital to Tamarack simple. He seems happy and feels well cared for. As a child who lives several hours away, this gives me peace of mind. In addition, I appreciate the fact that staff will pick up the phone and let me know of any changes that may occur. Thanks for the great work you do.
Provider Response
Thank you so much! It has been a pleasure to have your step mother here, and it's great to have your dad now. We're also so happy t have you as a part of what we consider our "Tamarack family". Don't ever hesitate to call us when you have a question about them or if we can help you.
---
Christy Woods
February 07, 2015
I am a friend or relative of resident
My grandmother was at Tamarack for several years. The staff are all wonderful! The facility is clean, well maintained, and welcoming. If you need anything, they will go out of their way to help you get it.
Provider Response
We LOVED your grandmother when she lived at Tamarack. We still remember how "spiffy" she liked to dress with all her beautiful jewelry that she wore. We also enjoyed you, Christy, when you would come see her. You need to just come see us!
---
NanT
September 18, 2014
I am a friend or relative of resident
My mother is a resident of Tamarack Assisted Living Center. Moving there was her choice. She knew she could no longer live alone and didn't want to live with her children. Our whole family is happy because she is happy. Several of her life-long friends are there and she meets new residents every day. The staff is WONDERfUL. They are all so attentive and helpful. She loves the food and taking part in the social activities. All her needs are met such as getting her hair done once a week, laundry service and rides to doctor appointments. There always seems to be something fun going on. Tamarack is homey and beautifully decorated. Mother says it's like living in a luxury hotel. Our family couldn't be more pleased with the facility. I look forward to living there someday.
Provider Response
Thank you SOOOOOOOO much! Your mother is fun, fabulous, and a great addition to our wonderful residents!
---
Counelor48
January 24, 2014
I am a friend or relative of resident
My Mom was a resident at Tamarack Assisted Living Center for approx. a year. She enjoyed all aspects of living there. Bingo, the Horse Races, and other activities take precedence over me at times when there was a hot bingo game! :) It made me smile when I knew she was having fun with her friends. She enjoyed both her new friends that she met as well as having great care keepers. I always felt that Mom was receiving the very best in care at all times. I noticed that the personnel took time to know the names of each resident as well as their interests, likes, etc. It was like living with a large family. I have a small Cocker Spaniel who loved going to Tamarack. I knew the residents who wanted to see Hayley and I think both Hayley and the residents left happier when we went home. My cousin worked in DHS in nursing homes, assisted living facilities in Texas for 25 yrs. He could not believe both the beautiful facility and the friendly staff at Tamarack. I don't think Mom could have been in a better place than Tamarack Assisted Living Center.
---
dand
January 19, 2014
I am a friend or relative of resident
My folks have been residents at TALC since 2005. As other reviews mention, it is a very nice facility and they have a great staff. During the time they've been there, both of my parents had to spend a few months in a nursing home and were then able to "move back home" to Tamarack. It's a load off our minds knowing that they're well taken care of. Our family certainly recommends TALC for someone needing assisted living care. Thanks!
---
bodot
January 17, 2014
I am a friend or relative of resident
My mother, who lived in another state, just recently moved into Tamarack Assisted Living. It is a well run, clean, caring place. I have not encountered any employee that wasn't happy when they greeted any of us, including my mother. All employees have been so helpful in helping her make this transition. We are very happy we made Tamarack our choice.
---
Lynn Pinson
January 16, 2014
I am a friend or relative of resident
My brother was a resident of Tamarack for three years. He, as well as the entire family, found Tamarack to be as close to home as home could be. All the staff, nurses, and aides were extremely caring and we never worried about his welfare. He enjoyed his stay there. Our family highly recommends Tamarack Assisted Living.
---
terrydw
January 16, 2014
I visited this facility
I was so impressed by the warm, friendly, clean environment of Tamarack. I was will to consider a reservation for myself - not just a family member or friend. Love the staff.
---
ronstoppable
January 16, 2014
I am a friend or relative of resident
My mom is a resident at Tamarack and has been there over 1 1/2 years. Honestly, I have never seen her happier. She does things now that she had never done before in her life. Plays games, volunteers, gets out and about, and loves helping others. She frequently tells me how much she enjoys being at Tamarack, loves the people, and the staff. The facility is very clean in all manner and the staff is truly wonderful. All are friendly, professional, and above all, caring. I often go by at different times and days and find it always consistent. A person would be hard pressed to find a nicer place to live for themselves or a loved one.
---
With appreciation
January 16, 2014
I am a friend or relative of resident
What a wonderful facility! It is clean and well managed. Most of all, it is full of caring people who have tons of patience and positive attitudes.
---
From Tamarack Assisted Living Center
---
Tamarack Assisted Living's approach provides the ideal solution for seniors who may need some help with daily activities such as meals, housekeeping, transportation, bathing, dressing, and medication reminders. Tamarack focuses on wellness and keeping residents as independent as possible by providing a tailored plan of assistance. Our residents enjoy beautiful living spaces, delicious meals, engaging social activities, transportation, and personalized assistance and care.
What Makes Us Special
---
Tamarack residents say that the accommodating, friendly, helpful staff who are always ready to assist you are what makes Tamarack stand out above all other assisted livings. They also say that it's not home, but it's the next best thing.
Features of Tamarack Assisted Living Center
---
Costs
Minimum Rate

$2565/month

Rent Plus Care Fees
Room and housing options
1-bedroom apartments
2-bedroom apartments
Companion Suites

We Do Not Offer Companion Suites

Studio Apartments
Features
Beauty Barber Shop
Resident Transportation
Party Space
Tv Room
Garden And Patio
Resident Parking
Features Extra

Generator In Case Of Lost Electrical Power, State Of The Art Wireless Call System For Every Resident, Fire Safety System And Video Surveillance, Individual Apartment Heating And Air Conditioning.
Cleaning services
Laundry For Linens
Private Cleaning Services
Housekeeping
Laundry For Clothing
Technology and entertainment
Health services
Medication Management
Nurse On Staff

We Have 24 Hour Nurses.
Activities
Offsite Activities
Music
Games
Religious Services
Lectures Discussions
Book Clubs
Fitness Room
Financial guidance
Va Benefits Consultation
Financial Guidance Extra

We Report Needed Information To Long Term Insurance Companies.
Guest services
Guest Parking
Guests At Mealtime
Overnight Guests
Location of Tamarack Assisted Living Center
---
Get Cost Information
Get full access to reviews, cost information, and amenities