Emeritus at Allentown
Claim 1545 W Greenleaf Street, Allentown, PA, 18102
Caring.com Listing
Talk to a Family Advisor: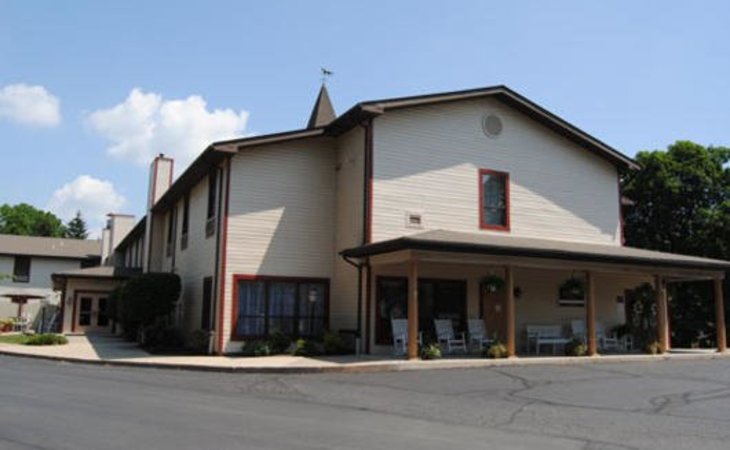 Top nearby Assisted Living Facilities
Reviews of Emeritus at Allentown
---
Marcia285567
November 25, 2016
I visited this facility
Emeritus at Allentown was nice, organized, and clean. The rooms were really nice. The staff was very nice. They tried to help me get in, but we could not afford it. If we could, I would absolutely put Mom there. It had a nice recreational area, and the dining area was nice and clean. It had a private dining room where families can have dinner, if they wanted to, which I thought was really nice.
---
Relative374672
November 07, 2016
I am a friend or relative of a current/past resident
Brookdale formerly Emeritus at Allentown was fine, and Rita's room is very spacious and clean. They don't give her much as far as the furniture; they just gave her a bed and a chair. The staff is very nice, and the dining area is very big. They have a lot of parking, but we have a lot of stuff to take, and they don't have accommodations for that. This gentleman -- he was like a janitor -- was very nice to give me a flat bed. If it wasn't for that, we would have been really stuck. It's a very long hallway to the elevator, and they should have some other means to be able to get their personal belongings back to their room.
---
Elizabeth155128
November 01, 2016
I am/was a resident of this facility
Emeritus or Brookdale at Allentown is very nice, and I was impressed with it. It's an older facility -- 26 years older -- but the rooms are of nice size and clean. The food is good, you have choices, and the staff is lovely. The activities are very limited. They are appropriate for people on their 80 and 90s. They have a nice dining room and library which is nice too. There's a lot of windows, and the grounds were well kept.
---
AnonymousRLKUH
May 11, 2016
I am a friend or relative of a resident
My uncle is in Emeritus of Allentown but it become one of the Brookdale communities. The bedrooms are nice size. They come complete with a bed, a dresser and a chair. It's the right place for my uncle. The staff seems to be fine. The people there seem to be very friendly towards him and he seems to be enjoying himself there. Trying to coordinate things with them is difficult but other that, everything seems to be fine. I sat with him a couple of times during a meal because I happened to be there during dinner time but I have not eaten there. I think initially he doesn't know what he was eating, he didn't know how to order the food and that kind of stuff but that time he ate everything so I'm guessing the food is fine. There's some things scheduled pretty much all day. They have a happy hour on Fridays, took them to a couple of restaurants for lunch, some sort of volleyball games and movies. My uncle goes to bingo a couple of times a week and he was shooting hoops from a wheelchair too.
---
Linda122908050
April 14, 2016
I am a friend or relative of a resident
My mom has been at Emeritus for about three weeks now. The facility is beautiful, and the staff is great. The food, from what I understand from my mom who is a cook herself, is not good. She has a really nice private room that's very big and came with a bed, a recliner, and a night table. There isn't anything I didn't like about the place. The person in charge is great and very knowledgeable. I like the fact that they knock on the residents' doors if something is happening, like special movies being shown or if they're going to play a game. They're taking care of all my mom's needs.
---
Anonymous116690450
November 22, 2015
I visited this facility
Emeritus was great. The staff was extremely nice. I would recommend this place, but we don't want to move my loved in right now.
---
DZ1
November 16, 2015
I am a friend or relative of a resident
My mother-in-law has been living in Emeritus at Allentown since February. It's a nice place. She thinks the food could be a lot better and that they should have more programs for them. Some of the people that we met were extremely helpful. They're right on top of every situation. They get back to us immediately with any kind of problem that comes up, and if you have any questions, they get right back to you. They have a high turnover of kitchen help and also for the personal care assistance. I don't think the employees are being paid enough. Her room is very nice, larger than any of the other places that we've seen. It's like a double room where two people could go in. They take them on weekly outings to different places, lunch, shows, and baseball games. She doesn't usually participate because they usually leave by 10:00 a.m., and she is not a morning person. They have exercise programs, bingo, and card games, and entertainment comes in sometimes. They could do more recreational things for the clients. There were a few people outside, but they don't really seem to utilize the grounds very much.
---
Caring105149450
April 30, 2015
I visited this facility
The staff in Emeritus was very nice and helpful. I saw one room, and it was very clean and nice. The room was spacious.
---
Jay10
March 27, 2015
I visited this facility
The people at Emeritus at Allentown were pleasant. It was a nice facility. The staff was very helpful. The rooms were nice. It was almost like a motel there. To me that was appealing, but to my mom, I don't know if it was appealing or not. Regarding activities, they played bingo, and they also went out in the community with trips. There were people sitting around and building puzzles. They brought in entertainment in on some nights, e.g., live bands, somebody playing music like a concert-type thing. That was a pretty nice set-up that they had.
---
Caring102444050
February 22, 2015
I visited this facility
I visited Emeritus at Allentown. The person I met was so positive, upbeat, and wonderful to deal with. His name was Tom. He was fabulous. The rooms were nice and average size. The staff was wonderful. Everyone knew everyone's name, and they were very friendly. I saw some physical therapy going on. The veterans had come in and were having a program with the residents the day that I was there, and they all seemed to be really enjoying it. The dining area was very nice, and the selection was good, but I didn't taste any of the food. The security seemed fine.
---
Connie35
August 24, 2014
I visited this facility
I was also very pleased with Emeritus at Allentown. Emeritus was smaller and clean, but it was an older building. Emeritus was more reasonable. The people looked like they're happy there; I even spoke to some people. I imagined that the gentleman who showed me around was the manager. He was very well-informed. I saw someone leading a physical activity for the residents -- he was playing a game with the seniors. I didn't taste any of the food, but I saw them eating and I also saw where the meals are served. Emeritus would be a better fit for my mom because it has dementia care, so they have different floors. They have assisted living, so if she went in now she would go to that section. If her dementia worsens, they have a special floor for dementia where people would get more help. I thought that place was also very nice. I was impressed with the place. Again, I would recommend it to anybody who is looking for this type of place for their loved one.
---
Lena4
July 31, 2014
I visited this facility
Emeritus at Allentown is very a nice place and very clean, but the residents are kind of out of my league because they are much older than me. The rooms are beautiful and the staff were very nice.
---
travels
May 31, 2014
I am a friend or relative of resident
DO NOT PUT FAMILY IN THIS FACILITY. Our parents were in Green Meadows for 2 years. What a nightmare! Originally, it seemed ideal. The staff showed us around and told of all the wonderful activities that they had for the residents. Well, in 2 years, the biggest 'activity' they did was to go to resturants. There were no 'activities. The parents began to hide out in their room. The room began to smell. No matter what we said or the DOCTOR ORDERED, the staff either would not or could not be relied on to comply. All of this for an outlandish amount of money. I am a Registered Nurse and our best day was the day we moved the parents OUT of here. (they give you limited time to remove furnishings even though you are paying for an additional month). Poor staffing/poor food quality.
---
caregiver-in-home-ca
May 30, 2014
I visited this facility
I went to Emeritus at Allentown for a visit. They were able to show me a model room, which had furniture in it, and there was nothing that looked institutional. The grounds were well kept. The appearance in the lobby was well kept. The staff were wonderful. Their food was good, and they had a nice menu.
---
Caring84495450
May 11, 2014
I am a friend or relative of a resident
Emeritus at Allentown was one of the names that came up in my search, and they contacted me. Mom is in the memory care ward, and they are very good with activities and the care that they give to her. They keep the place very clean. I have no complaints or anything. They just do a very good job. The staff are very professional. The woman who is in charge of the memory care ward is extremely caring. I like her a lot, and I think she is doing a wonderful job down there. Mom is in a shared room, and it is a very nice, very big, and spacious room. Each room has its own private bath and shower. They have a nice dining room with tablecloths, napkins, and silverware. They do bingo, they do name that tune, they do arts and crafts. They also take them out for a little trips. I would recommend this facility.
---
Jeff16
January 18, 2014
I visited this facility
Emeritus at Allentown was clean but in comparison to the other facility I looked at, it had a stale atmosphere. My mom has a little bit of Alzheimer's, but it wasn't a place where I would put her in. They did have an Alzheimer's section downstairs and, to me, I just didn't like the atmosphere there. As a whole, it wasn't a bad place, but, to me, for our needs, it was an old facility. A big part of the problem I think is that it is a very old building, but I think they could cheer it up some more and make it nicer in the inside. They could try to change the atmosphere, e.g., change the dŽcor. Their rooms were clean and of nice size. They were good as well. The dining room upstairs was very nice and decorated nicely. It did have a very nice atmosphere. However, the dining room at the lower level, it wasn't as nice. They did have a nice selection of activities for their residents, e.g. arts and crafts, board games, etc. The staff was very helpful.
---
nzfrederi
December 09, 2012
I am a friend or relative of resident
My mother moved into Green Meadows 2 1/2 years ago. At that time, it was an excellent facility. Green Meadows was purchased by Emeritus and since the purchase there has been a steady decline at the facility. The decline is seen in the physical structure, management or should I say lack of management of the facility, very poor quality of food, poor quality of stimulation and activities and continual theft of personal property from residents. I am sad to report that there is now a decline in the medical attention given to my mother. Talking to management is pointless. Nothing ever changes. I am in communication with Emeritus Corporate Headquarters trying to resolve many issues. My mother is 91 with mild dementia. Moving her will be a major set back so I am trying to correct the problems. I am losing hope and feel a move may be necessary. At this point, I could not recommend this facility to anyone. There are far better communities in the Lehigh Valley.
---
STAY AWAY FROM HERE
December 08, 2012
Other
I would like to begin by saying don't put anyone in this place they say they are committed to your family there not they are only committed to the mighty dollar they talk a good game at the beginning once you sign it's all over from there. They no longer no who you are all they are is a bunch of used car salesmen. The care on the memory floor is horrible, they don't have the residents doing anything they hurdle them likes cows to the dinning room and then back to the gathering room where they sit likes a bunch of logs the past few times I visited no activities were being done. These are still people that need to have there minds stimulated even if they really can't it still makes them feel good. The rooms are awful for what they charge a month you would think the conditions would be a lot nicer. The curtains are awful the blinds are dirty the rooms smell they are dark and dismal. The staff is horrible there are a few caring ones but other than that they are terrible. My pets get better care when they go to the vet!I hated to give this place a rating at all it doesn't deserve one. I would not recommend this place to anyone!
---
Caring097
July 27, 2012
I am a friend or relative of a resident
All the nurses and the staff were outstanding. The quality of care and support they gave were phenomenal. I would highly recommend this community to others.
---
stample_86
June 02, 2012
I am a friend or relative of a resident
My great aunt really seems to be in a caring, warm, and secure environment at Emeritus. She has got to know several of the other residents and joins in activities and clubs monthly. The caretakers recognize individuality, choices, and they treat the residents with dignity. They wanted to get to know our family as well to offer support and solutions for my great aunts condition. The staff also provides programs to recover and nurture those affected with diseases of the mind. Inside the building there is a library, large dining room, spacious sitting area, and TV rooms. The living quarters look to be beautifully decorated and organized rooms with full baths, prepared beds, furniture, seating arrangements, and large windows for perfect outside viewing. The outside of the facility is well maintained and next to a residential area with parks, fairgrounds, restaurants, shops, and landmarks of the city. It is great to know that there are plenty of outside and off-site excursions. Overall my family is very pleased with Emeritus Senior Living, it's staff/management as a whole.
---
eleganto
March 26, 2012
Other
If you want to spend lots of money on low-quality care, this is the place for you! Otherwise, be good to your senior citizen and look elsewhere!
---
Giganti
January 19, 2012
Other
Friendly, extremelyt helpful in answering questions. Very positive attitude regarding guests. Projected a "can do" attitude and a very caring and knowledgeable regarding the care of seniors who need help.
---
smschoch
June 25, 2010
To Plsread
Plsread, I wish I could get in contact with you. I am going through issues with the memory care unit at this time. Mom gets sent out continually to have meds adjusted. Very little interaction is seen when we visit. Little concern over gathering personal items and returning them to the resident. Most times everyone is sitting around like a bump on a log or sleeping. No stimulation, no activities, NO MUSIC. There should be music being played in that unit at all times. I have read enough to know this is important for their stimulation. Mom is still there and I am taking chances by being upfront about the problems. Family meeting was a joke. Requested meeting with GM along with the doctors and was told the family does not interact with the doctor. Huh! As POA I want interaction with all parties. They called to let me know mom was seeing the doctor the other day. When the doctor was done I expected to talk with the doctor. Well it was not the doctor but a certificed registered nurse practitioner that was seeing mom. I don't even know if this person works for the doctor that comes in. GM is skating on thin ice with DPW at this time. They have a two year probationary period regarding issues related to care and staffing. This is documented, just google Green Meadows Allentown violations. No care plan has been discussed with the family members and now they are suggesting hospice care for someone that I don't believe is anywhere near ready for those services. Tomorrow may be an intersting day talking at GM with the hospice representative. Plsread - I would love to know where you are placing your mom now.
---
plsread
June 22, 2010
Do not put your loved one here!
They promised us activities, loving care, good food and stimulation. Our loved one received none of these. We had to rescue our loved one because she was loosing too much weight and was always horribly bruised.
---
About Emeritus at Allentown
---
Emeritus at Allentown is an assisted living facility in Allentown, PA that offers residents independent living options and daily support services. Contact Emeritus at Allentown for more details on housing, services, and rates.
Features of Emeritus at Allentown
---
Location of Emeritus at Allentown
---
Request Info
Get full access to reviews, cost information, and amenities