Mustang Creek Estates - Allen
720 Creek Valley Court, Allen, TX, 75002
Talk to a Family Advisor: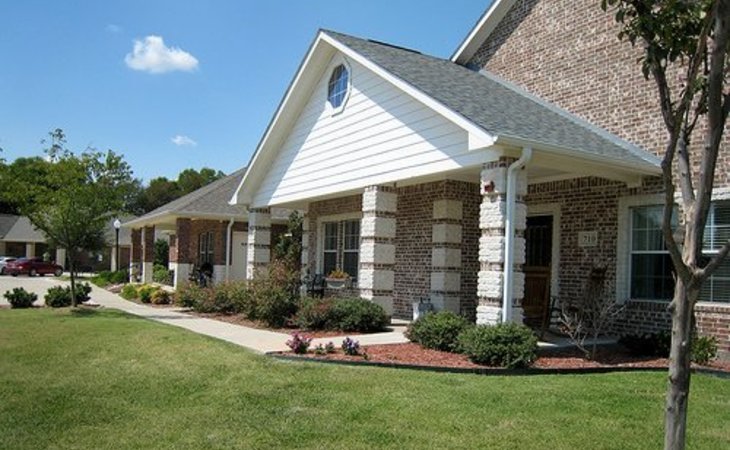 Reviews of Mustang Creek Estates - Allen
---
Devon565244
March 07, 2017
I visited this facility
Mustang Creek is the place that we are 90% sure we're going to go with. The biggest thing is that they are affordable, very clean, and seemed to take good care of their residents. I was able to speak with three residents separately, and they all attested to how much they enjoy being there. I like Mustang Creek because it had more of a residential setting versus a traditional institutional setting.
---
Grieving Survivor
January 13, 2017
I am a friend or relative of a current/past resident
My father was a resident at Mustang Creek Estates until his death in December. Most of the care-givers were kind and compassionate people. However, I can not say the same for the management team. Imagine my utter disbelief upon receiving a bill for the 30 day period following his death. I called, and was told it was because we failed to notify them in advance that he would be moving out. Unfortunately, my father didn't anticipate his death quite this precisely and notify us to let management know. My phone calls and a visit to the facility were unsuccessful in convincing them of the outright absurdity of this policy. While Mustang Creek Estates may promote compassionate care in their marketing materials, their behavior in this situation was sad, and in my opinion, less than compassionate or ethical. I would advise those searching for assisted living arrangements to turn around and take their loved ones elsewhere.
Provider Response
Thank you so much for taking the time to share your experience and for your thoughtful words regarding our kind and compassionate caregivers. We feel truly honored to have been able to care for your dad. As you may know, Mustang Creek Estates in Allen has been caring for seniors since 2005 and recently was honored with the Readers' Choice Best Assisted Living in Allen for the 11th year in a row. We encourage our families to bring any specific financial concerns to the attention of the leadership team, which combined has over 30 years' experience in the Senior Living industry, and let us work together to solve any concerns you might have. For all of us at Mustang Creek Estates it's not just a job, it's a passion – a passion for providing quality care to seniors.
---
Jac C.
November 24, 2016
I visited this facility
The lady at the Mustang Creek Estates Residential Assisted Living was great, and the place was fine. There were three other residents in the house. The nurses were very nice and the lady who showed us around was extremely helpful. We were told that there were activities for the residents.
---
Kathy676446
October 21, 2016
I visited this facility
Everything was fine during our visit at Mustang Creek Estates Residential Assisted Living. The staff was very helpful, very thorough, and answered all of my questions. The individual rooms, the recreation area, and the eating area were all nice, and access was really easy.
---
Bob247664
October 10, 2016
I visited this facility
We found some place for my mother-in-law, Mustang Creek Estates. We like it. I like the concept where they have separate buildings. They don't have everything in one building. It is more personalized because they only have 10 people in each building. They got like 6 different buildings, and each building has their own kitchen and eating area. The cost was competitive. The people seemed very concerned about their residents.
---
usafirefly
September 04, 2016
I am a friend or relative of resident
GREED! Mom dies family cleans room 3 (three) weeks before end of month the room. They charge for the next month too! No refunds of anything by-the-way. $5800 charged to family for someone NOT even in the room. Lawyer and owner(s) came up with wording to do this to us. Mom constantly complained about sub par food and being too cold. She couldn't make friends there either due to the type of clientele they have there. Sad end to our Mother. Greed that reaches the heavens!
Provider Response
Thank you so much for taking the time to write this review. We are so sorry that you feel you did not have a good experience. We would highly encourage you to contact our Executive Director at Mustang Creek Estates in Allen to discuss and resolve your specific concerns. Mustang Creek Estates in Allen has been caring for seniors for over 11 years and we are privately owned and our owners have over 30 years of senior living experience but they are not and never have been lawyers. Thank you again for your review.
---
Heidi Bellamy
August 31, 2015
I am a friend or relative of a resident
Although it was a difficult decision to place my mother in an assisted facility because she lived with me and my husband, it became more difficult to care for her in our home. After contacting Tegjula at Mustang Creek a year ago, my mother now lives in one of the rooms in House Three. She has her own private bathroom and all her furniture and pictures to make it feel like she is still at home. As time passed, she began to think of this as her home and the people who work and reside there as her family. The staff is very caring, and I feel my mother is loved and taken care of better than I could physically do. It is hard placing your parent, and I care so much about mine. I visit my mom or call her everyday, and she always seems as happy as a 94-year old could be.
Provider Response
Thank you so much for your response. We are pleased to know that you and your family trust us in providing care to your mother. We love to see and hear that your mom is happy here at Mustang Creek Estates! Our staff enjoys caring for and loving on all of our residents and we are glad that you decided to make Mustang Creek Estates home for your mom.
---
Donna112050450
August 21, 2015
I am a friend or relative of a resident
What I like most about Mustang Creek Estates is it has six individual homes instead of a large institution. The staff is very friendly, very kind, and very knowledgeable. They are very likable people. They seem to be happy to be there. My mother seems satisfied with the food.
---
Marie49
July 31, 2015
I am a friend or relative of a resident
Several years ago, my Mom came to Mustang Creek Estates. She had lived alone for two years after my Dad died ad we could see that she wasn't able to take good care of herself. We had searched all the area for a place for her but really wanted her to be close to us in Allen. When we found MCE, we immediately thought it was right for Mom. The small home environment appealed to us. Mom fit right in. She loved the activities and the care. She broke her hip and I appreciated the care she received after rehab. When Mom had to be moved to the memory care house, I was sad but she has been loved and cared for by every one of the caregivers in her home. She is happy and gets to participate in lots of activities with the other houses. We don't think we could have gotten better care anywhere else.
---
Dad desrves better!
June 06, 2015
I am a friend or relative of resident
If you are considering this place....DONT! They will give you the hard sell - only for you to find out later, they told you what you wanted to hear, not what they can actually do for your loved one. If your loved one is VERY independent, they might be ok, but if your loved one needs even the most basic care, TRUST ME, this is NOT the place to leave them. My loved one was there for only 6 weeks when we decided to move him out....we had to give them a 30 day notice to vacate, and that was the longest 30 days of our lives. We were actually distressed that our loved one would have to spend one more month there - if not for monetary reasons, we absolutely wouldn't have. Our family visited our loved one every single day from the beginning, and it didn't take long for us to realize we had made a horrible decision. By the second week, we were discovering miscommunications between staff on different shifts about his medications & healthcare, we were having to ask for his bathroom to be cleaned, they were complaining about dealing with his incontintence, & he had multiple falls (one requiring an ambulance ride). They were understaffed and the staff that was there was busier having fun in the staff office rather than looking out for, or engaging the residents. This place is not only dangerous, but the worst display of compassion for the elderly that I have ever witnessed in my life. I could write a book on all the reasons you should turn around and walk away from this glorified nursing home! Save yourself a 'lesson learned the hard way'....Save your loved one a trip into depression and being stripped of their dignity.
Provider Response
Thank you for your feedback. We apologize that Mustang Creek Estates was unable to meet your expectations while your loved one lived with us. We take pride in providing compassionate, quality, loving and experienced care to all residents and we are saddened that we have disappointed you and your family. We have taken care of hundreds of residents for over 10 years and have many happy families and happy residents that call Mustang Creek Estates home. We encourage and appreciate feedback from our families so that we can continue to provide the highest level of service for our residents.
---
SFAVORS
May 08, 2015
I am a friend or relative of resident
It brings tears to my eyes as I think of the love and compassionate care that Mustang Creek provides my mom. It was a difficult decision to make when realizing that mom needed more care and we were hesitant about making a move, but after meeting the staff, other residents and family members I knew that we made the right choice. Mom's home is so cute and comfortable and she loves her housemates. Whenever she needs assistance, one of the staff members is always there to help her feel safe. I can call the executive director on the weekends and after business hours and she is always available to answer my questions. I can call up to the house at any time and I can always get an update on mom from one of the caregivers. Mom can have snacks whenever she wants them, she can sit outside on the front porch or she can socialize by the fireplace in the living room. The rooms are on the small side, but the care that the caregivers give mom is better than she has ever had before and the food is great! We love Mustang Creek and know that you will too.
---
Caring105916350
April 28, 2015
I visited this facility
Mustang Creek had a beautiful setting, there were a lot of trees around it, and the people seemed happy. They had a nice living room, and it seemed homey. I was really impressed with the staff at Mustang Creek. They seemed to be really friendly and knew everybody's name. The rooms were nice although they were a little bit smaller.
---
MUSTANGCREEKRES
April 27, 2015
I am/was a resident of this facility
If your loved one can take care of themselves and needs no extra help, this is a fine place. But, if you need bathing assistance, diapers, eating, etc. they are not trained to do any of this. There is typically 1 and rarely 2 people in a home to watch all residents. The place is clean and neat, but I wouldn't recommend if your loved one needs anything but a place to stay with limited babysitting. If they are active and able to do on their own, this is a good place. But, it is expensive. Private pay and their employes are minimum wage employees, untrained, not certified in healthcare. But, clean and fix/microwave meals. They do not know how to bathe or help needy residents in most cases. You might get lucky and find one that knows something. They are all nice most of them, but they have a lot of residents to watch if there is only 1 and sometimes 2 people there. If you need to talk to the director, she is never there and it takes a lot to get a call back. There is no nurse there ambulances come often. Independent living is good here, but you have to be independent.
Provider Response
Thank you for your feedback. At Mustang Creek Estates, we provide Assisted Living services that is designed for those seniors who would benefit from minimal to extended care, combining personal assistance with the feel of home. Trained, attentive and caring staff assist our residents with supportive services to insure quality of life and well-being. We provide special assistance with bathing and showering, dressing and grooming, medication management, 24 incontinence care, routine nighttime care and transfer assistance.
---
Caring104399950
April 05, 2015
I am a friend or relative of a resident
Mustang Creek was very disappointing. My mom wasn't even there a week, and she ended up in the hospital. The facility was small, and the way they sell it was your loved one was cared for in a home like setting, but they did not monitor her blood pressure or provide the right medication. The food was OK, but they did not have a special diet for mom. They kept the room clean, and the rest of the facility looked clean and well maintained.
Provider Response
Thank you so much for your review. We take each and every review very seriously and apologize for not meeting your expectations. We appreciate your feedback for that is how we get better. Mustang Creek Estates has been caring for residents for over 10 years and we have cared for hundreds of seniors. We take great pride in the peace of mind we give our families and it truly pains us to hear we have disappointed even one of those families. We encourage our families to bring any concerns to the attention of our leadership team, which combined has over 30 years' experience in the Senior Living industry, and let us work together to solve any and all concerns you might have. For all of us at Mustang Creek Estates it's not just a job, it's a passion - a passion for providing quality care to seniors.
---
Caring103477650
March 25, 2015
I am a friend or relative of a resident
My ex-husband is in Mustang Creek, and he has Alzheimer's. They have care for what he has. The people are very nice and very caring. They have lots of activities. The food is good. They cook fresh every day. There are nice-sized rooms. They have beautiful surroundings. It's not a big community, and the house is separated according to the care you need.
---
DLCLC
December 09, 2014
I am/was a resident of this facility
I am contacting you to let you know how pleased both me and my sister are with the quality of care our mother receives at her home in Mustang Creek Allen. She has lived there for almost 6 months and has shown continued overall improvement in her quality of life since moving to Mustang. No doubt this is due to the outstanding care given by the staff. Having experience with other assisted living homes, we couldn't be more pleased with Mustang and the people who see the residents' daily needs. What a special group they are. I always said if we could find a better place for Mama to live, where she could get the attention she deserves and the care she needs, I would agree to let her move from my house. We found it at Mustang Creek, and I have to admit the staff can better attend to my mother than I could do at home. As in all businesses, the level of professionalism starts at the top and flows down. At Allen, that means Tegjul. She is the epitome of how a manager should lead a team. It is not possible for me to give her the accolades she deserves. This note to you is my best effort at letting you know what an amazing job Tegjula and her entire staff are doing. They are -- as individuals and as a group -- as near perfect as I can imagine.
---
Tess3
October 25, 2014
I am a friend or relative of a resident
My mother is in Mustang Creek Estates. It felt like home for her. The staff was the other reason we chose it. They were very informative and very cooperative in where you wanted to go and what you wanted to see. There is nothing that was off limits. There are 3 buildings that are memory care. It's nice, quiet, and near a park. The hospital is probably 10 minutes away. They have puzzles, Halloween parties, and taco night. We had a family picnic a couple of months ago where all the family members came, and we had a barbecue. If I had to say anything, it would be the staff speaking English a little better. So many of them have a difficulty with the English language, and the older people get very frustrated by them.
---
Caring90118150
September 23, 2014
I am a friend or relative of a resident
My father is in Mustang Creek Estates. It is excellent. It is in a nice area. We are satisfied with it and we are very pleased with the facility. The staff is doing an excellent job. The care that they are giving them now is excellent. These are six brand new residential homes with a living room, dining room, and kitchen. It is all-inclusive, cable TV, telephone, and meals -- which are home cooked. They also always have fresh fruits in the freezer and whatever snacks they wanted in between. They had a doctor there twice a month and a nurse every week. They have different room sizes, and my father is in a bedroom with his own bath, recliner, chair, TV, and desk, and it is adequate for him.
---
Tom_H
September 10, 2014
I am a friend or relative of resident
We looked for assisted living for my dad for several years before deciding on Mustang Creek in Allen. We have been very happy with the staff and I genuinely believe they care about my dad's well being. If you are turned off by the long hallways and institutional feel of most assisted living facilities, look into Mustang Creek. It's a very home-like environment and allows for multiple levels of care within the community. It's also one of the most affordable options we have found. I can recommend it with confidence.
---
Daddy'sGirl7
July 25, 2014
I am a friend or relative of resident
My parents were living next door to my husband and me for the last 6 years. My father passed away 2 years ago so she has been living alone. As her health and number of trips to the ER increased we finally convinced my mother to go to assisted living. You have no idea how stubborn and reluctant my mother was to give up her house. She only gave in when she was put on oxygen 24/7 from COPD. The first couple days she mostly stayed in her room. Gradually she started coming out to join the others for meals. After a couple weeks she was happier than I have seen her in years. Yes, the rooms are small but you can decorate with their favorite things and my mom has her own coffee pot, toaster oven, microwave and refrigerator. She rarely uses any of them because there is so much good food and snacks available. Believe me, my mother was a good cook and is very picky about her food. She has already gained 5 pounds and for her that is amazing. She recently fell due to her falling after deciding she did not need her walker or cane. She is trying hard to get back to Mustang Creek and the director is moving heaven and earth to make that happen. She is in house 5 and loves it there.
---
kellybe
June 22, 2014
I visited this facility
I visited mustang creek with a co-worker in May 2014 to see her mom, The staff I met in the evening shift was so wonderful, I think is in house 3, she was so friendly with the residents, they were having their dinner. She offered us dinner, it was so delicious, she joked with them so much and encourage them to take their medicine. She has a beautiful african accent, I was so impressed with her that I asked her where she's from and she said Nigeria. I wish all the workers will be just like her.
---
Dana12
May 30, 2014
I visited this facility
My son and I were quite impressed with Mustang Creek. They had a locked facility for Alzheimer's patients who wandered. We were impressed with the staff and the facility itself. The staff was very polite and seemed to be quite knowledgeable. They were very friendly with the patients. They were cooking the residents' food while we were there, and the residents seemed quite content. We saw several rooms. I thought they were well cared for, clean, and the residents looked very happy with what they had. It looked like a great facility. However, I promised my husband that I would keep him as long as I could, and that was my intention. He stayed with me until a few weeks ago, when he passed away.
---
Caring83564750
May 11, 2014
I visited this facility
I went to Mustang Creek Estates, and I like the size of the facility. It is unique and smaller than a lot of the other facilities. I saw a couple of their rooms, and they were very clean. I like the layout. I was impressed with it. I like everybody that I met there, although briefly, but I was impressed. The dining room looked good, and from what I could tell, they are eating healthily.
---
Robin25
April 12, 2014
I visited this facility
I went to Mustang Creek. I didn't like the setup. My mom would want her own kitchenette to be able to brew her own coffee and have her own toaster. It was fine, but not for her. She prepares some food, but she also doesn't sleep well, and so sometimes at 4:00 or 3:00 in the morning, she makes a piece of toast and puts peanut butter on it so she can go to sleep. It seemed clean, homey, and nice. The people who live there seemed to be happy, but the format wasn't very good for my mom. The staff was great. Samantha, who gave me the tour, was wonderful. I met the house supervisor at one of the houses, and she was great, very friendly, and the residents seemed to know her and like her. Overall, I thought it was great.
---
Caring77733850
February 28, 2014
I visited this facility
Mustang Creek is more economical and seem a good quality. They're also very personable. The bedrooms are rather small. There's a nice dining area and living area. When I visit there the first time, they were doing some type of activity. They do have a very nice activity list that they put together each week.
---
Caring78226850
February 26, 2014
I visited this facility
Mustang Creek Estates was very close. I'm right on the edge of Plano and Allen. It looks like part of a residential street which is nice. It's got a lot of class but inside it's just not real homey. They had tiny, tiny rooms and they're just kind of stark. There was no outdoor walking area. My friend walks at least a mile every day and there wasn't really any walking space or there was no yard. It was a nice neighborhood. For people who just want to be in a neighborhood, it was great. They were very pet-friendly. They had a nice dining set, it was family style, big table. It was only like 10 to 13 residents to a building and so it was a big home style but the furniture was uncomfortable. If they had more comfortable furniture, I would imagine that people would be more inclined to sit and the television was a tiny, little thing. The set up was that people wouldn't be in their rooms. They'd come out and they'd participate in things and sit in the dining room and they had a porch that's a little crowded the way you could see outside but it was just too confining. It was very hospital clean. White tile like you're in a tunnel going down these hallways. It was almost blinding. Their prices are fabulous. They don't have all the levels of care add-ons so as far as affordability, they're absolutely wonderful. The people who worked there were really nice and concerned.
---
GCanant
October 09, 2013
I visited this facility
I visited Mustang Creek Estates when looking for an Assisted Living for my mother in law. She has since decided not to relocate to the area but I love the concept of these homes. It was exactly what we were looking for...home like. I was so worried that my mother in law would get lost in a big facility or not come out of her room, this was perfect for her. If we start looking again Mustang Creek is at the top of our list.
---
jbennea
June 24, 2013
I am a friend or relative of resident
My mother has been a resident of Mustang Creek Estates for 3 years. My family and I were told about it by a longtime friend whose Father was a resident in the past. When inquiring about moving Mom there we were accepted with smiles and answers to all our questions. There are house pets so the residents have pet therapy and feel like they are at home. Children are welcome to visit and there is always cookies in the jar for them. So again it feels like a home for everyone. The staff are always available to help and their smiles are contagious.
---
Sherylrek
June 06, 2013
I visited this facility
Mustang Creek has a great setting with 6 houses, beautiful patio's on each house. Care give ratio is best you will find, 2 per house. It is clean, friendly and very good price. I will move my family in when needed.
---
Angelahcakes
September 13, 2012
I visited this facility
When I had first arrived at this assisted living facility, I noticed how nice the scenery was outside and how nice of a place it must have been. When I went inside I noticed some elderly folks doing a number of activities such as watching T.V. or playing board games and talking to each other. When I stayed for a bit longer I started feeling rather upset at how the patients were being treated. The staff rarely had any social interaction with the elderly and treated them as though they were children. The staff was in charge of cooking the food but made no effort in making it taste decently. There was a woman crying because she couldn't find her husband(which I had recently found out had dies years before), and none of the staff felt obligated to console her. I think assisted living facilities are terrible and I hope that I never have to go to one when I reach that age.
Provider Response
Thank you so much for visiting Mustang Creek Estates and providing your feedback. We apologize for not meeting your expectations. Assisted Living Communities offer amazing options for seniors who can no longer safely live in their homes alone, as well as, the much needed socialization that many seniors, isolated in their homes, don't receive. At Mustang Creek Estates, we combine the peach of mind of a compassionate assisted living community with a personal home-like living environment. Again, Mustang Creek Estates thanks you for taking the time to share with us your concerns and we would like to invite you back to visit and allow us to address any concerns you still might have.
---
From Mustang Creek Estates - Allen
---
Mustang Creek Estates is a new concept in Assisted Living! We are a residential style assisted living neighborhood designed entirely for seniors. Our neighborhood consists of 6 unique houses with 10 to 13 residents per house and one of our houses specializes in Memory Care. At Mustang Creek Estates, we combine the peace of mind of a compassionate assisted living community with a personal home-like living environment.
Our mission is to provide seniors with a high quality, residential type of assisted living at an affordable price.
Imagine a life filled with the freedom to live as you like and the security of knowing help is there if you need it. Enjoy life by curling up with a good book in your private bedroom or play a game of cards with friends in the living room. Pamper yourself at the on site beauty salon or just soak in the spa tub. Whether you're cooking in the kitchen, gardening in the yard, spending time with your family or simply taking a walk; Mustang Creek Estates offers you a comfortable, secure and happy life - just like home.
Our all-inclusive month to month rent covers:
3 home cooked meals a day & snacks
Special assistance with bathing, dressing, grooming, medications, incontinence care, routine nighttime care and transfer assistance
24 hour staff
Social activities, outings & exercise
Laundry & linen service
Daily housekeeping
Telephone service (including long distance), extended basic cable, wireless Internet
Imagine a neighborhood filled with unique houses, beautiful landscaping and antique street lights. A campus of homes designed with seniors in mind. Front porches with rocking chairs, fireplaces with glowing hearths and country kitchens with family style dining; each house is created to feel - just like home.
Imagine a home filled with friends and family, yet still very personal and private. Each home is limited to 10 to 13 residents, promoting close friendships and a sense of security. Our carefully selected care staff are available 24 hours a day for assistance with each resident's unique individual needs, if required. Together the residents and care staff become a family - just like home!
We provide a true residential environment, with quality care and services, at an affordable price. We look forward to talking with you soon!
Features of Mustang Creek Estates - Allen
---
Costs
Minimum Rate:

$3250/month

Minimum Memory Cost:

$3450/month

Entry Fee
Fee Structure Extra:

Community Fee: One Time, Non Refundable $1,500 Paid Prior To Move In.
Features
Beauty Barber Shop
Computer Room
Resident Transportation
Garden And Patio
Resident Parking
Technology and entertainment
Guest services
Guests At Mealtime
Overnight Guests
Location of Mustang Creek Estates - Allen
---
Get Cost Information
Get full access to reviews, cost information, and amenities