The Fountains at Washington House
5100 Fillmore Avenue, Alexandria, VA, 22311
Talk to a Family Advisor: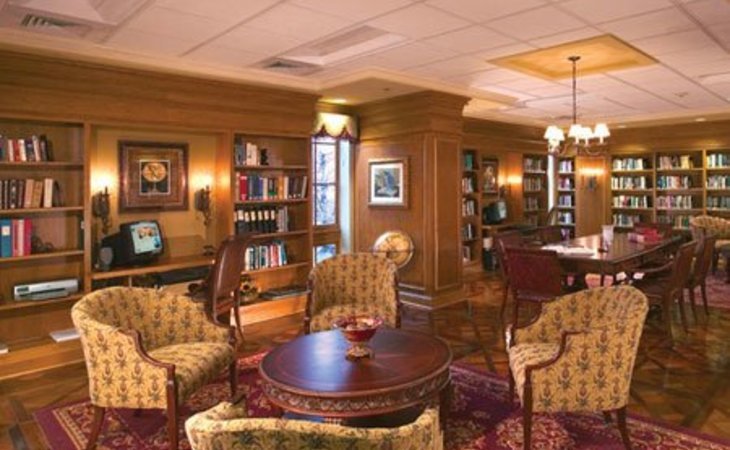 Top nearby Assisted Living Facilities
Reviews of The Fountains at Washington House
---
Sandy125279350
May 22, 2016
I visited this facility
The Fountains at Washington House was beautiful and had everything you wanted, but it was unaffordable for me. I saw the studio and the one-bedroom, which were very nice. They had movies, book club, exercise, and outside activities. The staff was OK, but they were not willing to help in making it affordable for me. The dining was a very nice, beautiful area. The staff took us to have lunch there and to visit the rooms, and then she left us after that because she knew that I could not afford it.
---
hushlittlebaby
February 14, 2016
I am a friend or relative of resident
I have a relative in the Fountains At Washington House i have only been in this place twice and i would not recommend it in any shape way or form they have an issue with bathing people the only get bathed two times a week and the dinning staff our rude and when you ask them to help you they act like they didnt here you. In my opinion this place needs to be reported for neglect of the elderly. There was a woman screaming help from her room when i walked past and i sent my daughter to go and get the nurse. The nurse did nothing she didnt even come this lady was sitting in her own poop. This is not right the nurse told my daughter that the lady screaming does that all day long she asks for help im like you people are they to help the elderly not to ignore them. Im going to report this place. They are badly in need of a good staff that cares about people not one who neglect the elderly
Provider Response
We take your comments and accusations very seriously. Regardless if you have visited twice or many times I request anyone who has concerns to come to me immediately so that I may investigate right away and respond. We have caring associates that are committed to working with compassion for all residents. As the Executive Director, my number is 703-845-5001 and I welcome you to call me to discuss your concerns at any time. I hope you return to visit your relative soon; please let me know when you are here so I may speak with you in person. Sincerely, John Niebauer, Executive Director.
---
Sonny0
September 21, 2015
I visited this facility
I would avoid. These folks are just plain rude. Physically the premises are nice, but nice grounds and lobby does not make a good nursing facility. Rude front desk, rude admissions person. You can expect that what goes on behind the screens is represented by management. They are clearly of the opinion they are doing you a favor. Sad, that such folks are entrusted with caring for our seniors.
Provider Response
I am very sorry that your first impression of The Fountains was so negative, and it sounds as if we will not have the opportunity to change that perception. In general, we receive high marks from visitors and residents on customer service from our own surveys, which are very important points of feedback that allow us to continually improve. I wish you the best in finding a community that is a great fit for you! Best regards, John Niebauer, Executive Director, The Fountains at Washington House
---
Wes5
March 31, 2015
I visited this facility
The Fountains at Washington House is not everything that it is made out to be. It was just a square room with a bed, a dresser, and a TV set. The staff was not accommodating, and that is why my sister is no longer there. I didn't think their dining room was spacious and clean. For one thing, they could have a staff that speaks better English, a staff that could understand what clean means, and a staff that is more courteous and more considerate of the residents. I did not notice any activities, and their bus has been broken for over a year; they could not even get it fixed. I don't think there was any security. We walked in and out of the back door any time we wanted to. They had a side door that was closed, but they had a back door just standing wide open. She would tell us that something had been spilled on the floor, and we waited to see how long it would take them to clean it up. After a week and a half, it was still there. I took a rubber band off of a package I had and put in on the dresser next to the TV set in her room, and before she left, the rubber band was still there.
Provider Response
Thank you for your honest feedback. I'm sorry you weren't 100% satisfied during your sister's respite stay with us. We will certainly use your feedback in order to improve our welcome check list for future short-term residents and their guests.

All of our entrances are indeed secured. From 8am to 9pm, the front entrance is staffed by a concierge. We also have a person in charge of security in the community 24 hours per day. We maintain both a bus and a van, which are in working condition and devoted to resident transportation seven days a week, including to special events such as visiting the Kennedy Center or the National Cathedral. All residents are welcome and encouraged to engage in any of the dozens of mind and body fitness classes offered daily.

While all our associates come to us with a basic understanding of the English language, we offer ESL classes and pay for their books. Customer service is a skill set that transcends language barriers and I'm proud to say that we receive frequent praise for it.

It's important that families have a place to turn when they need reliable care for a loved one, even on a temporary basis. We will take all the input we receive to heart, positive or negative for that's the only way we improve as an organization. If you would like to discuss further, please give me a call at 703-845-5000 and I will be happy to speak with you personally.
---
Caring104006350
March 26, 2015
I am a friend or relative of a resident
The place that my mom is in is called The Fountains at Washington House. She has been there before for rehab, and she really likes the place. So when we need to move her in January, that's where we will move her. They are a nice group of people. Overall, it has been a good place. They are taking good care of her, and we are happy with it. It is a good building. It is a nice environment. Other places may be better, but right now, it works for my mom. I'm really not concerned with the activities. I am just looking for a good place for mom to live. The rooms are very nice.
---
Primobabe
June 26, 2014
I am a friend or relative of resident
My mother, an Alzheimer's patient, has been at this facility for two years. Her experience has always been wonderful. She moved-in as an assisted living resident with a low level of care. Because WH offers five tiers of care, a person can truly age in place as a condition advances and the individual declines. Now, my mother's in the final stages of her disease, living on WH's skilled nursing facility (nursing home) floor. She continues to receive excellent care and the best treatment. She beams with delight when one of the nurses or CNAs enters her room (which is often), because she loves and trusts them.
---
Grand1
October 05, 2013
I am a friend or relative of resident
My grandmother has lived in assisted living in this facility for many years. All was fine until she began to deteriorate physically. She may be irritable but she pays over $8000.00 a month and I don't see the clinical aides assisting her to the bathroom on a regular basis or taking her to meals. Recently when the family visits( 3-4 times a week) for 4-5 hours each time the staff drops in to say hi but no one offers her assistance. The actual nursing staff, which is minimal, is kind and knowledgeable and willing to listen to family concerns but some of the aides are not engaged in their jobs and gave a lack of commitment to the residents and their needs.
---
Stephanie13
August 01, 2013
I visited this facility
I visited The Fountains at Washington House and it had not been updated. The kitchen was in terrible state. The bathroom was okay but not good. They had no washers and driers in their apartments. But they had a big closet space. The people I saw were friendly and nice and I do liked the location. They had several activities. They had exercise room and beauty shop. They served one meal a day. I really couldn't recommend it.
---
JC in NC
July 17, 2013
I am a friend or relative of resident
My 92-year-old mother has been an independent living resident at TF@WH since early 2010. The management and staff do a marvelous job of seeing to the interests, entertainment and needs of their residents. Every facility of this nature goes thru changes, but at TF@WH, all of those have been very positive. My mother's very hard to please, but everything that can be done for her is done for her at TF@WH. That's a real comfort to her family, for none of us live in the NOVA area.
---
Lovely Anette
June 26, 2013
I visited this facility
My sister-in-law lived at The Fountains at Washington House. The facility was clean. The rooms was fine, but she kept it fairly dark because she did not want the lights on. The nurses talked to us nicely and they said they try to get her to come down the hall and eat and she wouldn't. I thought the place is very nice. If my sister-in-law just wandered out into the hallway, she would have seen it was. It seemed to be a friendly atmosphere.
---
Abe 1
November 02, 2012
I am/was a resident of this facility
The Fountains is close to my daughter and my son. It's in Washington DC, so there are lots of things to do.
---
Helena Egounis
October 23, 2012
I am a friend or relative of a resident
This assisted living facility was the best option for me and, of course, for my mother. She is 78 years old and she needed someone to take care of her, because neither I nor my husband could do that anymore, as we were very busy with our jobs and with our son. The Fountains at Washington House offered us the possibility to look after her indirectly and this was very useful for us. The people who took care of her were very experienced and they were also very pleasant people. My mother really enjoyed talking with them, especially about her hobby, cooking. Also, there were many other facilities that made her very happy, even she was not with her family, but in an unknown place for her. I have to thank The Fountains at Washington House because of their attention and care for my mother and all her needs. This Assisted living facility helped me and I would also recommend it for people who need it.
---
SmithSVS
October 18, 2012
I am a friend or relative of a resident
This is the Ritz of the assisted living facilities. They provide excellent service and the employees are very kind. They have all kinds of doctors over there which are specialists in their fields. You feel as if you have entered the Buckingham Palace once you have entered the facility. A simple one bedroom apartment feels like a Presidential Suite and you feel that you are the king of the universe when you stand in the balcony. They have a number of facilities over there including a full sized kitchen. They have workshops, snooker tables and a fitness centre/gymnasium over there. They even have a computer room, club house, garden and a beauty parlour in there! They have a cozy library too where you can lie down on a really soft carpet. All together, you feel you're home. The only problem can be a bit more cash that you have to shell out but i'll make sure that when i grow old, that is the facility I will be admitted to.
---
Parma
July 29, 2012
I am a friend or relative of resident
I selected The Fountains for my mother because of its cost & it is one of the few senior facilities with full kitchens n the independent living area. My opinion changed once my mother moved in. First, the staff immediately began increasing the level of "required" services thus increasing the fees. Bookkeeping is borderline criminal -- nearly every monthly bill had erroneous charges. When my mother went into The Fountains "skilled nursing" center, it took the intervension of an outside agency assesment to get her released to her Independent Living apartment -- I believe it was because The Fountains was receiving two payments as long as she was in "Skilled Care" (Medicare for Skilled care plus the rent on her apartment). Two fundamental problems: 1) corporate drive for profits; and 2) management's belief that the employees are the customer vice the residents.
---
nonstop
June 24, 2012
I am a past client of this provider
The facility is clean, the people are friendly and very caring. It's not perfect, but at best It is a place you can have some comfort in knowing that your loved ones are in good hands.
---
Anand1
May 23, 2012
I visited this facility
The most important thing we have found out when we visited this place is that they do not require entrance fee unlike many other facilities. We were also looking for some place that included skilled nursing facility and The Fountains has this. The price range is also okay. That staff was alright. They showed us around and gave us a brochure. They had a gym but I don't know what else they had. The person we spoke to was very informative and helpful, and for me that was the most important thing. I would recommend people to visit this place and see whether this place would meet their needs.
---
Chris Carter
November 19, 2011
I am a friend or relative of a resident
My grandmother is a resident of The Fountains at Washington House. I was initially skeptical when my dad persuaded her to go an assisted living facility but it turned out to be a great idea. My grandmother has been losing her memory for the last few years. She was used to having someone to talk to, but then my grandfather died unexpectedly. The Fountains at Washington House has facilities dedicated to preserving the memory of its elderly residents. Additionally, The Fountains at Washington House has an on-site medical staff that are available 24 hours a day, 7 days per week. Since my grandmother has become a resident of The Fountains at Washington House, she has become much more in touch with reality. I think this is largely due to the exciting classes offered there which help improve the residents mentally and physically. The facilities are well maintained and very handicap friendly. I also like how close this community is to Washington D.C.. My grandmother has been on several groups into the city to see several museums that she had never had the change to get to see before. All-in-all, I was very impressed with The Fountains at Washington House and my grandmother is quite happy there.
---
From The Fountains at Washington House
---
The Fountains at Washington House in Alexandria VA is rental retirement community that offers a continuum of care: Independent Living, Assisted Living, Memory Care and Skilled Nursing on a campus that bristles with all the excitement of the Washington DC setting. Choose from a variety of spacious studio, one-bedroom and two-bedroom residences. Meals are enjoyed restaurant style, with optional wine service. Our wellness clinic staffed 24 hours a day, seven days a week, and we have Medical Director on staff. Dentist, podiatrist, optometrist and psychologist services are available on site. We know that challenging our brains and getting in better physical shape has enormous benefits at every age, and The Fountains at Washington House offers an ongoing course schedule of mind-expanding and body-toning classes through Watermark University. A Watermark retirement community.
The Fountains at Washington House Housing Types Offered
| | |
| --- | --- |
| Housing Types: | Studios, 1 Bedroom Apartments 2 Bedroom Apartments |
The Fountains at Washington House Outside Care
Allows outside homecare/home healthcare services: Yes
Transportation to doctor's appointments & local area attractions: Yes
The Fountains at Washington House Rooms Features
| | |
| --- | --- |
| Rooms Features: | Utilities Included, Wheel Chair accessible, Full Kitchen |
The Fountains at Washington Community Features
| | |
| --- | --- |
| Community Features: | TV Room, Beauty Parlor, Laundry Facilities, Guest Rooms, Clubhouse, Housecleaning, Computer Room, Pharmacy, Parking, Fitness Center, Billiards, Hobby Area/Workshop, Greenhouse/Garden, Guest Speakers, Volunteer Programs |
Location of The Fountains at Washington House
---
Request Info
Get full access to reviews, cost information, and amenities