Albuquerque Grand Senior Living
1501 Tijeras Ave NE, Albuquerque, NM, 87106
Talk to a Family Advisor: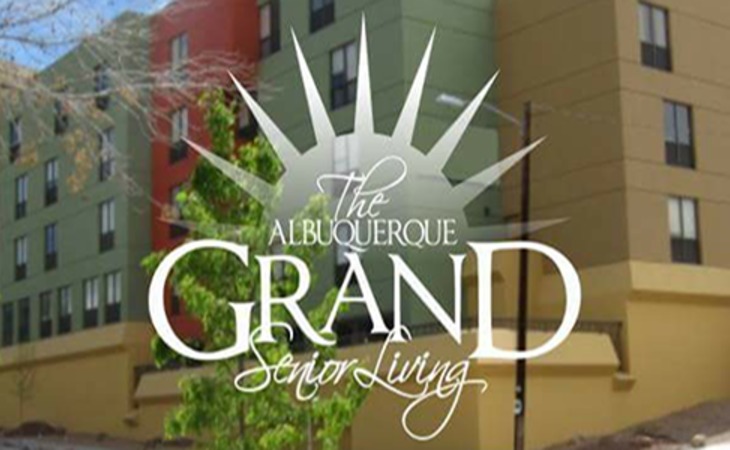 Reviews of Albuquerque Grand Senior Living
---
Shaba
April 25, 2017
I visited this facility
I liked Albuquerque Grand Senior Living because it was in the city. It was a big building, but everything was locked and closed. The place was more for people who just wanted a nice, comfortable place to stay. The staff was very nice, but I wanted more activities. The food was very good, and the dining area was very nice. It wasn't so open or lively to me.
---
Kirk102603
March 08, 2017
I visited this facility
I took a tour at The Albuquerque Grand Senior Living for my mom. It was OK. I really like the person who operated the place -- she was fantastic -- but my mom said she did not felt it to be a home. It felt like a building. We really did not see activities on the place.
---
anonymous522085
December 16, 2016
I am/was a resident of this facility
I chose Albuquerque Grand mainly for the price and activities; you name it, they have it. They do a good job of activities for the residents. We had a marvelous Thanksgiving dinner. A lot of groups come in for singing and dancing. However, the food is not good.
---
Martha544155
November 20, 2016
I visited this facility
I had a friend that was at The Albuquerque Grand Senior Living. I had a bad feeling about it. It wasn't very clean, and I didn't feel comfortable. It was a big place, but I didn't think the staff wasn't friendly.
---
pleasent to your face horrible after
August 03, 2015
I am a friend or relative of resident
The staff seems very pleasent to outside guests. We moved my grandpa in with the assumption they are pleasent and nice we paid for everything including cleaning of his room every week, laundry, help with bathing, and medicine. After about a month we noticed his pain pills dissapearing. He wasnt taking them but yet several each week were gone. They stopped helping him bathe and we noticed his overall heigene was getting worse. He would tell us stories of how most residents suffered from dementia or Alzheimers. If you had any mental capacity they treated you very poorly. If you tried explaing a problem or wanted to ask a question about meals they were rude and acted like your opinion didnt matter. We moved him out as soon as possible. We gave a $2,000 deposit and might see half of that back. When we turned the keys in they said they woukd do an inspection and get back to us. A week later I called and Tony was very rude right off the bat almost yelling at me about the condition of his room. I told him I cleaned it and took pictures and he told me "good im glad you did because so did we." They claim they charge a cleaning fee a sanitation fee and carpet cleaning. Im confused I thought someone was cleaning his room every week? Save your elderly the misery and go somewhere else. I would give a no star rating but I have to give 1 to leave comments.
---
Daneen
February 10, 2015
I visited this facility
The Albuquerque Grand was the one that I visited. The person there, Savana, has been very helpful, and she was willing to work with me, but it would still leave me like $600 a month, and I was not used to living that limited. It used to be a football dorm, so it was very large. The rooms used to be dorms, so they were not appealing to me. They had activities. I believed they had a pool table, a community room, and games. The halls were suffocating, hot, and miserable. I guessed that was to be expected with elderly people because they were cold, but I didn't like that. However, Savana was really helpful and friendly.
---
markwallace
November 04, 2014
I am/was a resident of this facility
We came here to sing as volunteers. The residents first off enjoyed our singing but most importantly they seamed to be enjoying living at this community. They were all down in the dinning room and extremely grateful for our service. They all thanked us for coming out to provide entertainment to them. I did notice how clean an quaint the building is. I stepped into the office of the sales office and she was happy to take time to give me information for my friend who in fact may be in need of their service. The major indicator to myself that this was a great community was the activeness of the residents currently residing there.
---
thanksag
August 16, 2014
I am a friend or relative of resident
The chef is amazing. I loved the meal last week I eat with dad. Dad had picked this place for my mom and himself a few years ago. My has since passed after her battle with breastfeeding cancer. I lived out of state at the time so I had no say in it. That made me nervous as I was not able to see it befor hand. Now I have been back for almost six months and can see he mad a good choice. They were all so great with my mom's passing and gave my dad the extra attention he needed. I'm glad they were there when I could not be.
---
mymomrocks
August 06, 2014
I am a friend or relative of resident
They have great staff at this place. My mom lives on the east side in the independent part of the building but lately she has needed help with her medication. When she needed this service, Tony got the staff to start immediately. It was an amazing weight off our shoulders. I have noticed a big positive change in her mental state since this has happened. I am very thankful for all of them. Good Job everyone John Vigil
---
Beachwalk180
August 04, 2014
I am a friend or relative of resident
My aunt has lived in this community for over 5 years now and, while changes have occurred, the quality of staff, the care, and the services provided, as well as the commitment of management, has always been great and, if anything, has continued to improve and impress me. I visit my aunt at least 3 times a week, and am always warmly greeted. The staff knows every resident's name and there is a genuine sense of family and caring interaction. The owners, a husband and wife, are frequent visitors and they know their residents and I've watched them happily spend time talking with them. This is not a fancy corporate feeling place - instead it is clean, bright, uplifting place filled with very nice people. If you asked my Aunt about the place she'd say the same things about it. Like most her age she will complain if things don't meet her expectations, but the worst I've ever heard is that the food is a "little spicy." She likes that they keep the place neat and tidy, and that they clean her apartment as part of her rent. She loves that they also do her laundry because it's too hard for her to do it herself anymore. And she loves the exercise classes. Recently the owner completely refurnished the main patio and we now love sitting outside in the evenings with her friends. Having spend so much time here, I feel like I have a real sense of the place and am very happy to have my family member here. The staff knows their business, seem to take great pride in working with seniors, and it is clear that, for most of them, this work is a real passion. The place seems to always have work going on to keep it looking nice, and that's good - I want my Aunt to live in a place that has the same pride she does. Nice apartments, nice staff, nice place - great decision for my aunt to move here.
---
barf
October 26, 2013
I am a friend or relative of resident
Very lousy facility. Management refuses to cooperate on certain issues, including a billing dispute. Management puts on a good show when you show interest and want to move in. Once you give them your money you see how ugly they really are. Steer clear of this place folks, do your research before you move your loved ones, and avoid this place. You'll save yourself a lot of hassle.
---
Albuq
October 23, 2013
I am a friend or relative of resident
old facility, very ugly furnishings, bad food, health department always there with complaints, bed bug infestation. Owners do not know how to run facility. Employees treated real bad causing lots of turnover in management.
---
Larry21
October 05, 2013
I am a friend or relative of a resident
Albuquerque Grand was great when my mother went there but it's not that great now. I think it changed owners and some of it is not as good. Every room has a bathroom. Everybody goes down to a general area for meals. The staff are okay. They do laundry and there's a staff there all the time if some people need help.
---
andstep4
April 18, 2012
I visited this facility
The Albuquerque Grand Senior Living Facility is a great one because it has been around for so long. The staff is helpful and they have a genuine passion for the work they do. The facilities are kept clean and room sizes are okay. Compared to other places the meals are decent even though they don't provide a restaurant feel like some there places do. Their rates are competitive and they have nurses and trained professional on site. At Albuquerque Grand Senior Living there is a personable feeling that makes it feel like home. Parking can be a drag because of its proximity to the University of New Mexico and a busy cross street. There are activities and programs abundant for the residents at Albuquerque Grand Senior Living. Seems they have a pretty low turnover rate for employees. Some of the people I met had been working there for years and love what they do. I would recommend this place for one of my love ones.
---
From Albuquerque Grand Senior Living
---
There was a time when retirement meant settling into an easy chair and letting other people take care of you. That was then. This is now.
Today's seniors are sharper, fitter, and more active than ever. They enjoy a robust social life, entertainment and cultural activities. They exercise regularly, eat healthy, take care of their bodies and minds. For today's seniors, that easy chair might gather a lot of dust … at least at Albuquerque Grand Senior Living. As we believe your retirement years should be the best years of your life.
Retirement should mean freedom. Freedom from the demands of home ownership and maintenance, from the obligation to cook and clean…and worry. Freedom to truly make your retirement years your very best. Maybe you'll choose Independent Living, where you'll enjoy the best of both worlds … the privacy and independence of living in your own homey apartment, with all the security and convenience of round-the-clock staffing. If you need a little more assistance, choose the Assisted Living option, and get the extra help you need, so you can experience the quality of life you want.
Independent Living
It's your life. Live it to the fullest. At Albuquerque Grand Senior Living, you'll enjoy all the independence, privacy and freedom of living in your own home, but without all the worries that come with it…like home maintenance, extra costs, and personal security. Embrace your freedom.
Albuquerque Grand is located in a beautiful historic neighborhood near downtown Albuquerque, just minutes away from world class medical facilities and physicians' offices–which should make you feel even better about us if your an adult son or daughter. We're close to entertainment and shopping, too. In fact, you really couldn't ask for a more convenient, central location.
Think you'll be sitting around a lot? Think again. Not a day goes by here without social, cultural and recreational opportunities. You can take advantage of daily walks and a regular exercise program. You'll make new friends in our beautiful dining room, where we serve three delicious, healthy meals, as well as tasty snacks, every day. There's even an on-site beauty and barber shop. And you'll enjoy the little extra conveniences that make life here good…
Weekly housekeeping services
Available on-site washer & dryer
Laundry service
Free underground parking
Regularly scheduled transportation
Finally, you'll feel secure–and so will your kids–thanks to an emergency call system and 24-hour professional staffing, with personal care available at additional cost.
Sound like your style? Come see for yourself…find out why we don't call it Albuquerque Grand for nothing!
Assisted Living
Just because you need a little help doesn't mean you can't enjoy your freedom. That's what Assisted Living at Albuquerque Grand is all about — making sure you get the help and support you need, so you can enjoy the quality of life you expect.
Our Assisted Living is fully licensed, and offers a complete range of services to assist you or your family member with virtually every aspect of the activities of daily living (often referred to as ADLs). Caregivers on duty 24/7. Maybe you could use a little help bathing, dressing, or with personal care, or extra help with laundry or housekeeping. You might need help eating or with your medications. And sometimes, a little companionship is just what the doctor ordered. Our regularly-scheduled caregivers can accompany the resident to meals, social events, and recreational activities.
And of course you'll have access to all the benefits and activities that all our independent living residents enjoy, like …
Full service, fine dining that includes three healthy, delicious meals daily, plus snacks
Regular exercise program
Emergency call system within each apt
Front desk staffed 24/7
Daily cultural, social, recreational & entertainment activities
Free underground parking
Housekeeping and linen services
ALSO OFFERING …
On-site beauty / barber shop
Scheduled transportation for shopping & medical appointments
Come pay us a visit at Albuquerque Grand Senior Living and find out all you need to know about our Assisted Living apartments and services.
What Makes Us Special
---
Offering both independent and assisted living, Albuquerque Grand is dedicated to providing an active, vibrant senior lifestyle with a wide variety of activities to ensure that our guests flourish physically, emotionally,and socially…backed by a commitment to excellence in service by caring professionals at all levels. We place a high value on hands-on, friendly care, as well as providing well-rounded, complete nutrition in an elegant dining environment. We love our guests…and we love their families.
Features of Albuquerque Grand Senior Living
---
Costs
Minimum Rate

$3100/month

All Inclusive Rent
Room and housing options
1-bedroom apartments
Companion Suites

We Offer Companion Suites

Studio Apartments
General
Minimum Age

61

Pets

Small Pets Allowed
Location of Albuquerque Grand Senior Living
---
Get Cost Information
Get full access to reviews, cost information, and amenities