Encore Memory Care Day Center
6550 W. Plano Parkway, Ste. 116, Plano, TX, 75093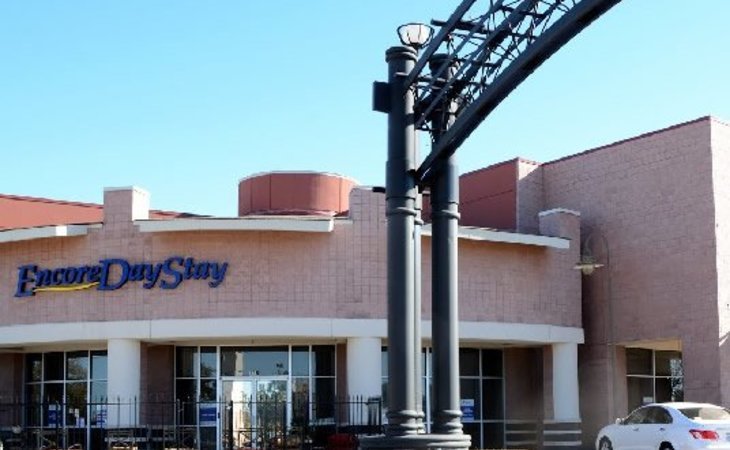 Reviews of Encore Memory Care Day Center
---
Tomdallas
February 11, 2016
I am a friend or relative of resident
I've been taking my wife to Encore for about 6 months and couldn't be happier with their service. The atmosphere is always bright and cheerful. Staff always welcoming and attentive. The activities are always changing and special guest entertainers are brought in several times a week to add more fun to the daily activities. My wife seems to be energized after being there and I believe benefits from exposure to others. I'm a sole caregiver and it has given me a welcome opportunity to accomplish things that would not be possible otherwise. Thanks, Encore!
---
The Spouse
October 25, 2013
I am a friend or relative of resident
I want to tell all, how satisfied I am with your Memory Day Care. After being satisfied with cleanliness, prettiness, and all that, it was the relationship, attentiveness, kindness the interaction the employees had with the guests. The memory games they played, entertainment that kept all the guests attention. I did not bother to look any farther. The food and snacks they receive are of top quality and tasty. But most of all it was the improvement in my wifes' actions at home, it was easier to take care of her here at home, she eats better, sleeps better and has really helped me out here at home. Ray
---
uniwendy
May 30, 2013
I am a friend or relative of resident
My husband was diagnosed with dementia even though he is relatively young. I still work full time and struggle taking care of him and focusing on work while he is home alone all day. I found Encore on the internet and went for a appointment to see what they could offer. Laura was so kind and spoke to my husband as if they had known each other for years. She showed us the facility and we met everyone there. It made him so comfortable that he was excited about visiting the next available day. When I took him they remembered his name and mine! That is excellent customer service that I wasn't expecting. It is so much like home! I was apprehensive all day, but when I picked him up he was laughing and enjoying his new friends. I figured he would be tired, and he was, but wanted to go back the next day. That is a testament to their caring staff and the respect they have for their clients. I love this place and am so happy we found them.
---
Sally H
January 30, 2013
I am a friend or relative of resident
My daughter has been attending Encore for 1 1/2 years. It's one of the biggest blessings in my life. I had searched for a long time to find a day program for her where she can have fun, participate in many different activities, and interact with other people. Encore is fabulous! The staff is wonderful, caring and supportive, not to mention FUN !. They bring in various entertainment monthly, from musicians to art, just to name a few. The facility is a comfortable "home" away from home, which makes me feel free to go about my day without a worry. We LOVE, LOVE Encore! I highly, highly recommend it for your loved one. Go check it out. You truly won't be disappointed.
---
Jacksonbr
January 16, 2013
I am a friend or relative of resident
My wife was diagnosed with Parkinson's Disease about 12 years ago and has mild dementia. Over the years, she has required more and more care. I began to realize I needed some time during the week just for me and to get errands done that just didn't fit into the schedule. Encore has been the perfect solution for us. When we first considered care away from home, my wife was very resistant to the idea. It took me several months to convince her that I needed some time for myself. After the first half day visit, she began to be more comfortable being with others away from home. She found that she enjoyed the many activities that were scheduled each day and the loving care and attention she received from the staff. The facility is new, bright, clean and functional. We are so blessed to have a place like Encore to help us through a difficult time in our lives. My wife has developed friendships with the other folks attending Encore as well as the staff. A few times, I have observed her smiling or laughing while she was participating in group activities. I have confidence that my wife is being cared for in a very professional and caring way. We have recommended Encore to several of our acquaintances who seek the services offered by Encore.
---
Caring9007
January 03, 2013
I am a friend or relative of resident
I have had my wife at Encore for about a year and a half. It has been a godsend for me to have a safe place for her to stay while I am able to attend to other things and activities besides being her full time care giver. The staff is well trained in handling memory impaired patients and are always kind, compassionate and attentive to my wife's needs. I cannot say enough about the facility and staff. It has made a big difference in my quality of life. A good sign of their effectiveness is that my wife is always happy when I pick her up even though she really can't remember any details of her day. What a blessing Encore has been!
---
Bette Williams
December 23, 2012
I am a friend or relative of resident
What a blessing Encore has been for our family. We are trying to keep our mom in her familiar surroundings while we still need to work and continue with our other life responsibilities. She is able to live in her comfortable environment with support, then enjoy Encore during the day. The feel you have when you enter is one of love, joy, understanding and acceptance of all who enter. The entire staff is so loving and caring about each of their guests. They know their likes and dislikes. They know and truly understand Dementia and how best to help their guests live happy, stimulating days. Activities are changed about every 30 minutes designed to stretch the mind, body and soul. Mom loves going everyday:) It will be a sad day if we come to a time that mom can no longer live at home with Encore support during the day. I tell everyone that might have a need what a special place Encore is! This happens from the very top down - Thank you for your investment in a much needed option for families caring for loved ones with Dementia.
---
Kay Paggi
September 21, 2011
Other
Encore is a new adult day center in west Plano. The Dallas area does not have enough places for people with memory loss to stay safely during the daytime; Encore is a much needed addition. Encore is in partnership with the people who own the Autumn Leaves communities for dementia care. Laura and her husband, the owners of Encore, and their staff have gotten hours of education and experience from Autumn Leaves. The first thing you see about the facility is an outdoor seating area with a grill and tall iron fence; the main door opens into a large indoor area. The "˜guests' and their families enter the facility with a plastic card so they need not ring a bell or knock. The interior space is divided into several rooms, one with recliners in front of a large TV, another with tables for games and dining, a room with a piano and space for dancing, a library with internet connections, and a room with a hydrotherapy tub. The furnishings have obviously been chosen by someone who knows older people: the tables have round edges, the chair have arms and no wheels, and there are other touches that clearly say, "˜We know you, and you are welcome and safe here.' There is a nutritionist on staff, a beauty parlor in the building, and there is a nurse on duty. The facility has 4800 sq ft, built in a circle around the kitchen; the walls actually curve. It is wheelchair accessible. Encore is at the corner of Plano Parkway and Midway Rd, on the end of a shopping center.
---
Big Smiles
August 25, 2011
I visited this facility
This is a brand new state licensed facily. I had no idea what to expect. But, I was so pleased at how beautiful it was and how loving the whole staff was to me and my Mom. By the time we finished the tour "I wanted to stay there, too". Also, they have half days rates.
---
From Encore Memory Care Day Center
---
Encore Memory Care and Day Center is an Adult Day Stay Center which specializes in Memory Care and is highly trained in Dementia and Alzheimer's. We have a complete Activity Calendar with Daily Programs to enrich the adult mind and body - providing physical, mental and spiritual enrichment. We have a Certified Activities Director, licensed RN's and LVN's and a trained Caregiving staff to meet the needs of each of our guests and their unique levels of care.
Encore Daily Enrichment Center is dedicated to providing dedicated memory care in an open, comfortable day center setting. Family owned and operated, Encore focuses on enhancing the daily lives of our guests in a secure, structured environment.
With specialized expertise in Alzheimer's and dementia care, our friendly staff welcomes our guests with engaging opportunities for social interaction, daily activities developed specifically for our guests living with memory impairment, nursing staff trained in dementia care and a warm, home-life atmosphere.
With a history rich in the senior housing industry, Encore Daily Enrichment Center is quickly becoming the leading regional provider in North Texas for adult day services.
Experience and Encore Day, and see what a difference a day can make.
Facility Type
Alzheimer's Day Care
Conditions Accepted
Incontinence, Limited mobility, Dementia/Alzheimer's, Vision/Hearing impairment.
Hours
Mon.-Fri. 7:30AM-6PM, Sat. 10am-5pm
Transportation
Shuttle Van
Availability
Now Registering!
Payment Options
Private Pay, Veteran's Benefits, Long Term Care Insurance
Location of Encore Memory Care Day Center
---
Get Cost Information
Get full access to reviews, cost information, and amenities