From Hospital to Home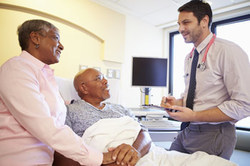 There are many reasons why someone might have to be admitted to the hospital. Find out how to prepare for hospitalization, what to do while you're in the hospital , and after you're discharged from the hospital.
Tip: Time Hospital Visits to Coincide With Meal Times
If your parent is in the hospital or a skilled nursing facility, try to time your visits -- and those of other friends and family members -- to coinci...
read more