Heart Surgery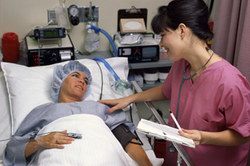 All Rights Reserved
Heart surgery can correct problems with the heart if other treatments haven't worked or can't be used. The most common type of heart surgery for adults is coronary artery bypass grafting (CABG). During CABG, a healthy artery or vein from the body is connected, or grafted, to a blocked coronary (heart) artery.
Questions about Heart Surgery
Are Painkillers Necessary After a Bypass Operation?
What Does it Mean When a Person Has to Get a Ring in Their Heart After a Triple Bypass?
Caregiving and Heart Surgery
How Can I Help Boost My Mother's Mood After Her Bypass Surgery for Heart Disease?