Hearing Loss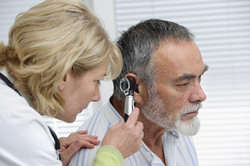 Hearing loss affects about a third of older adults and can add greatly to the emotional and practical difficulties of family caregiving. Caregivers get frustrated repeating themselves and those with hearing loss often feel disconnected and confused. Luckily, understanding hearing loss and the simple ways to address it can go a long way toward making day-to-day life easier for everyone involved.
Image by bitboy used under the creative commons attribution license .
Signs and Symptoms of Hearing Loss
Tip: Tip: How to Get Your Loved One to Listen
Does your loved one seem to ignore what you say half the time? Learn what's probably going on, and how you can fix it.
read more