Eating and Nutrition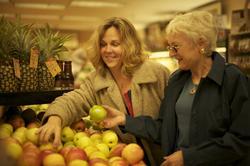 Get healthy eating tips along with which foods can prevent disease. Plus: Get answers to frequently asked questions about diet and nutrition -- or ask your own question.
Eating and Nutrition for Seniors 
Eating After 50: 10 Sneaky Ways to Get More Calcium
Tip: Minimize Visual Distractions at Meals to Reduce Confusion
Serve meals to someone who has Alzheimer's at a table setting with minimal distractions. You'll reduce both confusion and his odds of overlooking food...
read more