Eating and Nutrition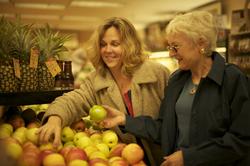 All Rights Reserved
Get healthy eating tips along with which foods can prevent disease. Plus: Get answers to frequently asked questions about diet and nutrition -- or ask your own question.
Eating and Nutrition for Seniors 
How Can I Get Mom to Eat Better Quality Food?
Eating After 50: 10 Sneaky Ways to Get More Calcium
Caregiving and Nutrition
How Do We Deal With a Fructose Intolerance?
How to Balance Meals When Our Needs Are Greatly Different?
What Kind of Diet Will Best Help Me Battle Colon Cancer?
With Diabetes, Diet and Dumbbells Make a Difference
Tip: Stock the Freezer With Heart-Healthy Meals
If someone you're caring for has heart problems and is living on his own, it may be difficult for him to get meals on the table, let alone prepare foo...
read more