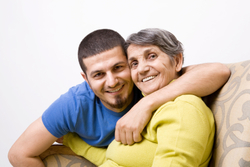 Ninety-five percent of people 75 and older say they want to stay in their homes indefinitely. This desire for independence is perfectly natural, but for their children, it's also a recipe for worry -- that they'll fall, forget to take their meds, or just need assistance. You can make your parents' home far safer and more comfortable by investing in some of the new devices aimed at elders who have made the choice to "age in place."
Solutions for safety worries
"Seniors can really get in trouble because they feel like they're losing their grip on independence," says Susan Ayers Walker of SmartSilvers Alliance. Ayers monitors technological advances aimed at helping seniors hold on to their independence as they age. These technologies also help the children of aging parents, who worry that Mom is going to fall down the stairs, leave the stove on, or forget to take her medication if no one is around to notice.
Here's a worry-by-worry guide to some innovations -- several tested and recommended by Walker -- that can make all the difference if you're concerned about your live-alone parents' safety or just their day-to-day ease of living.