Caring Champions -- Honoring Professional Caregivers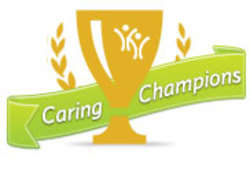 All Rights Reserved
Congratulations to the Caring Champions of 2014! Read about the top ten professional caregivers now.
This annual recognition program features stories of extraordinary professional senior care and rewards the top 10 with a cash bonus ($500 for the grand prize winner; $100 for nine runners-up). These heartwarming tales are truly inspiring, and remind us about the important, meaningful difference that can be made by choosing to work in senior care -- whether at an in-home care agency, senior living community, memory care facility, nursing home, adult day center, or hospice organization.
There were dozens of wonderful nomination stories submitted in June, generating nearly 4400 social votes from our online community in July. In addition to counting the social votes, our panel of expert judges also considered the compelling attributes of each senior care story; the volume and sentiment of story comments and client/peer feedback; and the caregiver traits and care activities going beyond basic senior care expectations.
All who were nominated deserve to be praised for a job well done. Visit the Caring Champions 2014 story collection, and see why!
Need more info? Please contact community@caring.com. Thank you!
2013 Caring Champions
Caring Champions: Top 10 of 2013
Caring Champions 2013: All Stories
Caring Champions 2013 Rules
More Info for Families
Submit a Senior Care Review
Learn About Caring Stars
Tip: Tip: Use a Phone Tree to Do the Talking
Keeping others informed can be a time-consuming task for primary caregivers, especially during a crisis. Learn a time-saving alternative.
read more