Breast Cancer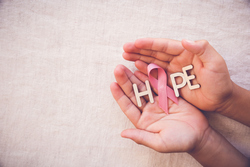 Breast cancer, one of the most common types of cancer, is curable if caught early -- and is usually treated through some combination of surgery , radiation , chemotherapy , and other medications . When caring for someone with breast cancer, it's important to work with doctors to obtain the best treatment possible and to control uncomfortable side effects .
Tip: Butterscotch Candies Ease "Tinny" Mouth From Chemo
To cut the metallic taste in the mouth that's one of the most complained-about side effects of chemotherapy treatment for cancer, doctors often sugges...
read more