The Cheerful Caregiver
It's about presence, not presents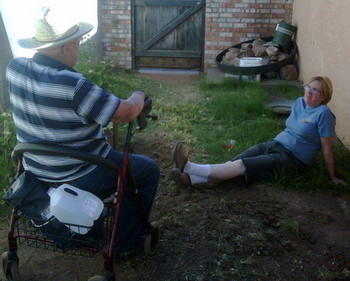 All Rights Reserved
"When I look back, I recall countless hours spent perusing catalogs and stores trying to find the right gift for my mother. I also recall, as the disease progressed, watching her happily unwrapping her gifts but not understanding they were for her or what they were. What she did understand were the moments we spent together on the couch, holding hands, talking and giggling. She understood when my dad put on music and danced with her. And even if she didn't understand a joke, she understood the laughter and love that filled her home. She understood, probably better than I, that it wasn't about the stuff ~ it was about the people." "" Patti Kerr, author
Recently, my friend Trevania Henderson of CaringWise posted this epigram on the CaringWise Facebook wall. It's a powerful reminder of the divergence that can occur between what we, as caregivers, value versus what our carees value as they progress through dementia or Alzheimer's disease.
As I read Patti's meditation, I was struck not only by the profundity of it but by its truthfulness, and I was inspired to tell my own story about the power of presence over presents.
My mother-in-law didn't suffer from dementia, but she did have heart disease and, ultimately, cancer. As she aged and became less able to take care of herself, I frequently assisted her. I loved my mother-in-law very much, and as her health declined I found myself, like Patti, perusing catalogs and haunting department stores looking for gifts: extravagant gifts for a woman who'd never indulged herself much. Things like luxurious bathrobes and expensive colognes. Things she would never have bought for herself. She accepted these things graciously, and I believed they made her happy.
After she died, as I was helping sort through her personal effects, I found what looked like individual diary pages scattered in various locations. Apparently, my mother-in-law jotted down journal entries on scraps of notebook paper whenever the mood struck and stuffed them in the backs of drawers around the house. While I no longer have any of these, I recall being struck by the simplicity of one I discovered that said something like, "Beth came by today and cooked buttered noodles for me. It was nice to have the company."
Really? Buttered noodles and company? Nothing about the warm velour bathrobe from Dillard's that cost a small fortune?
I learned a huge lesson that day "" a lesson I put into action when I took care of Dad: It's all about the presence, not the presents.
As Dad's dementia ran with rampant abandon toward its end line in 2010, I made every effort to spend time with him, doing whatever he felt like doing. While Dad dozed in the chair next to me, I'd watch hours of baseball games I didn't care about, just so I'd be there when he awoke. Lee made Dad a large wooden step to help him get out the backdoor with his walker, and we spent afternoons together in the backyard, doing nothing more important than chatting and chopping up dead hollyhock stems for the compost pile.
Although he never expressed it, I know Dad enjoyed this time together far more than any store-bought gift I could have given him.
So, this holiday season, remember: It's not the presents, it's your presence, that makes a difference in the life of your loved one with dementia. Cherish the moments because all too soon, they'll be gone forever.