The Cheerful Caregiver
I said no to Mom, and...
Last updated: Oct 16, 2011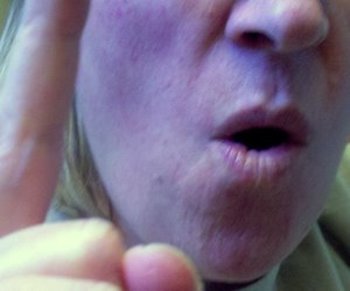 We were talking money over at The Cheerful Caregiver recently, and reader Roxanne chimed in with another aspect of the financial toll of caring for an elderly parent: loss of income. Where do you find the money to take care of your parent and also give yourself the material things you deserve? How do you cope with the financial stress of taking care of a loved one? What do you do when money runs short "" for you or for them?
Merely talking about money issues can be stressful. I always feel I'm prying if I ask Mom about her money, and I hate to admit to myself or anyone else that I've been living paycheck-to-paycheck the last few months.
Taking the ostrich approach (denial), which I've done over the past year Mom has lived here, doesn't work. I finally faced up to that fact last week, as I was doing our weekly budget. Whereas the numbers on the spreadsheet previously had been robust, I've watched them erode week by week over the past year. The biggest deficits have occurred in the 'dining out' category. Because eating in restaurants has become one of Mom's last pleasures, over the last 12 months I've eaten out at least twice as often as I normally would have. To cover this expense, I've borrowed from other budget lines. Our checking account balance has become uncomfortably low.
I've tried several strategies to decrease restaurant spending: coupons, shared plates, dining at lunch instead of dinner. But until this weekend, I hadn't found the strength to employ the most effective strategy of all: the NO.
Because I belong to a number of restaurant eclubs, I recently received a coupon for buy-one-get-one-free for lunch at a relatively pricey restaurant Mom and I love to go to. We had planned to use it on Saturday. Then my printer broke, and I had no way to print the blasted coupon. Mom suggested we go to the restaurant anyway, and cost be damned. And then, despite being very nervous, I said the fateful word: No. Actually, what I said was, "Mom, I can't afford to eat there without a coupon this week."
Surprisingly, the world didn't end. Mom replied, "That's OK. Actually, it's better for me, too. I've been spending a lot of money in restaurants lately. I could stand to cut back a little."
In an instant, my stress dissolved. Saying 'no' hadn't been as hard as I'd feared.
Today, I feel more empowered not only to say "no" when I need to, but also to be more open with Mom in discussing our mutual financial issues. In fact, later on Saturday afternoon, Mom asked me to become a co-signer on her savings account. I feel the lines of communication have been opened on the financial front, which is a huge step forward in helping Mom manage her money as she becomes less able to do so herself.
These caregiver conversations can be hard. But my message to you today is "If I can do it, you can do it." I urge you to empower yourself to say "no" to your parent when it's in your (or their) best interest. Don't feel guilty about it. In fact, it may be easier than you think.
Weigh in: Do you have trouble saying 'no' to your parent(s)?