The Cheerful Caregiver
Find the Real Riches in Your Life
Last updated: Nov 21, 2011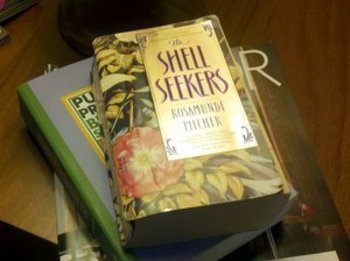 "Happiness is making the most of what you have, and riches is making the most of what you've got." ~Penelope Keeling, The Shell Seekers
As the caregiver of an elderly person, I think about money frequently: hers, mine. Caregiving can be an expensive experience, depending on the financial means of the person being cared for. Luckily for me, my mom has enough cash to, I believe, live out her life in a fairly comfortable manner. Other caregivers aren't so lucky. For them, money issues cause huge stress not only for themselves but within the caregiving relationship. So, today I ask: Does money buy happiness when it comes to caregiving?
I've always loved the books of Rosamunde Pilcher. Her novels tell the stories of ordinary people working through the problems life throws at all of us: family relationships gone sour; unexpected deaths of loved ones; unrequited romance. In short, I relate to the people in Pilcher's novels. I could be one of them, and the fact they solve their life problems gives me hope for solving my own.
In The Shell Seekers, protagonist Penelope Keeling deals with a son who's a bit of a gold digger. He wants his mother to live as frugally as possible in her old age so that he can inherit the maximum share he's entitled to. He feels entitled because he experienced a frugal upbringing. Penelope's husband left her to raise three children alone at the end of World War II. While the family didn't have much in terms of material goods, they did enjoy a loving and cheerful home, where friends frequently stopped by to share meals and play games and dance to music from the gramophone. And whenever Noel, the son, complained about his lack of expensive clothes or private schooling, Penelope would often break out the aphorism above:
Happiness is making the most of what you have, and riches is making the most of what you've got.
When Lee and I were newly wed, we didn't have the proverbial "two nickels to rub together." We were terrible money managers, constantly paying the phone bill this month and the gas bill next month, always a month (or two) behind on everything. On the other hand, we had lots of friends, and we experienced many a Friday night when people would gather at our house, bringing a covered dish, and we we'd all break bread and play games into the wee hours. Despite our stressful financial situation, we enjoyed many happy times.
It wasn't until I re-read The Shell Seekers a few years ago and reflected on those early days of marriage that I finally understood this is what Penelope Keeling was talking about. It's not having a lot of money that brings happiness. It's making the most of what money and material possessions you do have, regardless of how meager they may be. Real riches comes from the intangibles: friends, enjoyable activities, time spent doing something meaningful.
So, I leave you, my fellow caregivers, with this thought today: Find the riches in your week. Caring for a loved one is tough work. If you're also struggling with financial issues, spend this week seeking out opportunities to get back to basics: spending time at home with friends, playing games, listening to music, having a pot-luck. Don't let money problems overshadow the true riches you have in life.