The Cheerful Caregiver
Embrace Imperfectionism
Last updated: Dec 05, 2011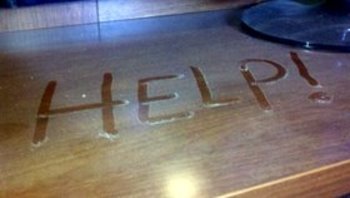 My mom moved to New Mexico one year ago last month. Since then, I have cleaned her home exactly twice.
Boy, do I feel like a poor excuse for a daughter!
Today, three housecleaning services are coming by Mom's place to offer quotes on monthly cleaning. Mom likes the idea of hiring "a maid" and isn't the least disappointed that her own daughter isn't taking care of the housework. So why do I feel like such a loser?
When Mom and Dad lived in the family home in Colorado, I had no issues regarding cleaning their house. I regularly traveled from Albuquerque to visit them and clean for them. It was too much for Mom, keeping track of all of Dad's doctor appointments and his medication regimen, doing the grocery shopping and cooking, and trying to take care of herself, too. So, I'd drive the five hours "" at first, a couple of times a year; as things deteriorated with Dad, more frequently; finally, once a month "" and I'd dust and vacuum, clean and scrub, sweep and mop. I won't lie: it left me exhausted.
But now Mom lives a mere couple of blocks away. I've calendared a cleaning regimen for her house that's far from arduous: each Monday I'm scheduled to perform one or two tasks, so that her whole house gets cleaned every month. In total, I would only be spending, max, an hour per week on housework at her place.
Yet something inhibits me from actually doing it.
A wise friend, Rosie, points out I'm suffering from Superwoman Syndrome. I want to be the perfect wife, perfect daughter, perfect employee. I expect to dispatch every household chore with alacrity and handle every professional and social duty with aplomb. She says I don't give myself enough credit. She also points out I'm still grieving my dad, holding down a stressful job, and am just concluding a turbulent 12 months that turned my life upside down. Rosie says I need to cut myself some slack.
A new friend, Trevania, thinks the challenges caregivers face today share characteristics with the early era of the working woman, when wives entered the workforce yet still were expected to perform all their usual parental and household duties. I think that's a great analogy. Superwoman was born in that era, and now she's re-emerging in the new era of the Sandwich Generation.
I think both women are right.
It pains me to admit this, but... I'm no superwoman. And I don't want you to be Superwoman (or Superman), either. It's not healthy.
And so, today I resolve to let go of perfectionism and instead embrace imperfectionism. I will freely admit that I cannot do all and be all for everything and everyone. I will give myself credit for all the positive contributions I do make, to my husband, my mom, my job, and myself. I will allow myself to feel positive instead of feeling guilty. I will stop beating myself up for the many ways I fall short and instead credit myself for the many ways I measure up, not only as a caregiver but as a person. Let's make this our mantra from now on.
Weigh in: Do you feel compelled to be Superwoman (or Superman)? How does it make you feel?