The Cheerful Caregiver
Attaining 'Repose and Calm'
Last updated: Oct 31, 2011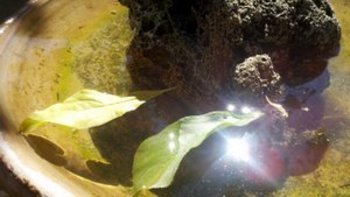 "If you can attain repose and calm, believe that you have seized happiness." "" Jeanne Julie Eleonore de Lespinasse
I'm typing this during a tranquil Albuquerque morning. It's not yet 8:00 a.m., sun filters through screens into my porch, mourning doves coo and croak in the plum tree outside. Cool air and black coffee induce a peaceful calm within me.
It won't stay this way. Within the hour, my mom will call to let me know she's up and ready to go. Monday is "Mom day" in my world; when she came to live nearby, I committed to spending every Monday with her, since I'm off work that day. And Mom likes to wring every moment out of our day together, from going out to lunch to window shopping for things we don't need. To me, it's a bit exhausting, but I try to remind myself of Dad's mantra: If you agree to do something, do it cheerfully.
Frequently, though, cheer eludes me; the heat and bustle of Mondays with Mom can make me cranky. It's these quiet moments, these still, early morning minutes of solitude I steal for myself, that enable me to get through the day. I force myself not to think ahead but to meditate on this peaceful feeling, as if I'm filling a reservoir of tranquility inside me from which I can sip during the hectic day.
Soon enough, the phone will ring and our plans will be laid, and we'll plunge frantically into traffic together to get our errands run. But not now.
I remind myself to be thankful my mother can still get around on her own. That she still has her mental faculties intact (for the most part). That the dementia seems to be progressing slowly. I remind myself to be grateful that, right now, Mom and I can share real quality time together.
I remind myself of these things because I remember the way it was, a little over a year ago, when Dad suddenly and sharply declined, losing memories by the day, until he couldn't even recognize himself in a photograph. And I remember how coping unraveled from a month-to-month thing to a week-to-week thing, and finally a minute-to-minute affair. I remind myself how I couldn't keep up, emotionally; how I thought I'd never make it through Dad's dying process; how I felt the tiniest of stressors was going to send me over the edge; how I couldn't possibly cope with any of this for one more minute.
But I did.
We all do. Somehow, nearly all of us caregivers find that strength to go on for one more month, for one more week, or for one more minute. How we do it remains a mystery. But one thing I know for sure: It requires the occasional oasis of calm to create an ocean of tranquility.
I hope today you'll be able to steal a few moments of calm and repose to help you stay centered during your stressful caregiving journey. I hope today you'll indulge in that bubble bath or take that long walk or do whatever it is that provides you with that brief window of respite that allows you to carry on. For one more minute.