The Cheerful Caregiver
Save Money on Food
Last updated: Nov 14, 2011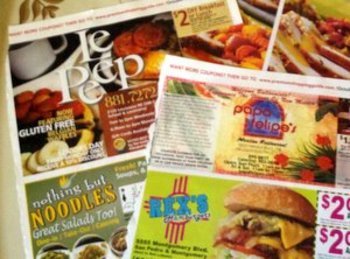 We all gotta eat, right? And many caregivers feed not only themselves and their children, but also their parents. If your parents can't afford to contribute to the food budget, it can wreak financial havoc on your checking account. These tips will help you eat affordably and reduce the caregiving stress related to budget issues.
Plan menus and cook at home.
Yes, I know it takes time, but I've found over nearly 30 years of menu planning that our household eats only 20-25 different meals 90 percent of the time. I'll bet the same is true for your family. So, get some index cards and jot down your favorite meal combinations (not recipes, but meals "" such as: Turkey sandwiches and tomato soup; pot roast with mashed potatoes; grilled chicken with green salad; etc.). Try to create 20 or 30 dinner menus first, then branch out to lunches. Put the cards in a file box, and simply deal yourself a menu each week. Need inspiration? Check out The Cheerful Caregiver's companion blog, Nourish the Caregiver. Twice a week, I share recipes and cooking tips to help busy, exhausted caregivers get a delicious meal on the table.

Invest in a slow cooker.
You'll spend $20 to $40 for a good one of the size you need for your family, but the payoff is great -- and not only in dollars and cents. First, you'll save money by creating meals from cheaper cuts of meat. Second, you'll be able to take advantage of meat sales because you'll be able to prepare bulk batches of things like spaghetti sauce with hamburger, shredded chicken or pork for enchiladas to throw in the freezer. In turn, having these items tucked away will help you get a meal finished quickly. Finally, it's incredibly de-stressing to remind yourself in the middle of a hectic workday that you don't have to cook when you get home because something delicious is simmering in the slow cooker!

Shop from a list.
There's nothing new about this tip. Study after study shows that sticking to a list reduces your overall grocery bill. Use your menu-plan index cards to help you create a concise list, and stick to it! For best prices on produce, create a separate list for fruits and veggies and shop what's in-season at your local farmers' market. If the mere thought of putting together a grocery lists adds to your exhaustion, consider using one of many available meal-planning software programs that automatically creates a list for you, based on what meals you've planned for the week.

Eat out only when you have a restaurant coupon.
Everyone needs a break from cooking now and then, whether it's for a fancy dinner or just an ice cream cone. With the plethora of websites dedicated to coupons, there's no reason to pay full price when you dine out. And don't feel uncomfortable using a coupon at even the fanciest of establishments; they're the ones who offer the deal. You're merely taking them up on it.

Don't redeem that grocery coupon "" unless you're positive it's a great deal.
Unless you have the time to become an extreme couponer, chances are you'll find a store brand or generic product that's cheaper than any brand-name product, even with a coupon, and sometimes even if you factor in doubling. If you routinely use only brand name products for certain items (I admit I'm a die-hard Heinz ketchup fan), you definitely should clip those coupons when you see them. Otherwise, skip it.
Family caregivers have enough things to worry about without devoting extra thoughts to the food budget. By following these simple strategies, you can focus on the important things and rest assured that your budget's intact.