Tech-Savvy Daughter
How to Watch Your Favorite Shows and Movies Online
Last updated: Oct 28, 2010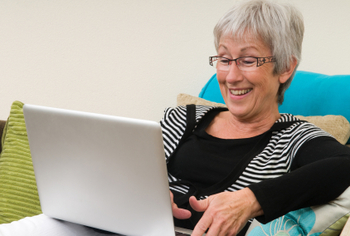 The other day I was talking with my family about one of my favorite shows, Modern Family. My dad hadn't seen many of the episodes but was intrigued and wanted to get caught up on back episodes. That's when I introduced him to Hulu.
The Hulu website provides free, streaming access to over 2,600 prime-time television shows and more than 1,000 movies and documentaries. Hulu, which is backed by NBC Universal and News Corp, has content partnerships with many of the leading networks and studios, including Fox, NBC Universal, ABC, Biography, MGM, National Geographic, A&E, Paramount, PBS, Warner Bros. and more. All the content is free and legal. The shows still have commercials, but fewer than if you watched them on regular television.
Finding and watching shows on Hulu is as easy as 1,2,3 (and doesn't require you to download any software):
1) Find
There are many ways to navigate the Hulu site. You can use the search box in the upper right-hand corner to search for a specific TV show or movie. You can also browse for content using the tabs at the top of the page. Once you select either the TV or Movies tab, you'll see a second row of tabs that enable you to browse by channel, popularity, recently added, etc. Categories include comedy, classics, action and adventure, drama, home and garden, health and wellness, sports, news, and more.
Notably, the classics category contains lots of shows that you and your family may remember fondly, such as The Mary Tyler Moore Show, The Three Stooges and Green Acres.
2) Watch
Once you find a show or movie that you want to watch, simply click on the link. Depending on the speed of your Internet connection, it may take a moment for your content to load. Once your show or movie begins, you'll see various options on the screen such as dimming the lights, increasing the size of the screen, etc.
For more information, click here to watch a brief Hulu Product Tour video.
3) Enjoy!