Tech-Savvy Daughter
The Wonderful World of Video Chatting
Last updated: Sep 16, 2010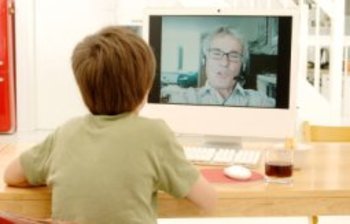 I recently attended a friend's wedding atop Aspen Mountain. Although the vows were heartfelt and the views were breathtaking, my favorite part of the ceremony was made possible by technology.
Due to frailty, the bride's 90-year-old grandmother was unable to attend the wedding. Thanks to video chatting software, however, Grandma was able to witness the ceremony live over the Internet from the comfort of her home. In fact, she was even able to participate in the ceremony! There wasn't a dry eye in the house when the minister walked over to the laptop and asked Grandma to give her blessing to the marriage.
One of the most popular video chatting software providers is Skype. All you need to get started is a Windows or Mac computer, an internet connection, and a webcam. Many of the newer computers have webcams built in. But if your computer or a loved one's computer doesn't have a built-in webcam, you can buy an external one for as low as $20 to $30 from stores like Target, Best Buy, and Amazon.com.
Skype's video chatting software is totally free and is available for download from www.skype.com. Note: In order to have a skype-to-skype video chat, each party needs to download the Skype software onto his/her computer.
How to Download the Skype Software (Good news: You only have to do this process once)
If you have a Windows computer, click here to download the Skype 4.2 for Windows and follow the steps below.
Click on the large green "Download Now" button, which is underneath the photo of the family video chatting.
Save the file on your computer in a place where you'll remember it. Note: You may see a warning that says "This type of file can harm your computer. Are you sure you want to download SkypeSetup.exe." You'll be given the option to either save the file or discard it. In this case, since we recognize the file name as the Skype program, click "Save."
Next, go to where you saved the file and double click on the file name (SkypeSetup.exe) to run the program.
A pop-up window will appear. Click "Run" to launch the Skype Setup Wizard.
Follow the simple instructions in the Wizard to complete the installation.
Once you've completed the installation, you should see the blue Skype logo on your desktop. If you don't see it on your desktop, click on the Start menu and you should see Skype under "All programs."
If you have an Apple/Mac computer, click here to download Skype 2.8 for Mac OS. I suggest that you watch this quick video to learn about the specifics of downloading and running the setup file on a Mac.
Now that the software is installed, you're ready to start Skyping!
How to Have a Video Chat
Launch Skype - Launch the Skype program from your desktop or the Start menu.
Create an Skype Account - The first time you open the program, click "Don't have a Skype name" and a "Create Account" window will open. Create your username (also called your Skype Name) and password. Going forward, you'll be asked for your username and password when you launch the Skype application.
Add Contacts - You can find and add friends using the Add a Contact feature within Skype. You can search for friends by their Skype name, full name, or e-mail address. Once you've found a friend, click "Add Contact." This will send a request to your contact. Once your friend has accepted your request, you should see his/her name in your contacts list on the left-hand side of your Skype screen.
Initiate a Video Chat - When your friends are logged into Skype, the icon next to their names will be green. When you're ready to start a video chat, click on your friend's name. His/her name should then appear in the main window of your Skype screen. To start the video chat, click on the green "Video Call" button, which should be right below your friend's name. Once your friend answers, you'll be able to see and hear each other.
Answer an Incoming Video Chat - If a friend or family member is going to initiate the video chat, simply make sure you've launched the Skype application and are logged in, using your Skype name and password. When your friend initiates the call, you'll hear a ringing sound and a pop-up window will appear in your Skype window. Simply click "Answer," and you'll be able to see and hear each other.
End a Video Chat - When you've finished video chatting, either party can click "End Call."
Note: One-way Video Chats Possible - You can use Skype even if only one party has a webcam. For example, it's easy to imagine a scenario where the grandmother doesn't have a webcam on her computer but her daughter does. In this case, the grandmother will be able to see and hear the live video of her grandchildren. However, the grandchildren will only be able to hear their grandmother's voice. In order for these types of chats to work, the person with the webcam needs to be the one who initiates the video call.
If you'd like additional information, I encourage you to visit the Skype help center.
I use Skype to talk with my parents who live on the opposite coast from me. It's a great way to stay connected, and it's always so nice to see their smiling faces. I hope you'll give it a try!
Happy Chatting! Let me know how it goes!
I'd like to hear from you!
I invite you to leave a note in the comment section letting me know how you're currently using video chat to make caregiving - or some other aspect of your life - easier. If you're not yet using video chat, I'd love to hear how you think this technology could potentially benefit you and your loved ones.