Tech-Savvy Daughter
Electronic User Manuals Save Time and Space
Last updated: Sep 27, 2010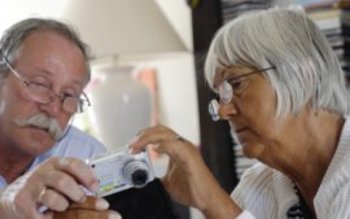 Have you ever found yourself trying to repair or understand how to operate something unfamiliar in your own home or the home of a loved one? Many of us hold on to the user manuals for the various appliances and devices around our homes. Yet, ironically, often we can't find the specific user manual that we need, when we need it.
I have a confession: I no longer keep user manuals. However, I can always find the specific manual that I need, right when I need it, by going online. Today, there's a ton of product support information available on the Web for everything from cameras and kitchen appliances to wheelchairs and personal emergency response systems.
The best place to start is with a simple Google search. I suggest including as much information as you can about the make/model of your device in your search terms. For example, I was recently looking for the manual for my camera, the Canon Powershot SD200. So I went to www.google.com and entered "Canon Powershot SD200 manual" in the search box, and hit the "Search" button. Each of the first two search result links took me directly to a page where I could download the manual for free.
You can also find manuals by going to the support section of the manufacturer's website. For example, I did a search for "Canon Camera Support" which brought me to this general Canon USA Support page. From the main page, I was able to browse for my specific camera and find this [support page that pertains to my specific camera] (http://www.usa.canon.com/cusa/support/consumer/digital_cameras/powershot_sd_series/powershot_sd200#BrochuresAndManuals). The page includes links to the manual and other support materials.
Alternatively, there are also various websites that aggregate user manuals, installation instructions, and tutorials for hundreds of thousands of products. One of the largest and most popular sites is ManualsOnline.com. ManualsOnline has a searchable database of more than 600,000 products in a range of categories including appliances, auto, cameras, electronics, office, outdoor living, etc. Any of the manuals in the database can be viewed and/or downloaded for free! You can search the ManualsOnline repository by product number, brand, product type, and model.
I hope these tricks help you get the most out of the products and devices in your or a loved one's home.