Tech-Savvy Daughter
An Easier Way to Eat Out
Last updated: Nov 04, 2010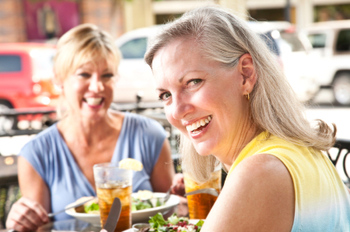 I'd like to introduce you to one of my very favorite websites, OpenTable. OpenTable is like having your very own fast, free, digital concierge. It allows you to search for restaurants with available tables in your area and then reserve your table with just a few clicks.
I use OpenTable in a variety of ways. Some days, I know exactly where I want to dine, and I search for the restaurant by name. Other times, I'm looking for a restaurant in a particular part of town or craving a particular cuisine. While still other times, I have constraints regarding timing or the size of my group. For example, OpenTable makes it easy for me to see which local restaurants can accommodate a party of 10 on Friday at 7 pm.
Here are the simple steps to follow to find and reserve a restaurant in your area:
Searching for Open Tables
Go to www.opentable.com.
From the main page, click on the name of your city (or state, then city).
Depending on what you're looking for, you can also refine your search by neighborhood, cuisine, or restaurant name.
Next select the date, time, and party size for your reservation using the drop down boxes on the right.
Click "Find a Table."
Selecting Your Restaurant
The search results will display the restaurants that meet your criteria and available reservation times at each restaurant.
To help you decide, OpenTable provides detailed restaurant profiles and customer reviews. Click on the name of the restaurant to get additional information. (After looking at a restaurant profile, click the Back button on your browser to get back to the search results page)
Once you've found an open table at your restaurant of choice, click on the time (right column) that you'd like to dine. This will take you to the reservation page.
Making Your Reservation
On the reservation page, simply fill in your name, phone number, and e-mail address.
On this page you also have the option to add a special request to the maitre d'. This is a great way to notify the restaurant if it's a special occasion or to request a specific table, high chair, waiter etc.
Once you've filled out the requested information, simply click the "Complete Free Reservation" button.
Confirming your Reservation
After you click the "Complete Free Reservation" button, the page will reload and you'll see your confirmation information.
You'll also receive a confirmation letter in your e-mail in-box. Keep this e-mail for future reference.
Modifying / Canceling Your Reservation
If you need to change or cancel your reservation, open your confirmation e-mail and click on the link in the e-mail.
Make the necessary changes and click submit.
One of my favorite things about OpenTable is that you're not required to log into an account or remember a password to make a reservation. Accounts are available and useful if you use the service often, but they're not required. Another great thing about OpenTable is that it's completely free. You're never asked to provide your credit card information. The only information you provide is your basic contact information (name, e-mail address, and phone number), essentially the same information you'd give if you were making your reservation over the phone.
The final reason that I love OpenTable is because it saved Valentine's Day 2010. My valentine's flight got delayed in NYC, and he wasn't going to make it home in time to make our original reservation. So I used OpenTable to search for ANY local restaurant that could accommodate a party of 2 at 9 pm. Much to my delight, with just a few clicks, I was able to reserve a perfect table for us at one of the most popular little Italian restaurants in our area. Grazie, OpenTable! That's amore!
Now it's your turn....go click, eat, and be merry!