Self Caring
What's New? An Attitude With Staying Power
Last updated: Nov 16, 2010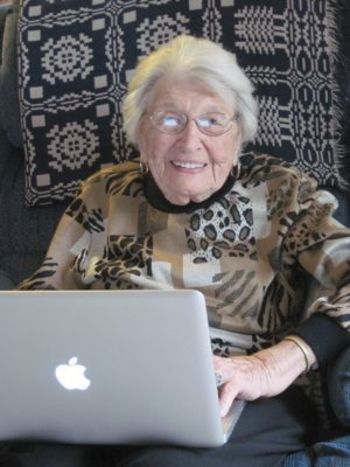 Ask a caregiver "What's new?" and you're likely to hear updates on a loved one's condition. (Right?) But do you also have a good answer to the question, "What's new with you?"
Staying open to new things puts you in the path of new people, ideas, and skills -- buffering stress, preventing boredom, and stimulating your brain. And if my Great-Aunt Helen (my grandmother's sister; that's her in the photo) is any measure, a curious attitude and adventuresome spirit can't hurt longevity, either.
On Sunday, Auntie Helen turned 95. She looks, sounds, hears, and acts at least 20 years younger. I came away from her birthday party with a present myself: A life lesson in how to keep looking forward.
At 90, she taught herself to cook. (Single all her life, she always lived with a sister who did the cooking, until she died.)
At 93, she took a watercolor class at her local senior center. Soon her family began receiving amazing hand-painted cards from her.
At 94, she asked for a computer for her birthday, "so I can keep up with all my nieces and nephews who are so scattered."
At 95? She wants to join Facebook.
She breezily mixes old and new. Her latest hobby: Watching YouTube clips of silent movies. When her headphone pads wore out, she crocheted new ones. (And she stores her computer cords in another bag she crocheted for the purpose.) She likes Hilary Clinton, who reminds her of Eleanor Roosevelt, whom she heard speak in 1944 at the first anniversary of the Marine Corps Women's Reserve, which she'd joined in 1943. ("I'll never forget it"¦she talked a long time, and we were wearing our dress uniforms and we were cold!")
It's not that she's always been a wild Amelia Earhart type. (She refuses to fly, for example.) She led a pretty conventional life as a Michigan legal secretary and then active Florida retiree before moving to Cincinnati. But for the most part, she's always game. And that's an outlook that, well, keeps you going.
What's in it for you?
Caregivers, usually stressed and time-pressed, often crave structure just to survive. Yet too much rigidity means your world gets smaller -- and your brain risks shrinking right along with it. So you have to fight the isolation and repetition of caregiving, as well as the security of routine.
The usual stay-open-minded advice is "take a class," but who has time? Here are a few other ways to stay open to the new:
Watch something different on TV. Better yet, turn off those reality shows or sports games and watch a good movie. Talk about it with a friend or family member.

Take up a new physical activity. Stuck at home? Lift hand weights or try Wii Fit.

Ask questions. Engage.

Challenge yourself to buy a new fruit or vegetable the next time you grocery shop. Then figure out how to prepare it.

Join a caregiver support group. Takes time, but you both learn more and meet new faces.

Learn something new you can do on your computer (or on "this contraption," as Auntie Helen called it in a recent e-mail). Or have a kid teach you.

Admit you don't have all the answers (at 35, 55, 75, or 95). Be curious. Ask "Why?" And even better, "Why not?"