Self Caring
The Unique Stress of the Alzheimer's Caregiver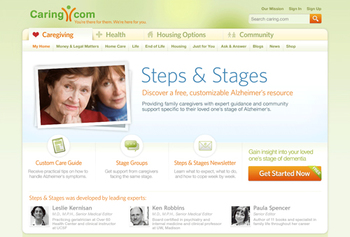 All Rights Reserved
The dismal economy stresses everyone. But if you're an Alzheimer's caregiver, there's something out there that's twice as stressful, according to new Caring.com research -- something that's by far the #1 source of stress in your life. And that's simply being an Alzheimer's caregiver.
Where does that stress come from? As a caregiver with circles under her eyes once answered me with a sigh, "Let me count the ways."
Why caregivers are stressed
I've written here often about personal factors that contribute to stress, like the anticipatory grief of "losing" the person you know, compassion fatigue, and beating yourself up with regret.
The big-picture is equally stressful. So say 1,100 recently-surveyed Caring.com members who are dementia caregivers (almost two-thirds caring for a parent, one quarter caring for a spouse):
Work-life balance is shot to heck. Thirty-nine percent of caregivers surveyed said they had to retire early, reduce hours, or take a leave of absence. And 55 percent say they have to be "on" for caregiving 24/7.

Relationships are torn asunder. Fully half of those caring for a parent with Alzheimer's say their family relationships have been driven farther apart by the caregiving experience.

Caring isn't cheap. Most people spent at least $5,000 on caregiving within the past 12 months; a quarter spent between $5,000 and $20,000, and 16 percent spent more than $20,000.

Every day is a moving target. The need to constantly deal with new symptoms and behaviors, a worry shared by 84 percent of respondents, is a stressor unique to Alzheimer's and other dementias. Because Alzheimer's is progressive, there's always a new learning curve to climb, different problems to solve, more help to organize.
A new resource to help cut Alzheimer's caregiver stress
I wouldn't feel very good about repeating all that glum news without offering a bright note. When not blogging here, I've been part of a team creating something new: Caring.com's Steps & Stages: Alzheimer's Edition. It's a symptom solver, a how-to guide, an insightful weekly newsletter filled with practical tips, and a digital support group all rolled into one.
And above all, Steps & Stages is about lowering your stress. How?
Because we understand that timing, and saving time, is everything. All the advice and info you receive is specific to your loved one's place in the disease's progression. (We help you figure that out.) So you get what you need, when you need it, without having to wade through irrelevant facts about other points in the disease.

Because we give sneak peeks about what to expect. Not enough to stress you, just enough to help you plan ahead.

Because we connect you with others who know what life is like for you. They're dealing with the same issue you are because they're caring for someone at about the same stage of disease.

Because we make it easy, not added work, to access help. Some of the help comes right to your in-box every week in newsletter form. To further save you time, the tips come in scan-sized nuggets.

Above all, Steps & Stages can lower your stress because we've kept the emphasis on you. Other resources focus on diagrams of the brain. Steps & Stages is about WHAT YOU CAN SAY when Dad repeats himself for the dozenth time and WHAT YOU CAN DO when your spouse starts undressing in public. We're about helping ease your complicated emotions, your money worries, your work-life balance, and all the rest that goes with being an Alzheimer's caregiver.
We get your stress, because most of us behind Steps & Stages have lived the life of a dementia caregiver or are living it now. Others work with dementia caregivers. And goodness knows you deserve a little less stress. Check it out and tell us what you think.