Self Caring
Gail Sheehy: "My Toughest Emotion"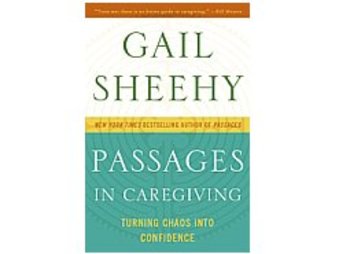 All Rights Reserved
What emotion do you struggle with most as a caregiver? Guilt? Resentment? Fear? Gail Sheehy, the author of the new book Passages in Caregiving: Turning Chaos Into Confidence, who looked after her late husband, Clay Felker (founder of New York magazine) for the last 17 years of his life, didn't hesitate when I asked her:
"Powerlessness."
Really? Powerhouse journalist? Powerless?
"By the time you're past 50, you're pretty good at controlling your environment," she said. You know how to manage your life, manage your time, manage your money, get what you need. "But when you become a caregiver, it's like you've been dropped into a country without knowing the language or the currency "" and they're deciding your fate."
That's a helpless feeling caregivers of every stripe share, especially at first.
You can't stop cancer (or dementia, or the ravages of stroke). You don't know what's coming "˜round the bend. Heck you don't even know what the doctors are talking about half the time "" and you suspect they sometimes aren't too sure themselves.
Sheehy's cure? "First I had to learn the language so I could become an outspoken advocate for my husband," she says. "I learned not to take the rules as hard and fast. Then I could say things like, "˜No, I don't think he's ready to be discharged. I would like to speak to the hospital's patient advocate.' I could debate with the insurance company about what was medically necessary."
Even though she's a journalist trained to ask questions and get info, she says any caregiver can mobilize. Some of her recommended strategies: Contact a local Area Agency on Aging. Start a master notebook of phone numbers, test results, questions, answers. Consult siblings, look into consultants (she hired a geriatric care manager for advice), and talk, talk, talk.
For Sheehy and Felker, her tireless uphill battle against feeling powerless was effective. She became an ubercaregiver "" advocate, problem solver, joy bringer, and yes, life extender. Those last years were very happy ones, she says.
Except for one thing. A different aspect of powerlessness still got to her -- one that threatened her own health and well being. Yes, even a smart, privileged, dedicated champion of caregiving can flub up her own self care.
Next week I'll share more of our conversation about the parts of caregiving that this caregiving expert grappled with most.